Ideas & Inspiration
How to Repurpose Harvest Decor for Festive Holiday Style
Creating seasonal displays on your front porch is a fun way to celebrate the fall holidays. From Halloween to Christmas, make a welcoming entrance to your home with collections that speak to each season, in warm tones of orange, yellow and brown for harvest, and the traditional red and green for Christmas.
This year, instead of packing away your harvest decorations after Halloween and Thanksgiving, incorporate these elements into your Christmas decor.
When it comes time to transition from harvest decor to Christmas, consider repurposing what you have to fit the upcoming holiday theme. With a bit of paint, some ribbon, bits of fabric, even an old sweater, plus a little imagination, you can turn straw bales, wreaths, pillows, pumpkins and gourds into festive Christmas decor.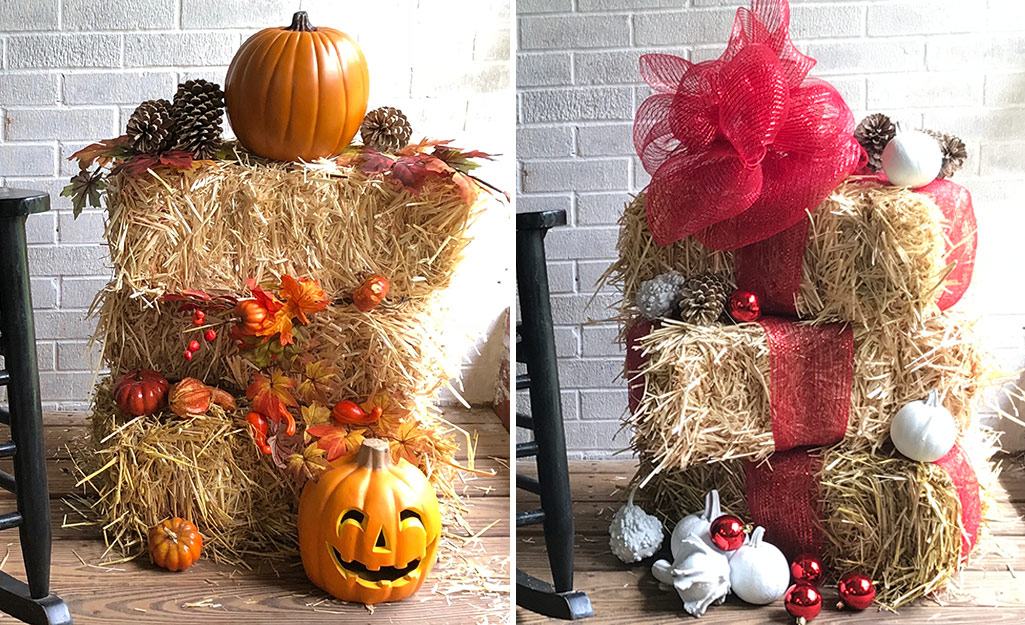 You can't beat straw bales in a harvest display. They are the building blocks of your scene. Stack them up and fill in with pumpkins, gourds, mums and sprays of fall leaves.
When it's time to break down your harvest scene, there's no need to toss the hay bale on the compost pile. Hay bales perform the same task in a holiday display: wrap them with ribbon and use them as props either around a Christmas tree, or indoors and out.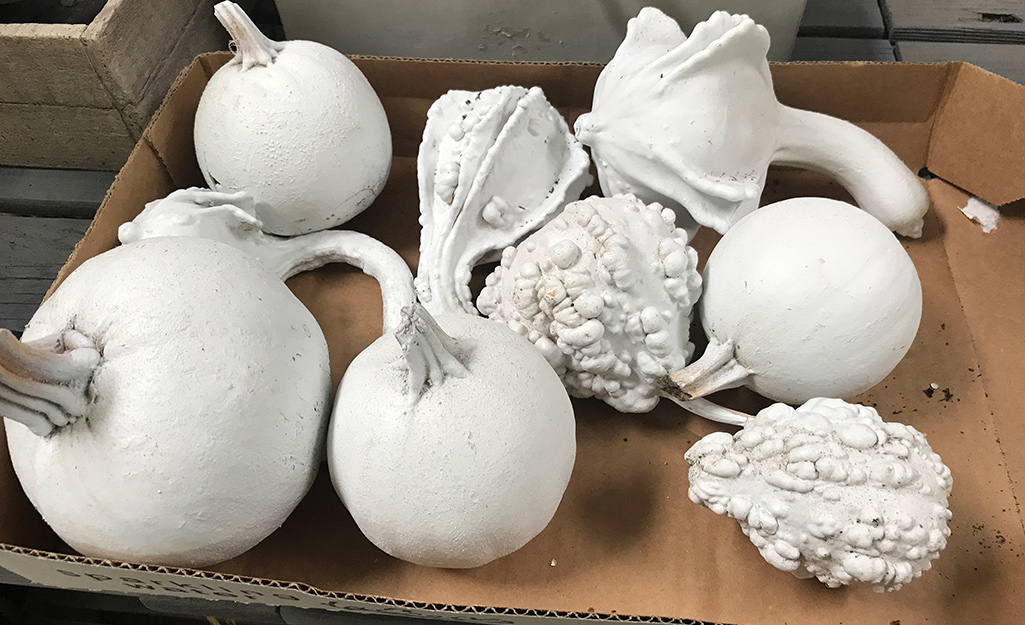 Fill out the display with spray-painted gourds and shiny, shatterproof Christmas ornaments. You can paint live and fake gourds, just be sure the live ones are completely dry. Chalky paint and metallics are good choices for holiday decor.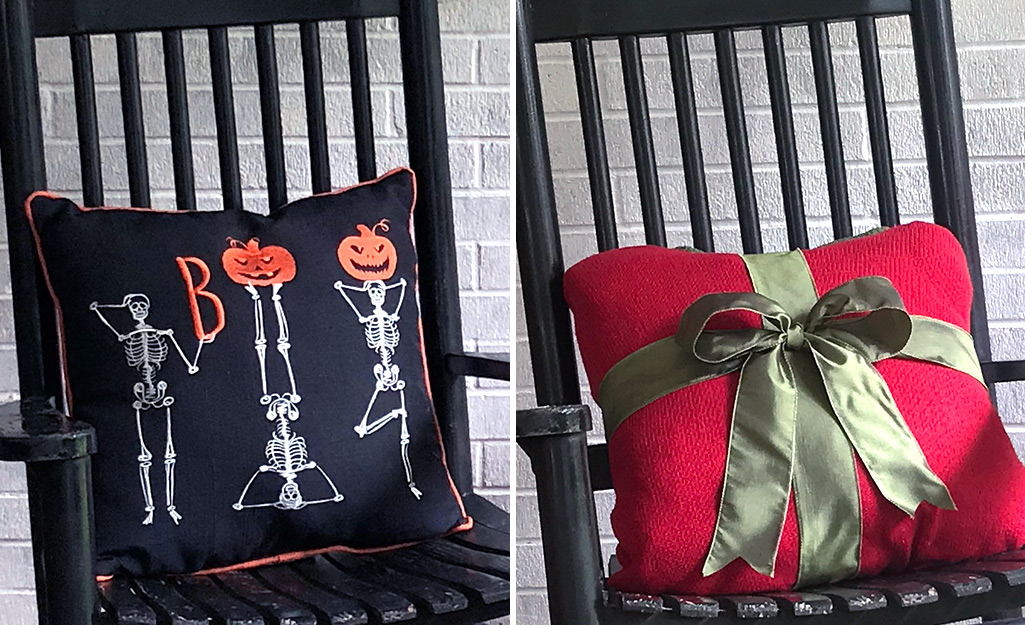 Whimsical pillows punch up your display with bold color and graphics. Get more mileage out of the pillows when you wrap them in Christmas colors.
Can you guess what's wrapped around the pillow above? It's a repurposed Christmas sweater, buttoned in the back, with sleeves and ends tucked in. An elegant bow of green satin wired ribbon holds it together. (Advisory: no Ugly Christmas Sweaters were harmed in the making of this project.)
In addition to sweaters, dig into your closets for plaid flannel shirts. Tie festive fabric like small tablecloths and blankets around pillows.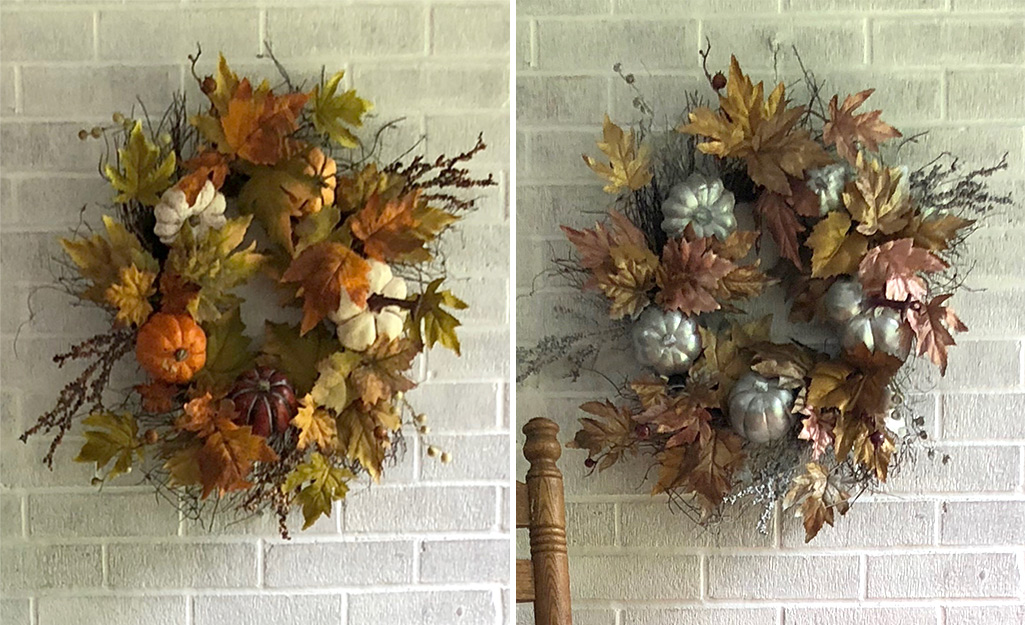 When autumn ends, give your harvest wreath a wintery new life when you touch up the leaves and gourds with metallic paint. To make this a true repurposed project, dig into your stash of half-used spray paint cans and craft paints for colors that will work together.
We painted the leaves with metallic craft paint and spray painted the pumpkins. Protect the leaves with kraft paper while you paint.
This metallic painted wreath looks elegant for Thanksgiving or a rustic Christmas. You can embellish the new-to-you wreath with holiday ribbon, fresh garland, mini lights or floral sprays.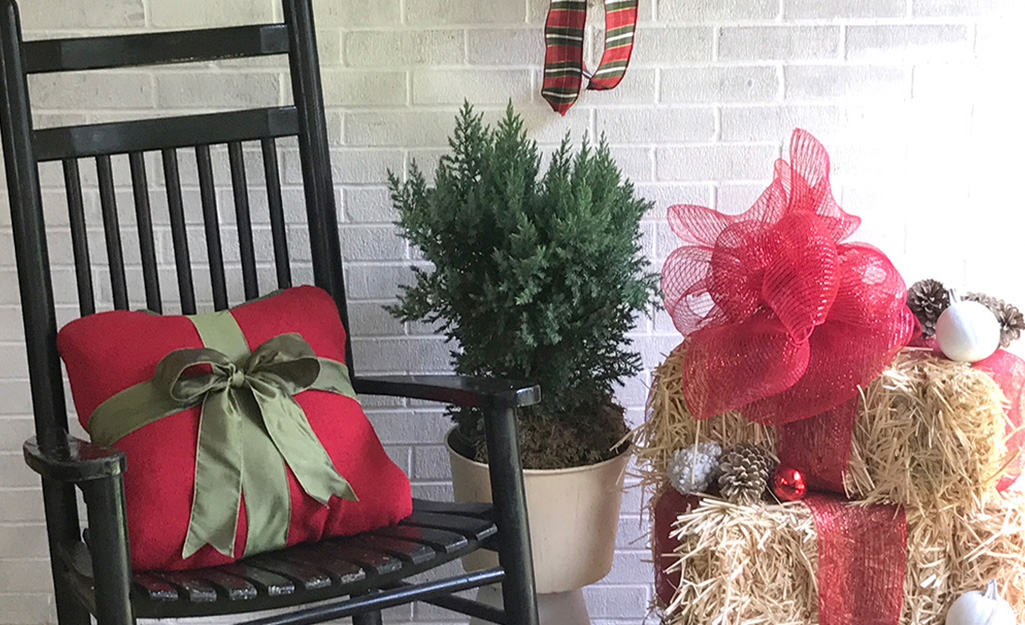 Fill in your holiday display with evergreens like arborvitae or Norfolk Island pines. Potted boxwoods or rosemary work well, too.