Your kitchen cabinets are a great place to refresh the look and decor of your kitchen. New kitchen cabinets can even make cooking easier.

A full renovation or even a change of color can enhance your kitchen's appearance. There are many kitchen cabinet collections to choose from. Use this guide to help you with your kitchen cabinet design ideas.
Here are a few reasons to consider affordable kitchen cabinetry if they're starting to look dated or worn:
By just changing your cabinets, you'll give your countertops, appliances and even your accessories a whole new lease on life.
Your old cabinets may no longer serve your storage needs if you have a new set of cookware. Consider ideas using semi-custom kitchen cabinets that improve function, like extra-deep cabinet drawers, shelf dividers and more.
New styles of kitchen cabinets can improve your resale value. The kitchen is a key selling point for many buyers. If you're thinking about listing or even renting your home, a modern-looking kitchen with custom cabinets is essential.
Modern kitchen cabinets can upgrade the look of the space – and in turn, your whole home. Instead of wood throughout, these cabinets are made of materials like laminates, glass and metal like aluminum.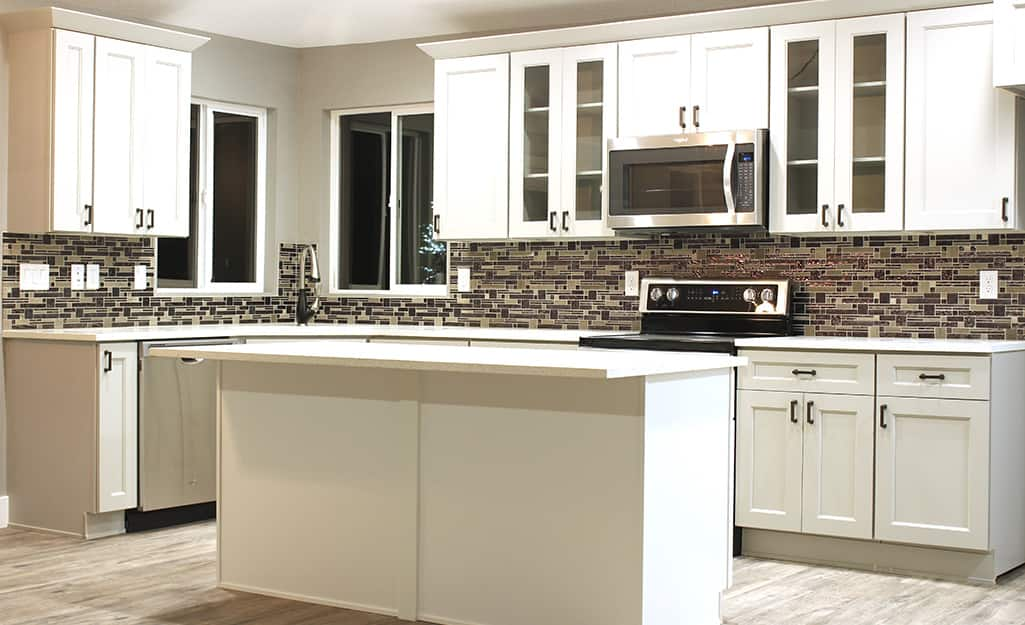 The installation costs of a full kitchen renovation can add up, but new kitchen cabinets can be budget friendly. Modular versions are ready-to-assemble kitchen cabinets that fit together in the layout you want and the height of your kitchen's high ceiling.
Open shelf cabinetry is increasingly popular with smaller spaces. This is a cost-effective and stylish option for contemporary homes. Mix and match open shelving with more traditional styles like farmhouse kitchen cabinets to keep your kitchen looking neat and tidy.
An open-concept kitchen layout allows for some creativity. The choice of cabinetry woods and colors can transition to the furniture of the adjoining living room or dining room. Styles of industrial kitchen cabinets are practical in open space layouts.
Glass-front cabinets can add cost-effective style and function to your kitchen. Clear and frosted glass looks let you tailor your cabinets to your decor style. They can break up the monotony that multiple sets of wood doors can create and lend some style to your kitchen surroundings. Glass-front doors change the look of your kitchen for a fraction of the cabinet installation cost.
Plywood is a good choice for kitchen cabinets. The best material for plywood kitchen cabinets is marine grade, which is denser, sturdier and wards off moisture. It is also a good choice for floor-level cabinets and island cabinets because the grade of plywood is resistant to termites and other pests.
The choice of color or creative combination from a kitchen cabinets color gallery will make your kitchen stand out even if you don't change anything else.
White kitchen cabinets never goes out of style.
Blue kitchen cabinets pairs well with white and off-white walls and floors. It also works with wood, shades of gray and stainless steel.
Black kitchen cabinets add elegance when paired with white walls and accessories.
Deep red kitchen cabinets are a practical color choice when working with a darker color palette.
Here are a few renovation ideas to help guide your decision:

Try affordable kitchen cabinetry. Measure your existing cabinets and replace them with a more cost-friendly model. In-stock kitchen cabinets can often be customized to help improve storage and organization in your kitchen.
Custom cabinets are an ideal choice for renovation projects and those building their home from the ground up. Reach out to our home services professionals to learn more about designing the kitchen of your dreams with custom cabinetry.
Explore replacement door and drawer front options online to give your kitchen a whole new look.
Kitchen cabinet installation may seem like a complex task, but that doesn't mean you can't still tackle some DIY kitchen cabinet ideas on your own. Here are a few to get you started:

Try a specialty finish: Style your kitchen with specialty finishes that mimic natural stone, real hardwood grain or even unique textures like velvet. Cabinet refacing: This makeover option gives your kitchen a new look without changing the layout of your cabinetry. Improve the interiors: Something as simple as new shelving liners can go a long way. Try wallpaper inside your cabinets for a fresh style.
Swap out your hardware: Handles, pulls and even hinges can impact the way your cabinets look. Go for something classic with wholesale ready-to-assemble kitchen cabinets or update your cabinets with bold, modern hardware.
Stain your existing wood cabinets: Older assembled kitchen cabinets can start to look dull over time. Stain them and bring them back to life with a new finish.
Change is good when it comes to your home. Your ideas for custom kitchen cabinets can be functional or eye-catching and can be realized at a cost that fits your budget. Look at your kitchen layout to get started. View custom cabinet door samples to decide the best look for your space. Then let your creativity take hold.
There are many options you'll want to consider for kitchen cabinet services. If you are ready to you're your kitchen a fresh new look and need help envisioning what you want out of your new kitchen cabinetry, The Home Depot kitchen design services can help you get the look you are going for.