Ideas & Inspiration
Make Homemade Pulled Pork with Barbecue Sauce
Homemade pulled pork is one of the easiest dishes to pull off with the help of an electric pressure cooker. Instead of cooking for hours inside an oven or outside in a smoker, just a couple of hours in a pressure cooker yields fall-apart tender chunks of pork ready for buns and slaw.
A couple of hours may sound like a long time, but keep in mind that it's passive time while the pressure cooker works its magic. You can spend part of that time making a spicy barbecue sauce and stirring up a tangy slaw.
Begin with a Boston butt roast in the 5 to 6 pound range, flavor with the vinegar marinade known as pig pickin' sauce and finish with homemade barbecue sauce or your favorite store-bought sauce.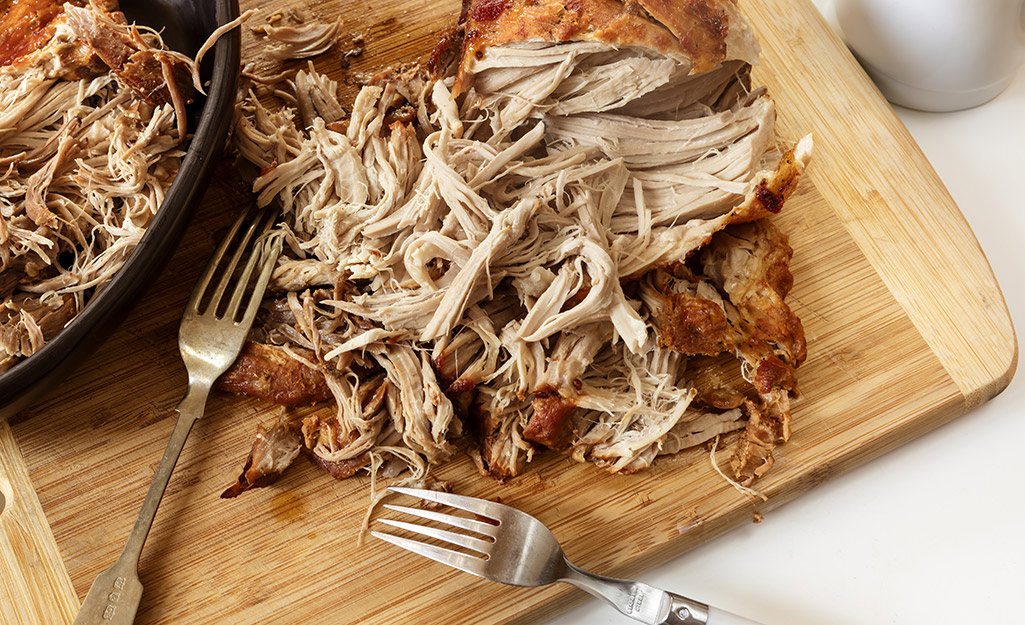 Pulled Pork Recipe
Serves: 12 sandwiches
INGREDIENTS:
5 to 6 lb. Boston butt (pork shoulder)
2 tablespoons vegetable oil
2 tablespoons coarse salt
1 large onion, sliced into thick chunks
Pig Pickin' Sauce (recipe below)
Salt and pepper to taste
12 sandwich buns
Barbecue Sauce for serving (see recipe below or use your favorite)
INSTRUCTIONS:
Heat the pressure cooker. Pour in oil. Cut the pork into two or three portions. Coat each piece with salt and brown in the oil, turning to make sure all sides are seared. Remove and let rest on a platter until all pieces are browned.
Place the sliced onion in the bottom of the pot. Add the pork and 1/2 cup Pig Pickin' Sauce. Cover and seal pot. Cook for 90 minutes at high heat with natural release.
Uncover pot and remove the pork, moving it to a platter. (Save the flavorful liquid in the bottom of the pan, you can use it to moisten the pork later.) Use two forks to shred the pork. You can use a knife to chop large chunks. Add the remaining Pig Pickin' Sauce to the pork, letting the shredded meat soak up the vinegar sauce. Add salt and pepper to taste.
Serve pork with barbecue sauce on sandwich buns.
Store leftovers in a container in the refrigerator for up to five days.
Pig Pickin' Sauce Recipe
INGREDIENTS:
1 cup cider vinegar
1 tablespoon brown sugar
1 teaspoon salt
1/2 teaspoon ground cayenne pepper
1/2 teaspoon ground black pepper
INSTRUCTIONS:
In a glass bowl, mix all ingredients.
Store any leftovers in a glass jar in the refrigerator and use within two weeks.
Barbecue Sauce Recipe
Yield: 2 cups
INGREDIENTS:
1 tablespoon vegetable oil
1 small yellow onion, chopped
2 cups ketchup
1/2 cup cider vinegar
1/4 cup brown sugar
2 tablespoons Worcestershire sauce
2 teaspoons chili powder
1/2 teaspoon granulated garlic
1/2 teaspoon hot sauce
INSTRUCTIONS:
Heat the oil in a medium saucepan over low heat, add onion and cook until translucent, stirring frequently.
Add remaining ingredients, stirring well.
Store in a glass jar in the refrigerator for up to two weeks.