The ideal office is all about productivity, organization and an efficient use of space. But that doesn't mean you can't have fun decorating your office. From desk organizers and accessories to cozy conference spaces, this guide gives you creative office decorating ideas and home office ideas to you use in your house or corporate facility.
A cubicle, home office or individual work station is a great place to express your personal style. Whether you own your own business, or you're an office manager responsible for ordering everything from sticky notes to computer desks and office chairs, here's a few office decorating ideas to personalize your space.
Aim for an office that's well-organized and efficient. That doesn't mean your style can't be fun. If you sell dog toys, stencil the floor with paw prints, or paint the walls bright colors if your company organizes children's parties.
Go green with eco-friendly furniture, such as an accent table made from reclaimed wood. Look for an office chair upholstered in a recycled or natural fabric.
Make communal spaces more inviting with comfortable upholstered chairs. Choose color schemes that promote problem-solving and positivity such as grays and yellows.
When buying office furniture, pay attention to size and scale, so your space won't feel crowded. Consider the traffic flow when you arrange the furniture, so people can walk around easily. Go for storage and organization pieces that are convenient but stylish.
Tip: Keep office supplies, printers and storage areas away from desks and cubicles, so people won't be disturbed every time someone is searching for sticky notes.
Give any type of business an update with these creative office decor ideas.
Opt for simple, white desktop accessories. Use trendy white office desks and furniture.
One of the best home office decorating ideas is to install mini-blinds or plantation shutters. They look more business-like and professional than curtains.
Use a carpet with a geometric design or an abstract or contemporary print.
Hang a canvas cityscape.
If your office is a large, open space, consider using room dividers. Some can help employees focus by screening views and muting sounds.
Define work stations in an open area with rugs or tiled floor designs. These will reduce noise and add color, warmth and texture.
Take the edge off a modern or industrial-style office in an open area with these office ideas that can increase productivity and morale.
Use faux plants or real ones. Add big foliage plants in big spaces. Match plant pots to your decor.
Clever home office ideas include experimenting with the ancient Chinese principles of Feng Shui. Remove clutter and use as much natural light as possible.
Research Feng Shui for furniture placement and office layout ideas that are said to create energy and harmony. Feng Shui can be useful and fun, whether you believe in its concepts or think of it as art.
Give your home office an "all-business" feel with these easy office decor ideas:
Mix wall storage with unique finds such as baskets.
Hang an attractive calendar on one wall.
One of the easiest home decorating ideas for an office is to keep fresh flowers in a vase or low-maintenance succulents on your desk.
String Christmas mini-lights in fun shapes and colors.
Go chic and contemporary with a glass-topped desk. See-through pieces also make a small home office feel bigger.
Tuck a printer in a bookcase if your office space is limited. Install shelves up to the ceiling for supplies or put them in a large file cabinet.
Don't be afraid of eclectic decorations. Use souvenirs from your travels paired with an antique desk, a hanging chair and adjustable LED desk lamps.
Color is a great tool for decorating an office. Hue affects mood, so be thoughtful when you choose a color scheme. Here's some colorful decorating ideas for a home office or corporate workarea if permitted.
Pairing blacks and pastels gives the feel of seriousness, but with a touch of fun.
Black and white looks modern and professional, but too much of it can feel sterile. Balance it with colorful throw pillows, wall decor or drapes.
Blue is popular in offices, and dark blues feel business-like. Red can be too stimulating to use except as an accent color.
Browns are thought to enhance productivity, while green colors are refreshing and suggest nature. Again, be sure you're allowed to bring in accessories or make modifications before you start decorating.
Bring in a few whimisical touches for an element of fun.
Stencil a design on a boring filing cabinet.
Paint a filing cabinet with chalkboard paint for making notes.
Use desk accessories that look like toys, or bring in some real toys to fiddle with when you're on the phone.
"Paper" a wall in your home office with postcards or snapshots. Use removable adhesive or mounting putty unless you want a permanent installation.
Most corporate office cubicles are decorated in neutral colors, so it's easy to accessorize them. Here's some practical deas on how to decorate an office.
Open up a windowless work space by making the walls more interesting.
Cover a wall in peel and stick wallpaper in a graphic print.
Hang a memo board so employees can share ideas or announcements. Make a memo board by covering a piece of cork board panel with fabric. Pull the fabric taut over the board and staple it on the back to hold it securely.
Add mirrors to reflect light and make the area feel more open.
Glam up an ordinary stapler, tape dispenser or desk organizer by spray painting them gold or another color.
Personalize your office chair with a colorful throw blanket, scarf or throw pillow.
Decorate the edges of your desk or filing cabinet with colorful crafting tape.
Decorating an office with wall decor is a great way to add a personal touch. You can use the area above your desk or any wall within the company.
Design a gallery of photography prints and hang wall sculptures.
Print your favorite inspirational quotes or sayings and put them on clipboards.
Hang a collage of clipboards on one wall. Print and frame your favorite pictures of your family or pets and hang them up.
Turn a hallway or waiting area into an exhibition of works for sale by local artists. If you work in a creative environment, ask the artists if they'll rotate the pieces from time to time.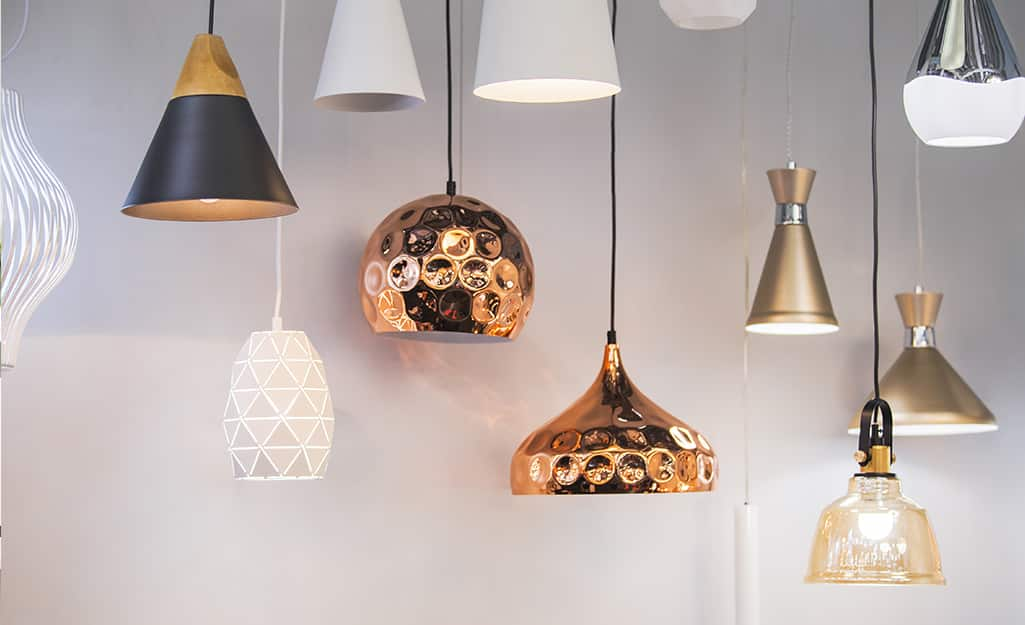 Lighting is one of the most overlooked office decor ideas. In addition to task lighting, consider adding pendant lights to your space.
Place three over a long conference table to add focus.
Hang two or three in a corner for a dramatic, sculptural effect.
One of the most popular modern office ideas is to swap out a traditional desk lamp or flourescents for a pendant in a striking metal finish or unusual color.
Use a statement piece, like a minimalist chandelier.
When it comes to office decorating ideas, don't overlook the floor. The right area rugs can make a cold corporate or home office more inviting.
For a creative touch, layer an earthy sisal area rug with a faux animal print.
Go bold with a shag rug in a trendy color scheme or keep things neutral with a palette of cool greys.
Tip: Balance out the coziness of rugs with splashes of color in your walls or curtain.
A desk is a must in any office space. Choose a desk and accessories that reflect your work style and makes your workday easier.
Having a standing desk in your cubicle is a great choice, and is also one of the best ideas for a home office, too.
If you're using an external monitor, elevate it on a monitor stand to avoid neck strain.
Organize papers and files with desk trays.
Put an unused corner of your desk to work with a triangular-shaped monitor stand.
Get more space on your desk by putting a wired telephone on an adjustable stand.
Hang an attractive magazine rack on a wall to store folders and other papers.
Using these office decorating ideas in your workspace will make it both stylish and functional. You now have the tools and inspiration you need to create an office that works as hard as you do. From office chairs to wall calendars, we've got everything you need, including free delivery on over a million online items.