Open closets are quickly becoming a popular wardrobe storage option. They're great for any size room, not just smaller spaces. This guide will explore a few open closet ideas that will add style to your room and help you get organized in the process. Use these tips to take advantage of closet ideas for small bedrooms, ultra-modern open floor plans and spaces that do double-duty like a home office or guest room. 
Open Closet Layout Ideas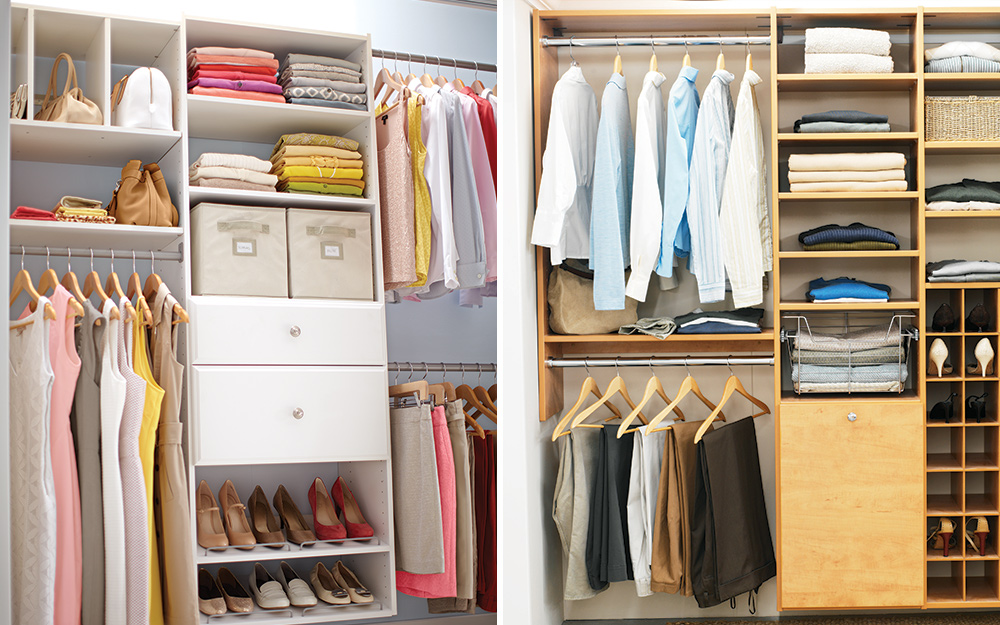 Master bedrooms, spaces for kids and teenagers and even guest rooms all need storage. While a concealed closet might be the most common option, there are many open closet possibilities that can work with your existing setup. Best of all, they can be easily scaled to fit the size of your room. 
Here are a few ways to outfit open closets:
Take advantage of whole closet systems. Designed to provide hanging storage, drawers and shelves, whole systems help you make quick work of organizing your wardrobe. 
Add shelving. Closet shelves are an ideal option when you need to find space for items like folded t-shirts, jeans, sweaters and more. Use decorative storage bins and baskets to keep smaller items like socks neatly organized. 
Look for stackable or freestanding closet drawers. These are a great addition to small whole closet systems or areas outfitted with a hanging bar and shelving.
Add a shoe rack. You can find a variety of shoe racks that will match your closet system, shelving or closet drawers in sizes designed for just a few or dozens of pairs. Stackable shoe racks help you save even more space when looking for closet ideas for small bedrooms.
Open Closet Finishes
You can find a variety of different styles designed to match your bedroom when creating your open wardrobe area. Here are a few different looks that'll match your interior design and decor themes:
Natural wood and wood laminate. There are whole closet systems and individual pieces like shelving and drawers available in a variety of wood finishes.
Wire. Functional and lightweight, wire closet systems and individual pieces are cost-effective, easy to hang and durable. Black, white and metal styles can blend in or make a statement in your room.
Metal and painted rolling clothes racks. You can find black clothing racks, white clothing racks and metal clothing racks in set lengths or extendable sizes. Multi-bar racks provide even more storage space.
How to Organize Clothes Without a Closet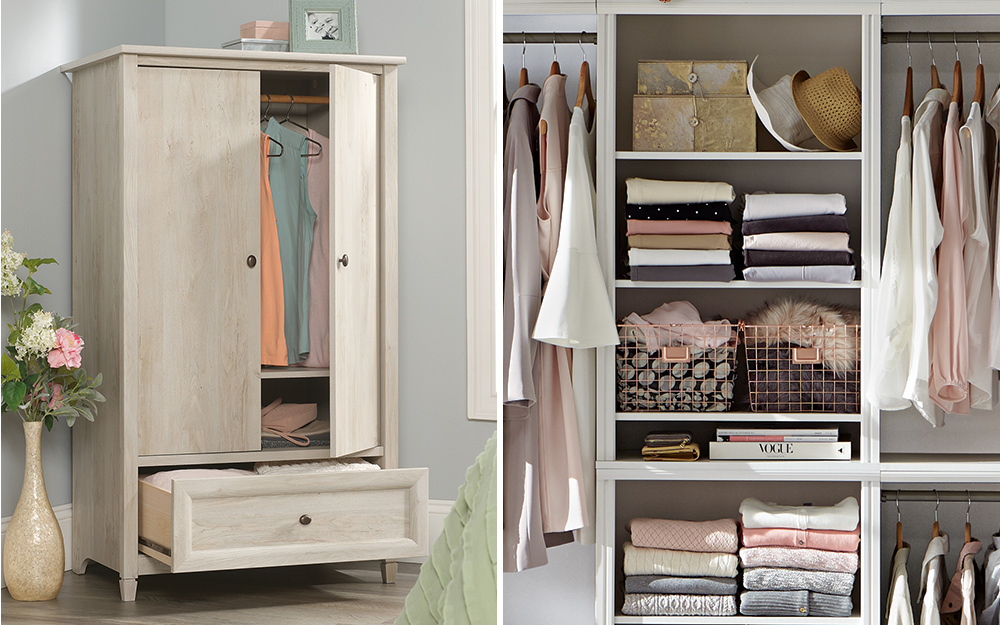 Open closet designs work in some areas, but for extra-small rooms, ultra-modern spaces or minimal guest bedrooms, you may not even need one. Here's how to equip a room to make space for clothes, shoes and accessories without a closet:
Use garment racks. Garment racks make it easy to hang everything from dresses to suits and jackets. Measure your space and find a rack that fits all of your clothing in one easily accessible area.
Take advantage of wall shelves. Whether you prefer wood or wire, wall shelves can help keep your clothes, shoes and accessories organized even without a closet.
Consider decorative shoe storage. Stylish shoe cabinets keep your space looking neat. They'll also make sure your shoes are organized and ready to wear.
Incorporate pieces of furniture. Chests, dressers and night tables with storage can all work together to replace a traditional closet. A few pieces of furniture mixed with a garment rack, wall shelves and shoe storage is all most people need even if they have lots of different looks.
Add portable closets. These are usually made of a breathable fabric that keeps clothes fresh, and they're extremely versatile for small spaces.
Explore More on homedepot.com