Open closets are quickly becoming a popular wardrobe storage option. They're great for any size room, not just smaller spaces. This guide explore a few open closet ideas that add style to your room and help you get organized in the process. Use these tips to take advantage of closet ideas for small bedrooms, ultra-modern open floor plans and spaces that do double-duty like a home office or guest room. 
Open Closet Layout Ideas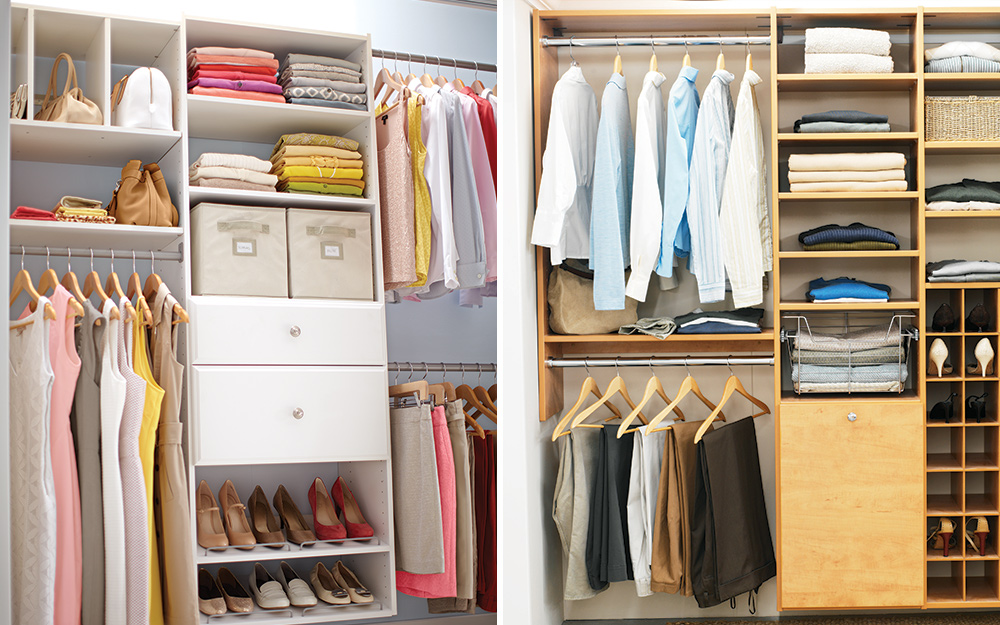 Master bedrooms, spaces for kids and teenagers and even guest rooms all need storage. While a concealed closet might be the most common option, there are many open closet possibilities that can work with your existing setup. Best of all, they can be easily scaled to fit the size of your room. 
Here are a few ways to outfit open closets:
Take advantage of whole closet systems: Designed to provide hanging storage, drawers and shelves, whole systems help you make quick work of organizing your wardrobe. Whole closet systems take the guesswork out of open closet design. They provide hanging rods, drawers and shelves that come together to form a complete system. Many sizes and storage types are available for you to choose from. Designs emphasize visual appeal as much as function, giving you options to match the decor of your room. Materials and finish are key features to consider.
Add shelving: Closet shelves are an ideal option when you need to find space for items like folded t-shirts, jeans, sweaters and more. Use decorative storage bins and baskets to keep smaller items like socks neatly organized.
Look for stackable or freestanding closet drawers: These are a great addition to small whole closet systems or areas outfitted with a hanging bar and shelving.
Add a shoe rack: You can find a variety of shoe racks that will match your closet system, shelving or closet drawers in sizes designed for just a few or dozens of pairs. Stackable shoe racks help you save even more space when looking for closet ideas for small bedrooms.
Open Closet Finishes
You can find a variety of different styles designed to match your bedroom when creating your open wardrobe area. Here are a few different looks that'll match your interior design and decor themes:
Natural wood and wood laminate: There are whole closet systems and individual pieces like shelving and drawers available in a variety of wood finishes. Natural wood that may be varnished, stained or painted. Wood closet systems are generally sturdy, long-lasting options. Wood laminate makes closet systems more affordable and gives them the look of natural wood.
Wire: Functional and lightweight, wire closet systems and individual pieces are cost-effective, easy to hang, lightweight and durable. Black, white and metal styles can blend in or make a statement in your room.
Metal and painted rolling clothes racks: You can find black clothing racks, white clothing racks and metal clothing racks in set lengths or extendable sizes. Multi-bar racks provide even more storage space.
Minimalist styles: Simple styles work well in modern spaces or more decorative styles, but can also suit traditional and transitional decor. Distressed wood blends with rustic and farmhouse interior design styles.
How to Organize Clothes Without a Closet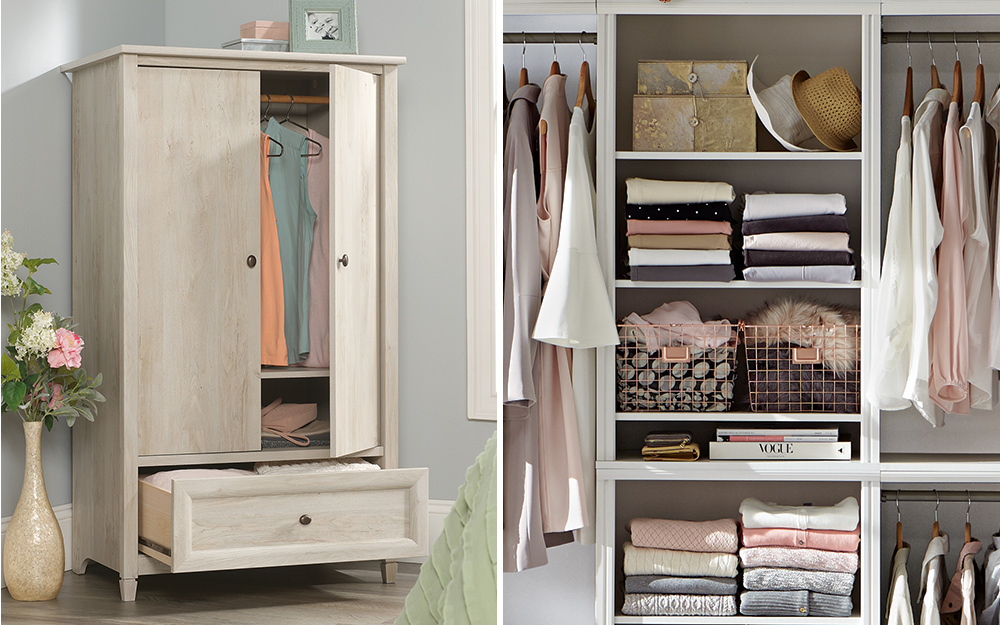 Open closet designs work in some areas, but for extra-small rooms, ultra-modern spaces or minimal guest bedrooms, you may not even need one. Here's how to equip a room to make space for clothes, shoes and accessories without a closet:
Use garment racks: Garment racks make it easy to hang everything from dresses to suits and jackets. Measure your space and find a rack that fits all of your clothing in one easily accessible area.
Take advantage of wall shelves: Whether you prefer wood or wire, wall shelves can help keep your clothes, shoes and accessories organized even without a closet.
Consider decorative shoe storage: Stylish shoe cabinets keep your space looking neat. They'll also make sure your shoes are organized and ready to wear.
Incorporate pieces of furniture: Chests, dressers and night tables with storage can all work together to replace a traditional closet. A few pieces of furniture mixed with a garment rack, wall shelves and shoe storage is all most people need even if they have lots of different looks.
Add portable closets: These are usually made of a breathable fabric that keeps clothes fresh, and they're extremely versatile for small spaces.
Mix Open and Closed Decorative Storage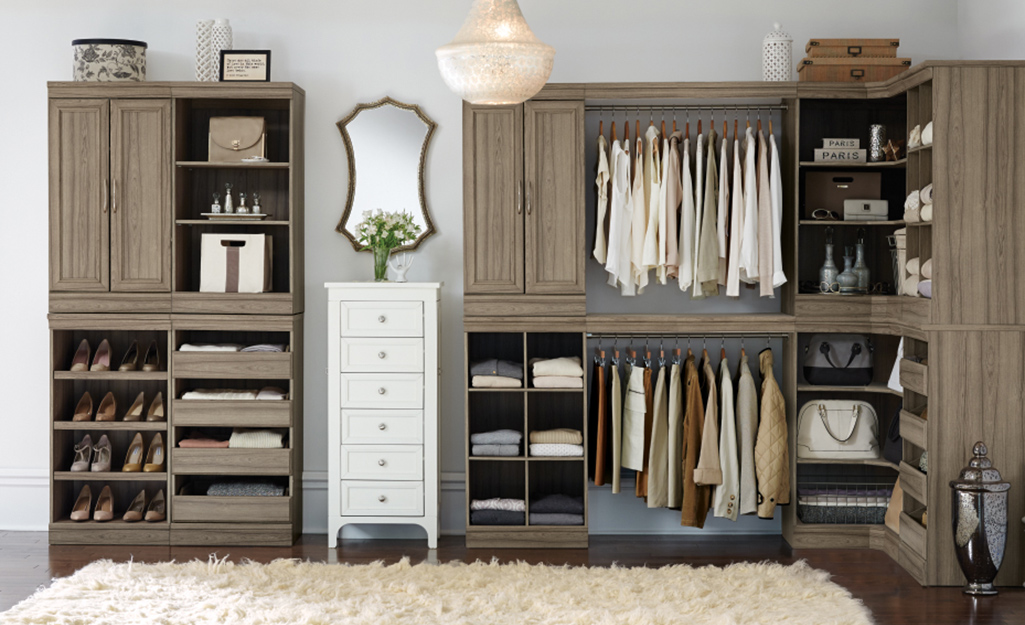 Open storage keeps items visible and readily accessible. Open storage options include:
Racks
Rods
Baskets
Open-top bins
Closed storage hides your items out of sight. Closed storage options include:
Drawers
Boxes
Cabinets
Bins with lids
Mixing both open and closed storage solutions ensures you have a place to put everything. Choose open and closed storage options in matching finishes, or create an eclectic look by mixing colors, patterns and materials.
Conserve Space by Adding Drawers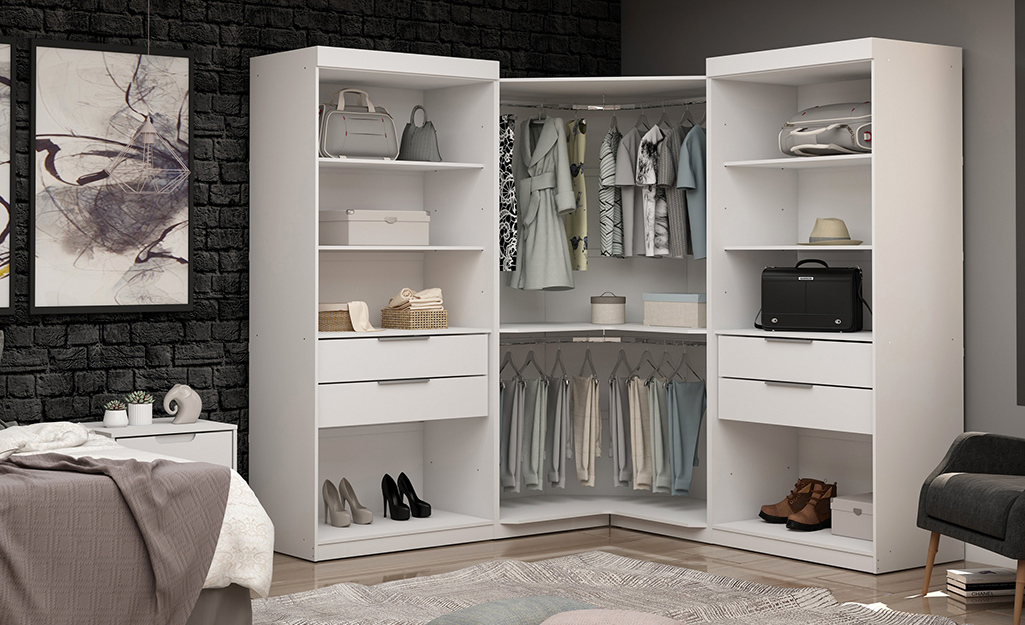 When you don't have floor space to spare, take closet storage vertical. Stackable storage boxes and bins reduce the footprint size of a closet. Freestanding closet drawers are standalone furnishings that feature two or more drawers. Stacking drawers sold individually and in sets are another customizable option that allows you to add more storage in the future.
Use Specialized Storage for Shoes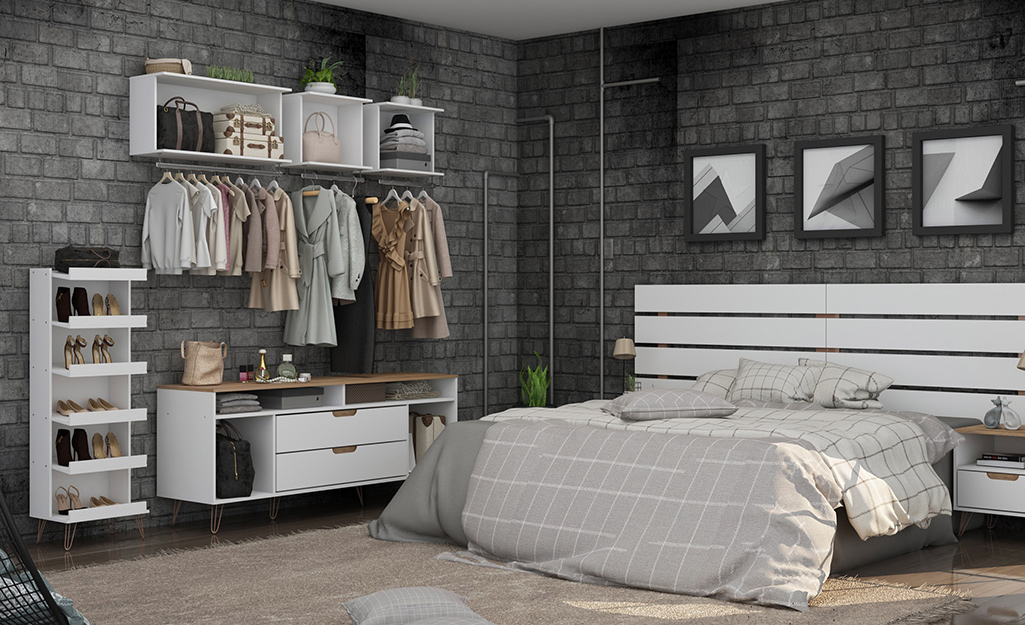 Shoes are bulky and can quickly take up your available closet space. Give them their own specialized storage area to free up room for other items. Shoe storage solutions keep pairs together, so you can grab your footwear for the day in a flash. Shoe storage options include:
Racks: Open storage that features flat or angled shelves and lets you easily locate shoes.
Stacking racks: Allow you to build your own shoe storage system.
Cabinets and closed storage: Inner shelving protects shoes from dust.
Benches: Give you a place to sit and feature handy open or closed storage below.
Hanging shoe organizers: Work well in rooms with limited floor space.
Shoe boxes: Usually stackable and come in opaque or clear finishes.
Underbed shoe storage: Slides under most standard bed frames.
Add Rolling Clothes Racks for a Rustic or Industrial Look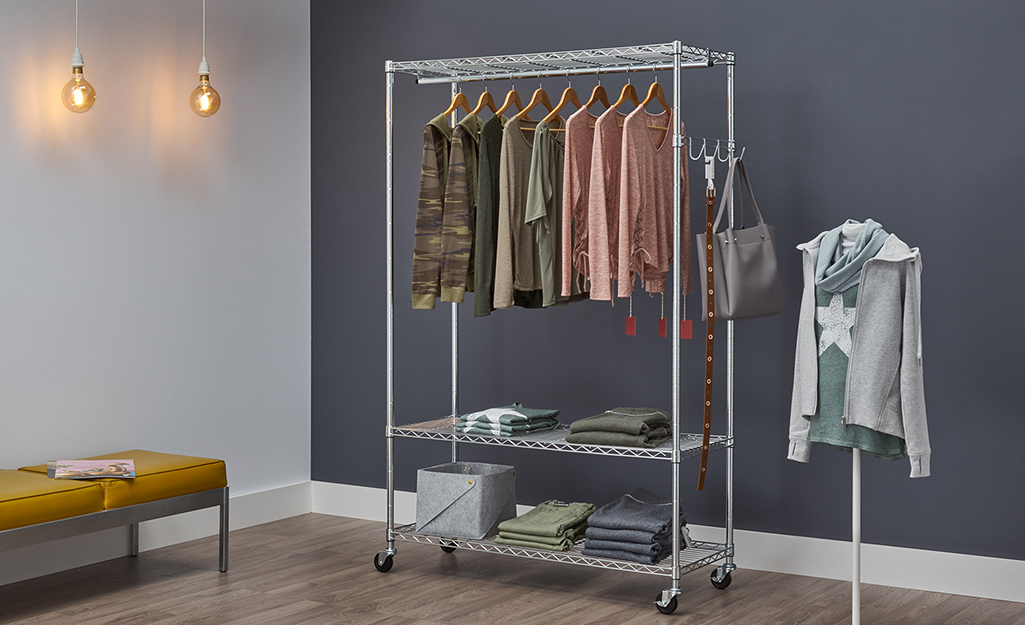 Metal rolling clothes racks give you space for clothes and hanging organizers, and can boost the rustic, modern or industrial appeal of a room. Many sizes are available, and some even extend to give your wardrobe room to grow. Others offer space for an additional hanging rod that provides two levels of storage. Color options include classic silver, white and black. The addition of wheels makes the racks mobile, so you can roll them out of the way when you need more space.
Tip: For small rooms, look for rolling clothes racks with built-in shoe racks or storage bins to conserve space.
Fight Wrinkles and Manage Bulky Items with Garment Racks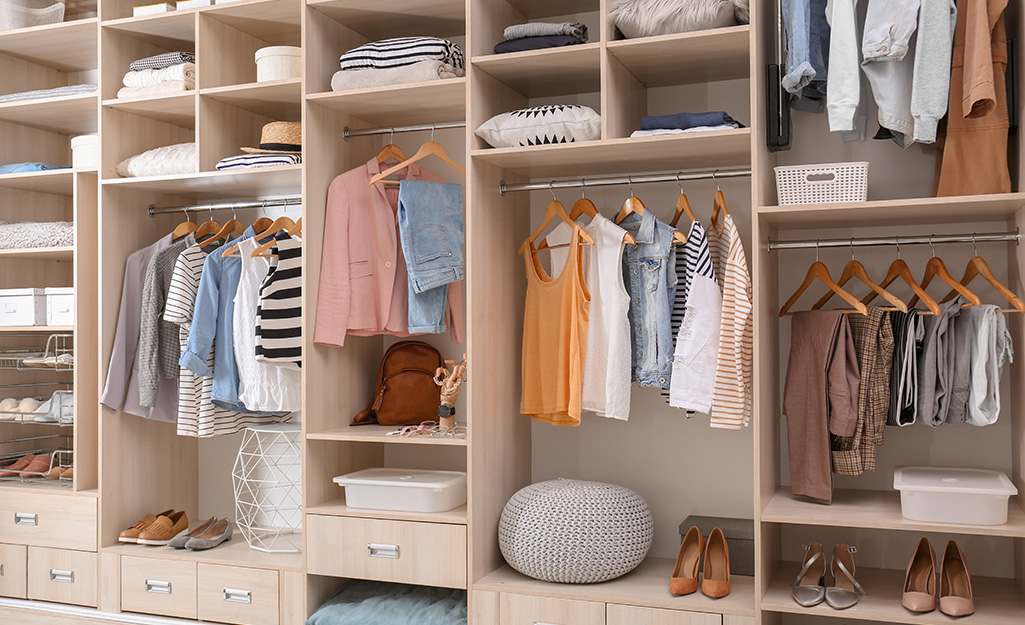 Certain clothing items store better hanging on clothes hangers. These include:
Dress pants
Items with pleats
Dresses
Blazers
Blouses
Bulky coats and jackets
Starched clothing
Lightweight, wrinkle-prone fabrics like linen, rayon or cotton
Hanging these items on a garment rack fights wrinkles and protects fabrics. Garment racks are freestanding storage solutions that feature one or more hanging rods. Some designs also include shelving, baskets and bins for managing folded items and small accessories.
Complete Your Floor Plan with Storage Furniture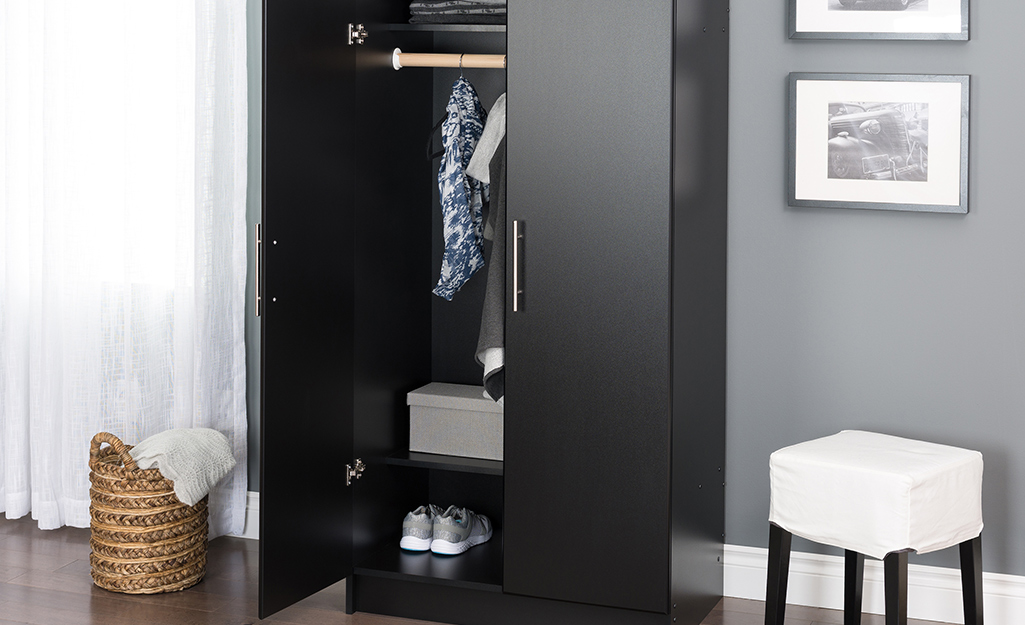 If your bedroom looks bare, the right furniture can complete the space while giving you extra storage space for your open closet. Choices for storage furniture include:
Nightstands: Usually feature at least one drawer and may also have a cabinet or shelf.
Chests of drawers: Typically have small footprints with drawers stacked vertically.
Dressers: Usually feature two or more rows of drawers and are usually shorter than chests.
Armoires: Have a hanging rod and shelving or drawers and are often highly decorative.
Wardrobes: Have a hanging rod inside and often have simpler designs than armoires.
Choose Portable Closets for Small Spaces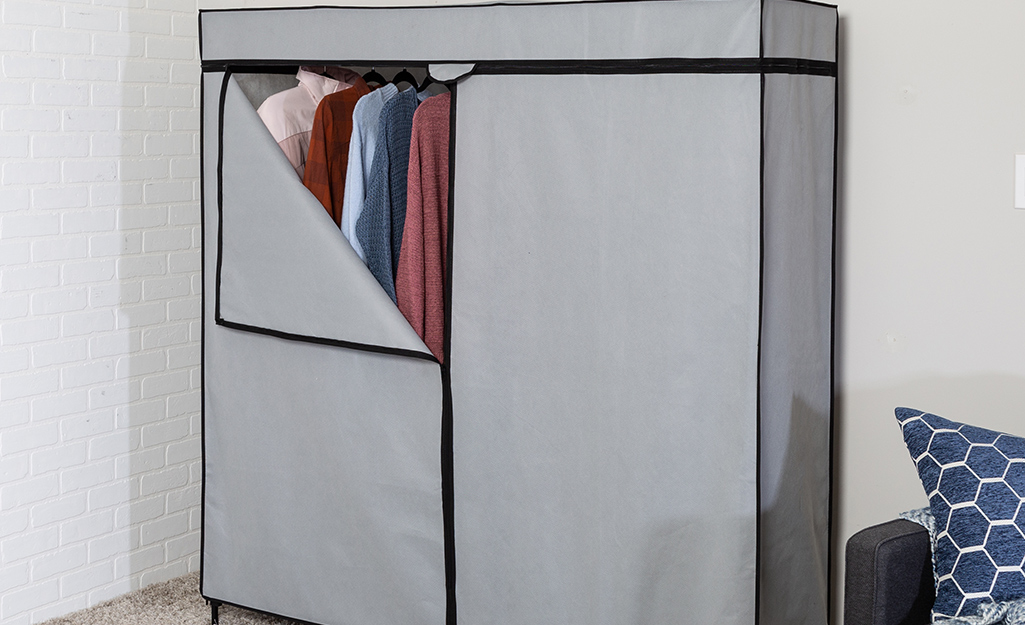 For the smallest rooms, portable closets are true space-savers. Normally, these pieces consist of a metal frame with a fabric or cloth cover. They're light enough to lift and may be mounted on wheels for mobility. Hanging rods are standard features of portable closets, and some include shelves. A portable closet lets you relocate your clothing as needed.
Tip: Buy two portable closets: one for spring-summer and one for fall-winter. Keep the one not in use stored out of the way, and swap out the entire fixture when the seasons shift.
Beautify with Decorative Flourishes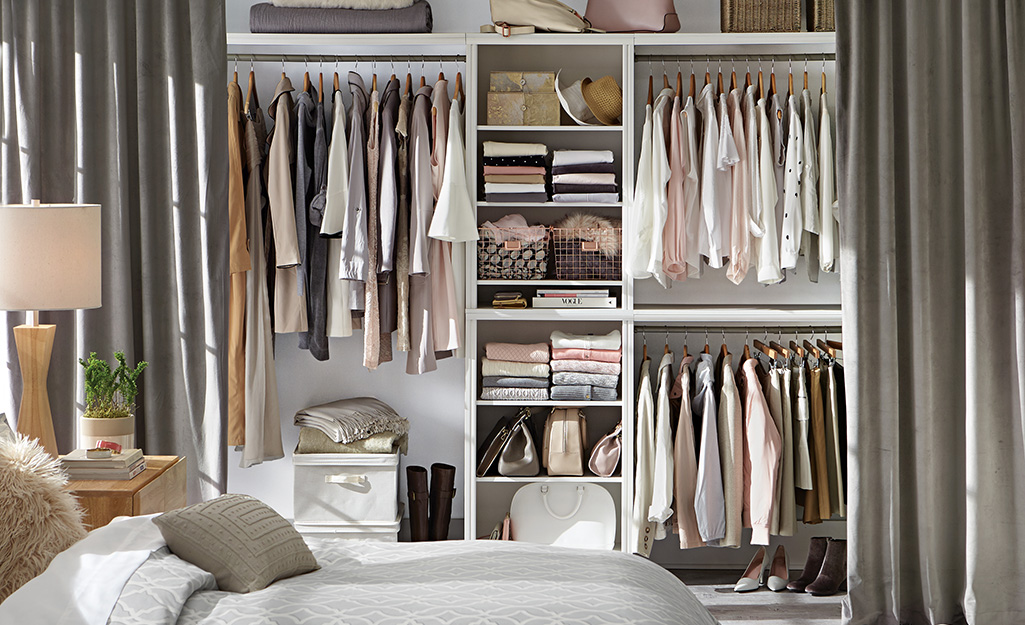 A few decorative touches can make your open closet an asset to your decor. You might:
Hang a curtain panel or shower curtain in front of the closet to hide it from sight.
Add a decorative wall mirror to give the closet the look of a dressing room.
Use vinyl decals or wallpaper to decorate surfaces.
Illuminate the area with a floor lamp, table lamp or wall sconces.
Display a collectible or two, like a figurine, box sign or potted plant.
Hang Frequently Worn Pieces on Wall Hooks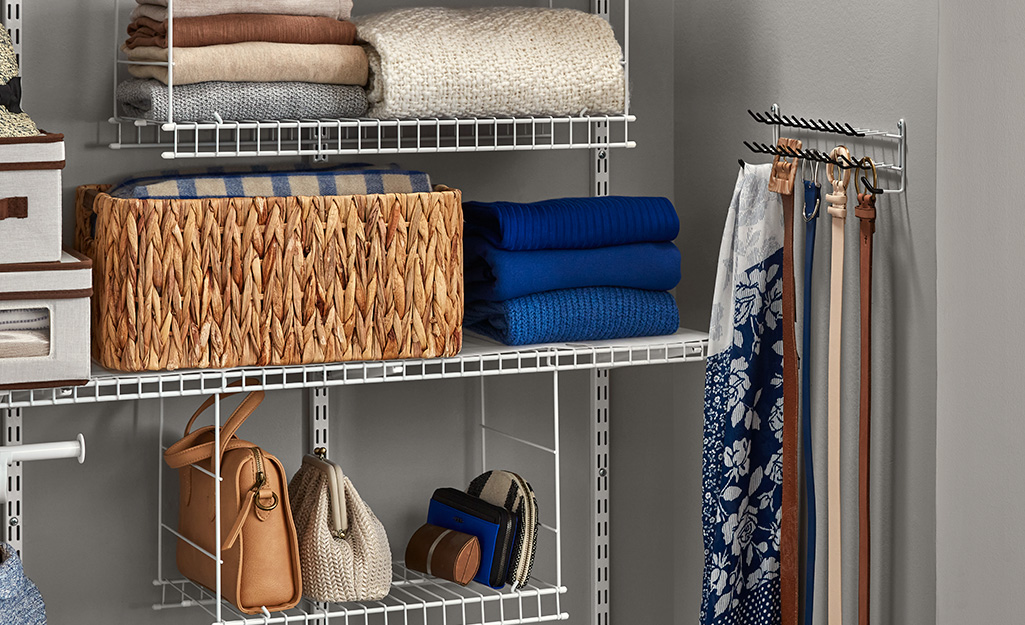 Wall hooks transform bare walls into functional storage spaces. Add a few to your open closet to store items you use regularly, such as your favorite winter coat or everyday handbag. Hooks can also help you store items that are oddly shaped or otherwise hard to store, like sun hats and capes.
Now that you have some inspiration, it's time to start designing customized closet storage for your room. Assess your needs, and take measurements to guide you as you create the ideal layout for your wardrobe and room. Next, search for closet systems, garment racks, hanging organizers and other items to bring your open closet ideas to life. Browse online, or use The Home Depot Mobile App to locate products and check inventory. We'll take you to the exact aisle and bay.
Explore More on homedepot.com