Outdoor fireplaces create a cozy, warm environment. The right stone fireplace with a tall chimney makes an eye-catching focal point. A pizza oven or full kitchen lets you entertain outdoors. Bring your backyard fireplace goals to life with the right tools and a little know-how. Read this guide to get inspired to create your very own outdoor fireplace.
Traditional and Timeless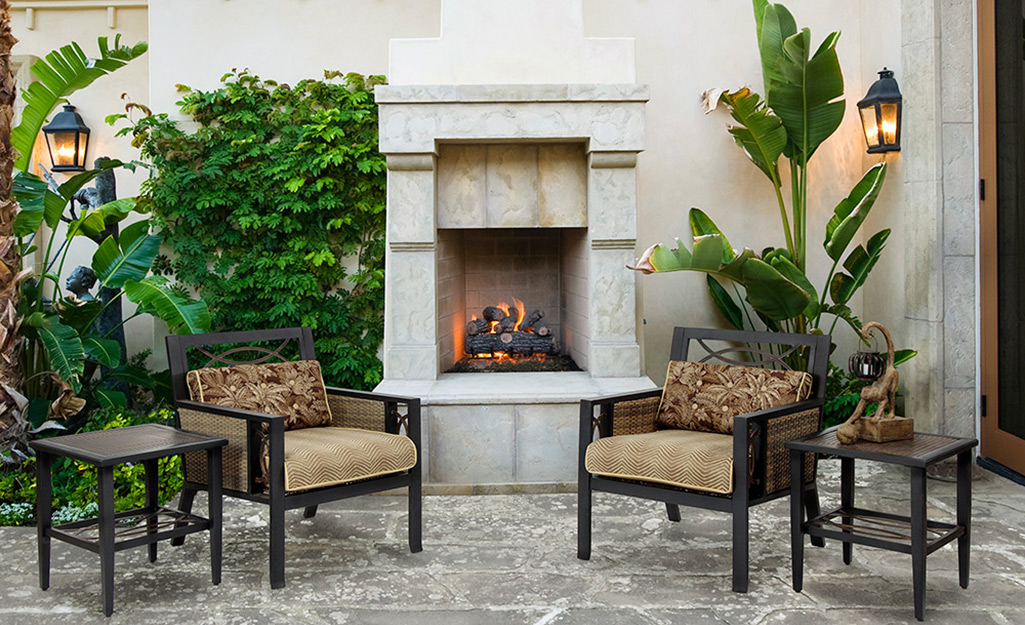 Traditional outdoor fireplaces create a classic look on your patio. Brick fireplaces come in many washes and finishes to match your existing outdoor decor. Stone fireplaces add depth to a patio or deck. A traditional outdoor fireplace is typically designed to burn wood, but some can use clean-burning fuel. These fireplaces look great with American colonial or farmhouse-style homes.
Modern and Minimalist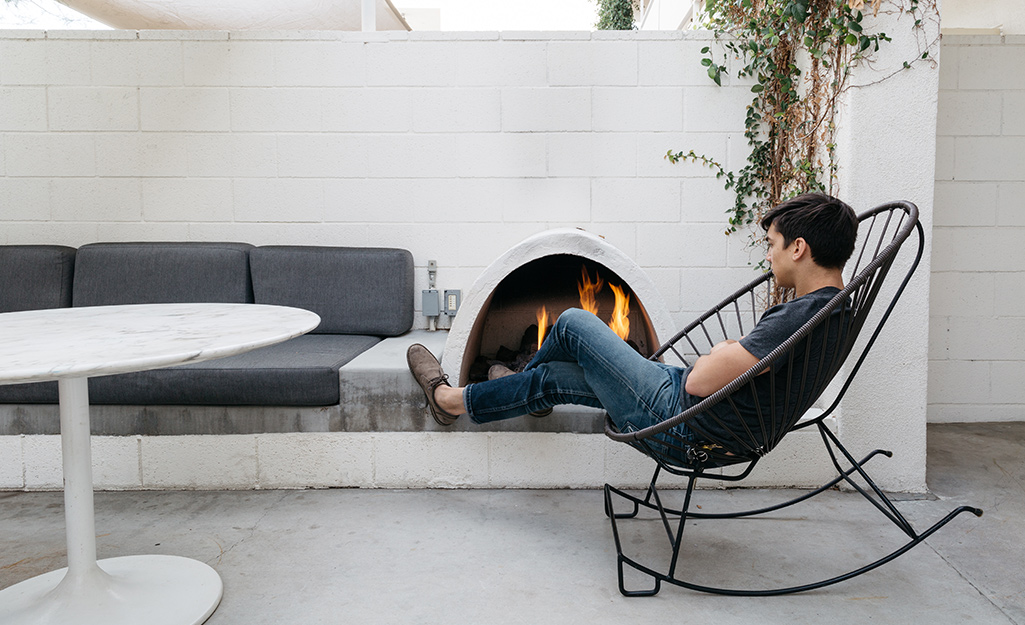 Modern outdoor fireplaces feature smooth lines and neutral colors. They combine industrial materials with updated designs. Modern fireplaces skip ornate details to provide a bold finished look. 
Modern fireplaces can be constructed from any material, from concrete to wood. They make great additions to the backyards of ranches or updated split levels. The neutral look of modern fireplaces makes it easy to switch out outdoor decor any time you want.
Tip: Add a mix of bright colors and natural elements to your decorations for an ultra-contemporary look.
Fun for the Family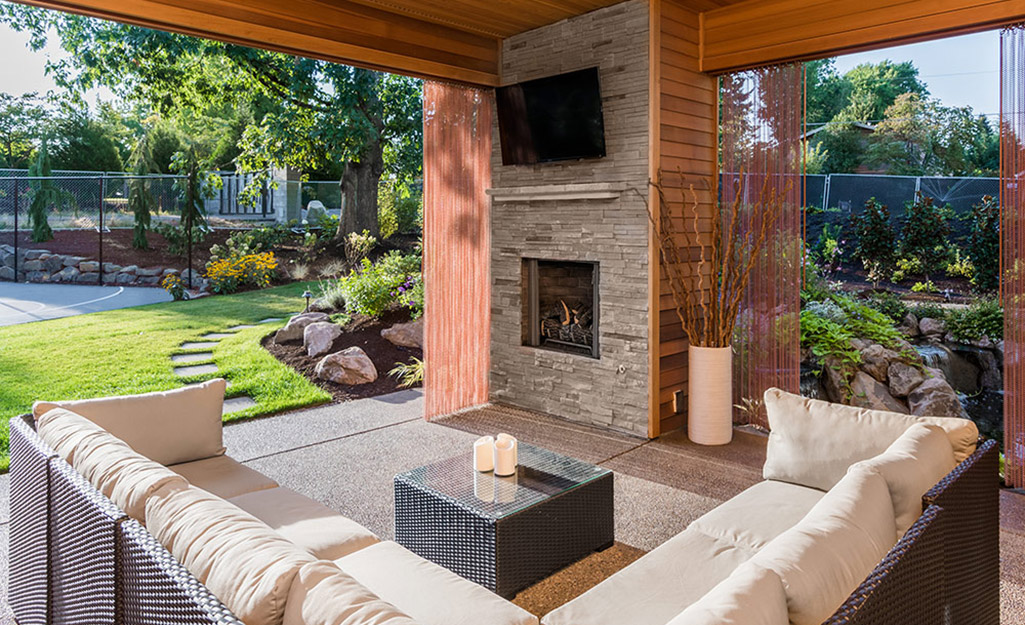 Create an outdoor space that's fun for the whole family. Fire bowls make portable outdoor fireplaces that keep the whole family warm. Stay outside longer and play another hand of cards or roast marshmallows with the kids without getting cold. 
Many fire pits have protective glass that keeps small hands from the heat. Designing an outdoor space that keeps toes and fingers toasty makes the most of your backyard beyond summer weather. Family-friendly outdoor fireplaces are a great addition to any yard.
Mid-Century Mood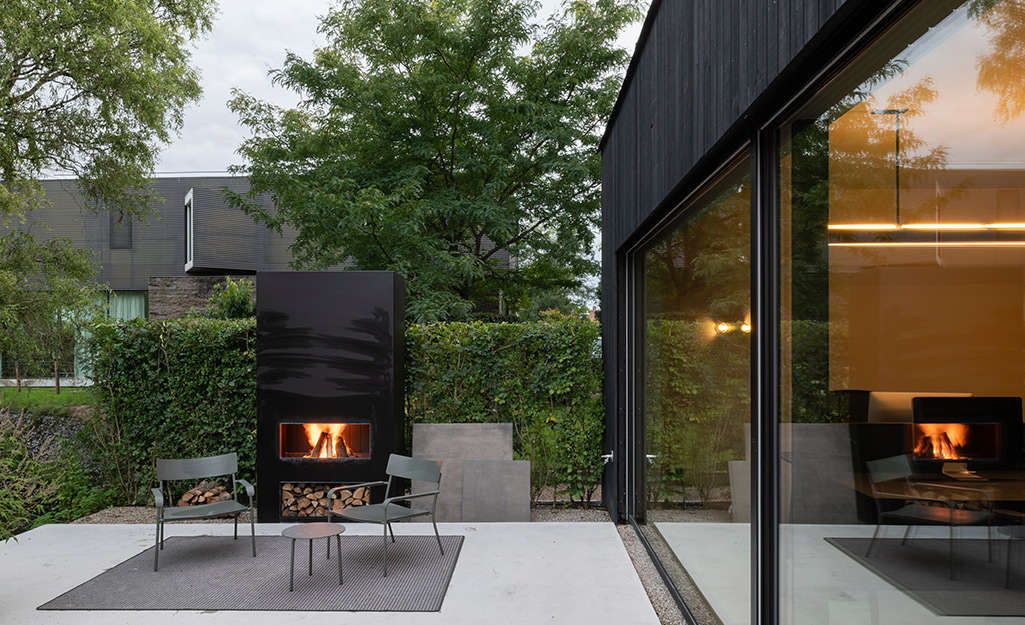 Mid-century modern design features clean lines, organic forms and a lack of extra finishing touches. You'll see sharp lines and angles mixed with bright colors or minimal patterns. Finish a mid-century modern outdoor fireplace with outdoor cushions that provide a pop of color. Mid-century modern fireplaces look right at home on the patios of ranches or contemporary homes.
Tip: Add an outdoor rug with a geometric print to elevate your mid-century modern look.
Rustic Retreat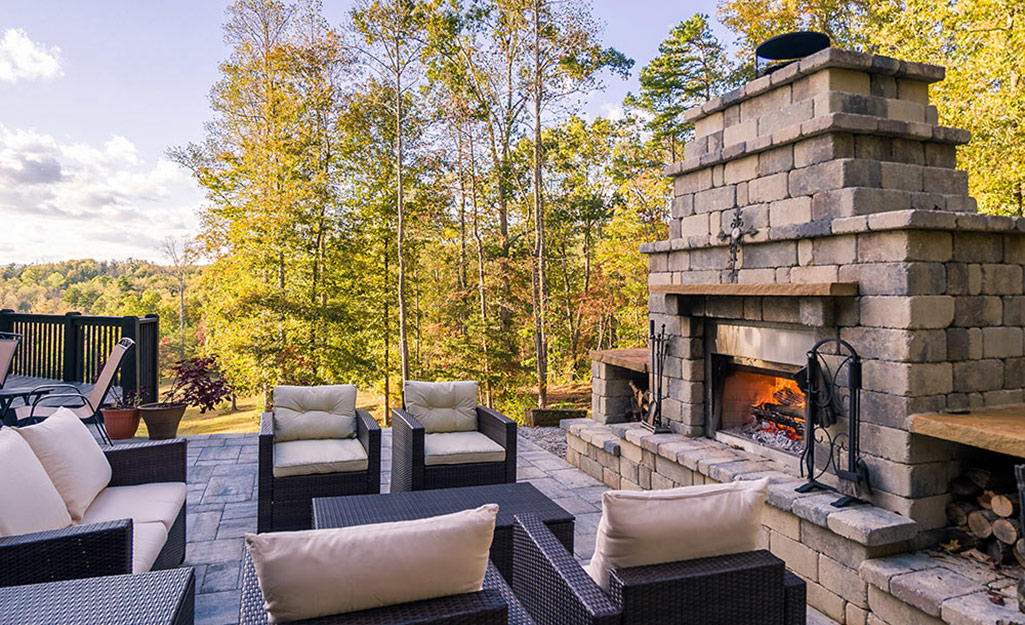 Rustic outdoor fireplaces blend into the natural setting surrounding them. They use unpolished or rough-edged materials to create a rugged look. This fireplace style looks great in open, lush backyards of farmhouse or cabin-style homes.
Add a rustic patio conversation set to create an inviting and charming space. Mix rich, natural colors with live-edge wood pieces to complement the design of your space.
Complete Kitchen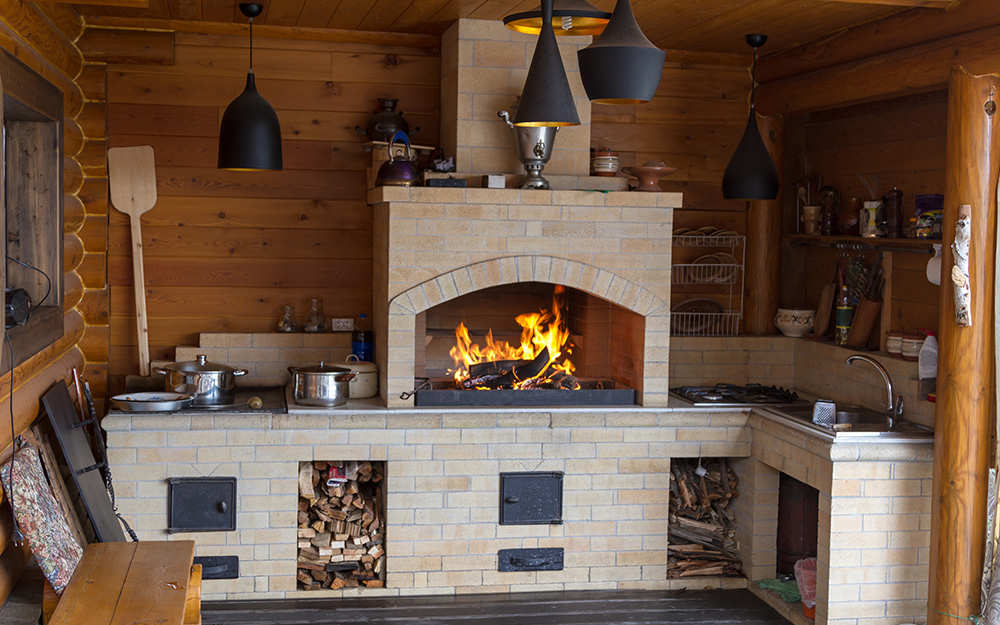 If you love cooking and want new space to make meals, consider installing a full outdoor kitchen. Include an oven with a stone fireplace to add functionality to your patio. 
A wood-fire oven makes it easy to feed a crowd. Grab a pizza stone to make wood-fired pizzas all summer long. A rotating spit or wrought iron hanger for pots lets you make complete meals while enjoying gorgeous weather.
Outdoor Living Room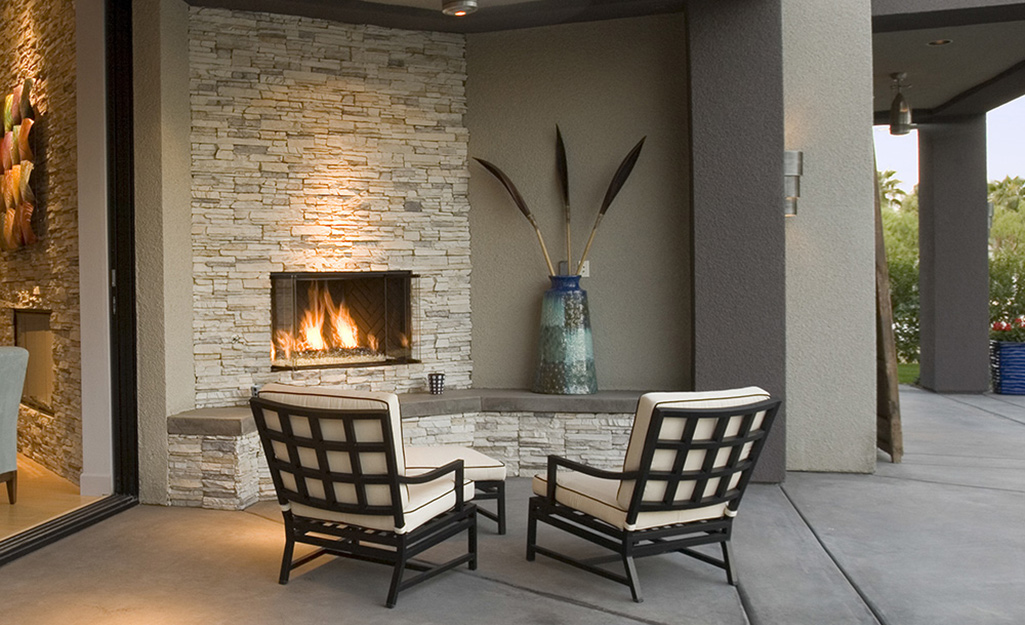 Create a new living space on your patio with an outdoor fireplace for covered spaces. A pavilion keeps your fireplace and seating area dry while you enjoy the beauty of your backyard. Extend your outdoor entertaining season with a covered area. Add a fireplace to keep family and friends comfortable, even as it starts to get chilly. 
Tip: If you're putting a fireplace in a covered outdoor area, the chimney should extend beyond the rafters for safe ventilation.
A Hygge Hearth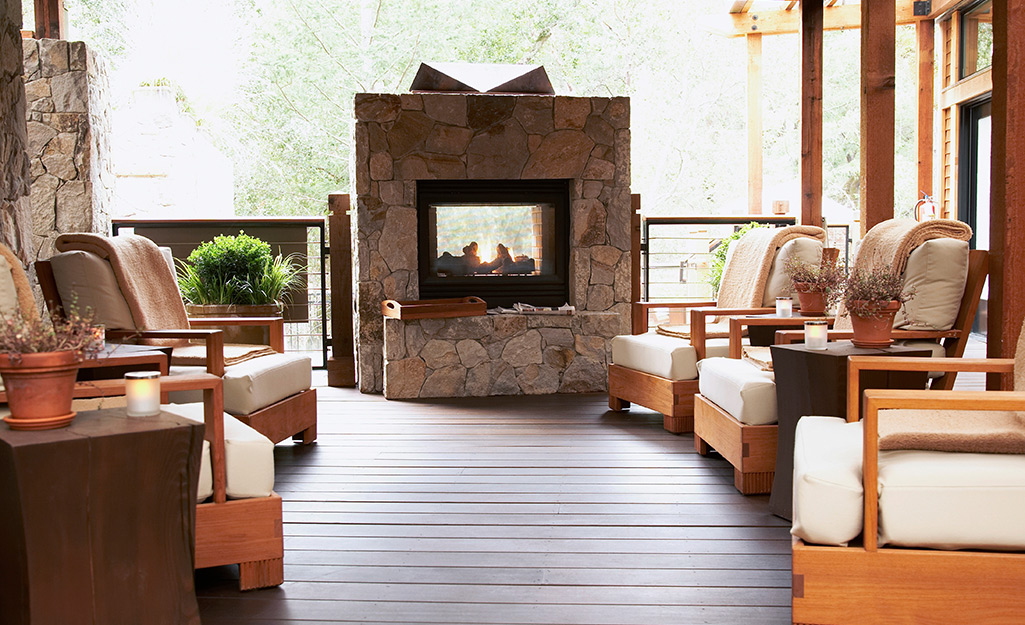 The Hygge lifestyle is all about finding the ways to stay cozy and comfy with loved ones. Warm tones and natural elements make a hygge-style outdoor fireplace inviting all year long. A wood panel-covered fireplace wall is a simple way to add warmth to an outdoor space. Finish your area with soft cushions, potted plants and fuzzy outdoor rugs. Keep a kettle near the hearth to make hot tea or frothy hot chocolate to indulge in comfort.
Old-World Charm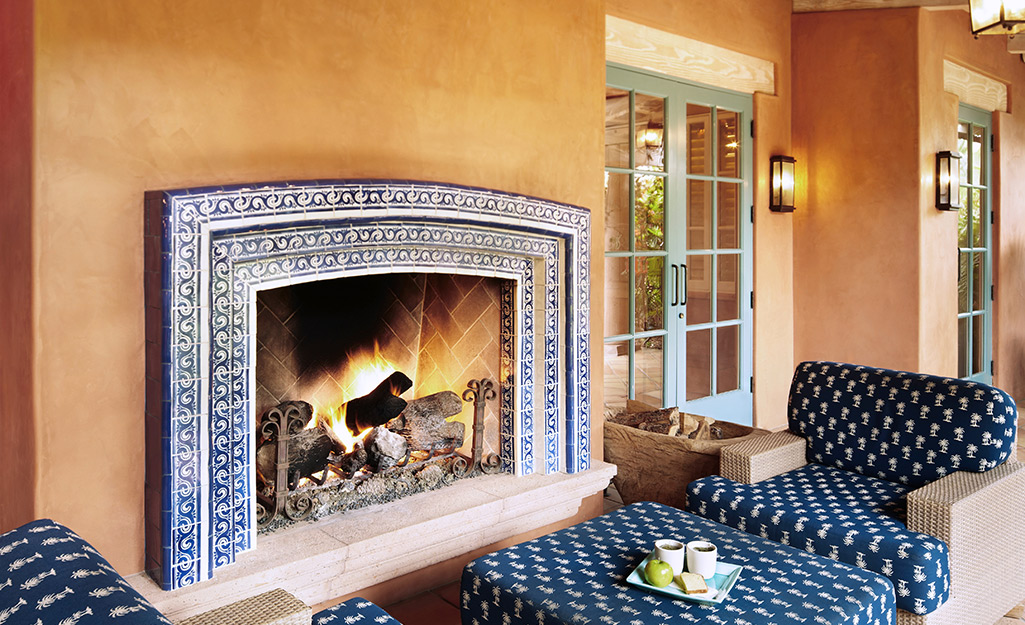 Old-world designs make a space feel like it's been there for centuries. Stucco, metal elements or brightly colored accents transport you back in time. Choose richly-colored bricks and patterned tiles for a mix of traditional and classic fireplace elements. Create a weathered look with layered stucco in different colors or unfinished stone edges. 
Finish your old-world outdoor space with a simple patio dining set. Old-world outdoor fireplaces look great surrounded by mature landscaping and terracotta planters.
Elegant Touches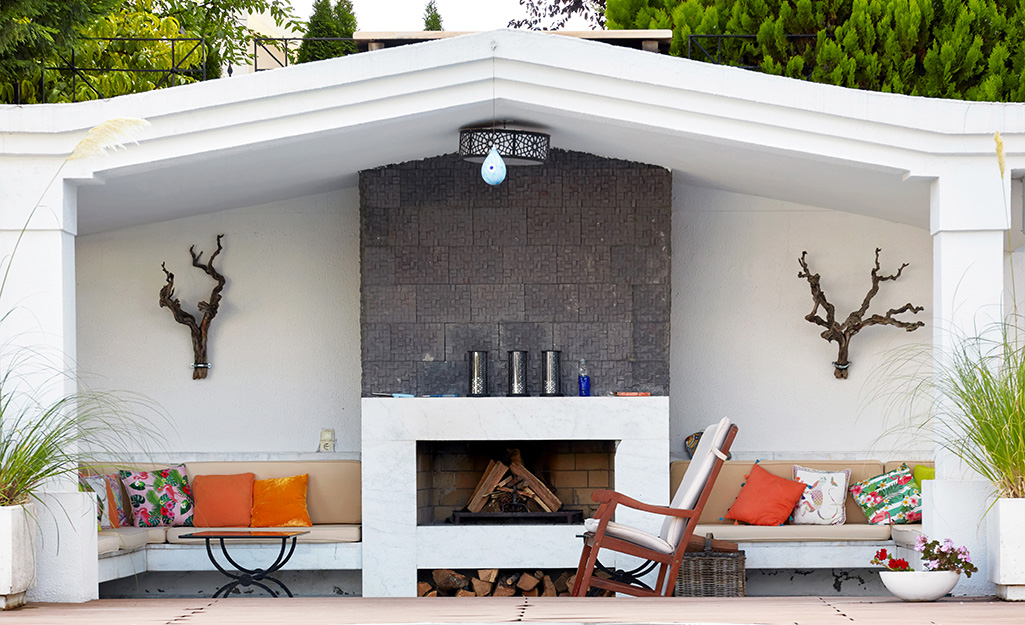 Outdoor space can be just as cultured as indoor design. Elegant outdoor fireplaces feature invisible seams, polished stones and technologically-advanced features. A gas fireplace with multicolored lights can be remote-controlled from across the patio. 
The right finishing touches can make any outdoor fireplace look stylish. Simple lines and contemporary outdoor furniture makes your exterior space refined. Greenery and outdoor lighting take your backyard fireplace area to the next level.
Tip: Use an outdoor fireplace kit to easily create a look you love.
These outdoor fireplace ideas just scratch the surface of what's possible. No matter what style you like, adding an outdoor fireplace to your backyard patio is a great way to upgrade your space. Find your favorite materials, designs and decorations to make a backyard oasis that's all your own. From patio furniture to cozy pillows, get everything you need for your own outdoor fireplace. The Home Depot delivers online orders when and where you need them.
Explore More on homedepot.com