Ideas & Inspiration
Plant Perennials in Your Southern Garden
Beautiful, dependable perennials come back in our gardens year after year. Their foliage and flowers make an excellent foundation for other plants, so try growing them alongside shrubs and annuals. Be sure to read the plant tags when you shop; by choosing perennials with staggered bloom times, you can keep the colorful flower show going until frost.
Use the lists below to find plants that can take the heat and humidity in your Southern garden. We've included specific recommendations for South Texas Valley gardeners, and we've rounded up a list of South Florida perennials.
Plant selections may vary by store, but if you don't find what you're looking for, ask a Home Depot Garden Center associate. He or she would be glad to help.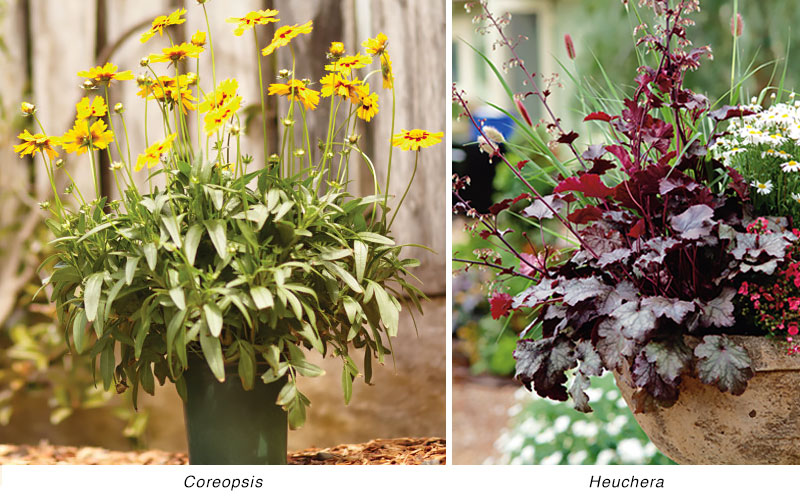 Asiatic lilies: Even beginners find hardy, sun-loving Asiatic lilies easy to grow. Depending on the variety, the brightly colored blooms open from early summer to midsummer. Cut the sturdy stems to bring inside for arrangements.
Astilbe: These extremely hardy, long-lived perennials prefer part to full shade. Use them to brighten up shady spots. The tall, plume-like flowers slowly fade to lighter colors but hold their good looks for weeks.
Coreopsis: Coreopsis are nearly carefree plants that thrive in full sun. Look for blooms in yellow, gold, orange, red, and creamy white.
Daylily: Although daylilies prefer at least six hours of sun each day, they'll bloom with less. Compact varieties like 'Stella De Oro' or 'Happy Returns' make great container plants.
Dianthus: Dianthus are the backbone of many gardens, blooming in spring and summer in a rainbow of colors. These carnation-shaped flowers do best in sun, but can take partial shade.
Gaura: Graceful, sun-loving gauras are exceptionally tolerant of drought and extreme heat and humidity. The showy flowers, which are held on long, wand-like stems, may be pink or white.
Heuchera: Over the last decade, plant breeders have developed shade-loving heucheras in a wide range of colors and sizes. The plants are grown for the interesting colors and textures of their foliage rather than their small flowers.
Hosta: Like heucheras, hostas are grown for their beautiful leaves rather than their blooms. Look for these durable, long-lived perennials in many different sizes, shapes, and colors. Hostas are shade tolerant and low maintenance.
Salvia: Also known as sage, tough, drought-resistant salvias need full sun to light shade. Flower colors include white, pink, red, and violet-blue.
Scabiosa: Commonly called "pincushion flowers," white, blue, and pink scabiosas are undemanding and nearly irresistible to butterflies. Snip the long stems to use as cut flowers.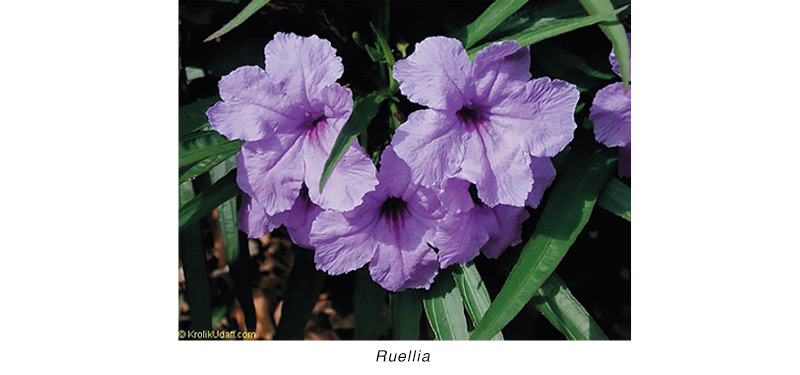 Coreopsis, Daylily, Dianthus, Gaura, Hosta, Salvia and Scabiosa: Read about these easy-to-grow perennials above.
Lantana: Like scabiosas, lantanas are magnets for butterflies. They love full sun, tolerate drought, and are deer-resistant. Look for blossoms in white, pink, red, yellow, orange, purple, and multicolors.
Ruellia: Sometimes called Mexican petunias or wild petunias, these pretty plants take full sun to part shade and grow fast. Try them in containers or at the back of beds and borders.
Plumbago: Deer- and pest-resistant plumbago can handle the long, hot, humid Texas summers. Nicknamed the "skyflower," plumbago likes sun but tolerates some shade.
Rosemary: This aromatic herb thrives even in dry, rocky, or poor soil and doesn't mind the heat. Try growing it near a doorway or path, so you can brush your hands over it and enjoy the scent as you walk by.
Astilbe image: Shutterstock/Jorge Salcedo