Ideas & Inspiration
Recipe: Easy Freedom Tart for a Patriotic Picnic
Presented by Proven Winners
You've invited the guests, manicured the lawn and watered the flowers. The kids have made the decorations and planned the games. So what's left? Creating a patriotic menu to add to the celebration.
Here are some delicious, colorful and festive ideas, as well as an easy recipe for a patriotic picnic that your guests will rave about.
INGREDIENTS:
1 pre-made pie crust
Fresh berries (red raspberries, blackberries and blueberries)
Raspberry jam
6 oz. package of cream cheese, softened
1/2 cup sugar
2 large eggs
1/2 teaspoon vanilla extract
INSTRUCTIONS:
In a medium bowl, with mixer at low speed, beat cream cheese and sugar until smooth, occasionally scraping bowl with rubber spatula.
Add eggs and vanilla extract; beat just until combined.
Pour into pie crust and bake at 350 degrees Fahrenheit for 20 minutes. Let cool completely.
Arrange berries on top of the filling.
Warm jam in a pan, thin if necessary. Brush jam over berries.
Chill until serving.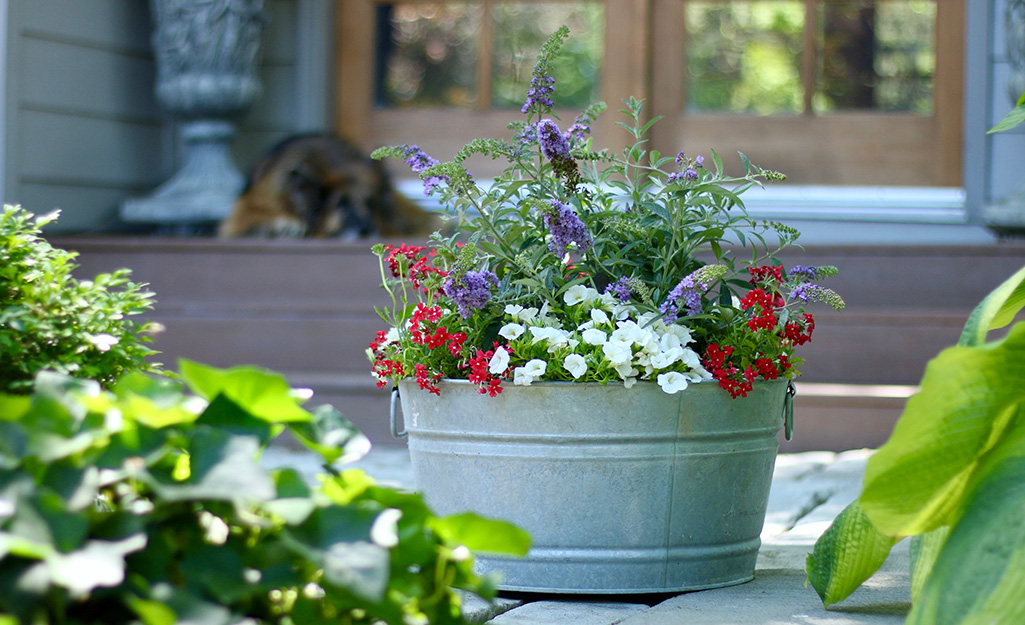 Looking for more great ideas for a patriotic picnic and entertaining? Make Independence Day even brighter with dazzling red, white and blue decor and vibrant blooms in your outdoor space.
At the height of summer, choose flowers in shades taken right from Old Glory. You'll find that the colors of the stars and stripes that unite our country unify in the garden, too. You can plant waves of red, white and blue flowers in a garden bed or pot them up in planters on a table, staggered up some stairs or nestled in a corner on the patio or deck.
For impact, coordinate the planter color with the flowers, like Supertunia® white petunias and Superbells® red or pomegranate punch calibrachoa in a blue container. It's hard to find true blue flowers, but there's no shortage of intensely violet blooms. Try the butterfly garden planter recipe above from Proven Winners (photo by Garden Answer) with red verbena (Tukana Scarlet Star), white calibrachoa (Superbells) and violet butterfly bush (Lo & Behold Lilac Chip). Get more great ideas on how to create planters that bring a festive flair to your patriotic celebration.