Ideas & Inspiration
Shade-Loving Perennial Foliage to Plant
Trees and houses may throw shade on your landscape, but you can overcome the shortcomings of your site with plant selections that thrive in limited amounts of sunlight. Instead of brilliantly blooming annuals, choose boldly foliated perennials that prefer partial shade. In the Garden Center, select perennial favorites like hosta and heuchera to fill out a bed or to fringe a border of shrubs under a tree canopy.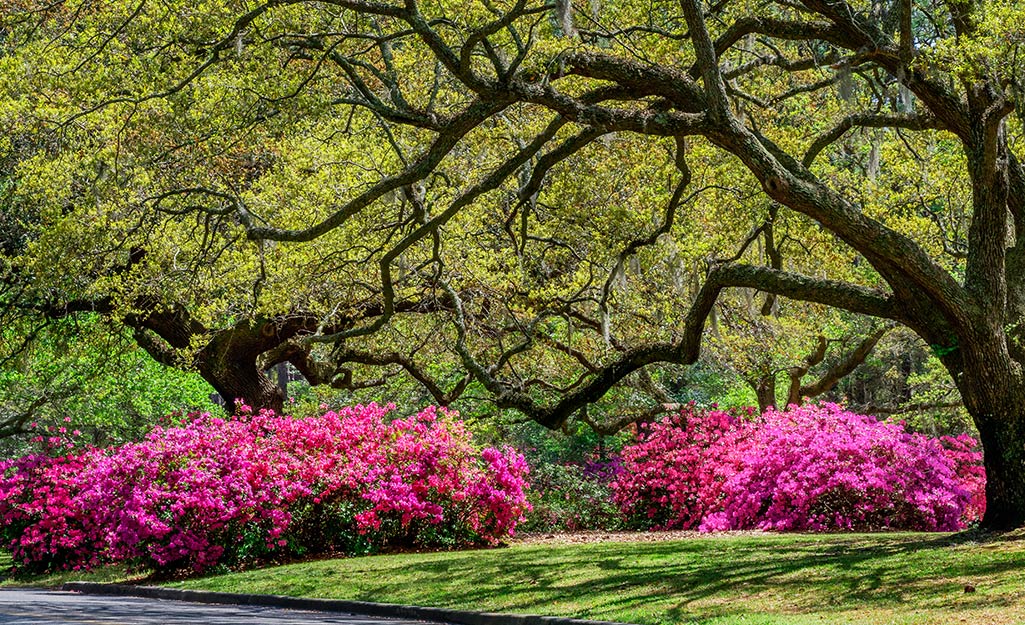 First, let's define sun and shade terms: "Full sun" is six or more hours of sunlight a day. "Partial sun" is four to six hours of sunlight, and "partial shade" is two to four hours of sunlight. "Full shade" means no direct sun, or at least, less than two hours of sunlight a day. Full shade can be found on the north side of a house or under a deep tree canopy.
To get a complete picture of your garden's light, observe it throughout the day, and through the seasons. Keep in mind that morning sun is cooler than afternoon sun; most shade-tolerant plants prefer their sunlight in the morning as direct afternoon sun may be too harsh.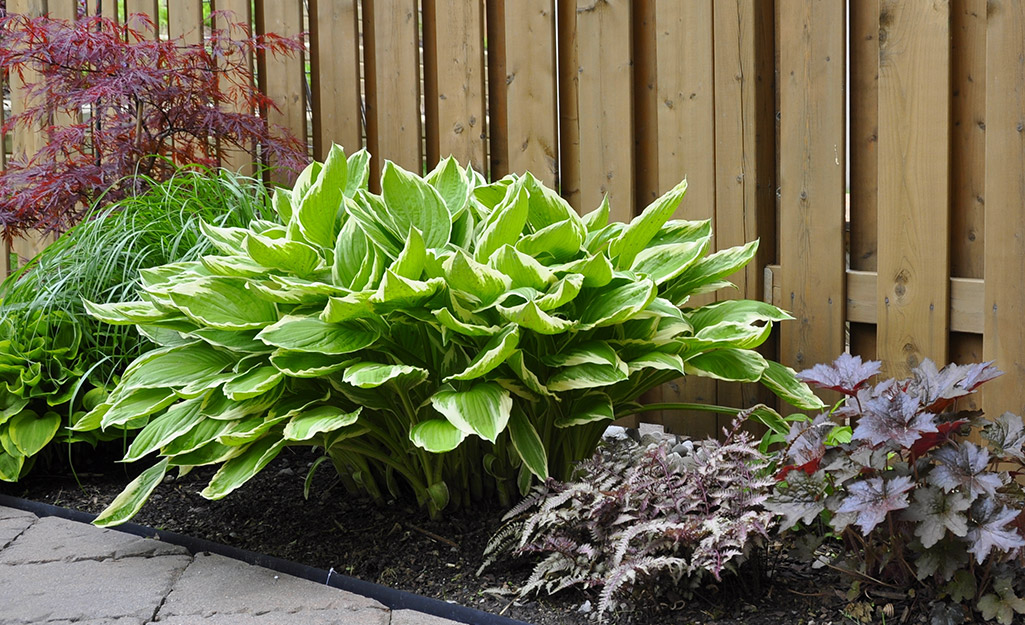 The No. 1 perennial for shade is, big surprise, hosta. These somewhat addictive plants vary in size from minis that grow to 7 inches high to giants more than 30 inches high. Varieties in the Garden Center are in the mid-range like Patriot that grows 18 inches high and 24 inches wide.
Look for variations in leaf texture and color. The blue hosta leaves have a natural waxy coating that will melt in direct sun, so plant them in deepest shade to ensure your hostas keep their color. Hostas in the perennial garden will need lots of water, especially after first planting, until they become established. Read more about hosta.
The perfect companion for hosta is heuchera, commonly called coral bells. Like hosta, heuchera is known more for foliage than flowers, but it does send up stems with sweet petite blooms in spring and mid-summer. The names of heuchera varieties reflect the bright new foliage available: Purple Coral Bells, Georgia Peach Coral Bells, Dolce Key Lime Pie, Caramel Coral Bells, Dolce Creme Brûlée and Dolce Blackberry Ice. Heucheras like average moisture. Be sure to work plenty of organic matter into the soil to give them a well-draining bed.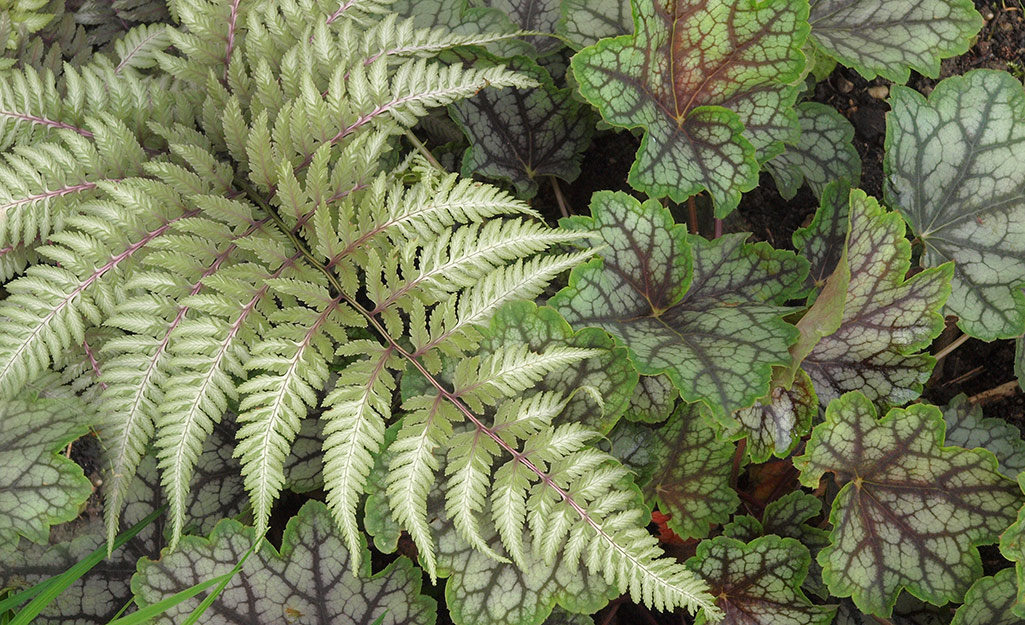 Ferns give a feathery texture to the shade garden. Grow ferns as low edgings, tall backgrounds or filler. Give them moist and acidic soil. Look for the rich colors of Japanese Painted Fern or the sienna fronds of the Cinnamon Fern.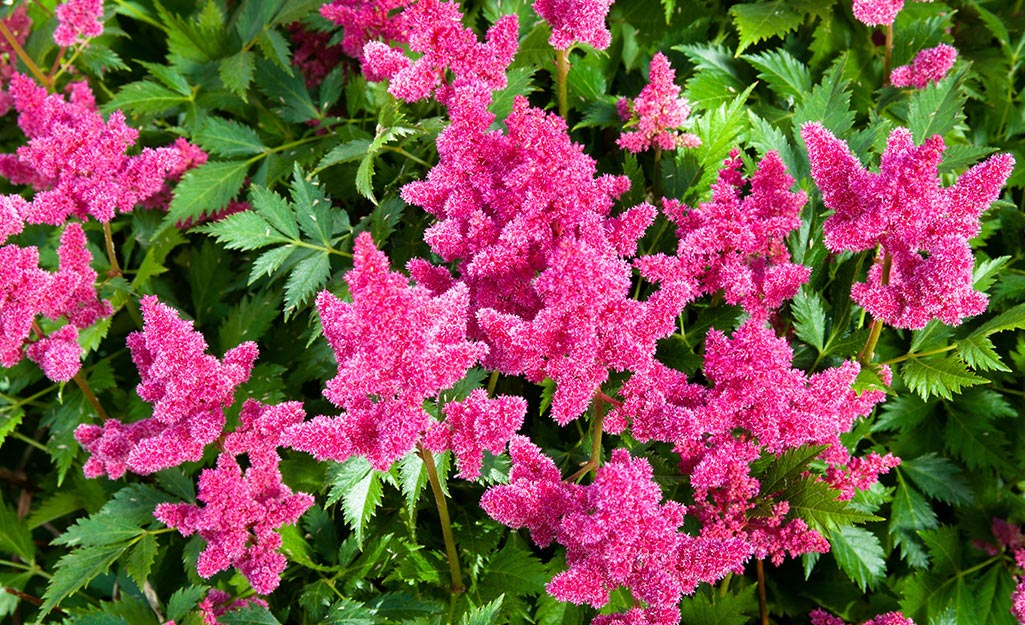 Astilbe
Bleeding Heart
Dead Nettles (lamium)
Foamflower (tiarella)
Lily of the Valley
Snow-on-the-Mountain, or Bishop's Weed
Groundcovers like Ajuga, Blue Star, Creeping jenny and Speedwell.
Many of these plants will work well under shade trees. When planting a bed under trees, do not add soil on top of the tree's roots. Instead, gently dig between the tree roots and work organic matter like compost into the planting holes. Snug in the plants and finish with no more than 4 inches of mulch. Water the plants in, then water regularly until the plants are established.
Tip: If you're planting under black walnut trees, be careful, because some plants are sensitive to the juglone produced by these trees. Hostas are not sensitive to juglone and can be planted under black walnut trees.