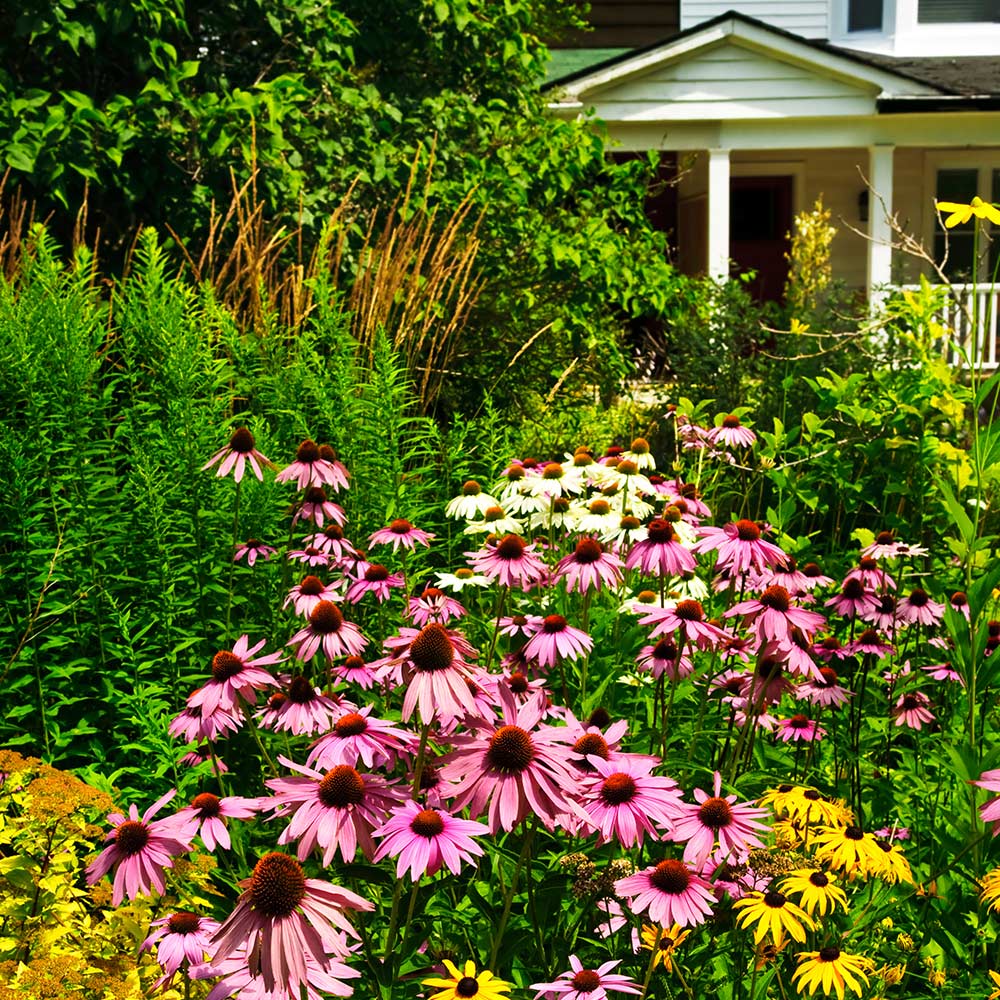 Take advantage of long days and warm weather and work on the outside of your home in summer. It's a good time to reset your garden, work on your lawn and take on outdoor cleaning projects.
Here's a list of outdoor home maintenance projects to make your outside home space more enjoyable.
Lawn Maintenance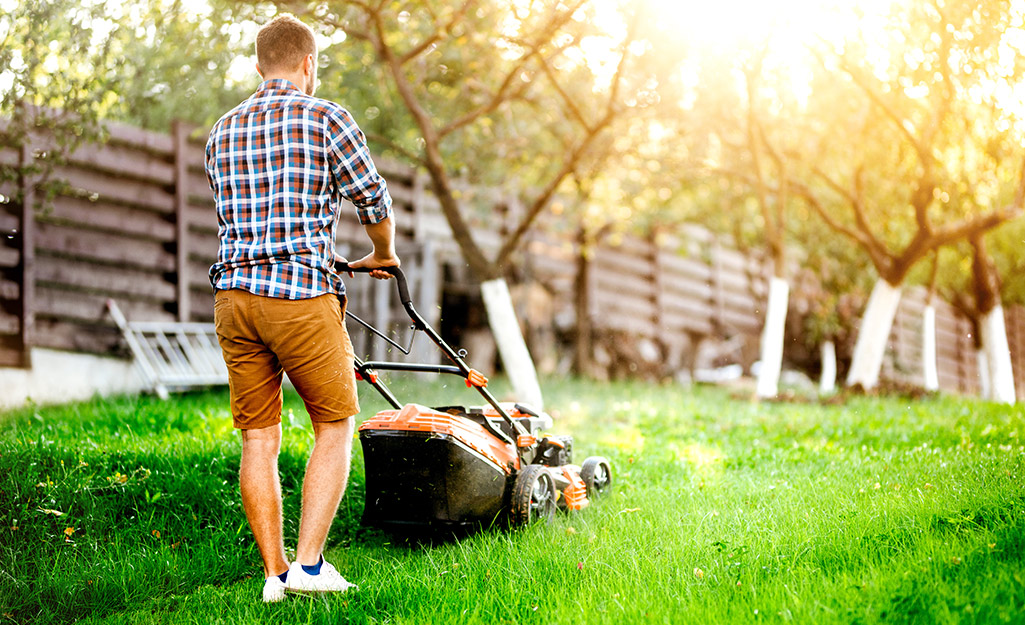 Fertilize lawns early in summer to keep grass healthy and green throughout the season. Use a slow-release fertilizer to help your lawn withstand summer heat and drought conditions. 
Foot traffic, drought, flooding and pets can cause dry and bare patches in your lawn. Inspect your lawn for these and fill in with new soil and seed. 
Learn how to patch a lawn:
Prepare the soil: Begin by removing thatch from the area of dead grass using a garden rake or hand rake. Once you get below the layer of thatch, rake the soil to loosen it for the seeds.
Spread the seed mixture: Following manufacturer's instructions on the product, spread the product over the area, being careful not to overseed. The seeds will germinate best when daytime temperatures are between 60 and 75 degrees Fahrenheit. 
Gently water: With a garden hose and spray nozzle set to the gentlest setting, water deeply and thoroughly to give the seed the best possible start. Keep moist for up to two weeks when germination occurs. Keep pets and people away from the seeded areas until the grass is restored.  
Problem-solving tips for your lawn include:
Don't mow the grass until your newly germinated lawn is at least three inches high, and then take the top 1/3 off to keep the roots growing strong.
Prevent problems in the future by addressing the cause of the dead patches. If foot traffic is a problem, consider constructing a new paver or mulch pathway. 
If you suspect that insects or fungi have damaged your lawn, determine the culprit and look for products that will rid your lawn of harmful insects and fungi, and prevent the lawn diseases they cause.
Fertilize lawns early in summer to keep grass healthy and green throughout the season. Use a slow-release fertilizer to help your lawn withstand summer heat and drought conditions. 
Get a Handle on Weeds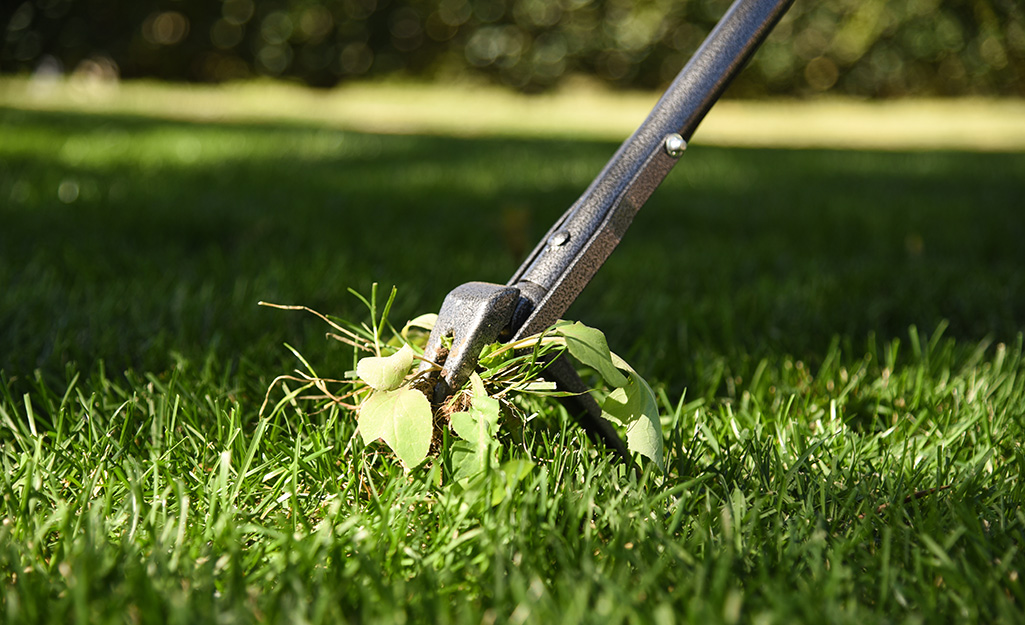 Get weeds under control by taking steps now so they don't gain ground. Weeds can crowd flowers and foliage and steal nutrients from them.
One of the best organic ways to rid your garden of weeds is to pull them either with weeder tools or by hand. A thick blanket of mulch also suppresses weed growth.
Weeds thrive in the heat of summer. Stay ahead of the problem by pulling weeds early and often before they set seed. Use a hand weeding tool or a scuffle hoe that will cut the weed at the ground surface, or, even better, pull the root out of the ground. 
Tip: The best, most effective, time to weed is just after a rain, when you can gently pull weeds up by the roots. Discard weeds in a compost pile or trash.
Layer Mulch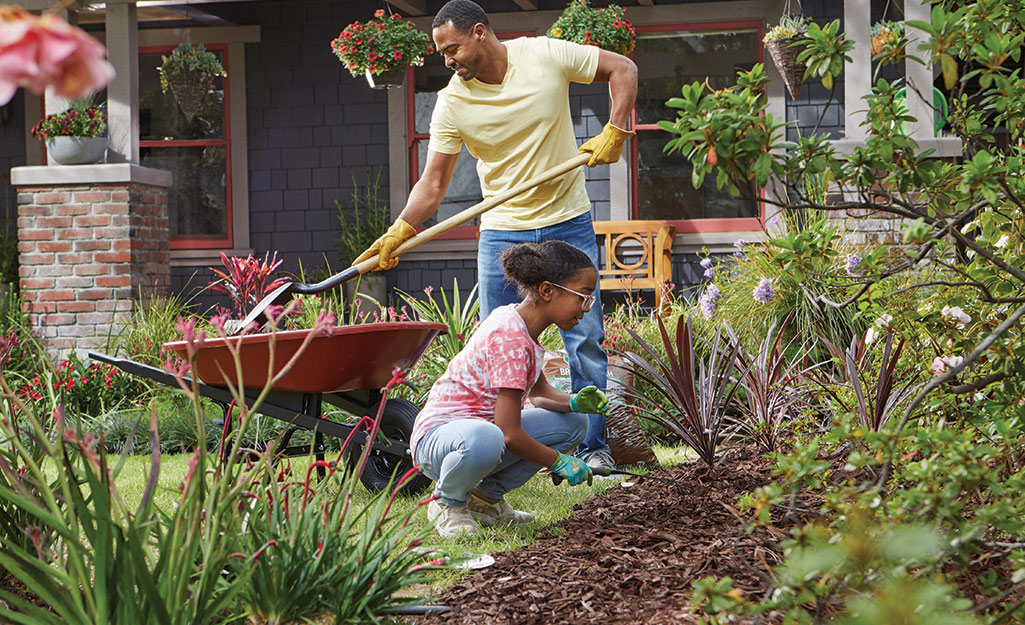 When the garden starts to look run down by the heat, add a fresh layer of mulch. It helps plants remain healthy and retain water with the added benefit of helping to keep down weeds.
When you do a quick cleaning in your garden beds, rake away debris, pull up dead or unhealthy plants and fill up any holes in your garden beds with compost around plants.
Then spread a 2-inch layer of fresh mulch between plants. Increase to 3 inches around the edge of the bed. Read more about mulch and remember to use organic mulch options around edibles.
Mow, Edge and Trim Lawn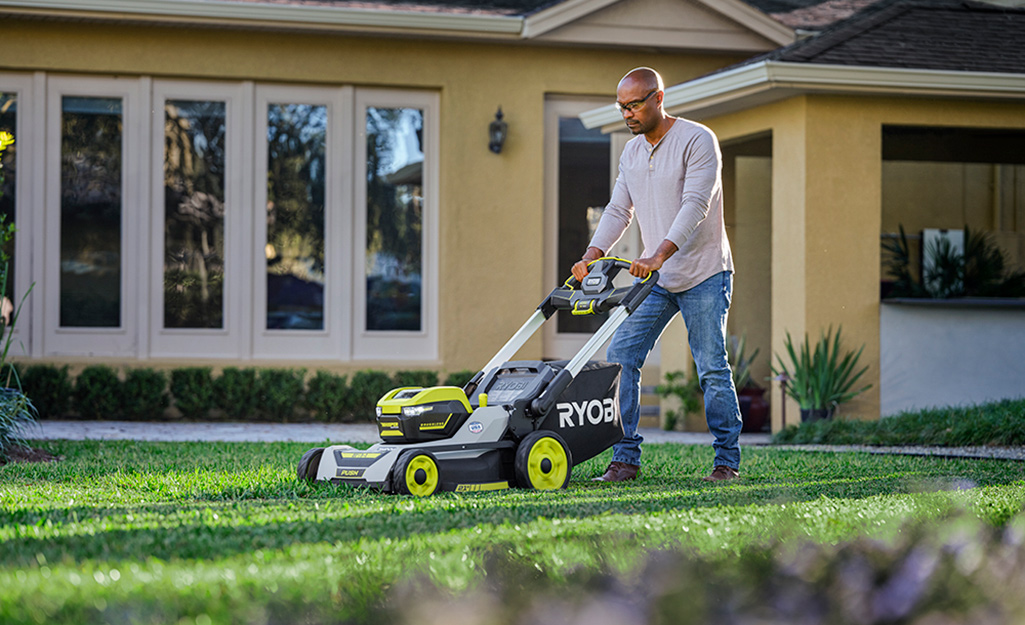 Appearances are everything in your garden. In summer, tidy up and use a string trimmer or edger to cut grass around shrubs, trees, raised garden beds and borders.
After summer storms blow through, check your garden for dead limbs on trees and shrubs, and prune and trim those for a fresh look.
The tools for edging a lawn and the ones for trimming a lawn can be different. With edging, an actual cut is made in the lawn. This "edge" puts a line between the grass and borders or sidewalks. 
Trimming means cutting grass in spaces where your lawn mower can't reach, such as against a wall or fence. Choose either manual or power tools to properly edge or trim a lawn. 
String trimmers are available in gas, electric and corded or cordless models. 
Gas string trimmers are great for larger lawns and can be used when the ground is damp, while electric trimmers are lightweight and run on clean energy.
Cordless string trimmers use rechargeable lithium-ion batteries, which makes them both lightweight and portable. 
A wheeled lawn edger cuts edges quickly and efficiently, up to 90 feet per minute. It's user-friendly, with fingertip controls and a ratchet-arm with a height adjustment feature.  
A bed edger lets you define and create flower beds in your landscape. Its zero-turn steering makes shaping borders easy. 
Choose edging shears to snip away grass in awkward places such as stepping stones or around garden beds.
Tips for mowing:
Pay attention to weather and mow less often when there are droughty conditions. 
When you mow, just take off the top 1/3 of the grass blade. This will help your grass develop a healthy root system. Learn more about how to mow a lawn.
Pressure Wash Patios and Decks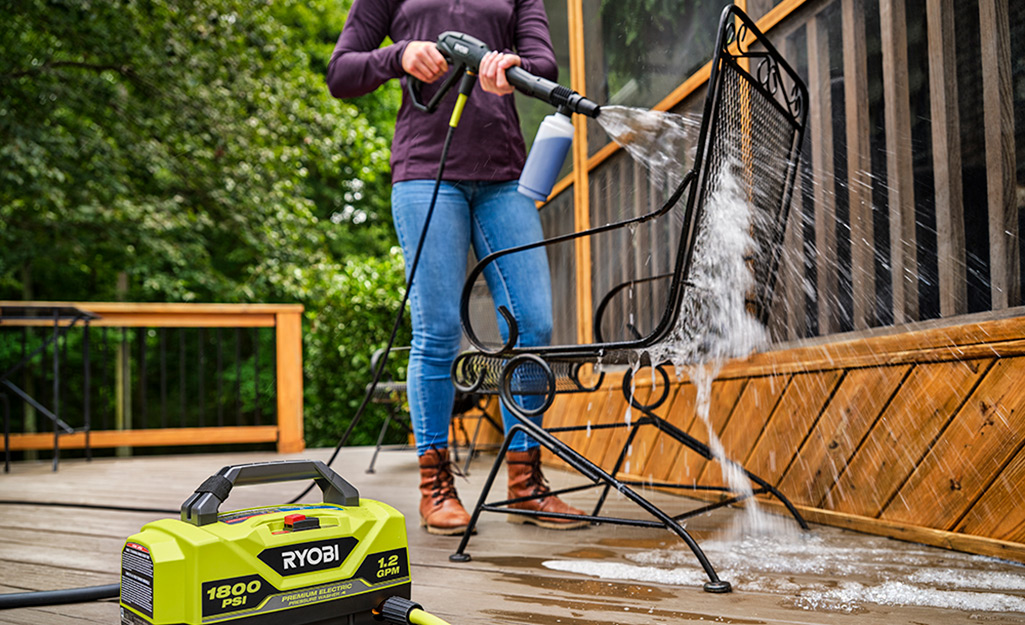 Summer is a great time to spruce up decks and patios using a pressure washer. Choose from electric, gas-powered and commercial-grade pressure washers, and look for features like spray wands and other adapters. 
Select which all-purpose cleaner, mold and mildew cleaner or concrete degreaser you need. There are ones specifically designed for use in pressure washers to remove stubborn stains. 
Before you get started, decide if you'll buy or rent a pressure washer. If this is a small, once-a-year project that calls for a pressure washer, consider renting the machine and accessories from the Tool Rental center.
Decide which type of pressure washer is right for you based on your job. For medium to heavy duty jobs, like cleaning siding or removing oil stains from a driveway, a gas-powered pressure washer is recommended. Gas-powered pressure washers use about 3,000 PSI (pounds per square inch), making them incredibly powerful. 
For light duty jobs such as cleaning your car or grill, an electric pressure washer is ideal. Using about 1300-1400 PSI, electric pressure washers are portable and efficient in small areas, as well as on painted surfaces.
Pot Up Pretty Annuals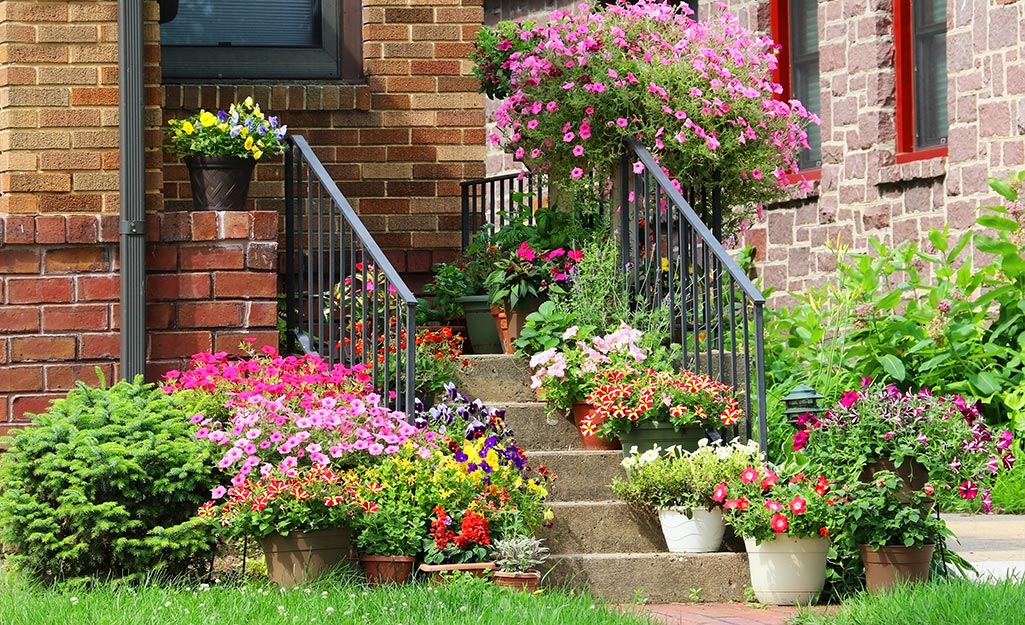 Summer is the season for annuals, and one of the easiest ways to enjoy them is in containers displayed on your patio or porch. 
Bring a colorful, fresh blast by potting up sun-loving annuals, such as zinnias, calibrachoas, petunias, geraniums, begonias, New Guinea impatiens and coleus. Learn about the types of annuals sold in the Garden Center.
Tip: In mid-summer, plants can get leggy. When this happens, trim them by a third to rejuvenate the blooms and keep them tidy.  
Plant Heat-Loving Perennials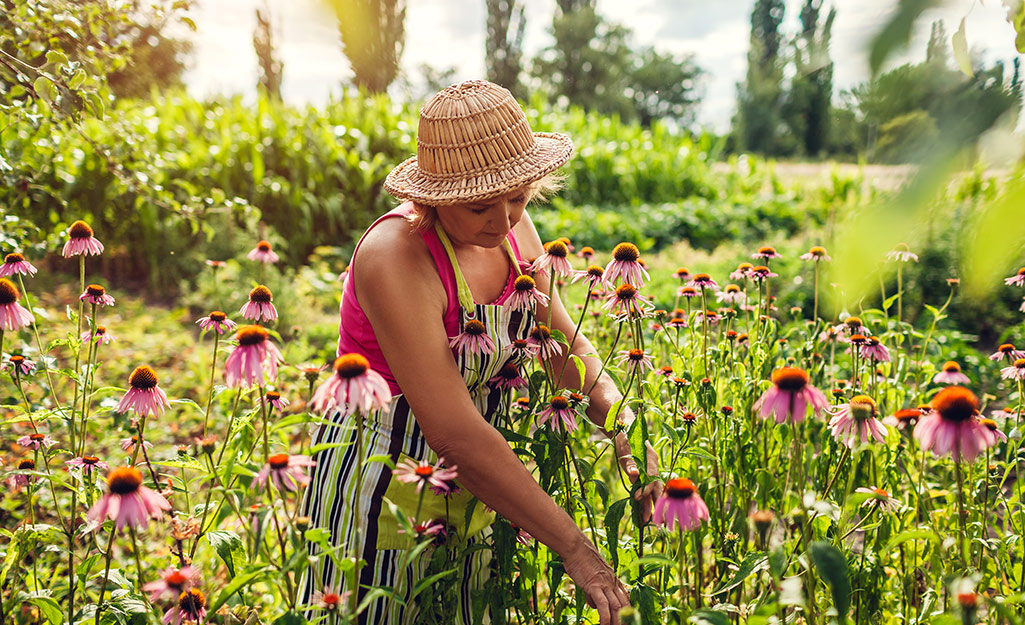 If you're digging in the garden, refreshing containers, window boxes or hanging baskets, make sure to add tough-as-nails perennial blooms and foliage that can beat the summer's heat.
In the Garden Center, look for plant tags that say "drought-resistant" and "heat-tolerant" when seeking ideas for summer planting. For starters, consider coreopsis, black-eyed Susans, coneflowers, cannas, daylilies, gaillardia and more. Once established, these hardy perennials require little maintenance, just regular watering. 
Tip: Most garden plants and lawns need about an inch of water each week. This can come from rainfall or irrigation. Get a rain gauge to measure local rainfall.
Prune and Pluck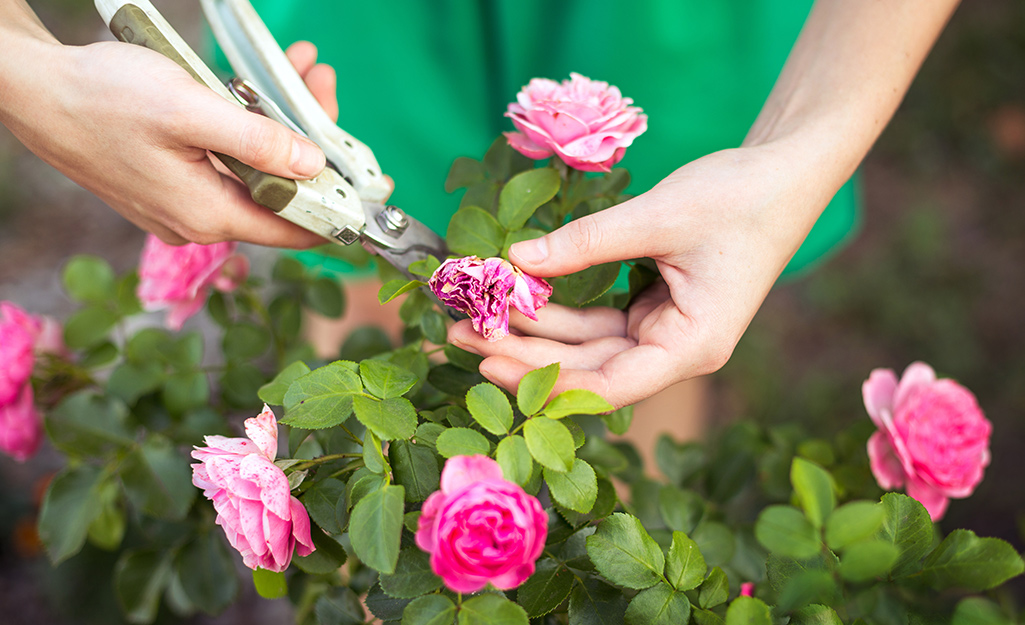 Take time in summer to prune, snip and deadhead spent flowers and vegetation. This practice encourages more growth, and helps you keep track of what's happening in your garden.
You can cut the healthy flowers, too, and bring them inside to enjoy. Learn more about planting a cut flower garden.
This kind of up-close time with your plants is helpful to discover problems before they get out of hand. Experienced gardeners call it "scouting," which means turning over leaves to see if there are insects on the undersides, or looking for disease problems. You can spot bigger pests, like squirrels and birds, and find ways to deter them.
In the Vegetable Garden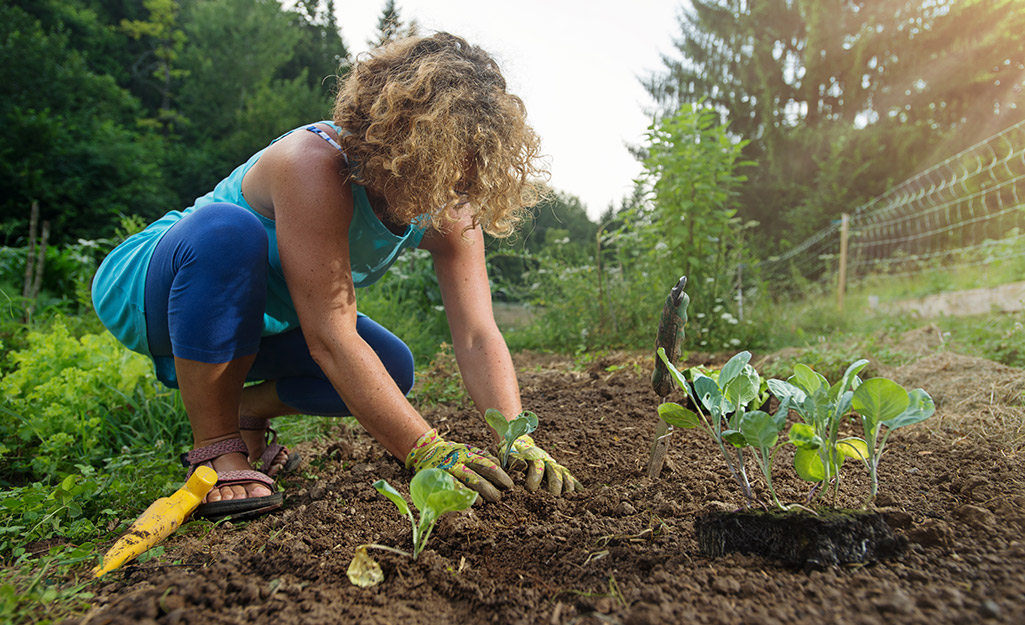 Even if it's just a few tomato plants or pots of your favorite herbs, growing vegetables and herbs is essential to summer. Even if you miss spring planting, you can still create an edible garden using containers and elevated garden beds. Just plant seedlings instead of seeds.
In mid-summer, you can get a head start on a fall garden when you plan to plant hardy greens like spinach and chard, and root vegetables like carrots and radishes. 
Keep Up with the Vegetable Harvest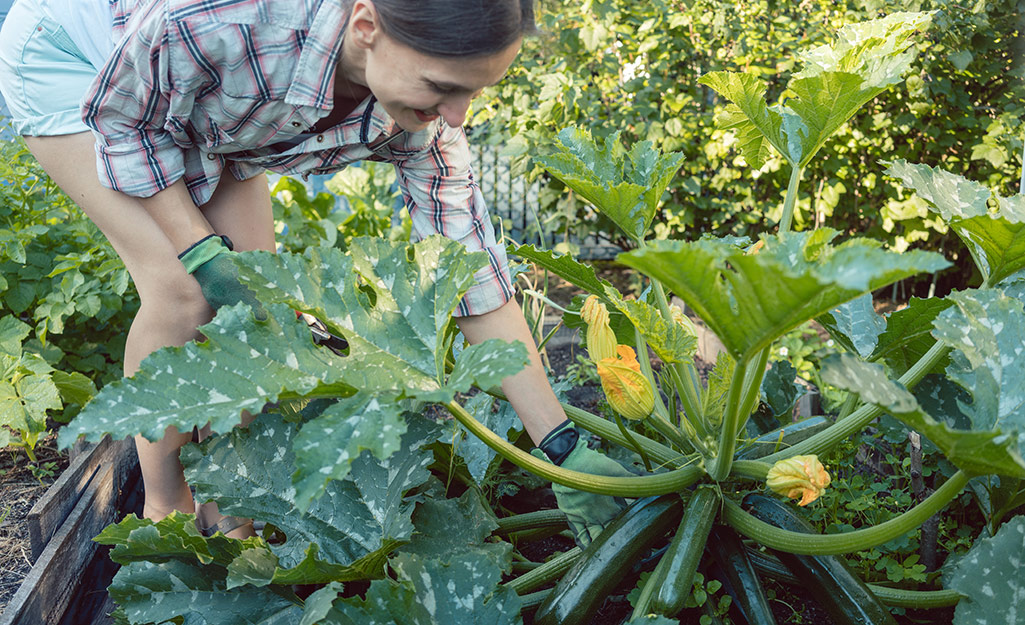 If you have an active and abundant vegetable garden, then you know how important it is to stay on top of the harvest. Look for new and inventive ways to use your herb garden – for grilling, cooking or preserving. Pick ripe tomatoes, peppers, cucumbers, zucchini and other edibles growing in raised beds or containers.
Pick your edibles and herbs often to help the plant restore its energy and stimulate growth. See this guide for harvesting vegetables.
Watering and Irrigation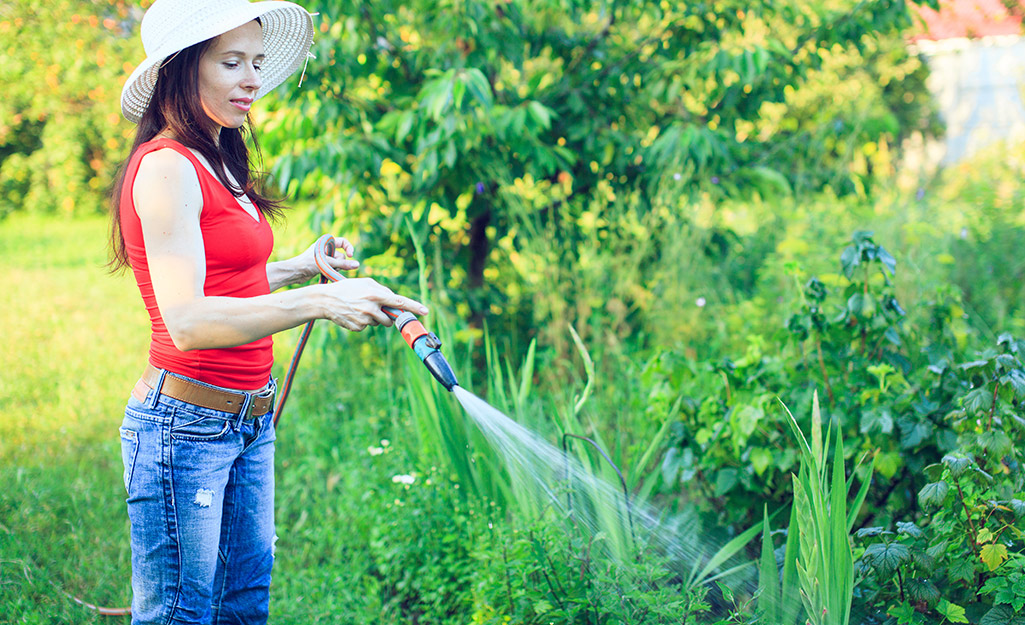 Planning a landscape that doesn't require heavy water usage is easy, as long as you have some basic gardening tools and materials. Summer is a good time to upgrade your garden hose equipment or add a water-saving rain barrel.
Start planning water savings with options like:
Around the House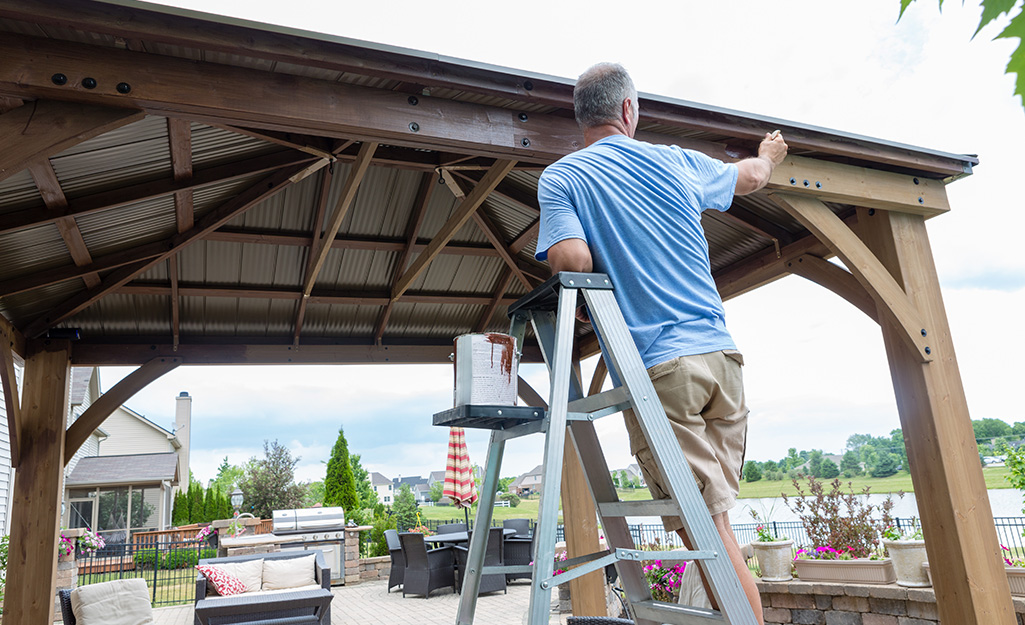 Around the house, inspect the exterior for damage to siding, trim, windows and doors.
This is the time to note problems and start a schedule to repair, wash and repaint.
Even if you're not planning to sell your home, a house inspection checklist is a thorough method for understanding the condition of your house. Include exterior structures like pergolas and fences in your inspection. They may need a coat of stain or repairs.
Outside your home, check for standing water that mosquitoes can breed in and eliminate brush where snakes and other pests can hide.
Tip: If you have playground equipment, take time to inspect the structure and to make sure all joints and chains and steps are working the way they should. Summer is a good time to add more mulch to cushion landings.
Gardening in late summer has its challenges, just like early spring. While you enjoy the harvest, take time for care and maintenance of your landscape and gardens. If you need tools or supplies for a summer landscape refresh, remember The Home Depot delivers online orders when and where you need them.