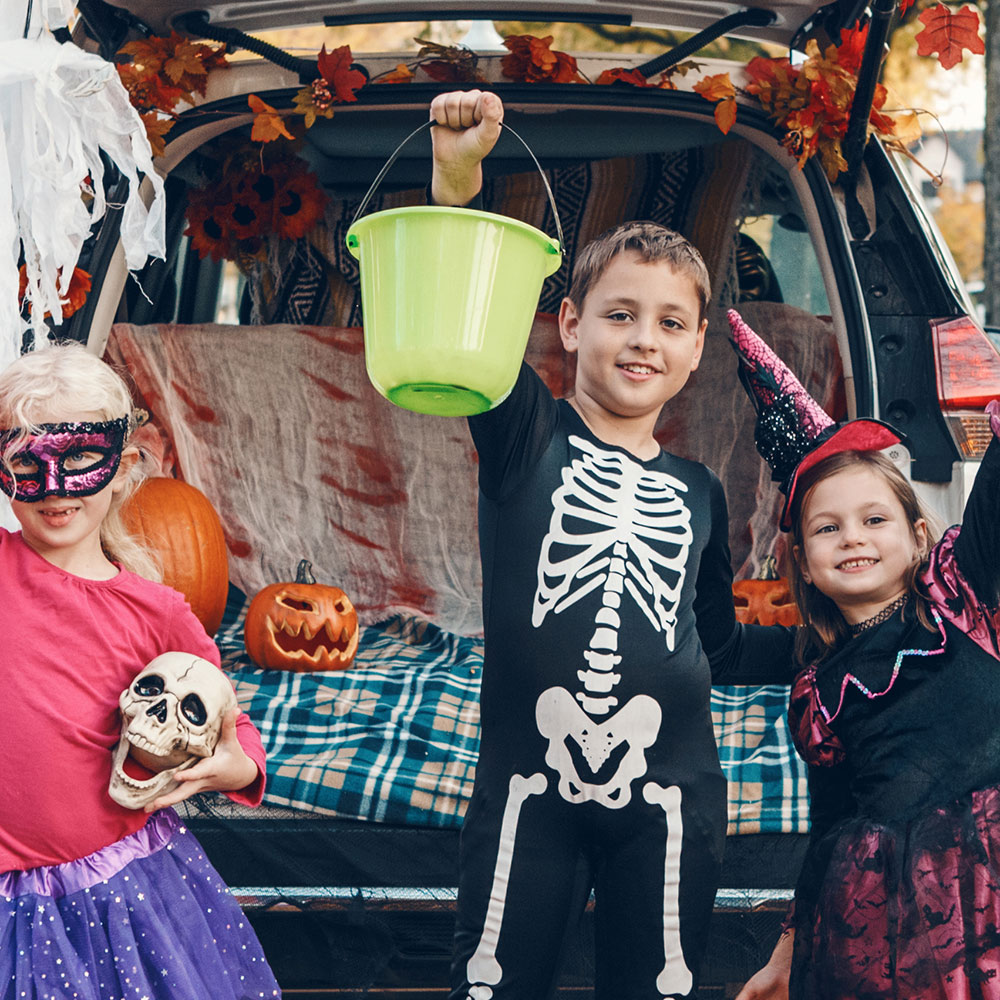 The signs are there: crisp air, crunchy leaves and fall decor. It's almost time for Halloween. But what if you're not looking to take the kids door-to-door for trick-or-treating? You have another option: trunk-or-treating.
Read this guide for easy trunk or treat ideas. You'll learn what trunk or treat is and how to do it. You'll also find inspiration for decorating your car if you want to go all out. Discover themes ranging from fun to scary and everything in between.
What is Trunk or Treat?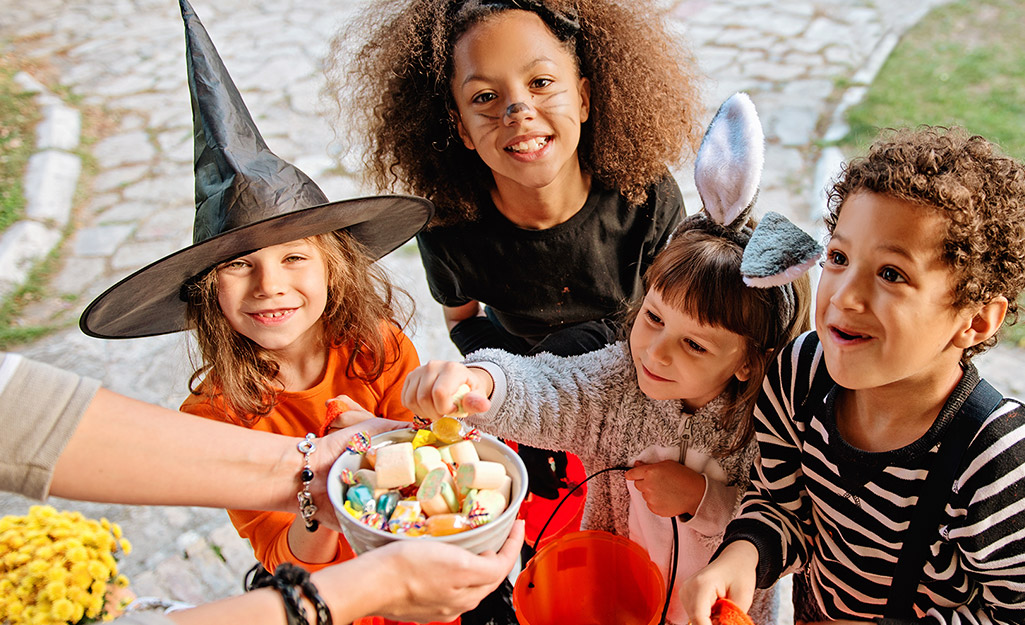 Trunk or treating has become more popular in recent years. What is trunk or treat? It's an alternative to traditional trick-or-treating. Instead of going from door to door, kids go from one car trunk to another, collecting candy. 
Get all your celebrating and chocolate from one parking lot instead of several neighborhoods. Trunk or treating is usually earlier in the evening than door-to-door trick-or-treating. It also tends to be better and more reliably lit than dark sidewalks and porches. 
Trunk or treat is a great fit for a variety of people, including:
Families with young children
People who tire easily or have accessibility issues
Families with homes that aren't part of close-knit subdivisions
Parents who feel safer having their children in a smaller, more contained Halloween environment
Families who want a quick celebration that's not late at night
How to Trunk or Treat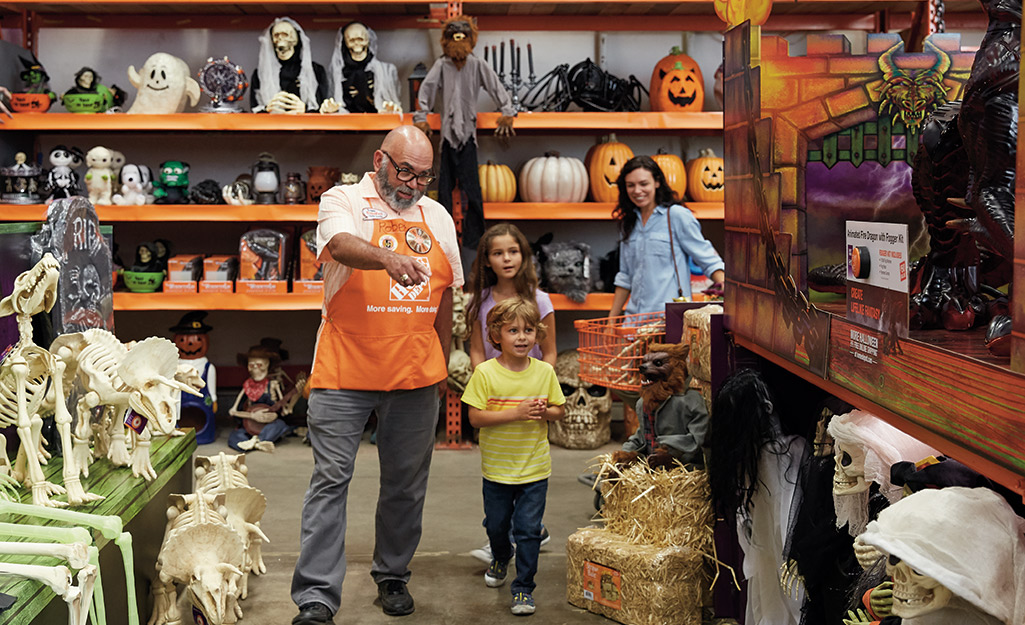 If you're an adult taking kids around for candy, trunk or treating is pretty straightforward:
Find a trustworthy trunk or treat location in your area. You might need reservations, so plan ahead.
Dress the kids up in costumes.
Drive to the trunk or treat location. It's usually in a parking lot. Large events might serve an entire community. Smaller events are common for specific groups, like scout troops or schools.
Take your little ones from one trunk to the next, gathering candy.
Check the candy for safety.
Enjoy some sweet treats.
If you're setting up your car trunk as a trunk or treat location, this is where the fun begins. Creating a memorable trunk or treat is an activity the whole family can enjoy:
Find a trunk or treat location. You'll likely need to sign up for a slot before the big night.
Find out how large your allotted spot is. Learn if you can build out or if you need to stay in a compact space.
Pick a theme for your car. We've detailed trunk or treat ideas below to get you started.
Let your imagination run wild, then gather supplies to make your theme a reality.
When it's time for trunk or treat, arrive at the location at the directed time.
Set up your trunk or treat scene. Wear costumes to complete the scene and prep the candy.
Have a wonderful time handing out candy as the trunk-or-treaters come by.
Trunk or Treat Decorating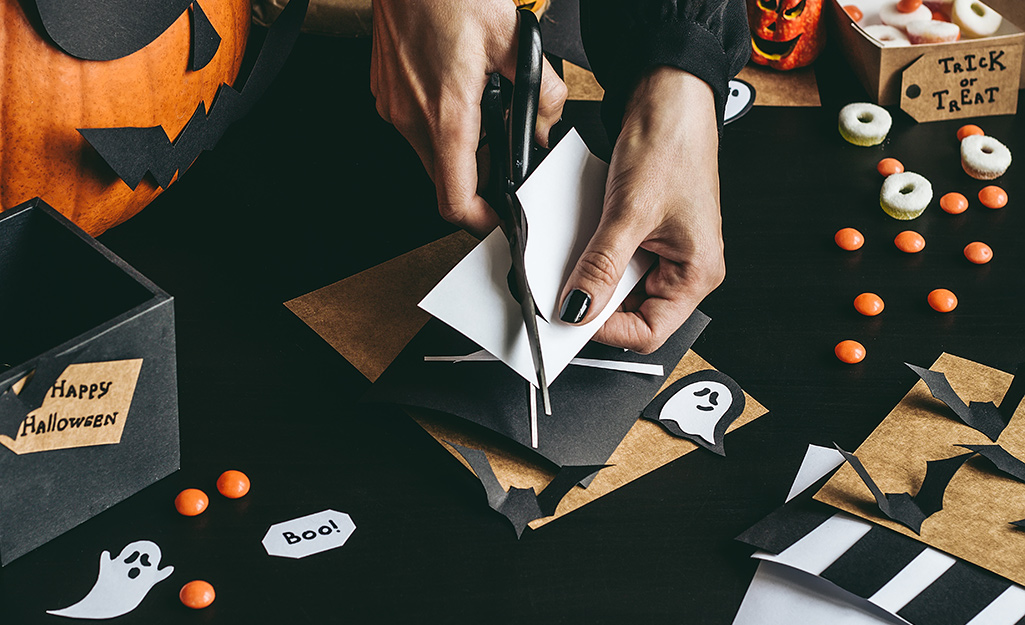 Think of a theme you'd have if you decorated your lawn or porch. Then, transfer what you can to the car. You can use store-bought props and signs or make your own. 
Here's an overview of prepping your car for trunk or treat:
Start by covering the trunk of your car. This backdrop can match and enhance your theme.
Add any structures to the trunk itself. Think cardboard boxes, posterboard and paint.
Build out the area around your car for jump-scares and atmosphere.
Use props, costumes and decor to help set the stage.
Don't forget to have a special place for the candy bowl.
Become a part of the scene by dressing the part while you hand out candy.
Cover the Trunk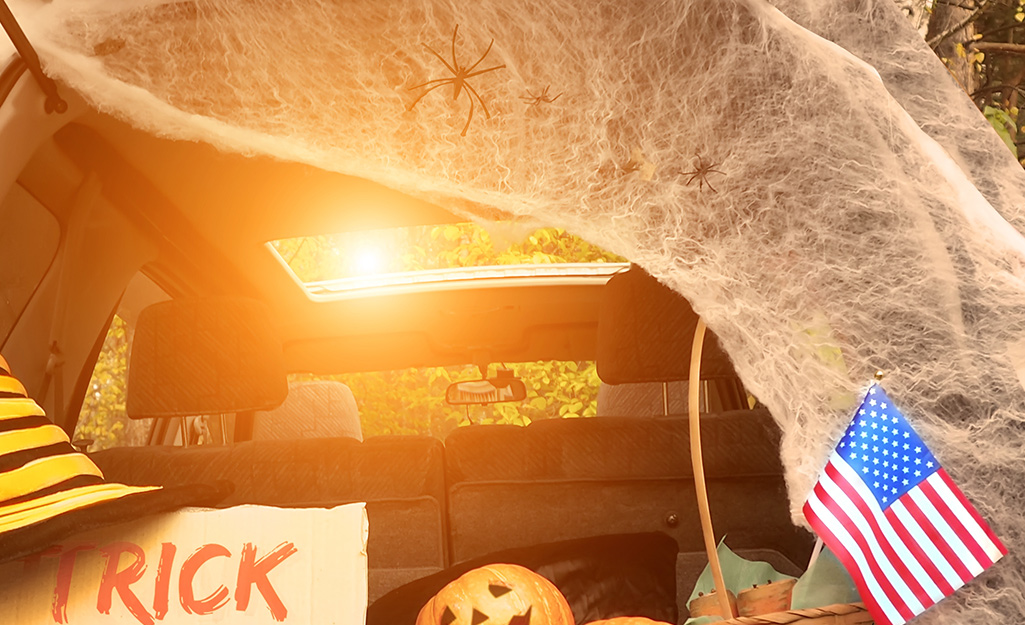 Hang fabric, line the trunk itself or do both. Use any type of fabric or plastic sheeting including:
Tablecloths
Old sheets
Drop cloths
Specialty fabric or flags
Brown packing paper
Wrapping paper
Black plastic sheeting
To hold it in place, try using magnets instead of tape when fastening the items to your car. If you do use tape to hold up decor, don't stick it to your car's paint. 
Many people fasten the sheeting beneath the car, just under the bumper. Tape on fabric or metal surfaces, not paint.
Trunk or Treat Ideas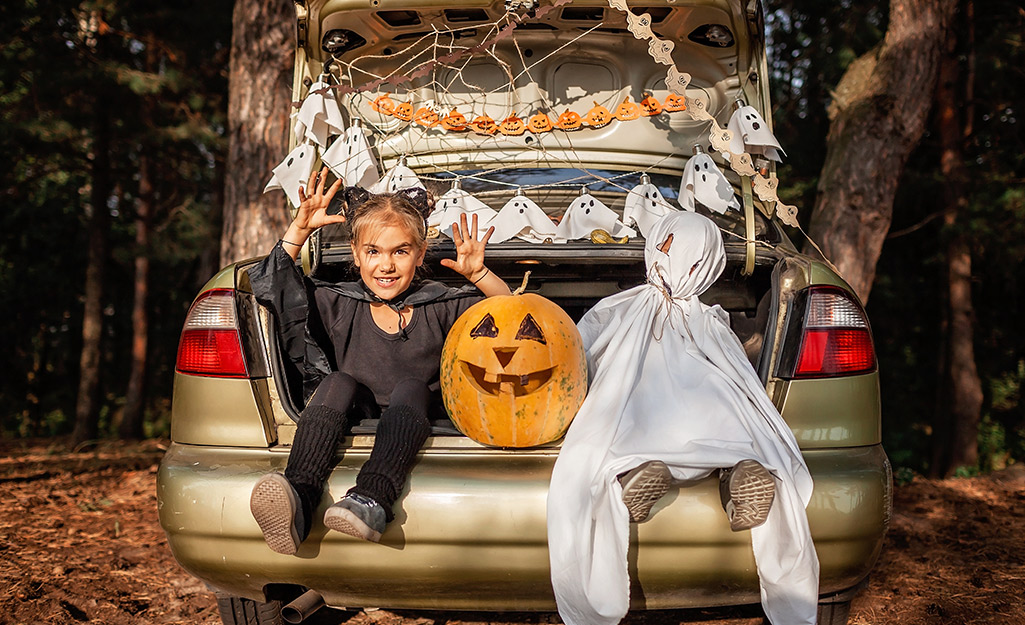 Once you've covered the trunk, it's time to build out your theme. Remember, you can make it as polished as you want. Make trunk "costume pieces" from craft paint and moving boxes or buy ready-made decoration. As long as you're having fun, you're doing it right.
Here is a list of trunk or treat ideas. Pick and choose what you like or come up with your own theme.
Spooky Trunk or Treat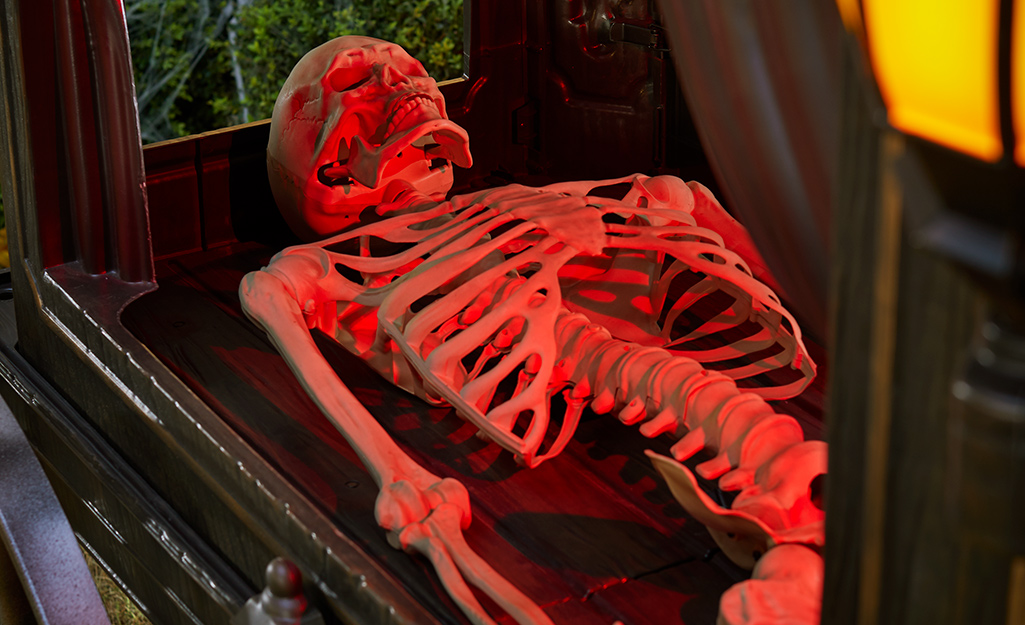 If you have a cavernous trunk, you can create your own haunted house: 
Drape Halloween lights for atmosphere and to direct focus.
Maybe set out a graveyard and jack-o'-lanterns out front.
Get the trunk crawling with skeletons, spiders, bats and rats.
Combine this theme with spooky characters to really up the scare-factor.
Fantasy Trunk or Treat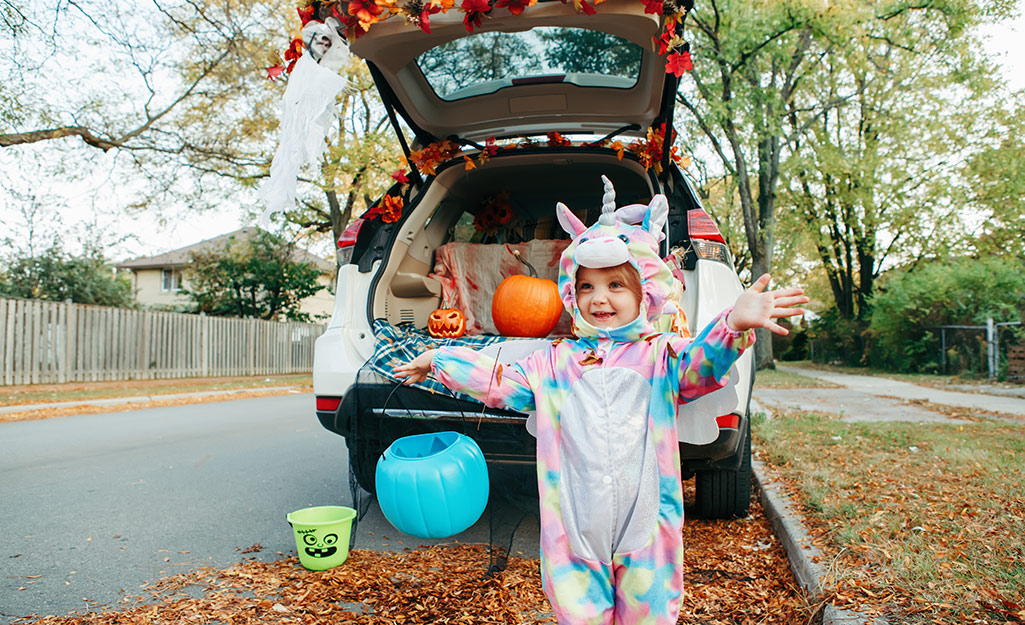 Set up your trunk to recall places far away and once upon a time. Fairy tales are a great trunk or treat idea because they're well known. Other fantasy themes could include wizards and potions, candy, unicorns or pirates. It's make-believe so there are no rules – only fun and candy. 
Need to build turrets for a castle? Cardboard moving boxes will work perfectly. Use craft paint and glue to construct what you need. 
Food and Drink Trunk or Treat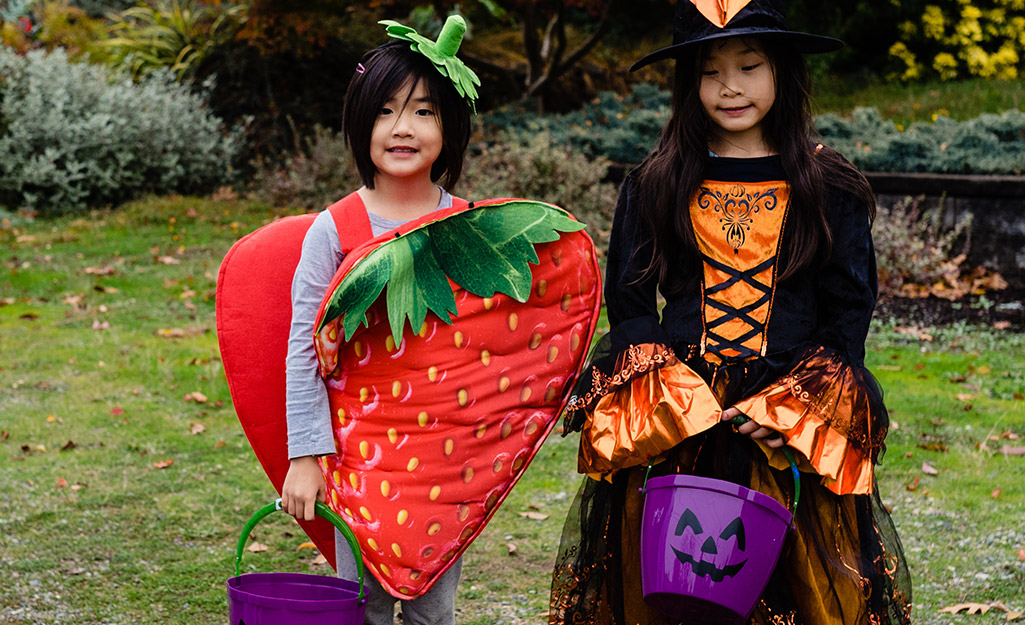 Everyone loves a food costume. Whether you set up shop as a store or the goods themselves, it's fun for all ages. This is the perfect theme for a family: The adults can run the show and the kids can be in adorable food costumes. Or reverse it and put the kids in charge:
Dress up as a hamburger or turn the trunk into an old-fashioned diner.
Have a kid chef surrounded by parents dressed as food or giant utensils.
Classic food costumes like hot dogs, pizzas and strawberries always work. Try setting up a food or produce stand theme in your trunk.
Children costumed as coffee drinks might roam near a barista.
Scary Characters Trunk or Treat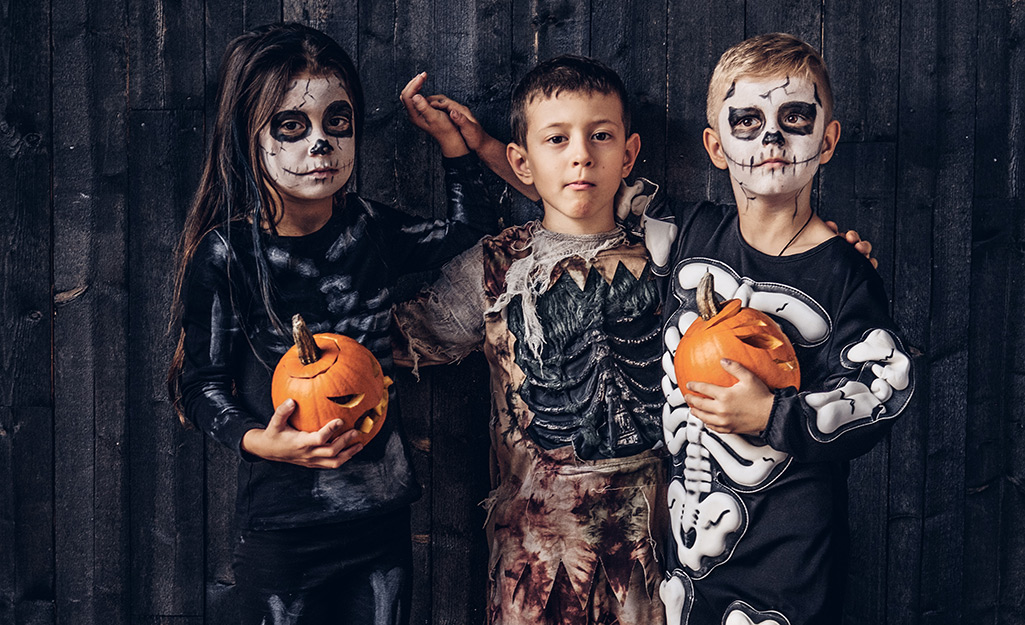 For those who want to be part of the trunk or treat scene, scary characters are a must:
Set up shadowy silhouettes of witches, vampires and monsters.
Add a zombie or a ghost in the corner.
Fill chairs with propped up scary creatures, then sit alongside them.
If you dress up too, you're sure to get a scare in.
Fall Trunk or Treat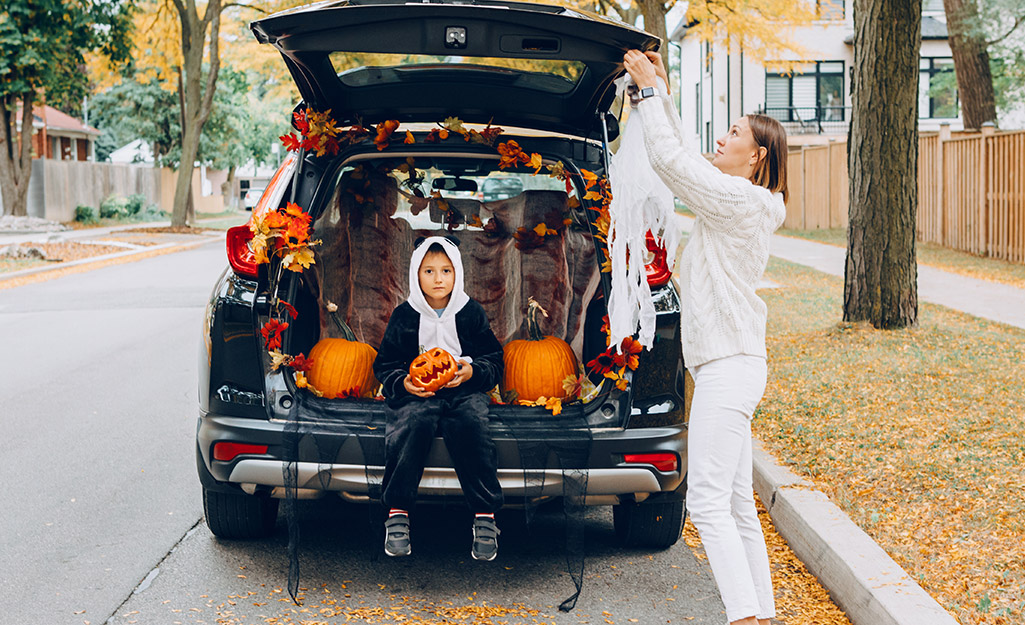 For easy trunk or treat ideas, go with the season itself. It's sure to be kid-friendly:
Use autumn colors and fall garlands to dress up a trunk. You can make a fall theme cute or classy.
Pumpkins and decorative gourds can be painted or left plain.
Scarecrows, rustic harvest-inspired items, and fall decorations all fit here. Bales of straw give a fall theme some character.
You can even use real leaves from your yard if you'd like.
TV and Film Trunk or Treat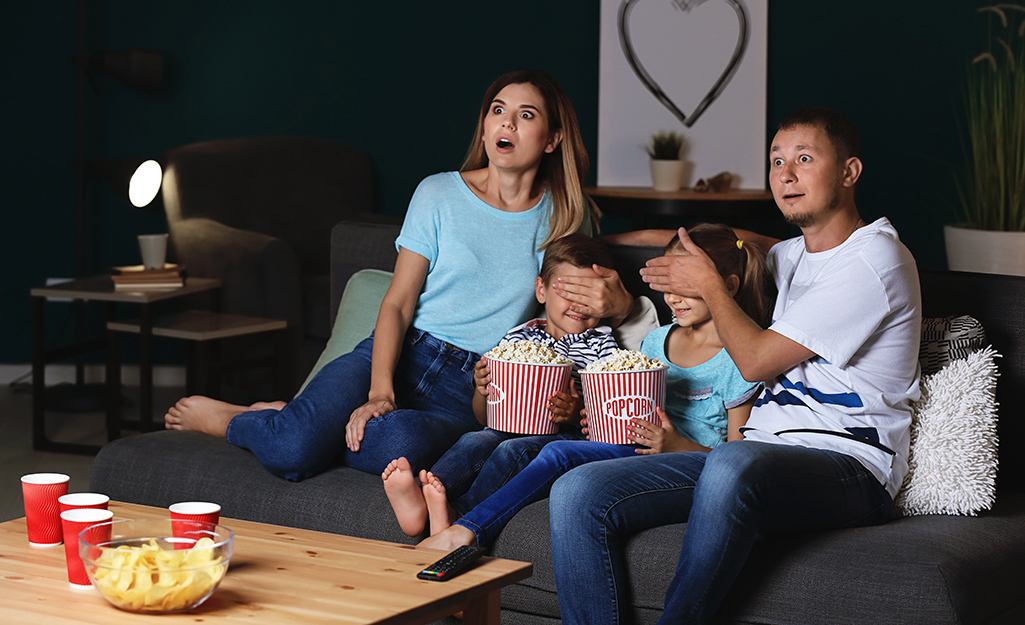 Choose a classic horror flick to inspire your trunk or treat ideas. A cartoon or favorite childhood show is always welcome for the little ones. Superhero and action movies are always a hit, too. You can make it terrifying or fun, depending on your film choice. 
Book Trunk or Treat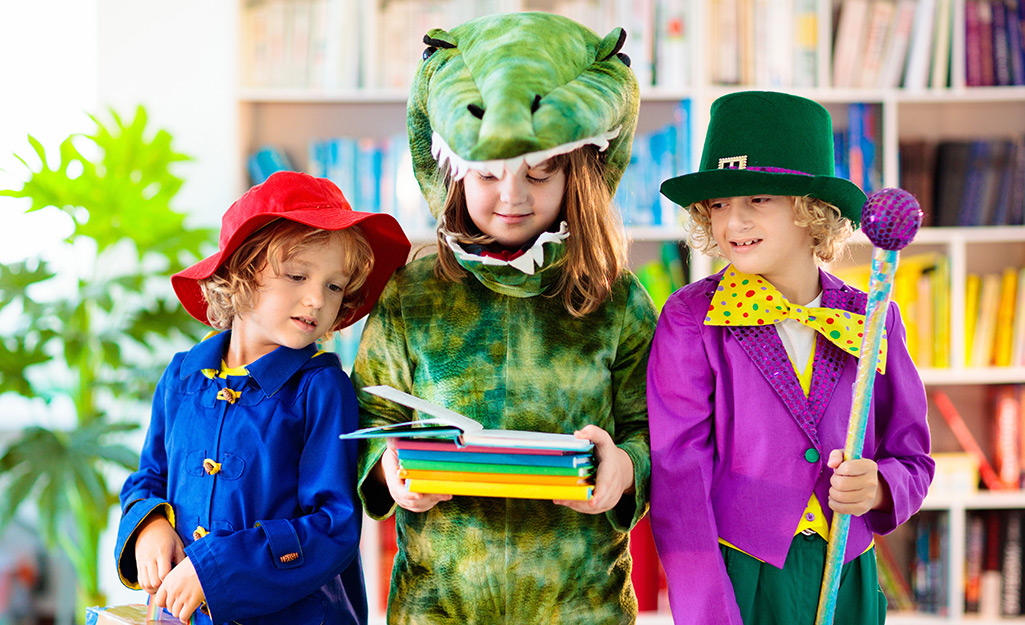 Similar to film and television, going with a book theme gives you structure. Pick a beloved book and create that world in the trunk of your car. 
Classic stories work well for this theme. It often crosses over into the TV and fantasy categories. Many books create extraordinary worlds and get made into films. Fairy tales, children's books, favorite poems and comic books all work here.
Time or Place Trunk or Treat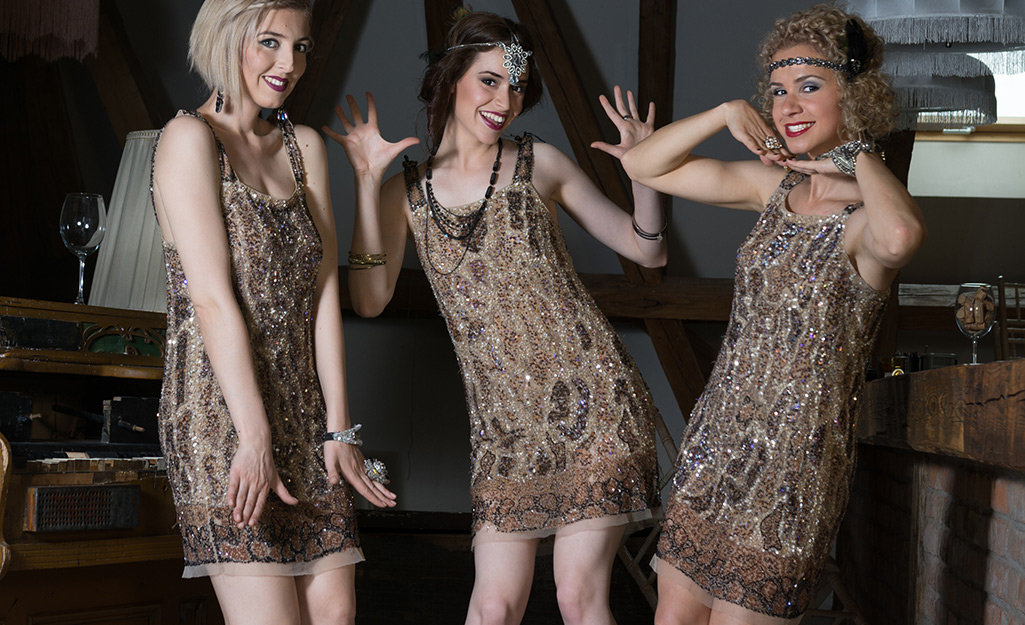 Use your trunk to transport candy-seekers to a different time or place. The possibilities are endless:
Make your trunk-or-treaters feel like giants overlooking a world of tiny cars, trees and houses.
Let them step back in time in a medieval castle, the Wild West or a 1950s sock hop.
Treat sports fans to a stadium setup.
Get a steampunk vibe with bronze gears and lamp parts to build gadgets.
Use watering cans and flowers for a garden scene.
Have an Art Deco 1920s party theme with flappers and gangsters.
Animal Trunk or Treat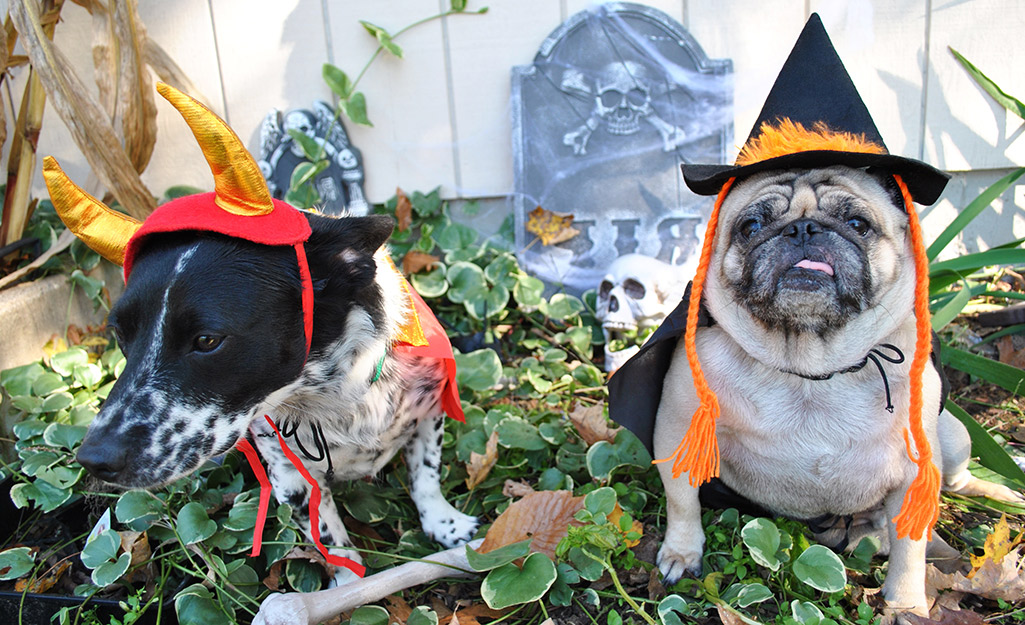 Choose a beloved animal and use it everywhere. If you'd prefer, branch out and use all sorts of animals:
Put toy cats, cat cutouts, and cat trees in the trunk. Dress as a cat.
Use a box to make a doghouse. Add a dog bowl. Everyone can dress as their favorite canines.
Mix it up and use lots of different stuffed animals for a safari theme.
Make a zoo, aquarium or circus in the trunk of your car.
Trunk Face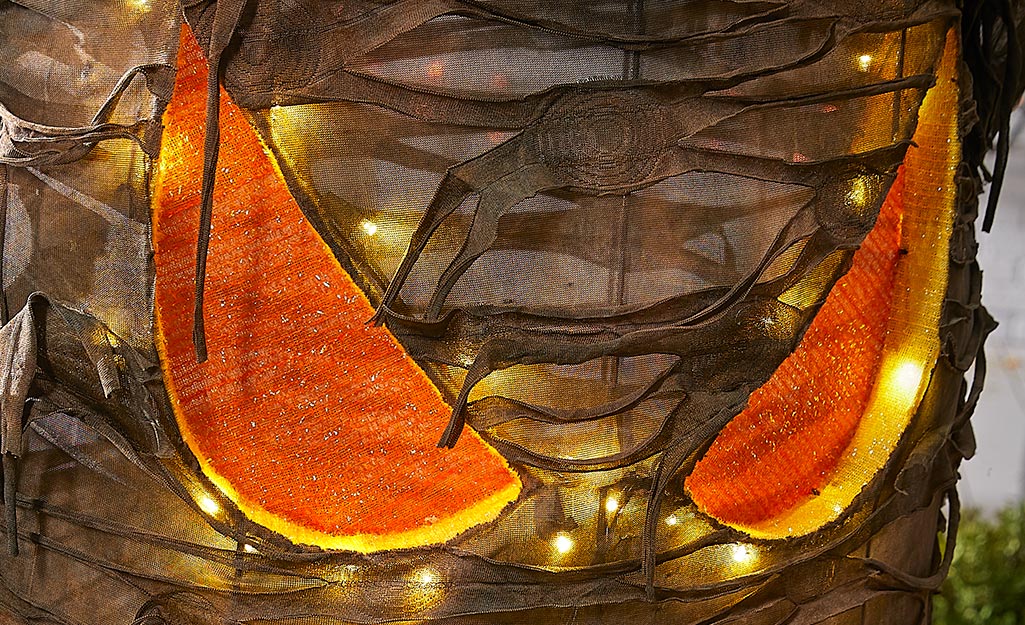 The open trunk of a car looks a bit like a face with a mouth. Play up this aspect by turning your trunk into a giant face:
Give it big eyes and teeth.
Add green everywhere and a warty nose for a witch.
Cut teeth out of a moving box and your trunk is a hungry monster.
Make whiskers out of pipe cleaners. Cut out cardboard ears. Now you have a giant bunny, kitty or mouse face.
Now that you've learned about trunk or treat, it's time to start planning. Get battery-operated string lights, spooky props, Halloween decorations and more. Find products fast with image search in The Home Depot Mobile App. Snap a picture of an item you like, and we'll show you similar products.
Explore More on homedepot.com