Ideas & Inspiration
Turkey Gets a Fresh Herb Makeover
Presented by Bonnie Plants
Roasting a huge turkey is great when you've got a houseful of Thanksgiving guests, but when you're cooking for a smaller gathering, you may want a simpler—but just as delicious—option. Not only does this savory grilled turkey sage tenderloin recipe take just 30 minutes to prepare, but it gives the whole idea of "Thanksgiving turkey" an upscale makeover.
Key to the complex, savory flavor are the herbs: sage and parsley. If you grow them yourself and harvest them fresh from your patio or windowsill right before cooking, they'll taste even better.
These fragrant herbs also make a delightfully unexpected, aromatic centerpiece. Simply cut as many stems as you need to fill your vase of choice, then add a few stems of rosemary in the center to add a little height.
Serve grilled turkey sage tenderloins with traditional Thanksgiving sides, or make a bold departure and pair them with balsamic-roasted vegetables and wild rice salad. Granted, you won't have much the way of leftovers, but this recipe is so yummy and simple that you may just want to make it again on Black Friday.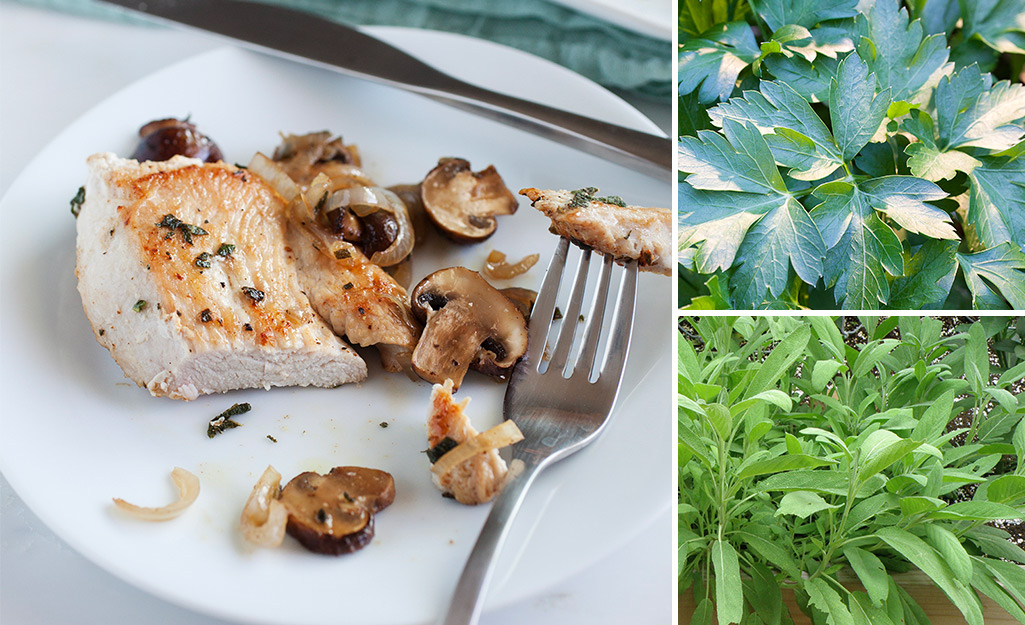 Prep time: 30 minutes
Yield: 4 servings
INGREDIENTS:
4 tablespoons butter or margarine, melted
2 garlic cloves, crushed
2 tablespoons minced fresh sage
1¼ to 1½ lbs. turkey breast, cut into 4 pieces
Salt and pepper
4 shallots, sliced
½ pound fresh mushrooms, sliced
¼ cup Marsala, sherry or white wine
¼ cup chopped fresh parsley
INSTRUCTIONS:
Heat 2 tablespoons of butter in a large skillet or grill pan over medium-low heat. When the butter has melted and is beginning to bubble, add garlic and sage. Sauté until fragrant.
Lightly sprinkle both sides of the turkey breasts with salt and pepper. Add turkey to the pan and brown on one side, cooking for 7 minutes.
Flip turkey and cook for an additional 5 minutes. Remove from the pan and set aside. Increase heat to medium.
Add remaining butter, shallots and mushrooms and sauté for 3 minutes. Return turkey breasts to the pan. Pour in wine and cover the pan. Simmer for 5 minutes.
Remove pan from heat and sprinkle in chopped parsley. Add additional salt or pepper to taste (if desired) and serve immediately.
Recipe and images provided by Bonnie Plants.