Bathrooms can be a place of escape when you're preparing for a night out or relaxing after a long day. This guide provides tips on achieving your desired atmosphere with vanity lighting ideas.
Click here to shop all vanity lights. 
Vanity Lighting Dimensions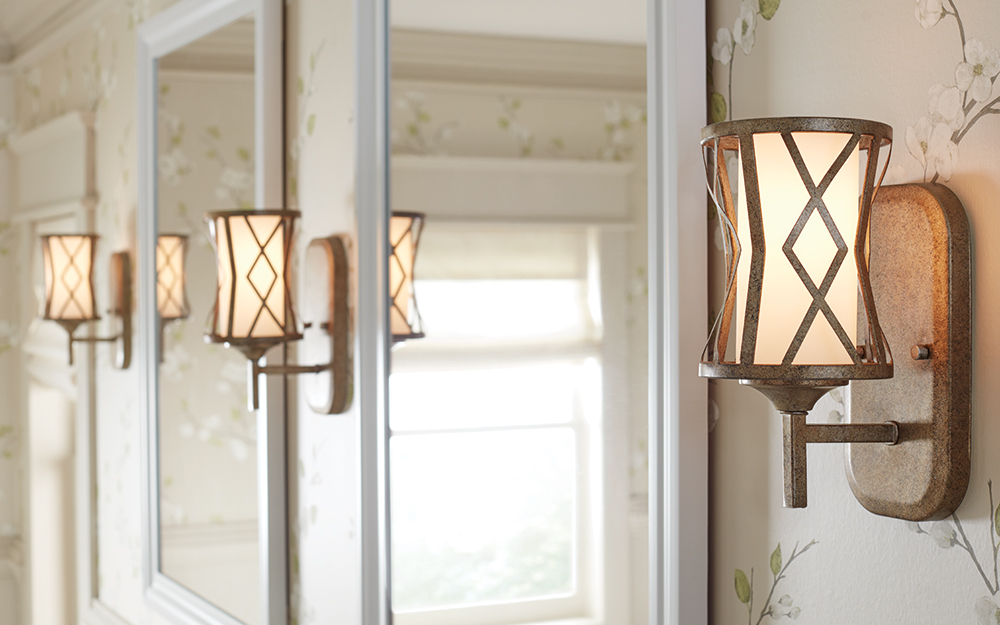 When choosing a light for your vanity, make sure that you select the right size based on the size of your vanity. In general, aim for a fixture that is 4 inches smaller than the total size of your vanity – essentially 2 inches shorter on each side.
Vanity Light Bar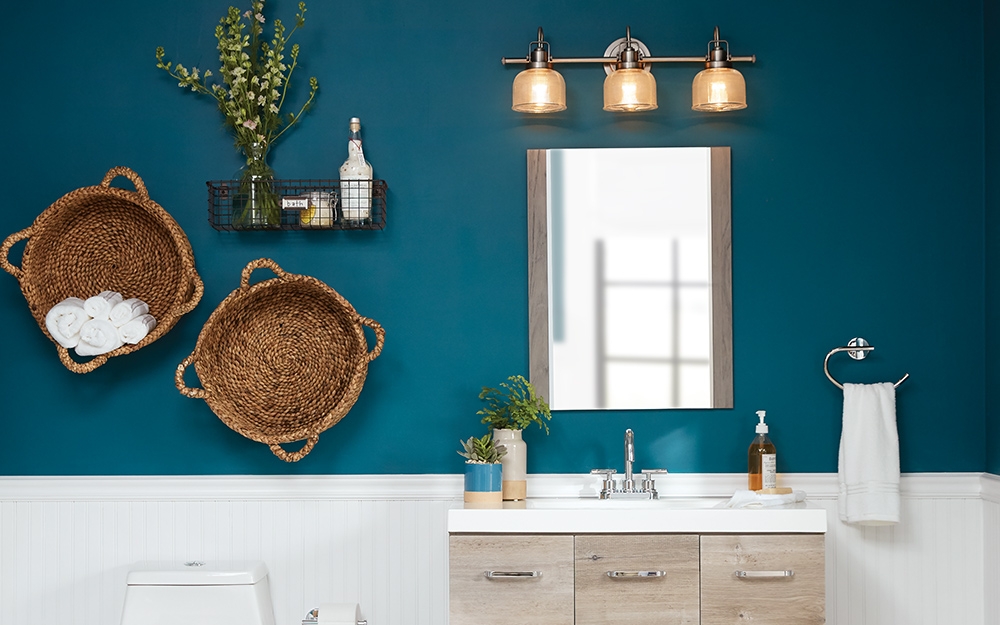 A vanity light bar provides a bright light with clean, simple lines ideal for any contemporary bath. The unobtrusive style can also mix well with other decor styles, as secondary lighting or even task lighting installed over a mirror or makeup table.
Sconces and Shades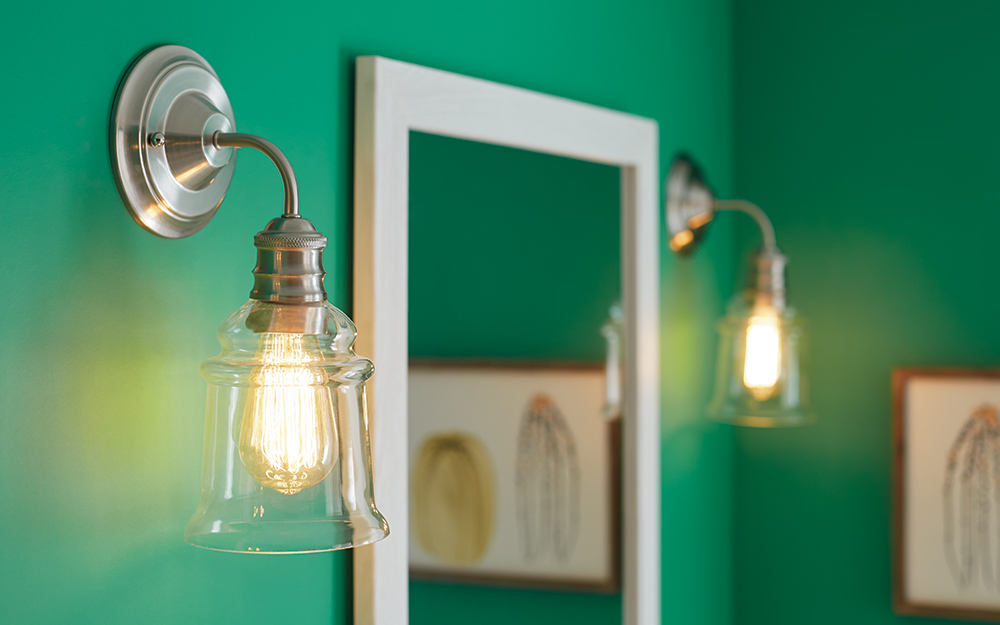 Sconces create a punctuating light statement at any point in the bathroom. Be sure to use them in pairs around the vanity, one on either side for balance.  Single installations can be placed in other areas as supplemental light.
Changing up the shade design of a bathroom sconce is also a great way to remake the design aesthetic. An Edison bulb can look equally at home in a farmhouse-style triangular shade or an industrial-look cage style shade. 
Go for Glam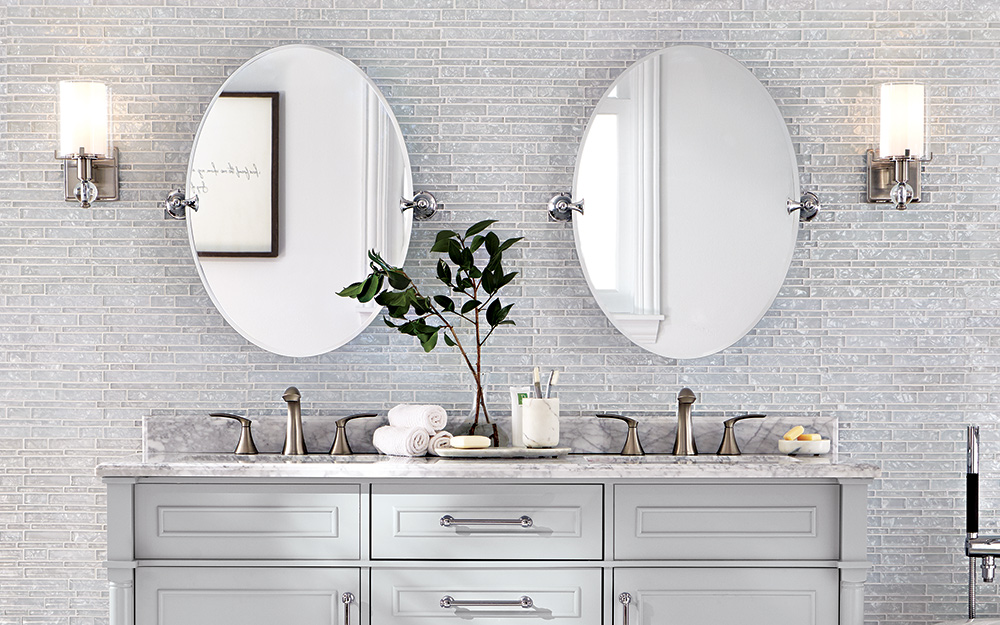 Glam vanity lighting offers a hint of luxury in the bath space with sparkling glass, metallics and unusual designs. You might even see a chandelier or pendant taking center stage in a larger space. Glam lighting shows up well among greyscale and white, colors that are often popular in bathroom designs.
Modern and Clean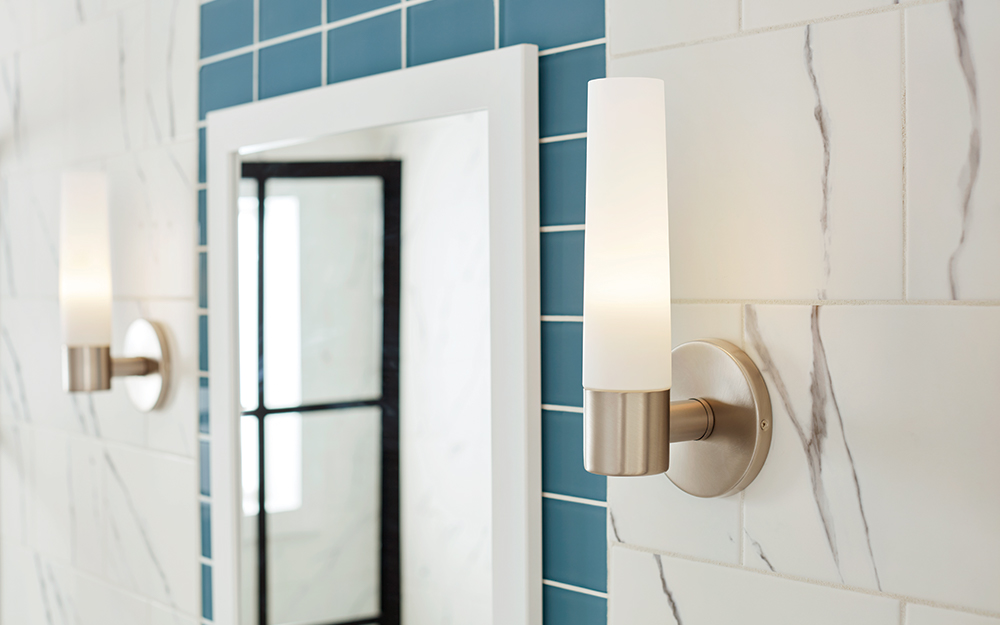 Modern bath vanity lights combine bright metal accents with sleek lines for a contemporary look and feel that makes the whole room seem even brighter and more spacious.
Industrial Look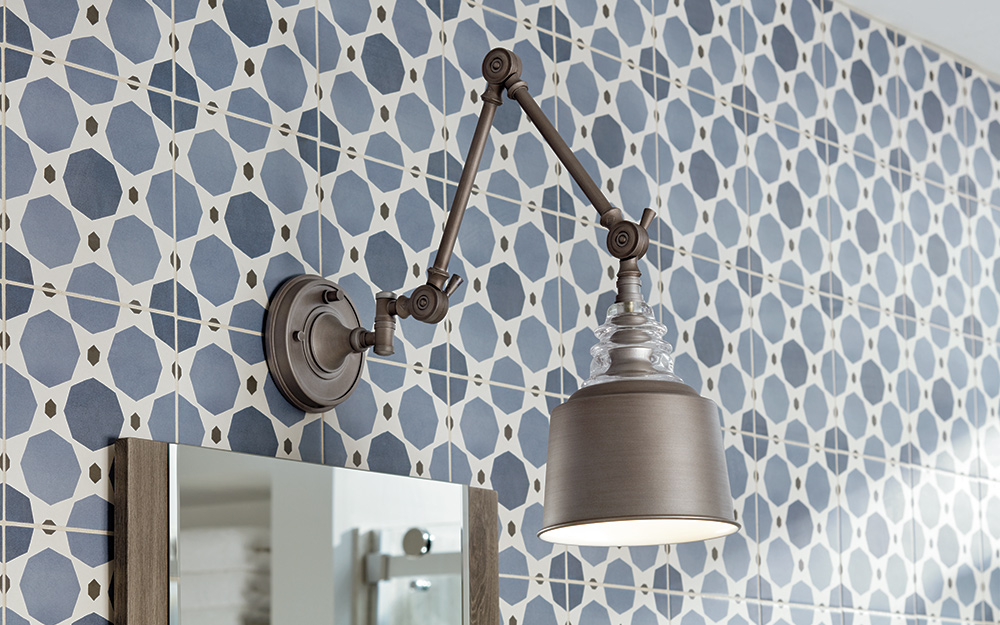 Industrial-style vanity lighting, with its metal accents in both shiny and brushed finishes, adds sparks of creative energy to bath decor and a tough but elegant look.
Classic Style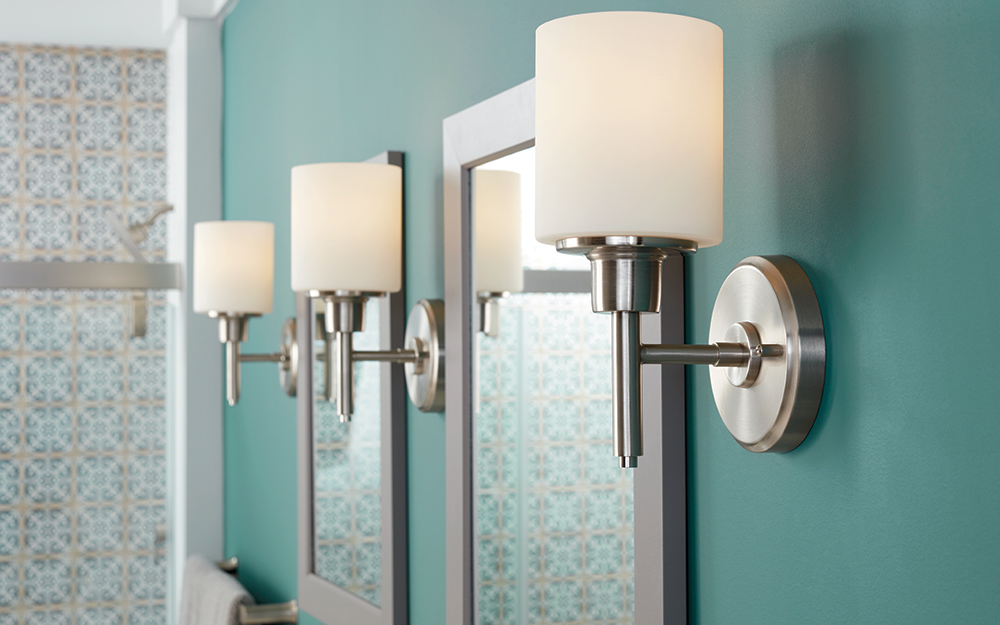 Seek out classic vanity lighting that never goes out of style. Install vanity lights with simple geometric shapes with small flourishes, warm colors and muted finishes that convey a sense of comfort.
Rustic and Farmhouse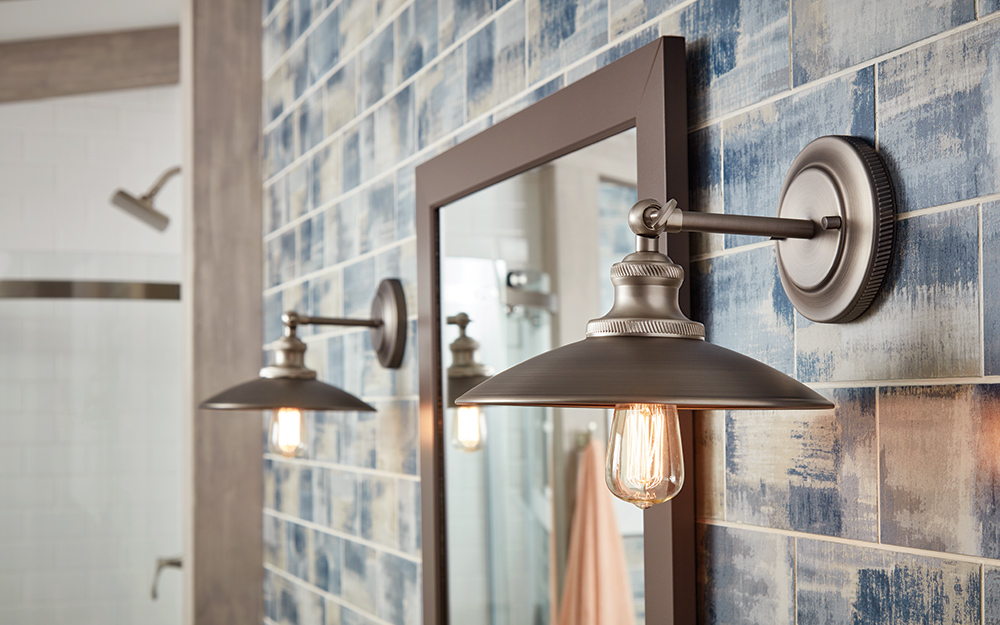 The natural textures and woods of a rustic or farmhouse design call for bathroom vanity lighting that is diffused, embracing frosted shades and distressed metal accents. The whole effect is one of warmth and tradition.
Transitional Mix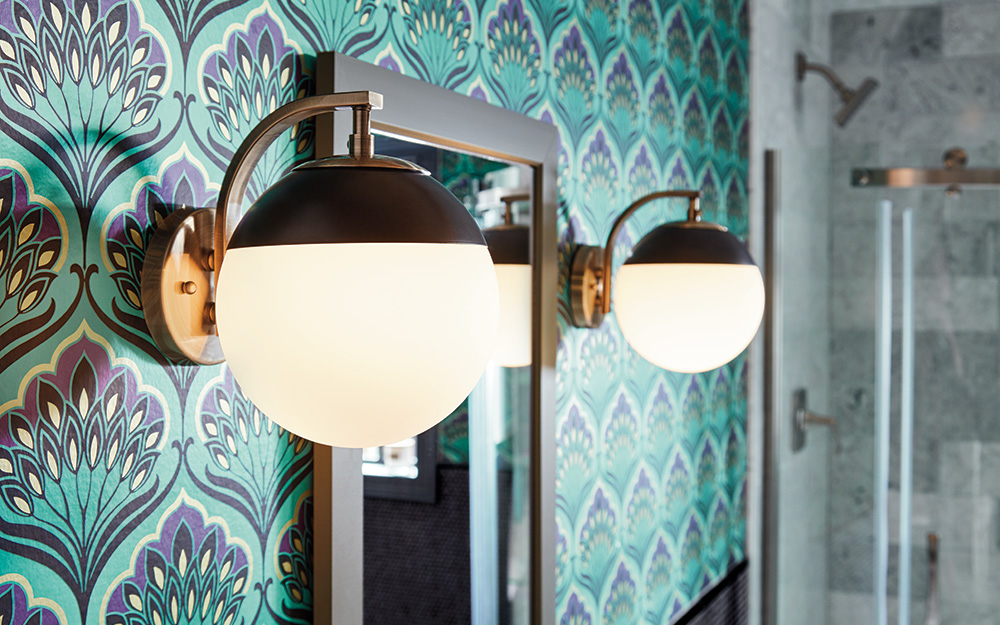 Transitional vanity lighting offers a playful mix of styles in a single fixture. The swoop of a classic shade might mingle with the brushed metal you'd normally associate with an industrial look. The clean modern lines of one shade design might nod toward the glamorous in a shining gold setting. The overall effect is always striking and eclectic without seeming out of place.  
Installation Tips
Task lighting, accent lighting and overall placement become very important when trying to create a certain aesthetic while keeping the bathroom functional. While there are a host of bathroom lighting ideas to consider, there are a few placement strategies that work well not matter what the overall decor.
Avoid placing lighting directly overhead;  it will cause harsh shadows that won't flatter your features. Rather, position ceiling lights so that they light from behind as you face the vanity or a wall mirror. Generally this means that they should be in ceiling of the central walkway area. 
Keep accent lights symmetrical in the plan of the room. A fixture hung on one side of the vanity should have a corresponding light on the opposite side. This keeps the light balanced, a blessing when one is trying to groom around the vanity. 
Explore More on homedepot.com