Wall paneling can add texture and elegance to any room in your home. Easy to install, clean and care for, most varieties of wall paneling are corrosion, water, mold and mildew resistant. This makes them a durable option for busy, high-traffic rooms like the bathroom and kitchen. Use these wall paneling ideas to add a bit of architectural depth to your home.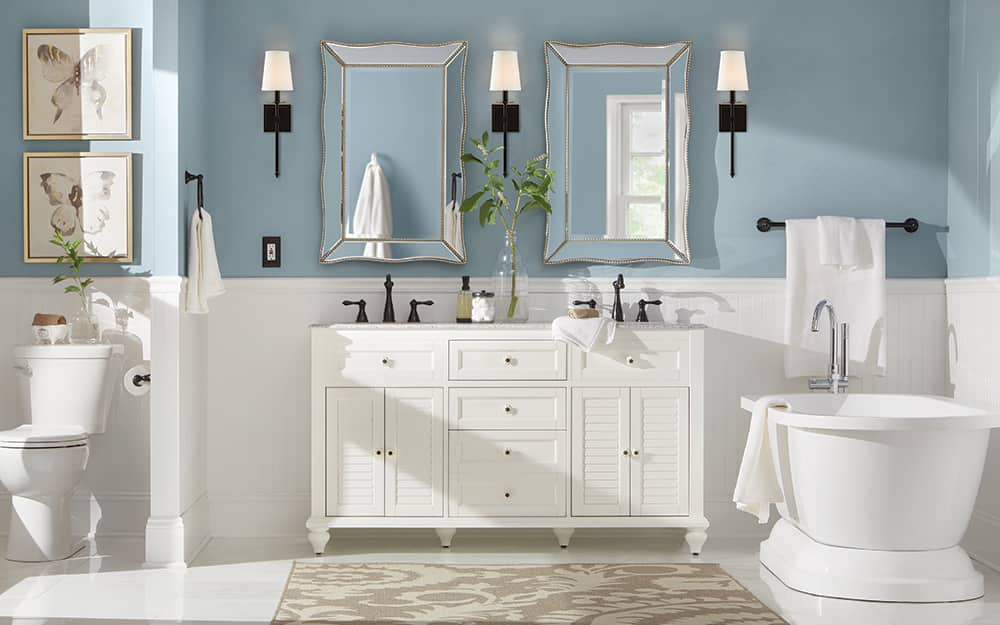 Beadboard wall paneling is ideal for traditional wainscoting, but it can also be used as full wall panels to create texture and rich detailing. Pre-finished and ready-to-paint options allow you to keep it simple or come up with your own wall paneling ideas. Here are a few ways you can use beadboard wall paneling:
Use full-wall beadboard paneling to add an elegant touch to a guest room or shared space for kids. It will work wonders in your master bedroom too.
Use painted varieties as bathroom wall panels to add definition and color to your room.
Try white full-wall paneling in the den or family room for a bit of nautical flair.
Create an accent wall with wainscoting in your living room, den or entry area.
Bring rustic farmhouse flair to your covered patio or sun room with full-wall paneling.
Barn wood wall paneling is designed to give you the look of real rustic wood in your home without the weight associated with hardwood paneling. Great for spaces ranging from traditional to transitional and ultra-modern, barn wood wall paneling is lightweight and easy to install. This paneling comes in a variety of finishes, so finding the look you want for your home is simple. Here are a few ways to use it:
Create a mid-century inspired look for your living room or den. Barn wood is great for your man cave or she shed too.
Add the texture of distressed wood to your home office or work space.
Cut barn wood wall paneling to size to create a stunning backsplash behind your stove.
Use barn wood wall paneling to wrap kitchen counters for a rustic, playful look.
Craft an accent wall for your modern bedroom with contemporary barn wood wall paneling.
Natural brick has long been a go-to material in interior design. Ideal for both modern and traditional spaces, brick wall paneling offers a brick-like finish without the weight and installation costs. Here are a few ways to use brick wall paneling in your home:
Bring classic, traditional styling to your entry area with brick wall paneling. This style can also help bring the outside of your home indoors if you have a brick façade.
Add warmth to a modern bedroom by using brick paneling as an accent wall.
Give your contemporary entry area a touch of classic styling with distressed brick wall paneling. Use a full wall or go for a half-wall look.
Play up a cool color scheme with uniquely colored brick wall paneling. You can find a variety of colors and styles to match your interior design.
If you want to add a modern touch to your home or give your transitional space a little bit of contemporary flair, decorative wall paneling in an assortment of 3D textures can help. Made from easy-to-clean PVC, 3D wall paneling is lightweight, easy to install and fire resistant.
Use crisp, clean wall paneling in white for a cool, contemporary color palette. You can use textured white 3D wall paneling for accent walls, full walls or even cut to size to fit furniture.
Add warmth and texture to your contemporary living room or family room with 3D paneling in neutral tones.
Add a special dimension to your bedroom with 3D wall paneling. This works especially well as an accent wall behind the bed in a modern bedroom.
Take advantage of subtle texture in your family room or den. 3D wall paneling is easy to wipe down, so that's a big benefit for busy family spaces with kids and pets.
Go for big, bold texture with colorful 3D wall paneling. You can even use lightweight 3D wall paneling on the ceiling for an over the top touch of color.
Stone wall paneling is easy to install, flexible and paintable so you can customize it any way you want. It's also water, mold, mildew and bacteria resistant, so it's suited to wet spaces like the bathroom or kitchen. Here are a few options for using stone-look paneling in your home:
Create a stone accent wall around a fireplace. You'll get that traditional hearth look in a more modern style.
Go for a whole stone wall in the bedroom. There are textures available to complement virtually all furnishings and accessories. You can also use this whole wall look in your guest room, home office or powder room.
Add a refined accent wall to your living room. Use a contrasting stone style if your room has access to an outdoor space that also features stone.
Bring neutral color and amazing depth to a modern bathroom with full wall stone paneling.
Blend stone paneling with other existing materials for contrast. You can also use wood paneling and stone paneling together to create a mid-century, vintage-inspired or more rustic modern look around your fireplace or in your living room.
More than a coat of paint, wall paneling can bring unrivaled style to your living room, bedroom, bathroom and any other space in your home. Most materials, like FRP paneling, are simple to install, easy to clean and extremely durable. Wall paneling comes in so many different colors, textures and styles that you can easily find in various looks that fit your design scheme.