Wall panels are an affordable, DIY way to put your own unique signature on any room by adding architectural interest and texture. Think wainscoting, shiplap, a barn wood accent wall or ceiling treatment, and so much more. With a little inspiration, you're sure to find a panel style that provides the perfect finish to the work of art that is your home. Read on for wall paneling ideas and styles for every room in the house.
Beadboard Wall Paneling Ideas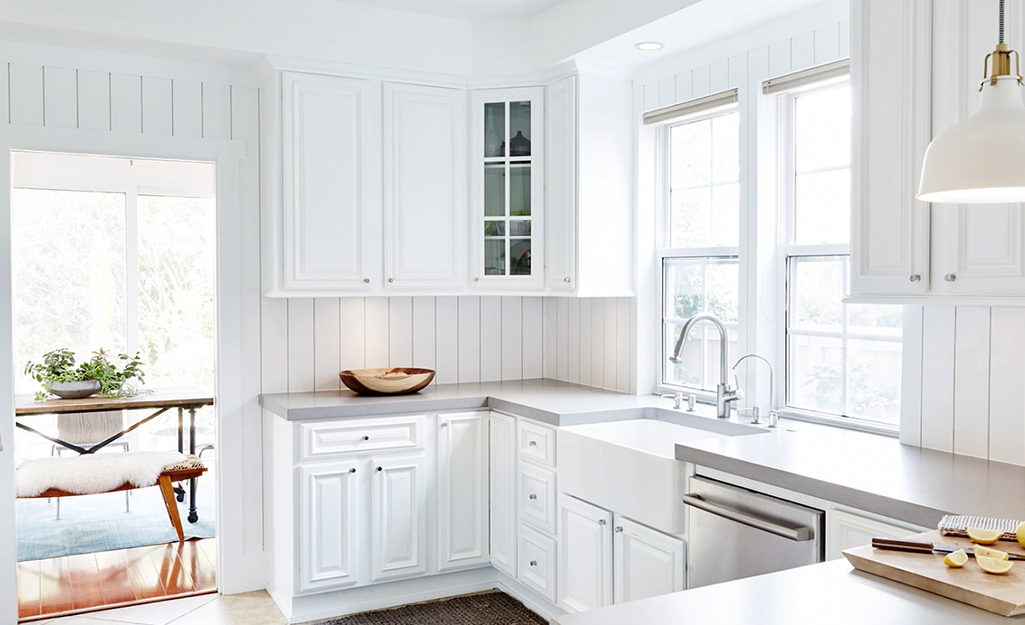 Timeless beadboard wall paneling is popular for many home styles. It works equally well for traditional, beach, cottage, cabin and farmhouse decor. Beadboard gets its name from the grooves or ridges, also known as beads, between the boards. It's available as wainscoting, full-wall panels or tongue-and-groove planks. Beadboard options come prefinished in various wood tones. Or you can find them ready-to-paint or stain. Install beadboard wall paneling in any room of the house. In the dining room, hallway or bath, it adds for a touch of architectural detail.
Barn Wood Wall Paneling Ideas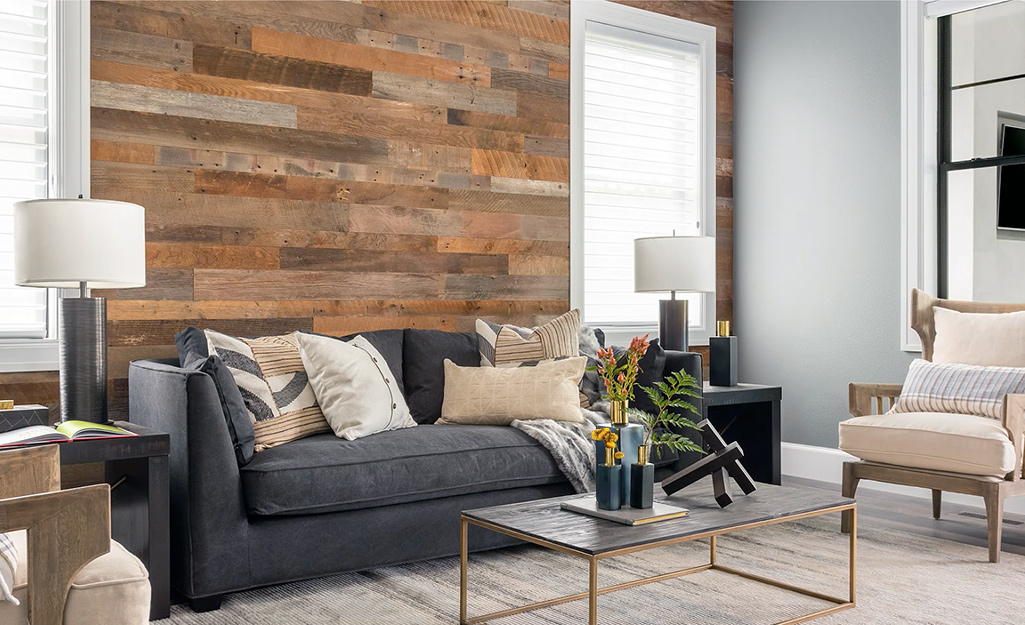 Barn wood wall paneling has the look of real rustic wood without the weight of real hardwood paneling. Great for spaces ranging from traditional to transitional and ultra-modern, barn wood paneling is lightweight and easy to install. This paneling comes in a variety of finishes, so finding the look you want for your home is simple. 
Brick Wall Paneling Ideas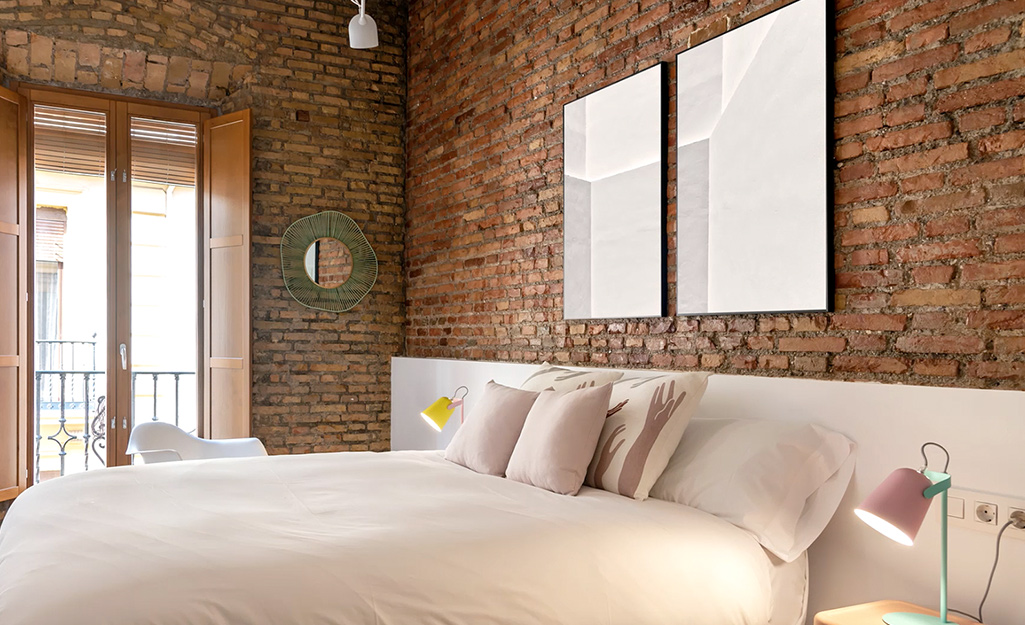 Get the classic character of brick minus the mortar and masonry work. Lightweight brick wall paneling is available in several colors and styles. It can be installed with construction adhesive. Consider priming and painting faux-brick panels to suit your space and style. While brick wall paneling can work in any room of your home, it's ideal as a budget-friendly alternative to a tile backsplash.
3D Wall Paneling Ideas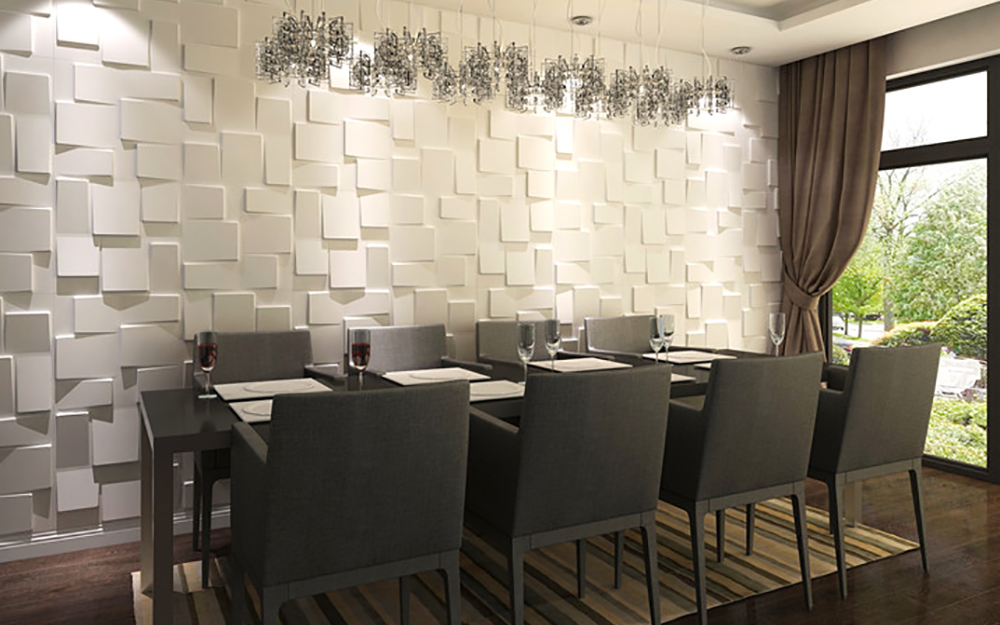 3D wall paneling adds eye-catching dimension to modern or contemporary spaces. Constructed of easy-to-clean PVC, 3D wall paneling comes in several colors and patterns. Liven up a living room with a decorative focal point of organic waves to abstract shapes. Give an entryway a dramatic touch with intricate geometrics or subtle textures. 
Faux Stone Wall Paneling Ideas
Capture a mountain lodge or mid-century vibes with faux-stone wall paneling. Faux stone wall paneling is made of smooth, interlocking wall panels in PVC or resin that are made to resemble Carrara marble, cool concrete or other sleek stone looks. Textural faux-stone paneling can be a dramatic addition to a living room wall by mimicking a stone fireplace. Use the natural look and rough texture of stacked stone to beautifully cover drywall or dated tile in the family room or bath.
Fretwork Wall Paneling Ideas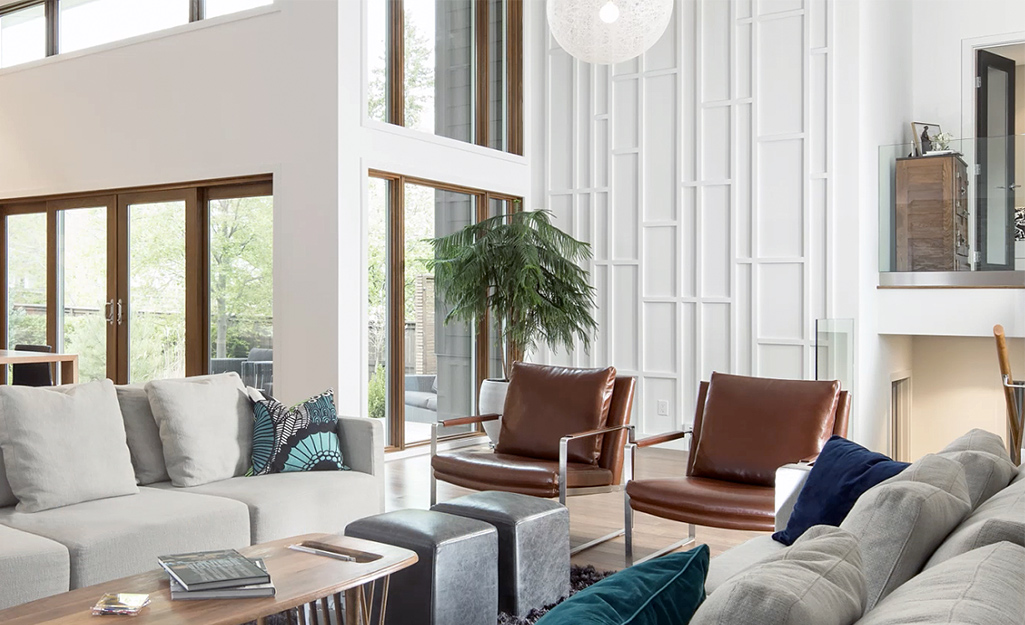 Want a modern alternative to wallpaper? Think about decorative fretwork. Designs vary in scale and range from classic to modern. You can use decorative fretwork as an all-over pattern and texture. For an extra layer of drama, paint the wall in a fun color before installing fretwork over it. Fretwork panels are a great way to give formal spaces like dining rooms a pop of personality.
More Wall Paneling Ideas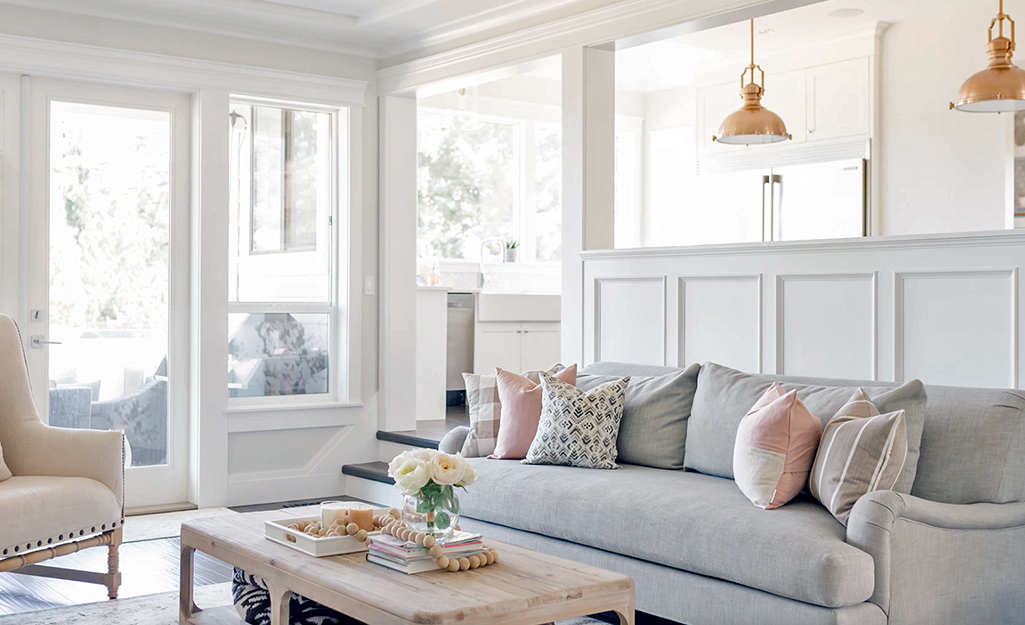 Floor-to-ceiling accent wall. Create a focal point in a room behind a bed, sofa, buffet or media center. A wall treatment can highlight an existing architectural feature or create one if there is none.
Ceiling. Your ceiling offers another creative opportunity to add character to a room. Just be sure to nail panels or boards to joists.
Wainscoting. For an elegant look, install paneling on the top or bottom portion of a wall. For chair rail height, aim for between 32 and 36 inches from the floor. It's also pleasing to the eye when wainscoting is installed at two-thirds or three-quarters of the wall height.
Framed with moulding. To break up a big wall, add one or more large "art pieces" made from paneling cut to desired size and trimmed out with baseboard or window trim pieces.
Backsplash in kitchen or bath. Install paneling as an affordable alternative to tile on your kitchen or bath backsplash. Apply high-quality semigloss paint or a clear coat to the panel, if needed, for easy cleaning.
Kitchen island or peninsula. Cover the back and sides of a kitchen fixture with paneling to give personality to a bland, builder-grade feature.
Fireplace surround. Highlight a gas or electric fireplace with paneling. Create your own hearth and chimney look.
Tip: Be sure to check fire safety guidelines for individual products before installing. Avoid use near wood-burning fireplaces, open flames or stoves. 
Installation Tools & Tips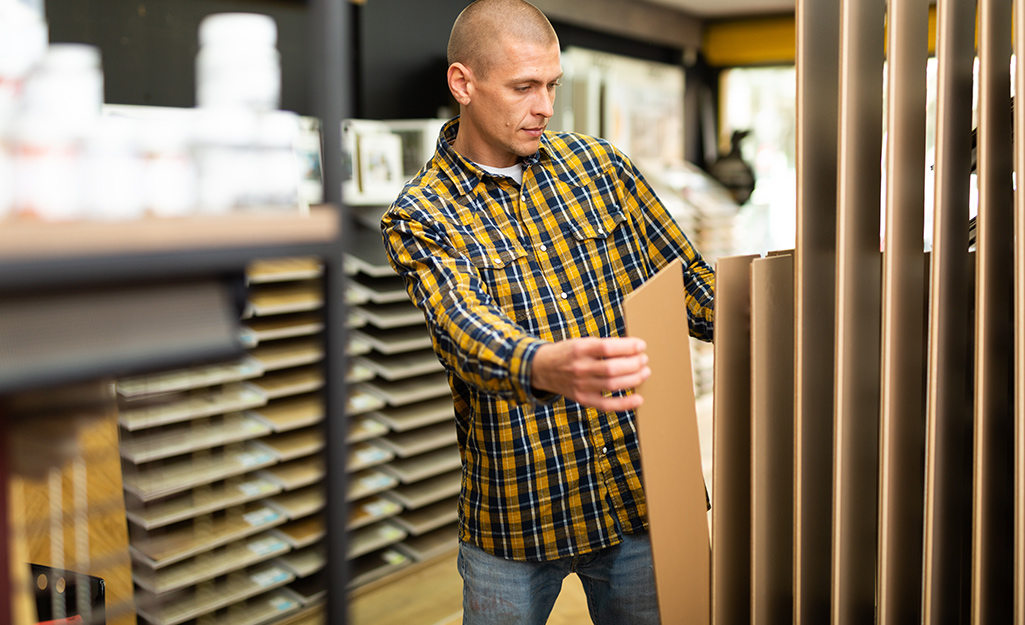 Installing wall panels is a straightforward project that many DIY beginners can enjoy. 
You'll need a tape measure, level, pencil or chalk line, circular saw, construction adhesive and caulk gun, hammer and nails. A few additional tools might come in handy, depending on the elements of your project. These include a stud finder, pry bar, jigsaw, finish nailer, wood filler and caulk. Follow the manufacturer's directions, but here are some general tips:
Mark vertical and horizontal level lines on the wall to guide the placement of your first panel. Don't count on walls and ceilings to be perfectly plumb and level, especially in older homes.
Cut panels to size and affix each one to the wall with adhesive, securing with finish nails at studs, if needed.
Transform your walls without a major renovation with wall paneling. From rustic wood looks to sleek modern geometrics, wall panels come in a variety of styles and textures. Unlike a coat of paint, wall paneling adds dimension too. Ready to find the right wall paneling for your project? Use The Home Depot Mobile App to locate products and check inventory. We'll take you to the exact aisle and bay.
Explore More on homedepot.com