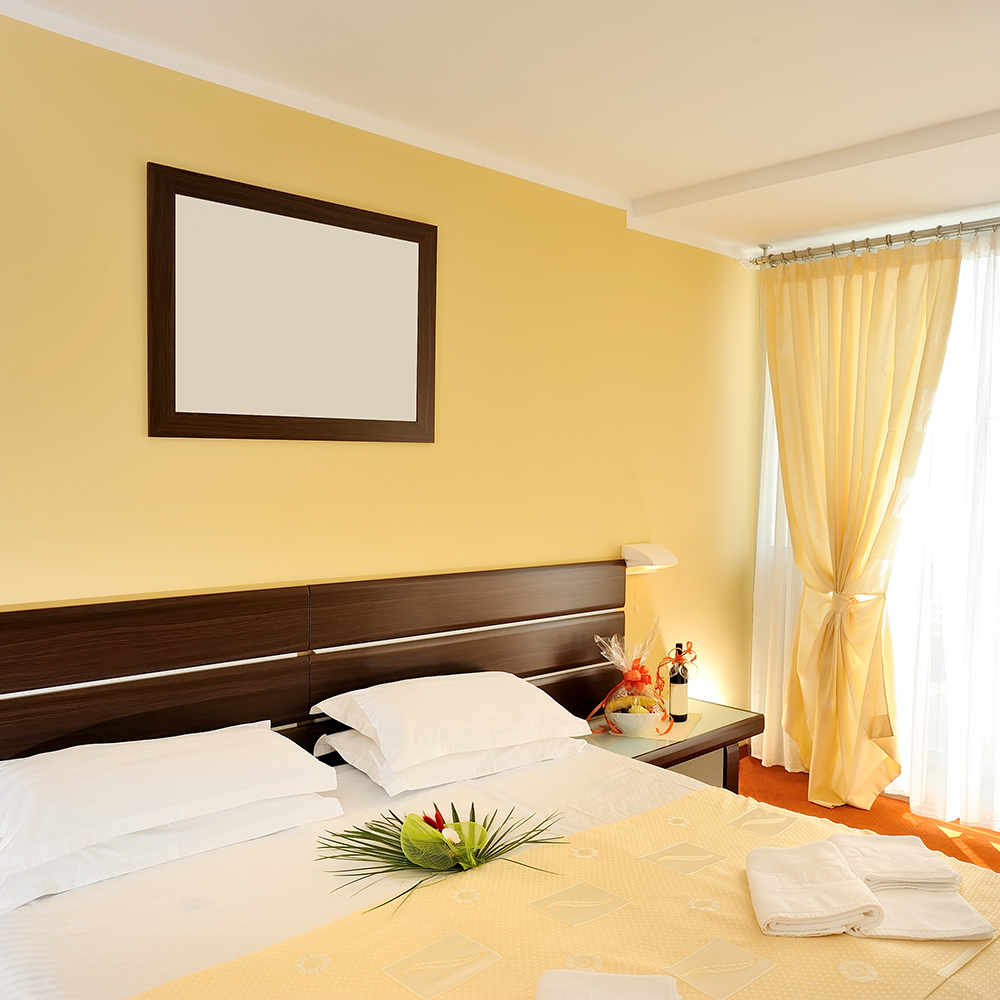 Yellow is a fun color that instantly brings cheer to a space. If you are looking for bedroom color inspiration, check out these stylish yellow bedroom ideas to infuse a bit sunshine in your home. 
How to Work with Yellow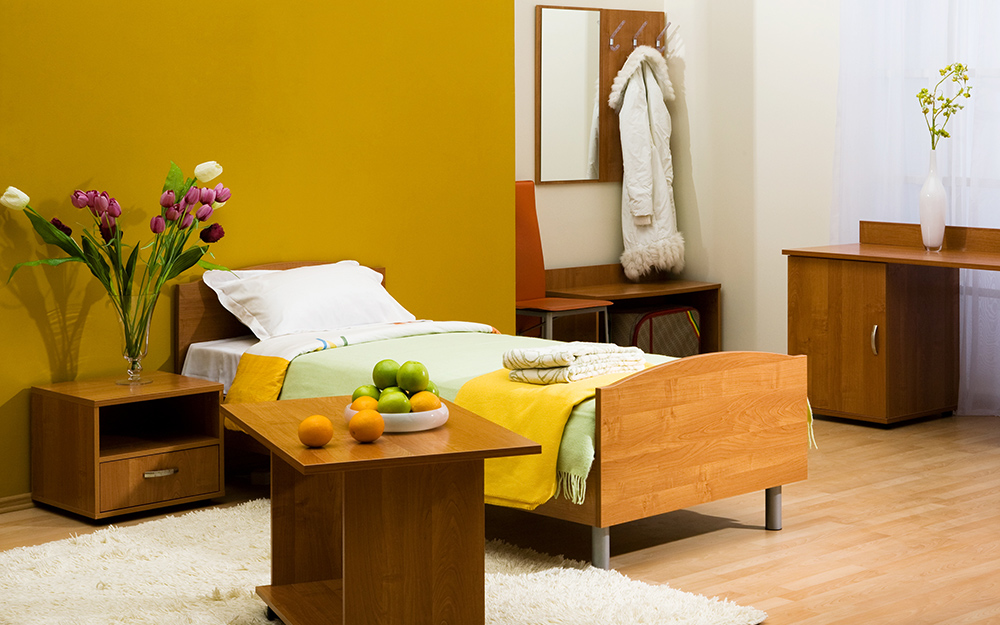 People often shy away from yellow in home design plans, thinking it's too hard to work within a room. Yellow comes in a range of hues like canary, honey, lemon and marigold just to name a few. Bring as much or as little of the color into your bedroom to create just the right look. Don't just limit yourself to yellow bedroom decor–you can put it almost anywhere with proper planning.
Color Theory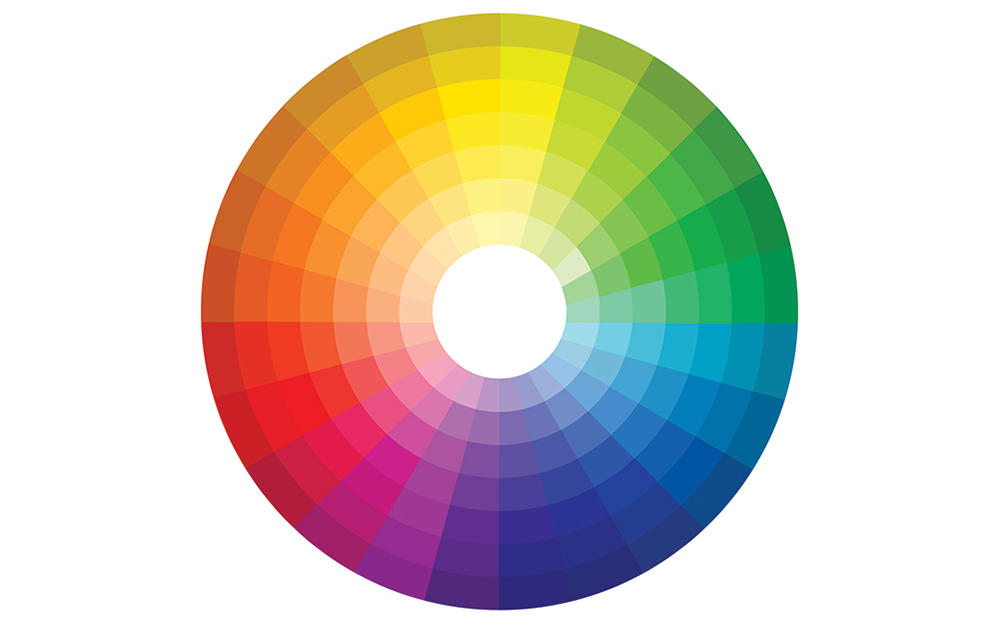 Yellow draws the eye, making it an automatic focal point. Yellow pairs perfectly with violet, purple or indigo. It also looks good with cool grays, navy blue and eggplant. Yellow even works well with other citrus tones. Keep these color pairings in mind when you are looking at yellow bedroom ideas.
Yellow Bedroom Walls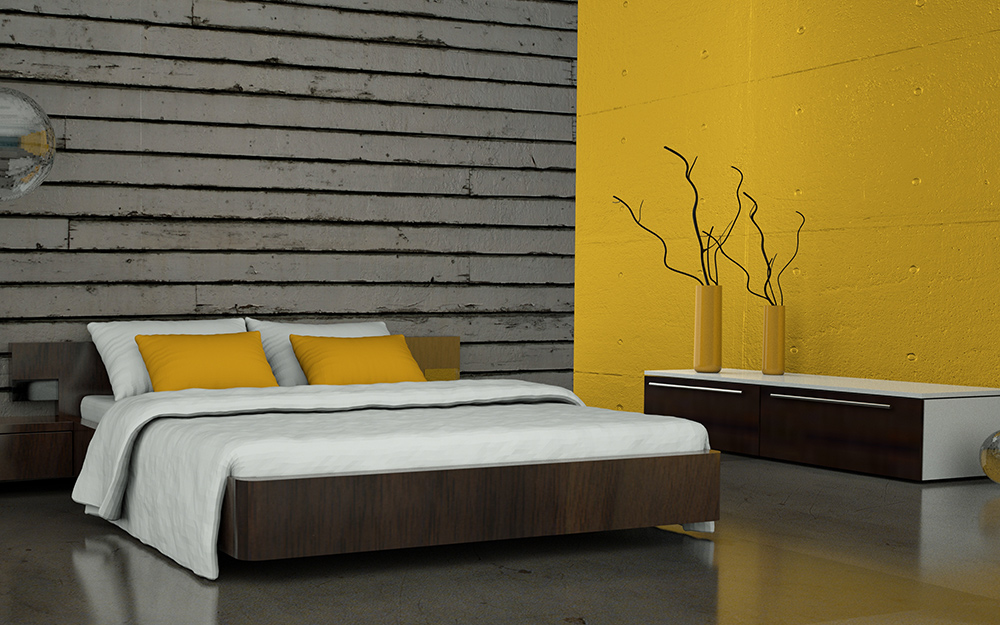 A fun way to cheer up a room is to paint your ceiling or a single wall bright yellow. Yellow interior paint is a small investment but makes an impressive impact to your space. If you prefer something with more texture, apply bold yellow wallpaper with a pattern or design onto a wall. Yellow bedroom walls are an easy way to bring a bold color into your space.
Yellow Room Decor
Adding yellow room decor is as easy as popping in yellow throw pillows or simple blanket throws. Yellow bedroom accessories are a great way to experiment with the color before fully committing to a yellow color palette. Swap the out the yellow bedroom decor when you are ready for something new.
Muted Yellow Tones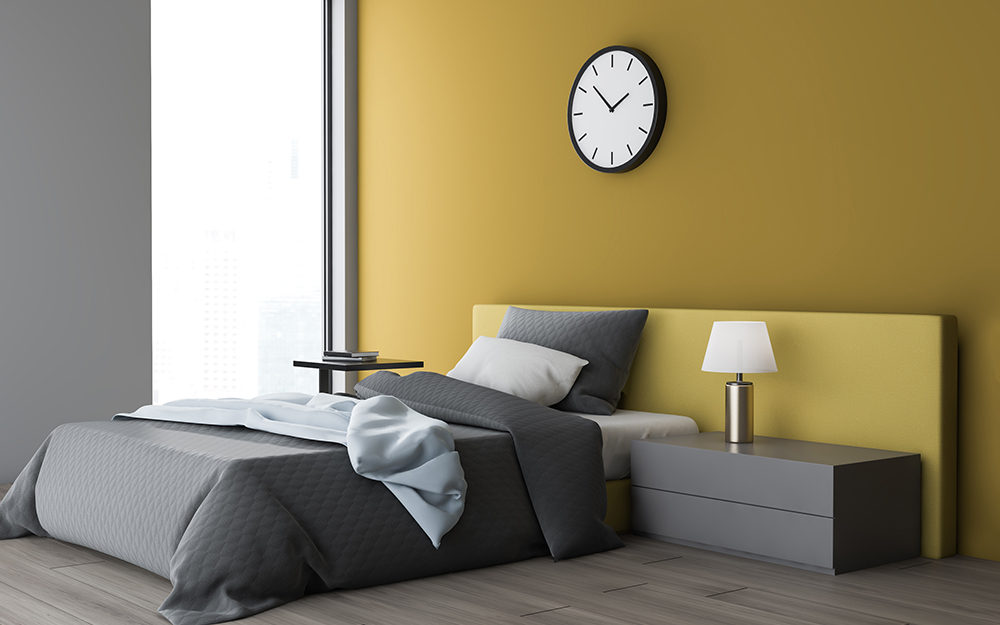 If you like the idea of decorating with yellow, but prefer muted colors, try mustard. Mustard works as a neutral in the bedroom while still making a statement. It adds a modern feel to your bedroom and yet is bold enough to stand out.
Incorporating Textures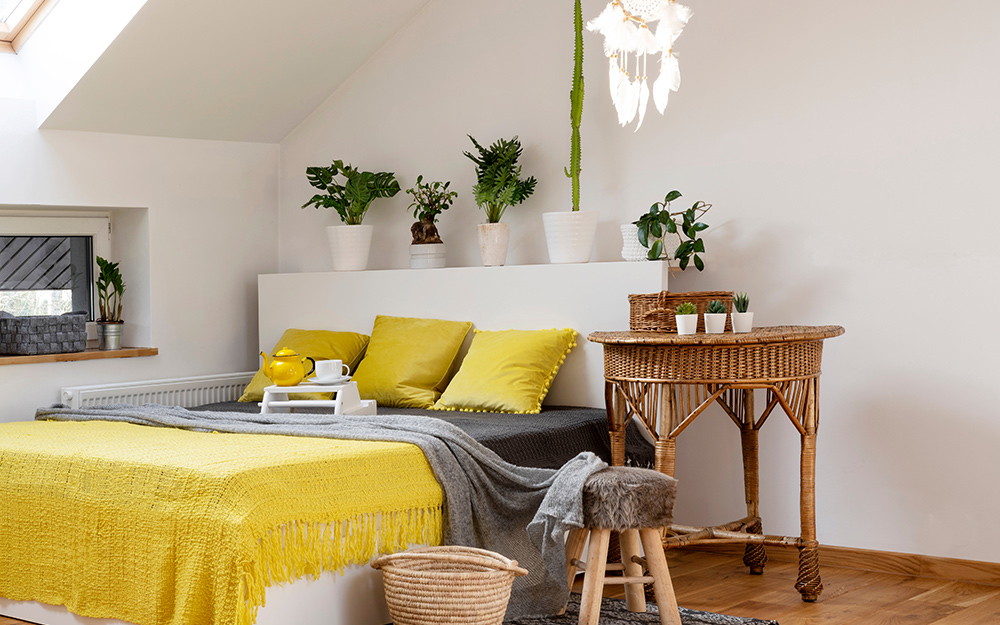 Yellow hues aren't just limited to paint. Yellow toned woods add warmth and texture to your bedroom. The natural grains in the wood will enhance other yellow bedroom accessories in the room.
Metallic Finishes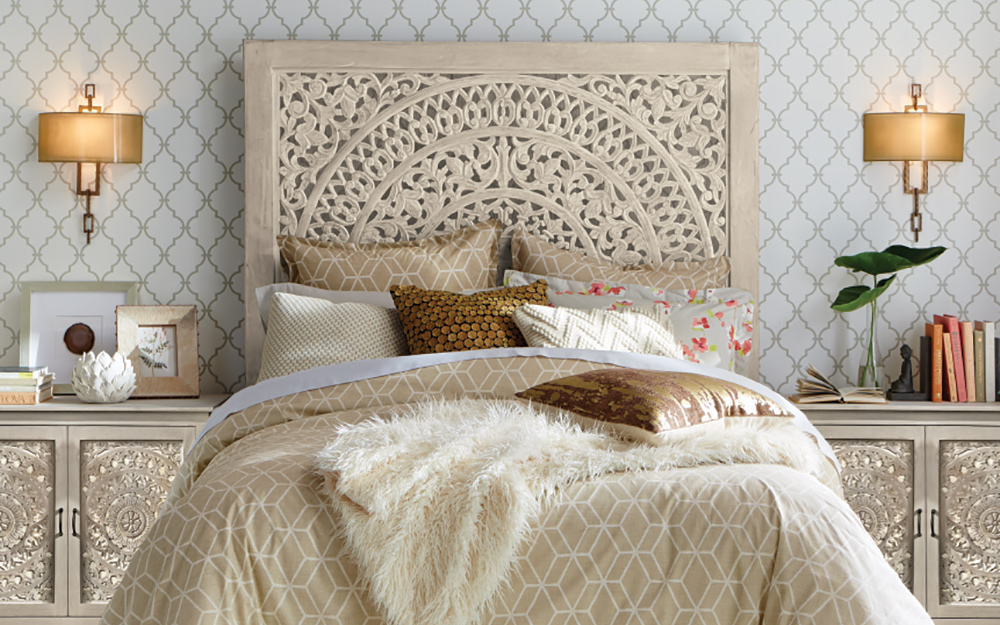 Accent pieces with metallic finishes are a great way to add a bit bling to your bedroom. Bring in pendant lights, stools or frames finished in metallic bronze or gold to add a touch of glamour in your bedroom.
Neon Yellow Wall Decor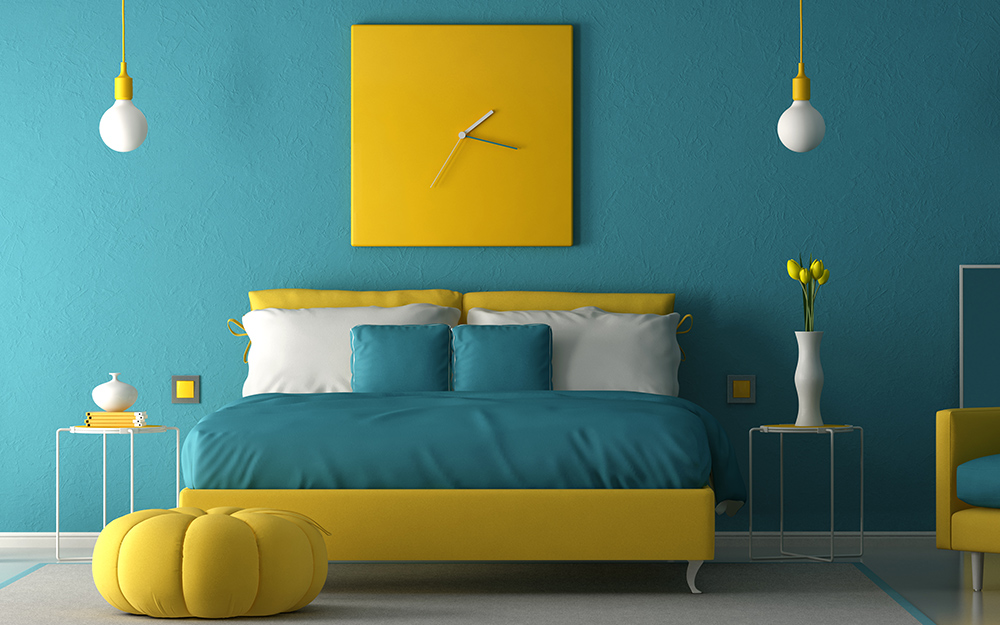 Neon yellow is not just for hi-vis shirts or an 80's fashion statement. Add neon yellow wall decor to your bedroom space for a dose of energy.
Traditional Yellow Bedroom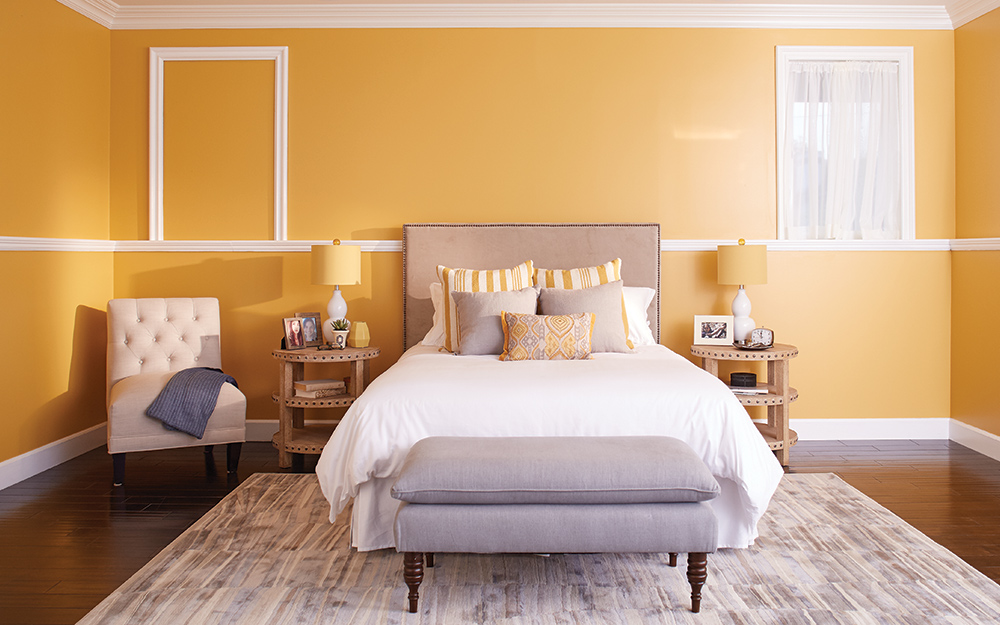 Yellow accents in a traditional bedroom keep it from appearing too stuffy and heavy. If your bedroom furniture is large or consists of dark woods, add yellow bedding or accessories to liven up the space. For extra interest, yellow striped walls are traditional in style but a fun, bright twist.  
Gray and Yellow Bedroom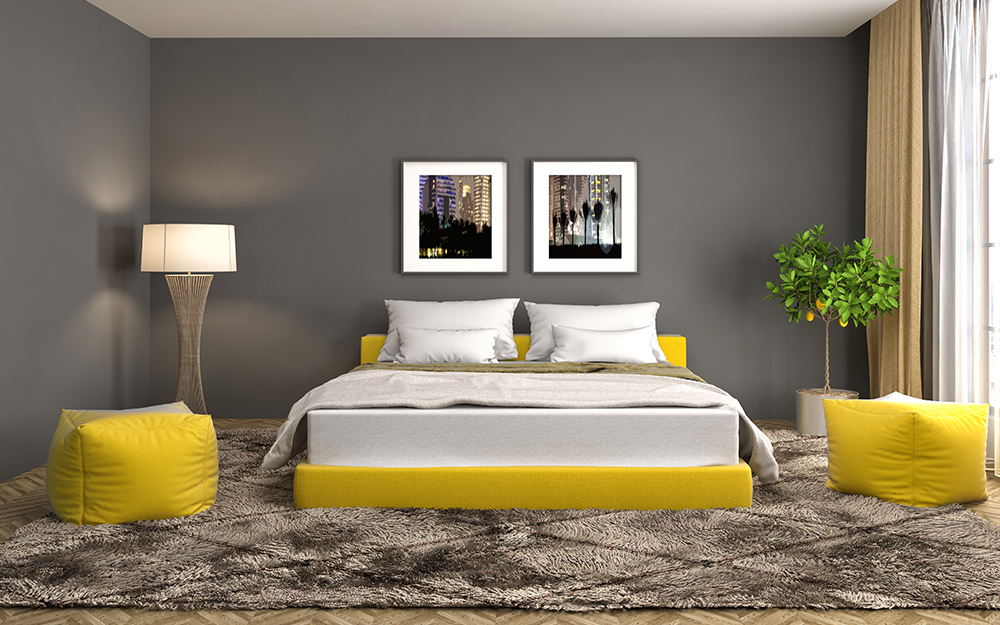 Grey is a trendy neutral hue that happens to pair well with bright yellow. This grey yellow color combination exudes refinement and style. Gray brings a quiet sophistication to a space and yellow brings energy. Together in the bedroom the two colors create a personal retreat that is both exciting and relaxing at the same time. For the best visual impact, paint the walls grey and bring in yellow accessories for a visual pop.
Blue and Yellow Bedroom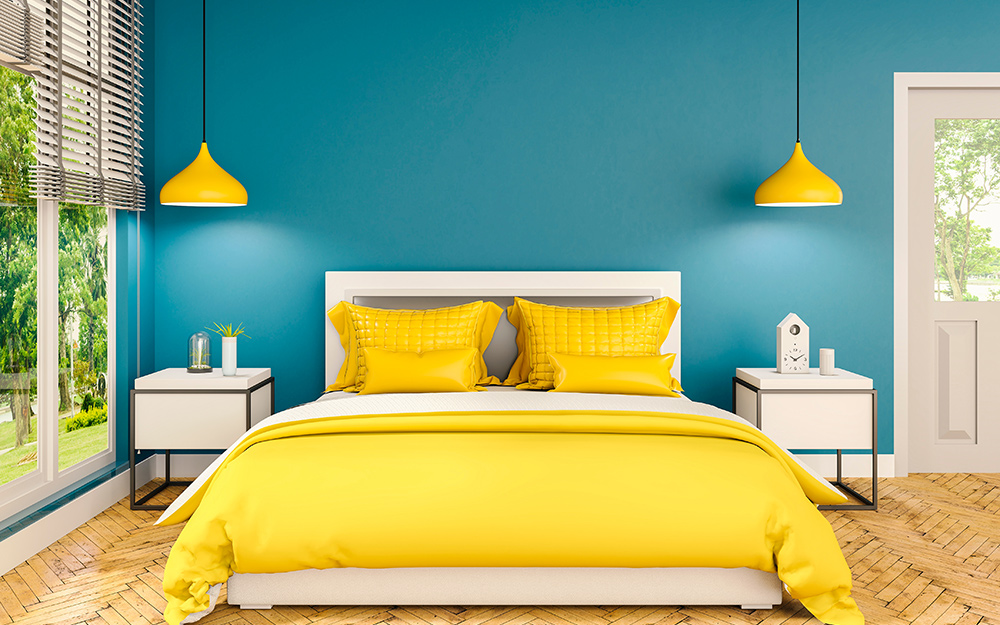 Blue and yellow create a pleasing color scheme for your bedroom. Use pastel versions of the paint colors for a light and airy coastal feel. For a more modern look, use a non-traditional shade of blue like cerulean or navy with mustard or a darker shade of yellow. Blue and yellow is a no fail-color combination that results in a gorgeous designer look in your bedroom. 
Yellow and White Bedroom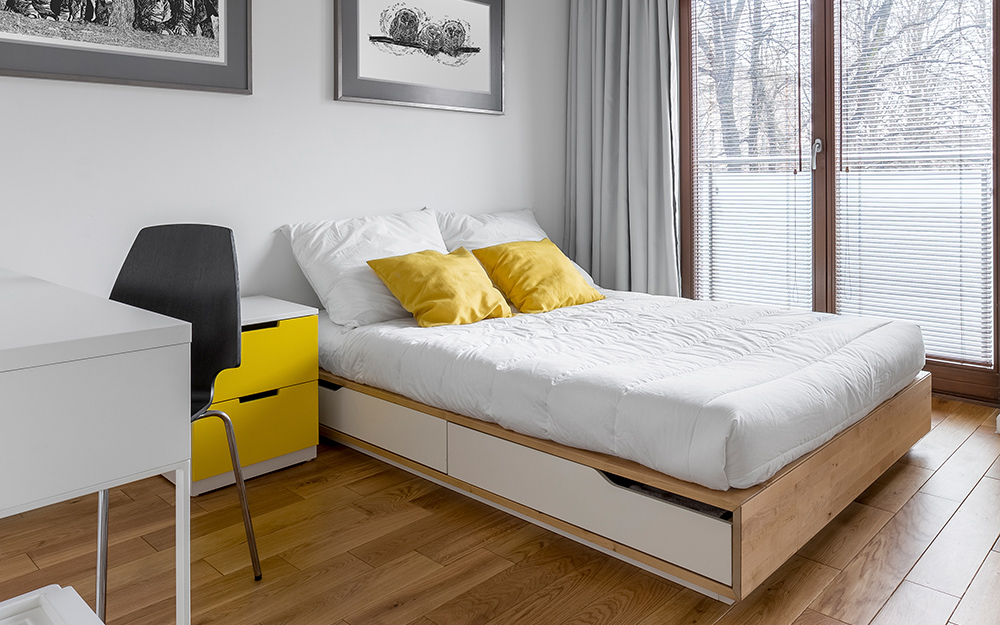 Bright yellow and white together give you a light and cheery bedroom. Use pops of green to add another dimension to the space. Avoid heavy, dark colors in wood furniture to keep the room light and airy.
The Home Depot is your headquarters for everything you need to style your yellow bedroom. Shop The Home Depot for bedroom furniture, home accessories and paint colors to create a stylish bedroom.
Explore More on homedepot.com