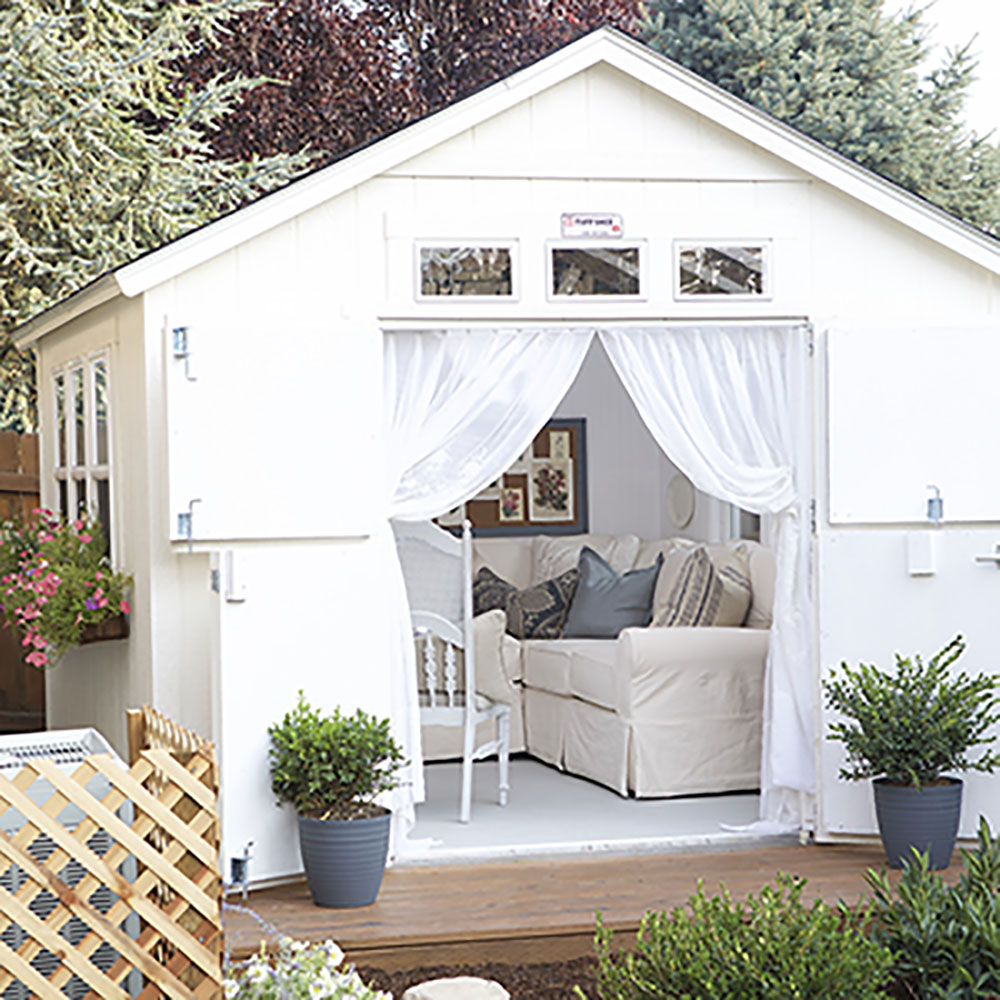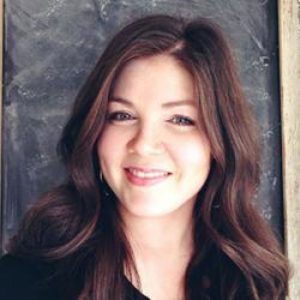 A Note From The Home Depot
"She sheds" are one of the best trends we've seen in a long time. A she shed is sort of like a man cave, but outdoors, in a shed tricked out to be a cozy, comfortable retreat in the backyard.
We asked some of our favorite DIY and design bloggers to show us their ideas for a she shed. Kristen Whitby blogs at Ella Claire. Here's her cozy she shed.
I loved the idea and challenge of creating a fun little "She Shed" in our backyard. My goal was to create a relaxing and comfortable retreat with feminine vintage charm. I wanted to make it look and feel like another room in my home so I planned a bunch of DIY and décor projects to really make it homey. I will be sharing many of these tutorials in the upcoming weeks on my blog, Ella Claire. This project started with the installation of a Sundance TR-700 shed from Tuff Shed. You can also see all of the details from the shed installation, including the options I chose and additional DIY projects on my blog!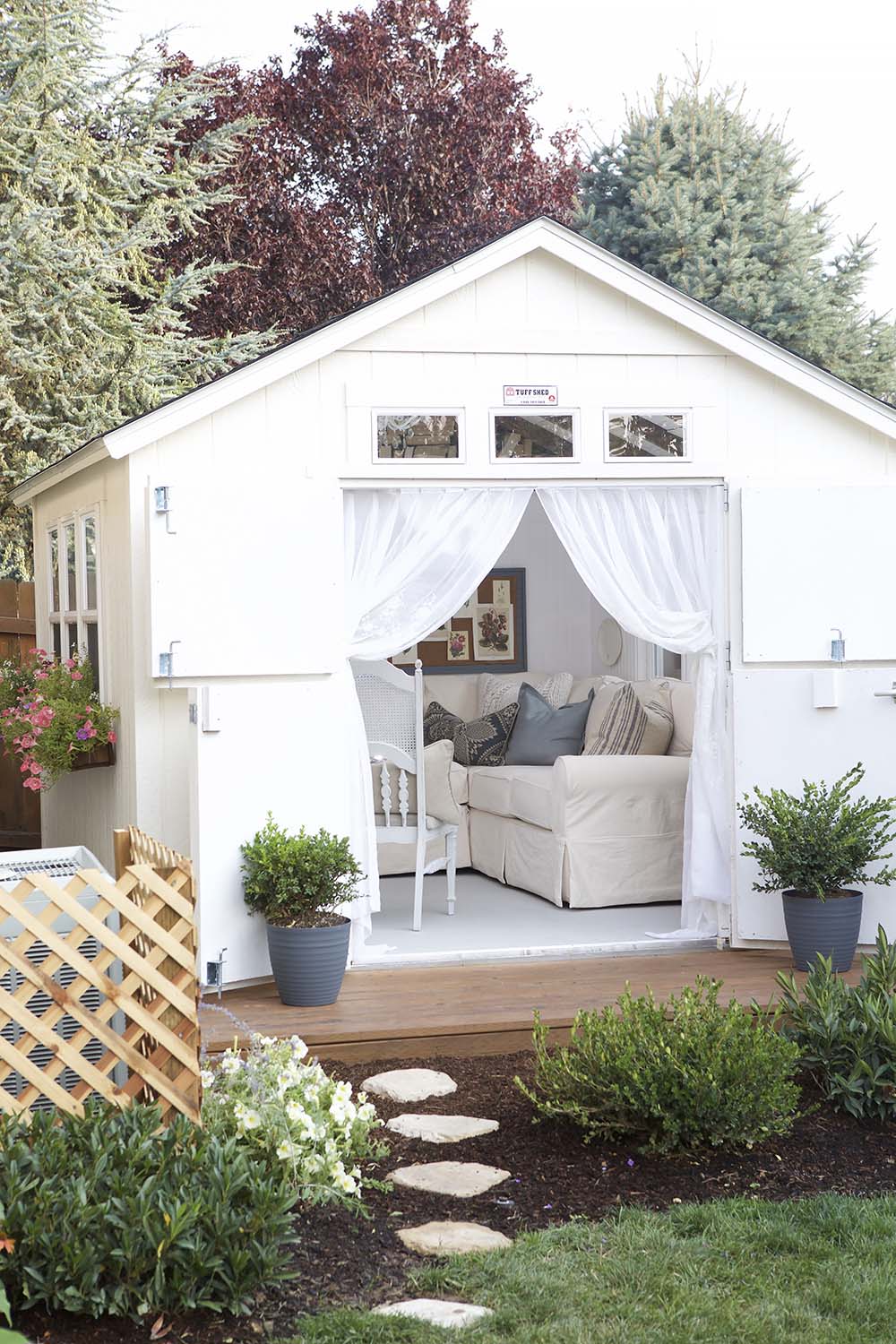 The first thing we did on the inside, was to cover the wall studs with sheets of bead board that we picked up at our local Home Depot store.
We used a table saw to cut them to size, and our Ryobi Airstrike to nail them into the studs. We covered the three main walls with beadboard paneling, and painted the wall with the door to match. It was a relatively quick and easy way to add so much beauty and charm to the space.
We painted the walls Behr Ultra Pure White, which was perfect to brighten the room. I love how it just makes the whole she shed so light and happy.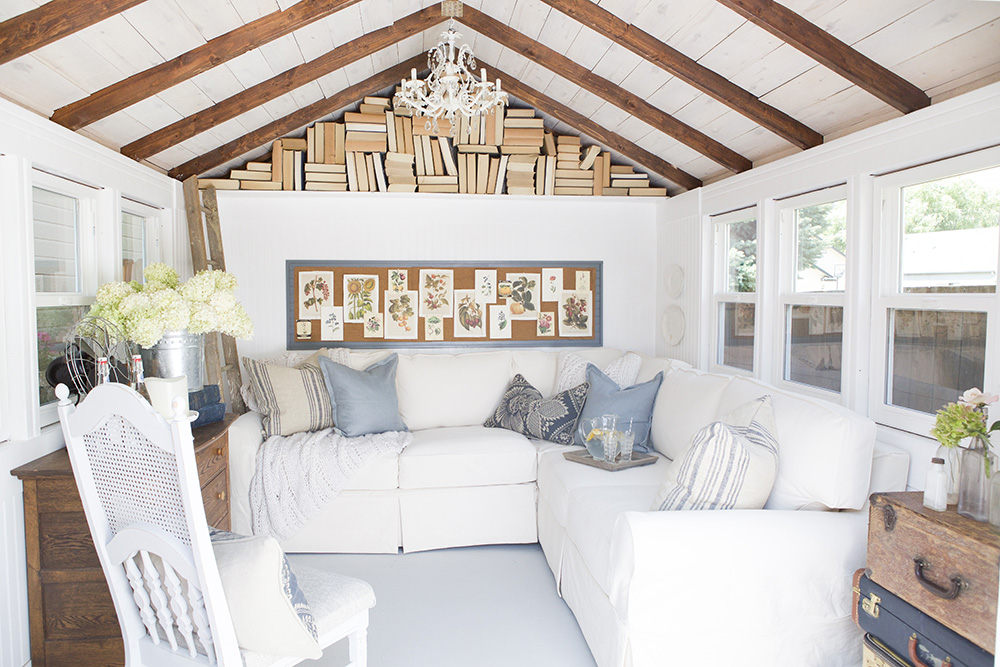 For the ceiling, I really loved the idea of enhancing the existing beams instead of covering them so we stained them in Early American from Minwax.
We added whitewashed planks to the inset portions of the ceiling. This actually ended up being quite a lengthy process because of the single nails from the roof, but I think the end result was well worth it. I not only love the way it looks, but how it defines and almost adds height to the roof.
See more about the woodwork and paint colors on my blog.
I had the idea of installing a shelf across the back wall of the shed to add storage/display space to an otherwise unusable space. I stacked a bunch of books up in the gable, and I think it makes the room look lived-in, time-worn, and collected.
We went with a heavy-duty flooring and we painted the floor with two coats of Restore 4x paint in Graywash. The original color of the floor was a shade of brown, and this color matched a little better and helped to lighten and brighten the space.
We ordered this beautiful sectional sofa and these adorable striped grain sack pillows from Home Decorators Collection.
I pulled the pretty dusty blues from the grain sack pillows and accented with a hodgepodge of other pillows and throws I had on hand.
Behind the sectional, I built a bulletin board to collect some of my favorite vintage artwork– botanical prints. I wanted it to have a very relaxed and collected vibe, and I love that it can be changed out in the future for holidays, etc.
I put one of my favorite vintage ladders on one side of the sectional and a set of antique plates on the other wall.
In the front corner by the door, I stacked a few of my vintage suitcases and topped them with a collection of little antique bottles to hold sprigs of flowers collected from the garden.
On the other side, I added seating and a basket to hold extra pillows and blankets. I stole the little dresser from my mom, and it fit perfectly in this space for extra storage.
On the outside of the shed we had quite a bit of work to do as well. We hadn't ever really utilized this side of our yard, so it didn't have anything but a rock pad.
We covered our air conditioning unit with a DIY lattice cover, and added planters with landscaping, a rock path, and a tree. We also added a DIY deck and window box to the shed because I love big, full annuals!
It made the whole shed more inviting and beautiful and took it from shed to outdoor retreat!
Overall, this was a dream project. I had so much fun with this challenge and I love the cozy little retreat we created!
See more of this adorable she shed, including additional DIY tutorials, on Kristen's blog.
Kristen Whitby loves to repurpose, DIY, and create. You'll find tons of clever craft and decorating ideas on her blog Ella Claire. She lives in Idaho with her husband and two children.
This post was created in partnership with The Home Depot. The author may have received compensation for this article and associated images or video, potentially in the form of products and/or services. All expressed opinions and experiences are the author's own words.
Explore More on homedepot.com