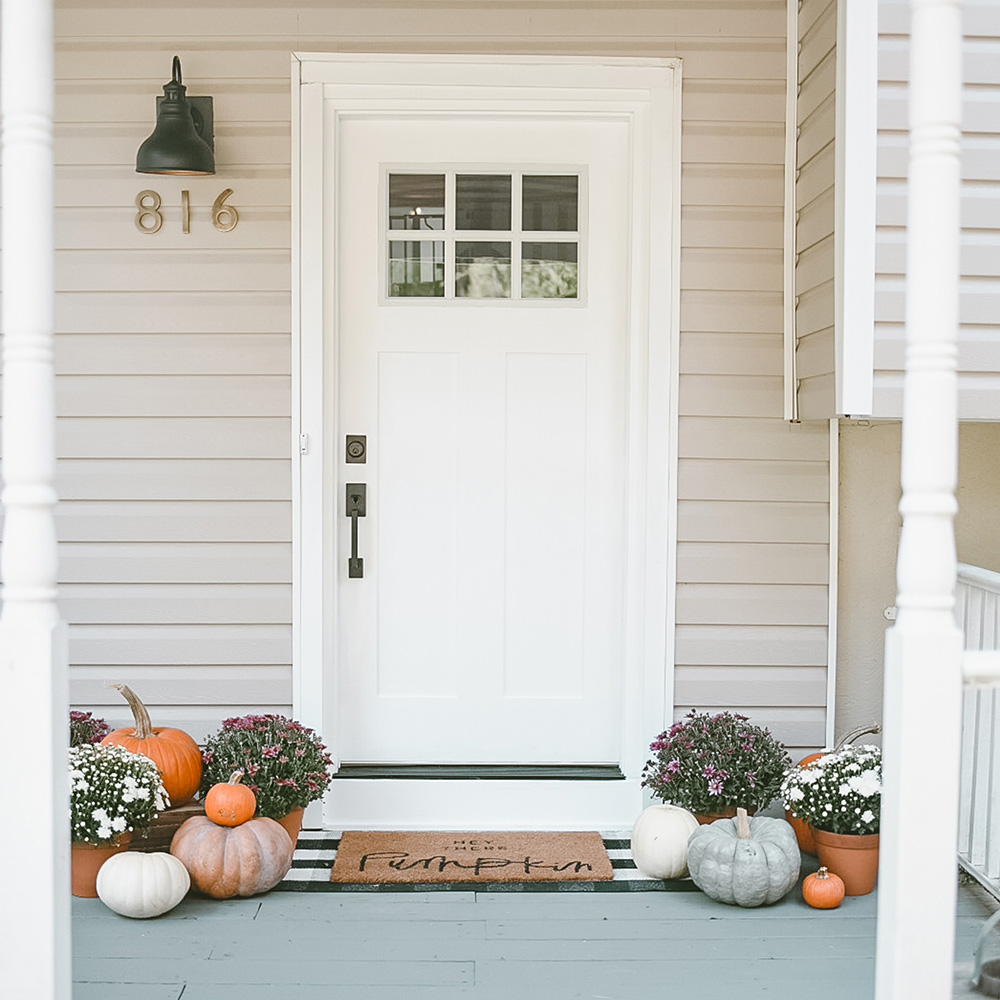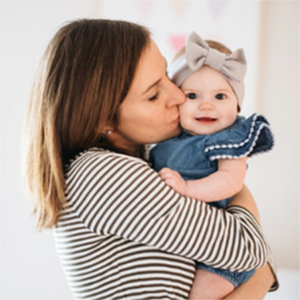 A Note From The Home Depot
Caitlin Kruse of The Mama Notes has wanted to replace her front door since they moved into their house. With a few simple upgrades, Caitlin's porch is now festive and ready for fall.
1
A Front Door Transformation for Fall
This post has been three years in the making….well maybe not really, but I've loathed our front door since we bought our house, and I have been so eager to swap it out! We've been busy working on other areas of our house (like our hall bath, master bedroom and bathroom, downstairs office/playroom) and it's been sitting on the back burner. I never thought I'd care so much about a door, but it's the first impression of our home and I knew that it wouldn't take more than a few days to drastically transform the entrance of our house. I'm excited to have  teamed up with The Home Depot, our go-to spot for every home project we've done thus far, to bring my vision to life!
Let's start with the really scary before photos! We have big plans for the front of the house, so it's definitely a work in progress, but this is what she looked like a few weeks ago… 
An outdated, red stained glass door that didn't do any favors for making our 1970's split-level house feel updated at all. The porch deck looked like it had never been finished and was green and covered in dirt from years of wear. It was just a sad sight! No matter how many pumpkins or wreaths I put up, nothing could disguise it.
So, I created a mood board and decided we'd spend a weekend or two transforming this space to give our front porch a face lift without spending a ton of money!
So much better! It's really a breath of fresh air! We first invested in a power washer from The Home Depot and then went to town cleaning the porch. Austin did this over the course of two days. After a few delays because of rain I used Behr DeckOver in 'Pewter' which is a really nice gray.
We originally intended to replace the door ourselves, but after a few issues we called up a local handyman to help us since our opening was all out of whack (like everything else in this house)! I chose this classic craftsman style door that was pre-hung and ready to paint. I debated on painting the door a color and originally wanted to do a pale gray with blue/green undertones, but after seeing how the deck turned out I realized that Behr's Ultra Bright White was such a great, fresh option that would go with all of my seasonal decor throughout the year.
12
Front Door Finishing Touches
We swapped the light for this Home Decorators Collection lantern, which took about 30 minutes. Why we didn't do this sooner, I'll never know… but the black really pops and makes such a difference. I also love the gold inside!
The Schlage door handle may be my favorite part! It was worth every penny. I love how it finishes the door with a modern flair and keeps it from looking too 'farmhouse'.
I love the neutral and welcoming entrance we now have and can't wait to decorate it for the upcoming holiday season!
This post was created in partnership with The Home Depot. The author may have received compensation for this article and associated images or video, potentially in the form of products and/or services. All expressed opinions and experiences are the author's own words.
Explore More on homedepot.com