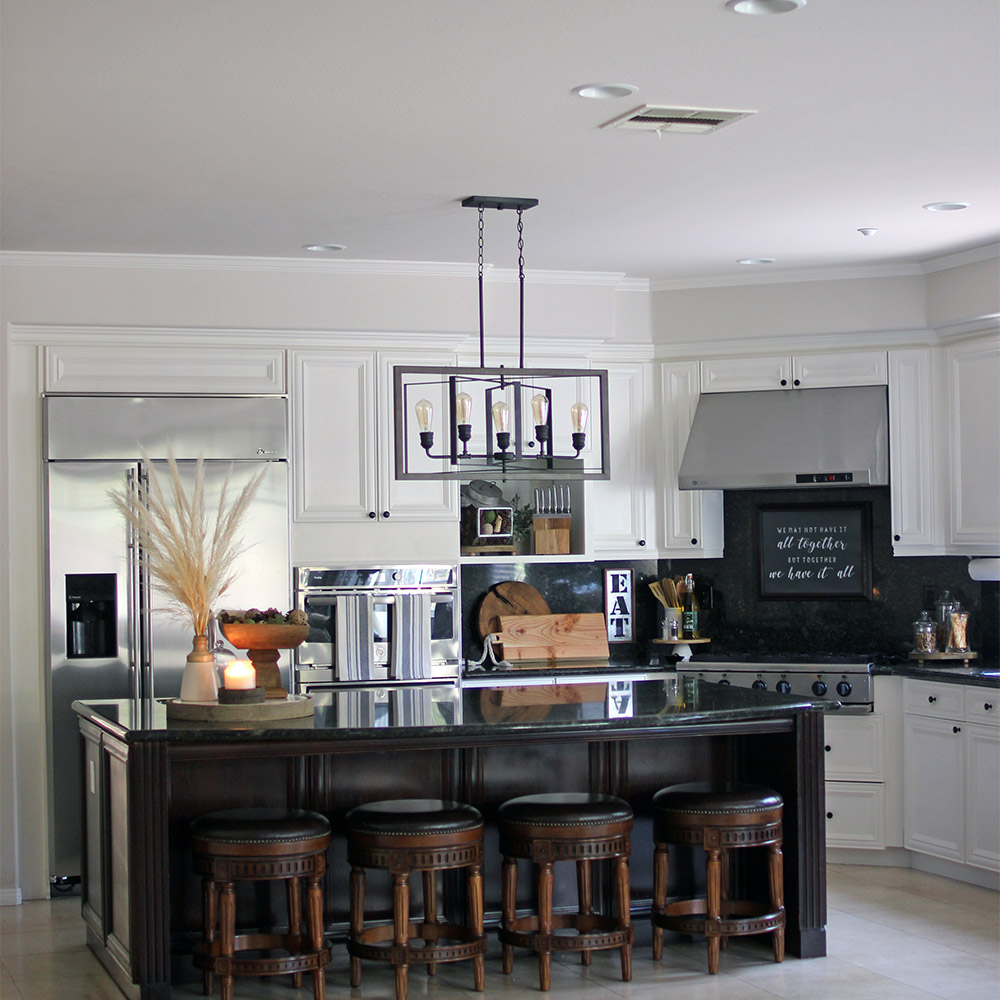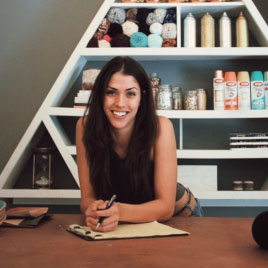 A Note From The Home Depot
Rachel Metz of Living to DIY didn't know where to start when it came to updating her kitchen. With new appliances and the right accessories, Rachel now has a functional and stylish space she can be proud to show off.
I'm going to shoot it to you straight – I get bored with my home easily and am on a constant hunt to refresh my space any way I can.  The kitchen has always seemed like way too much to take on but The Home Depot completely changed my mind and my approach.
My first attempt at updating our kitchen was to paint our cabinets and island to give it more personality. As you can tell, paint and a light fixture is about all that I've done in six years (can't believe I just said that out loud). I was so lost on how to make this space meaningful and aesthetically pleasing at the same time without automatically thinking I needed to break the bank and start from scratch. But have no fear! I got over that hump and tackled this space solo with ease. Today I'm going to walk you through some tips and tricks how I made the most of our kitchen with a mini facelift thanks to The Home Depot.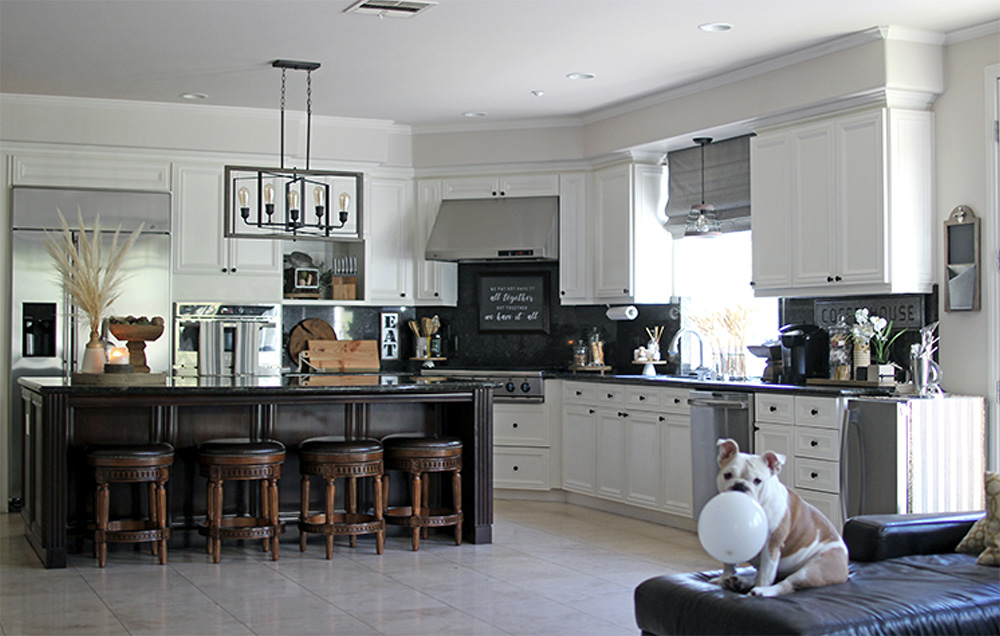 6
Tip #1: Updating Appliances
I didn't touch anything until I figured out where to prioritize my budget. Appliances were in dire need of an upgrade as half of ours didn't work. Yes they are definitely an investment but breathe and realize – you don't have to replace them all at once! Let me explain…
Our old microwave took a dive about two years ago which didn't bother us because we didn't use it that often. We had a double oven but the bottom oven chose when it wanted to work or not. I decided to combine the two by getting the GE Profile 30 in. Built-In Electric Convection Wall Oven Self-Cleaning with Built-In Microwave in Stainless Steel.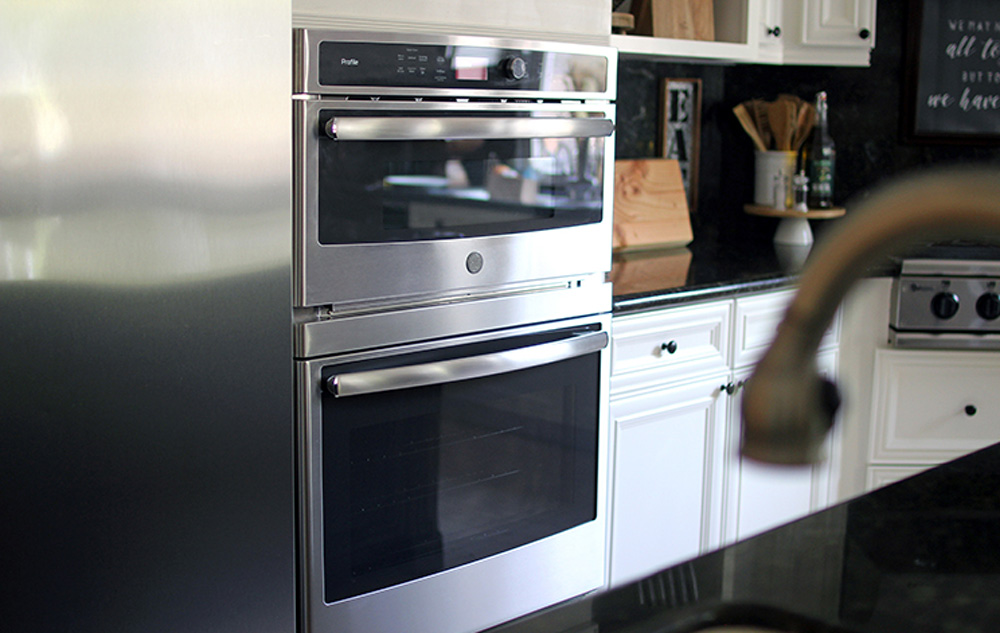 Before you scream at the fact I opted to go from a double to a single oven, everyone's household's needs are different. I didn't need to purchase a double oven and a microwave. We don't cook that often to tell the truth and I can save a few extra bucks by getting one appliance versus two brand new. I also love that by removing the old microwave – I was able to open up the space a little bit more with a styling moment.
I fell in love with the bottle jets that are able to clean inside tall bottles, glasses and stemware. Comes in handy, especially during the Holiday season when I'm changing out centerpieces and entertaining family consistently.
There are dedicated silverware jets that provide table-ready silverware. I always think I have enough silverware when hosting then end up having to re-wash. I'm happy I can avoid an eye roll since these jets don't miss a crumb!
One thing our house does go through is ice. From our mini human loving to snack on it to hosting throughout the Holiday season, we are always running out and a warm cocktail is no fun while celebrating. That is why we have welcomed to the family our GE 15 in. Built-In 56 lbs. Freestanding Ice Maker in Stainless Steel.
This may be intense for some households but I have to admit – this is the most used appliance in our home now. Not only can this ice maker produce up to 65 lbs of ice a day but has an automatic shut off so you never have to worry about it overflowing. The scoop is sturdy and lives inside the ice maker which makes transferring ice to glass convenient and less messy…even though Cali loves floor ice as well.
Once I had all my appliance needs handled, I took a step back to see where I can make the most impact without having to demo countertops or cabinets – leading me to hardware, lighting + decor.
21
Tip #2: New Hardware + Lighting
Hardware is a staple in any space it makes an appearance. You can switch the vibe from drab (like you see here)…
…to fab. By switching out my silver knobs for a more subtle and minimal black knob, it brought in a more tailored vibe. This is one of my favorite tips because it truly is one of the biggest bangs for your buck when looking to give your kitchen a new personality.
Same goes for lighting! We previously had a light that felt like it separated parts of the kitchen. I swapped to the Palermo Grove 31.88 in. 5-Light Black Gilded Iron Linear Chandelier which instantly made the kitchen feel taller.
When in doubt, style it o u t !  Throughout this process, I realized that my kitchen always looked messy because I didn't put any thought into something that any and everyone can do – decorate it. My goal with the final touches was to make our kitchen feel inviting, cozy and look clean even when it isn't. By taking the time to create detailed moments throughout the space with staple pieces from The Home Depot, I have created the illusion it's always clean.
The decor stays in place while the dishes and all the other things hide in the sink and cabinets so in return it gives the illusion I always have my life together, ha! What is better than that?
At the end of the day, we are all unique and I believe every room in your home should reflect that. Everyone's taste and needs for a kitchen are going to be different but I hope you walk away with a new perspective on how to tackle this space.
I'm so ecstatic over our kitchen facelift and genuinely can't believe my eyes when Paul is opting to sit at the island rather than in front of the TV because he says it's so cozy now. I'll take that as mission accomplished – thank you to The Home Depot!
This post was created in partnership with The Home Depot. The author may have received compensation for this article and associated images or video, potentially in the form of products and/or services. All expressed opinions and experiences are the author's own words.
Explore More on homedepot.com