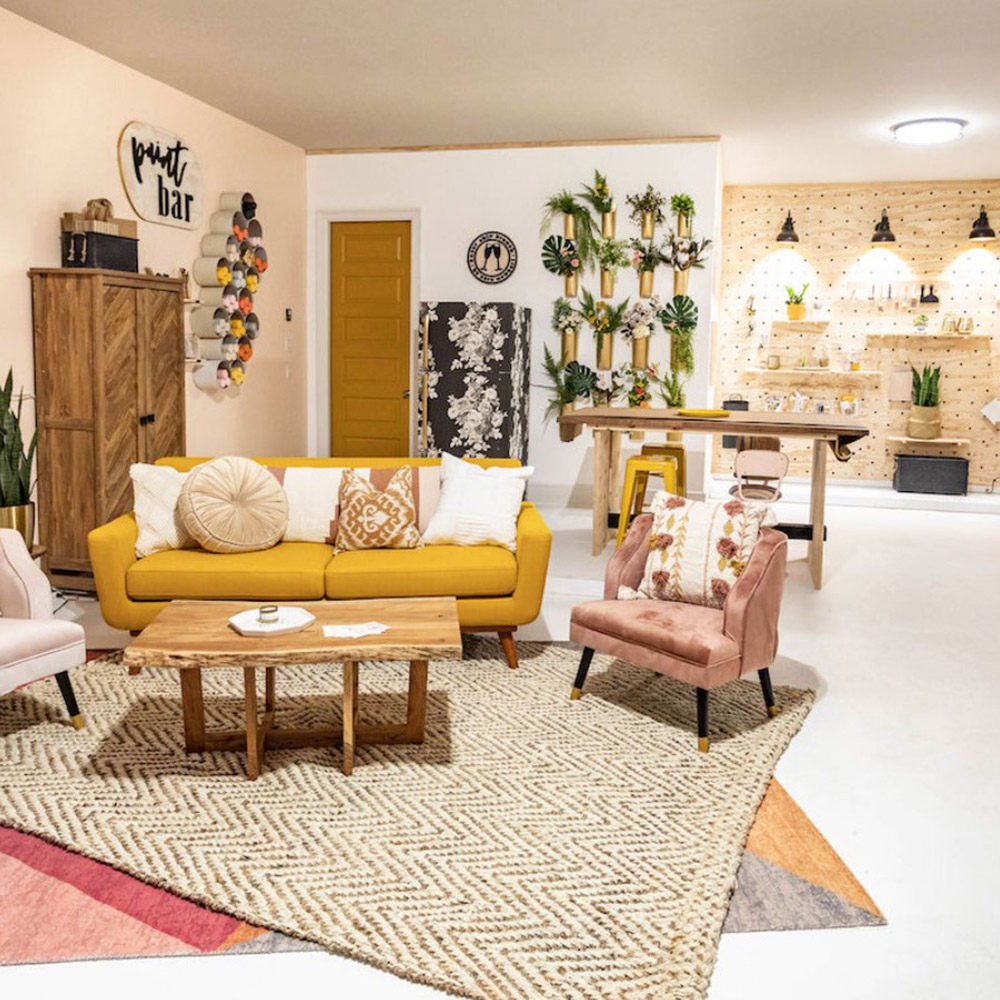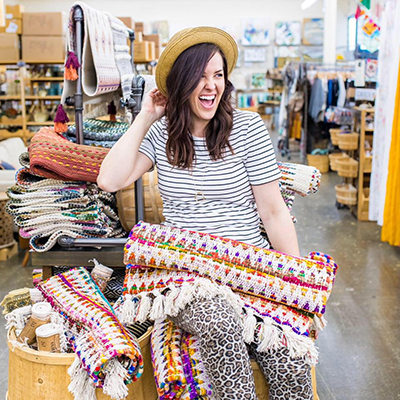 A Note From The Home Depot
We've all seen the typical "Man Cave" garage, but this one is for the ladies who love tools too. Read more to see how one of our Orange Tank winners, Cara Newhart of Never Skip Brunch, renovated her garage into a glamified workspace with the help of The Home Depot.
Cara from Never Skip Brunch here — I'm SO excited to show you the big reveal of my "Brunch Babe Space" aka my new Girl Garage.
This space functions as my studio and workshop space. As well as a place where I can create DIY tutorial content and host hands-on workshops in person.
So many amazing products from The Home Depot went into making this space a reality. From materials that fueled unique DIY projects to bold furniture and chic accessories. All helped infuse character and bring gorgeous touches to an otherwise functional space.
6
Unapologetically Feminine Feel
With pink accents almost everywhere you look and a playful chic style, this space is not your normal workshop. I'm on a mission to empower women to DIY big and design homes they're truly in love with. I wanted the space to reflect that feeling.
DIY and home improvement isn't just for the boys, and this space shows just how possible it is for women to tackle big projects on their own terms and still be able to embrace a more elegant aesthetic, full of pinks & yellows.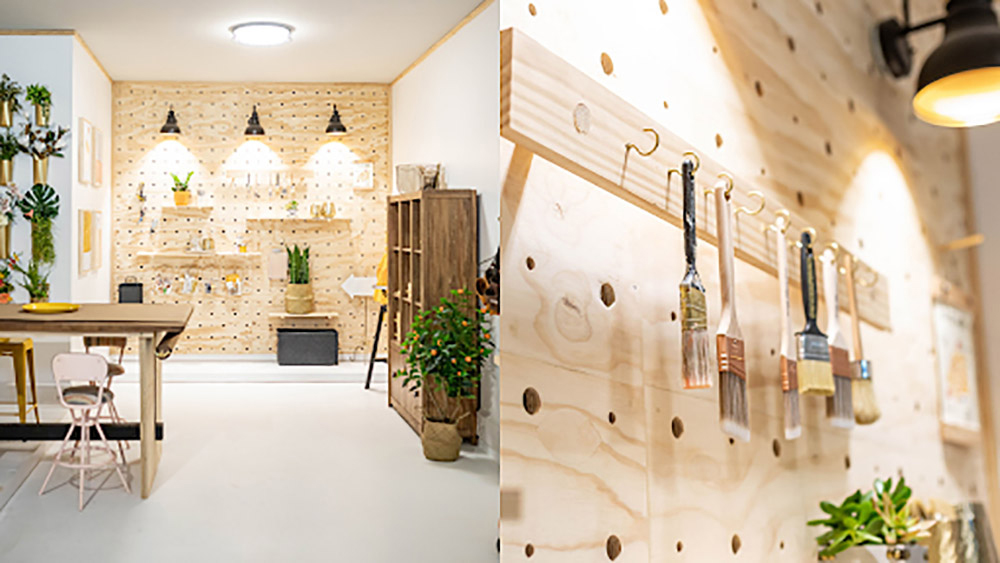 8
Fresh Twists — Turning Function Into Design
For this space, I wanted to take some of the classic elements found in a workshop and uplevel them. Creating design features that are both gorgeous and functional.
First was the pegboard wall — I built it out of using sanded plywood and drilled holes in a grid pattern with a tilt to create a diamond pattern. I included two different sized holes to fit different dowels which created more options for storing different things and also gives the wall some polka dot vibes.
The whole wall can be rearranged as organization needs change, which is another awesome perk.
I added three gorgeous Oil Rubbed Bronze Sconce Lanterns as accent lights on the pegboard wall. They're outdoor lights with a gorgeous gold accent inside which gives them a soft warm glow.
I created a second pegboard wall for tool storage using a 4'x8' pegboard and another 2'x4' pegboard. I drew out an organic shape and cut it out with my jigsaw. Then painted it pink before attaching it to the wall using wood screws and some washers as spacers.
It's all the functionality of a standard pegboard but with a fun twist that makes it feel a little more full of personality. I love this idea because I can use all of the pegboard hooks and organization products found at home depot to organize. But still have a pop of pink on the wall.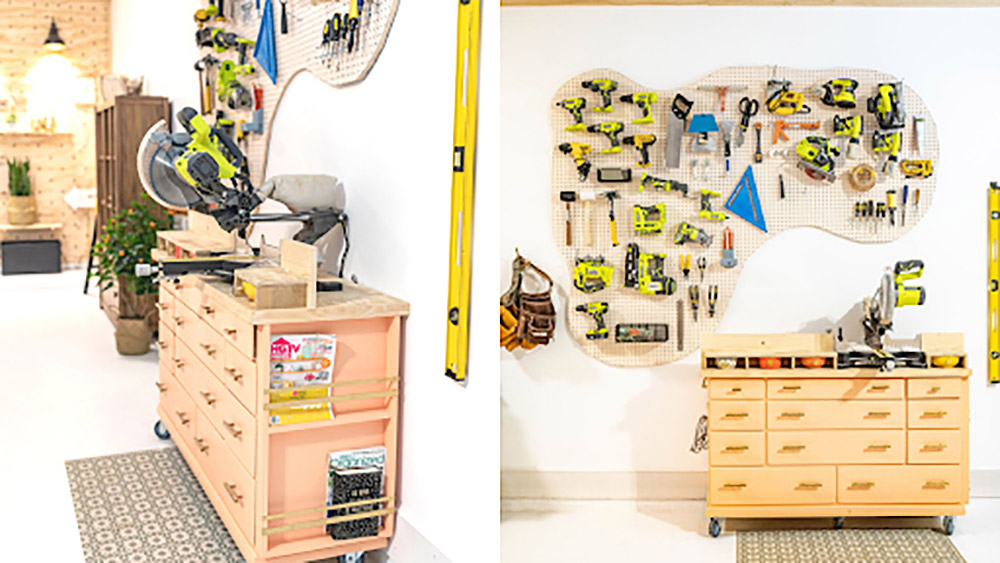 14
Miter Saw Stand…but Make It Cute
I repurposed a thrift store dresser into a miter saw stand by adding 4" swivel casters and a plywood top and also changing out the hardware.
This project is a great option if you don't feel ready to build your own drawers, but want a miter saw bench with sleek and hidden-away storage.
I painted the dresser in Melon Sorbet from Behr and added new gold hardware + a DIY magazine rack made from 1"x2" lumber and some aluminum flat bars I cut and spray painted with my favorite metallic gold spray paint.
16
Wallpaper Your Fridge?!
This show-stopper was probably the most surprising DIY in the space. Since it was my first time using paste wallpaper and I had no idea whether this project would work out. I was pleasantly surprised with how amazing this project turned out!
I learned that pre-pasted wallpaper is not intimidating at all and was actually super easy to install. Plus, this particular paper is removable. So this DIY would work for renters or those unsure of whether they want this change to be permanent.
This space is an all-in-one workshop, studio, and content creation space. Each wall was carefully planned to incorporate storage elements as well as include gorgeous design that works as a backdrop for shooting videos and creative DIY content.
Not only will the space function as my own studio, but I'll also be able to host hands-on DIY workshops. Teaching women how to get started with power tools and create some amazing + chic home decor projects.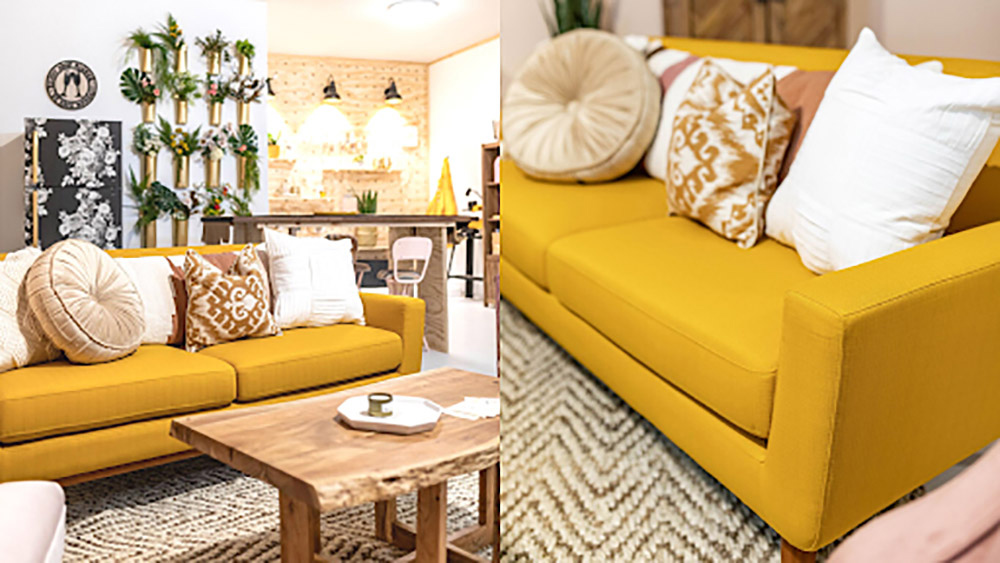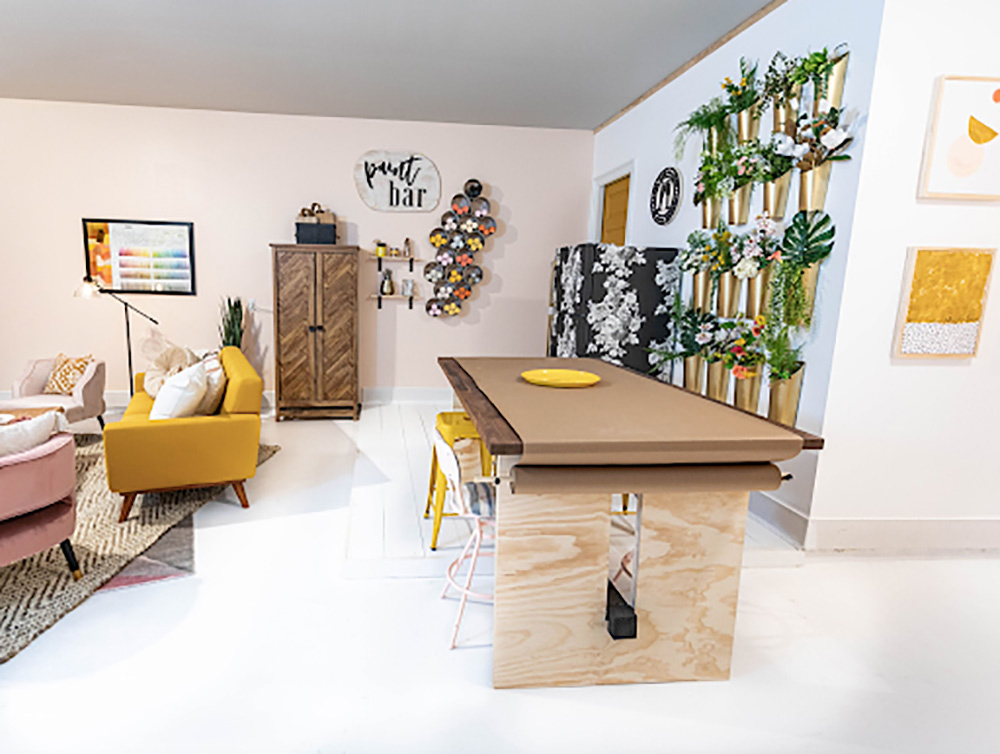 If you're in love and feeling extra inspired, you can recreate this #GirlGarage with The Home Depot as your one-stop place for everything from my DIY projects to the furniture & some decor pieces.
I hope at least one of the projects in this space inspired you to dive in and DIY big. Don't be afraid to push yourself out of your comfort zone. Take on a project that will push you to learn new skills and try new techniques!
Whether it's styling furniture & furnishings in a space from scratch all the way up to building a giant pegboard out of plywood, The Home Depot can help you tackle those big projects without intimidation. The friendly associates have helped me so much on my DIY journey — from cutting the wood for my furniture builds back when I was too scared to use a power saw, to having amazing people on staff that I can bounce my ideas off of.
This post was created in partnership with The Home Depot. The author may have received compensation for this article and associated images or video, potentially in the form of products and/or services. All expressed opinions and experiences are the author's own words.
Explore More on homedepot.com