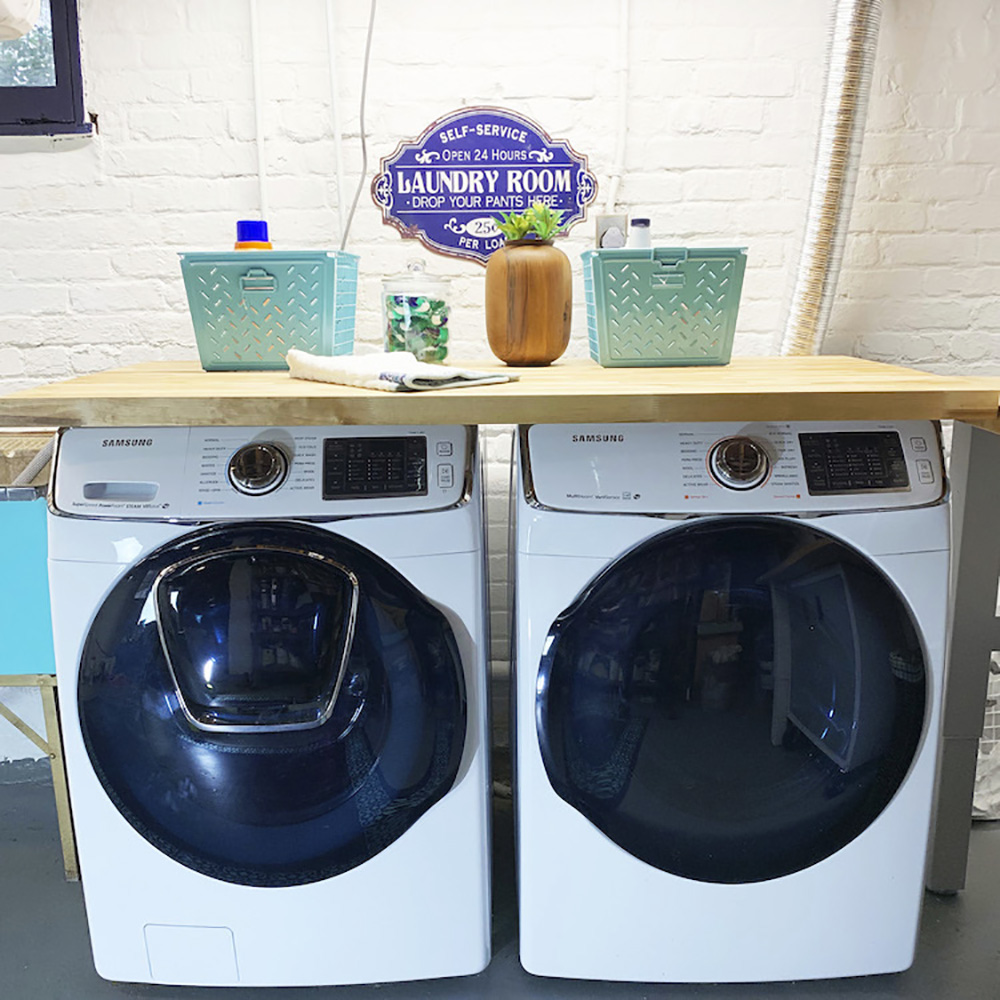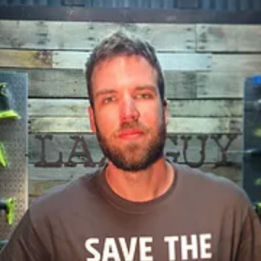 A Note From The Home Depot
After being fearful of doing laundry for a long time, as well as noticing how aged the washer and dryer had become, Adam Beasley from Lazy Guy DIY knew that it was time for an update. Read the blog post to learn how Adam changed his laundry room from scary to funky with some quick, easy tweaks.
1
From Neglected to New Age: Laundry Room Renovation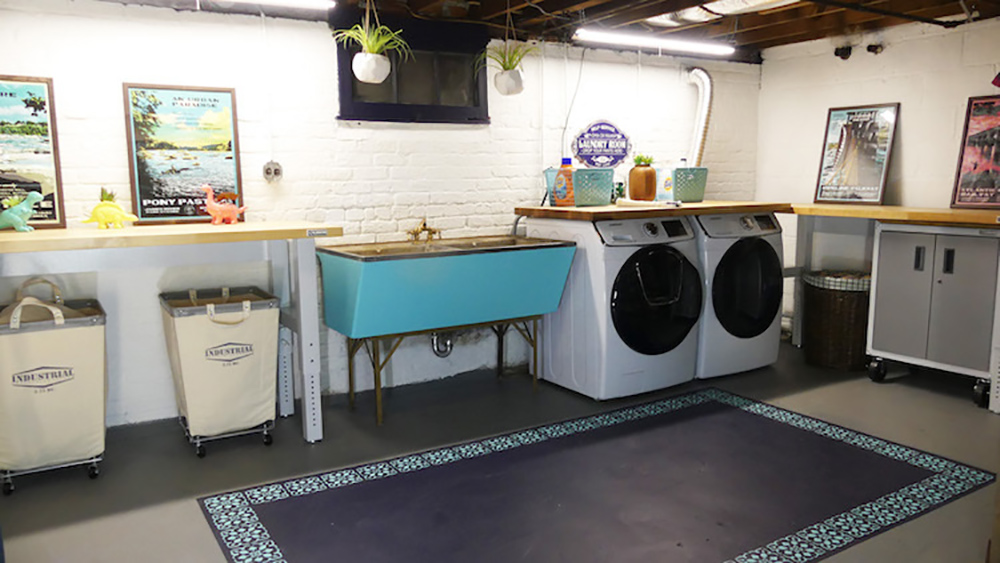 Basements are out of sight and out of mind a lot of times. It's easy to let the space get away from you.  There's not enough light, little organization and a whole lot of monsters hiding in the deep, dark corners.  We let our basement get the best of us. So, we decided to partner with The Home Depot to take back our neglected space and turn it into a place that we enjoyed spending time in with a laundry room renovation.
4
Our Dark Secret: Before the Laundry Room Renovation
We're not proud to admit it, but this was our basement prior to the updates. We had water damage from old gutters and an overall bad habit of piling stuff in corners that had to be addressed.  (Check out how we fixed the water damage and prepped the space prior to the update) When our decades old washing machine started to smell like it was burning, we knew it was time for a change. We wanted to go with something with high efficiency and high capacity since we just increased to a family of four.
With a toddler and an infant, you very easily run at least one load of laundry a day on their clothing alone. Toss in adult clothing, and it seems like you're running loads of laundry around the clock. But that's with our old machines. This Samsung lets you run the equivalent of 3 full laundry baskets at once. Trust me I've tried it, and that volume is legit.
We love the ability to add a random last minute article of clothing once the wash has already started. With most front-load washers, you have to wait until the cycle is completely finished to open the door. That's not a problem with the Samsung. You hit the pause button, open the front add wash door and you're good to go!
The easiest way to turn the tide (not the detergent) in a scary basement is to bring in more light.  With a lack of windows to let in natural light, we brought in a pair of linkable LED shop lights from Commercial Electric that changed the landscape of the space.
We had the choice of rewiring for new light fixtures or plugging in a pair of LED shop lights. This turned out to be an easy decision. LED shop lights gave us the added benefit of increased energy efficiency through 3600 lumens of soft white lighting. To make my life even easier, I added these lights onto our smart home upgrade. So, if my hands were full, I could turn them on with a simple voice command.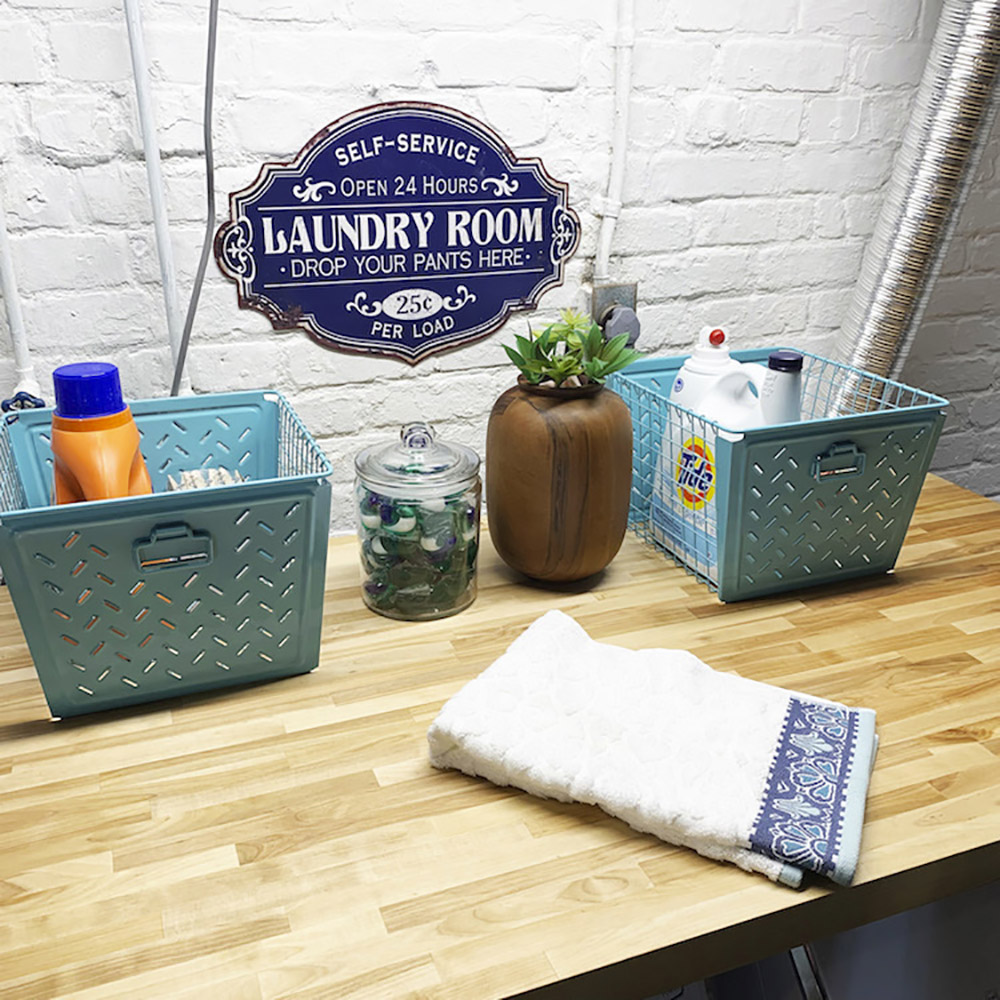 Our old laundry set up did not have a single surface to fold laundry on.  We addressed it a few ways.  First, we added a butcher block workbench top by Edsal over the top of our new washer and dryer.  It's a perfect fit,  durable and gives us a designated folding space that would combat the all too common "lost a sock between the washer & dryer" epidemic.  Plus we added these great teal Macklin metal baskets to capture the rest.
Lastly, to make our lives a little easier, we picked up two of these bottomless Seville canvas laundry hampers. Now we can shuttle our laundry from washer to dryer without losing a sock or two along the way!
We decided to bring in a little funk to the room by adding a pop of color. We used Behr's secret society blue for our base color and key largo green for our fun highlights.
Adding the floor stencil was a great way to bring personality to the room and break up the drab gray floors.  The real show stealer for the laundry room renovation turned out to be the old wash basin. After a little research, we found out this original concrete poured sink used to be black.  So why not freshen that up with a little Key Largo green?
This post was created in partnership with The Home Depot. The author may have received compensation for this article and associated images or video, potentially in the form of products and/or services. All expressed opinions and experiences are the author's own words.
Explore More on homedepot.com