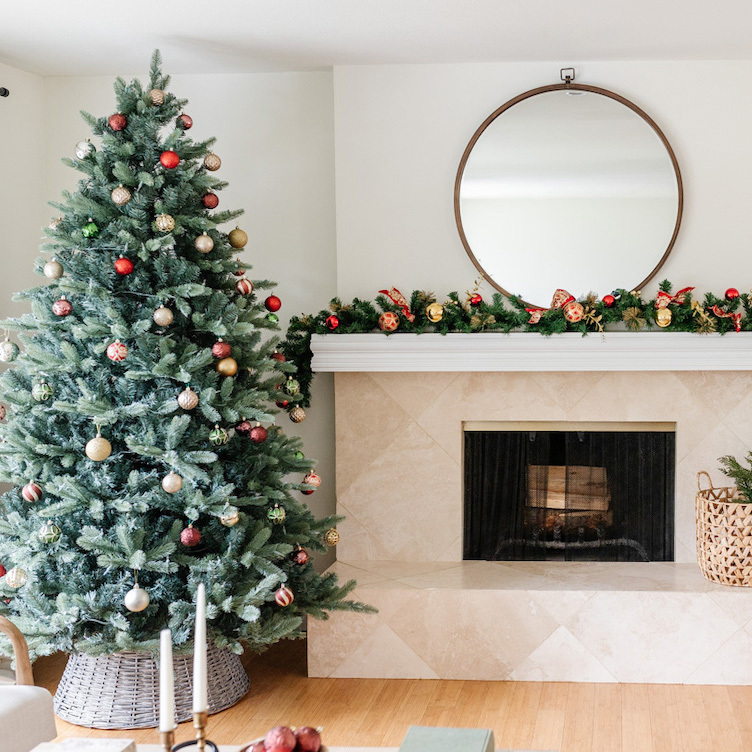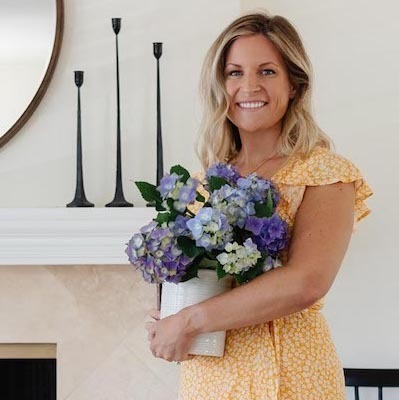 A Note From The Home Depot
The Holidays can get complicated, from gifts to decorating, but no need to worries thanks to Katie Dun of Classically Dun. Katie shared her simple holiday decorating tips and ways to fill your home with holiday cheer the classic way. Check out how she did it below with the help of The Home Depot. 
Hello! Katie Dunn here. Decorating for the holiday season is a tradition I look forward to every year. There is something so nostalgic and cheerful about the holidays, don't you think? As soon as the leaves start changing, I am dreaming of twinkling lights and evergreens. This year, our son is at an age where the holiday season is pure magic. So, when it came to decorating, I knew I wanted to stick to simple, yet classic Christmas décor in the living room – using plenty of evergreens and subtle pops of red, all while staying true to the overall neutral palette I love. The Home Depot had everything I needed to make my vision come to life this year!
Let's start with the fireplace. Home Depot was kind enough to send us this beautiful, pre-lit garlandthat came adorned with red and gold ornaments. The garland is such a statement piece on its own, that I didn't feel I needed to add any additional decor to the mantle. I'm definitely a less is more kind of gal.
Next, we ordered this beautiful, pre-lit artificial tree. When it arrived, I was a little nervous it would be too big for our home – but the size is perfect. I am beyond impressed with how realistic it is too! I know this will light up our home for many Christmases to come.
When it came to decorating the tree, I wanted to keep it simple. I used classic, modern ornaments in muted gold and champagne tones as well as a few shades of red and green. These ornaments were just what I needed to complement the garlandon the fireplace. We hung them using green ornament hooks that blend nicely with the tree. For a more modern look, I swapped out a traditional tree skirt for this rattan tree collar.
From here, we hung a wreathin each of the two windows. It is a simple way to add festive greenery and it can be enjoyed from inside and out! Now our neighbors will be able to enjoy the beautiful warm glow from the twinkle lights in these pre-lit wreaths as they pass by.
And finally, we can't forget the coffee table! I love to fill a favorite bowl or dish with Christmas ornaments. We had a few red ornaments left over after trimming the tree, so I put them in a vintage bowl. The muted red tones are my favorite and give the ornaments a more modern spin on a classic ornament style. I love how this simple design element ties everything together.
In my opinion, a home isn't fully decorated for the holidays if you skip the exterior. Home Depot sent us these adorable light-up reindeer for the yard and I had the perfect spot in mind to display them. In order to really set the scene, I had my husband wrap the trees with clear incandescent lights. He then hung larger C9 lightson the building, and we completed this corner with another pre-lit wreath on the door. When the lights come on in the evening, our yard is transformed into a winter wonderland.
Let's recap a few of my favorite holiday style tips:
Keep it simple – less is more

Add greenery

Add a pop of color

Look for ways to tie your space together (like the ornaments in a bowl)

Have fun with it!
Home Depot really is your one stop shop for all things holiday! Their online selection is amazing and they offer quick, free shipping. Wishing you all the best this holiday season, however it may look this year. Thanks for stopping by!
This post was created in partnership with The Home Depot. The author may have received compensation for this article and associated images or video, potentially in the form of products and/or services. All expressed opinions and experiences are the author's own words.