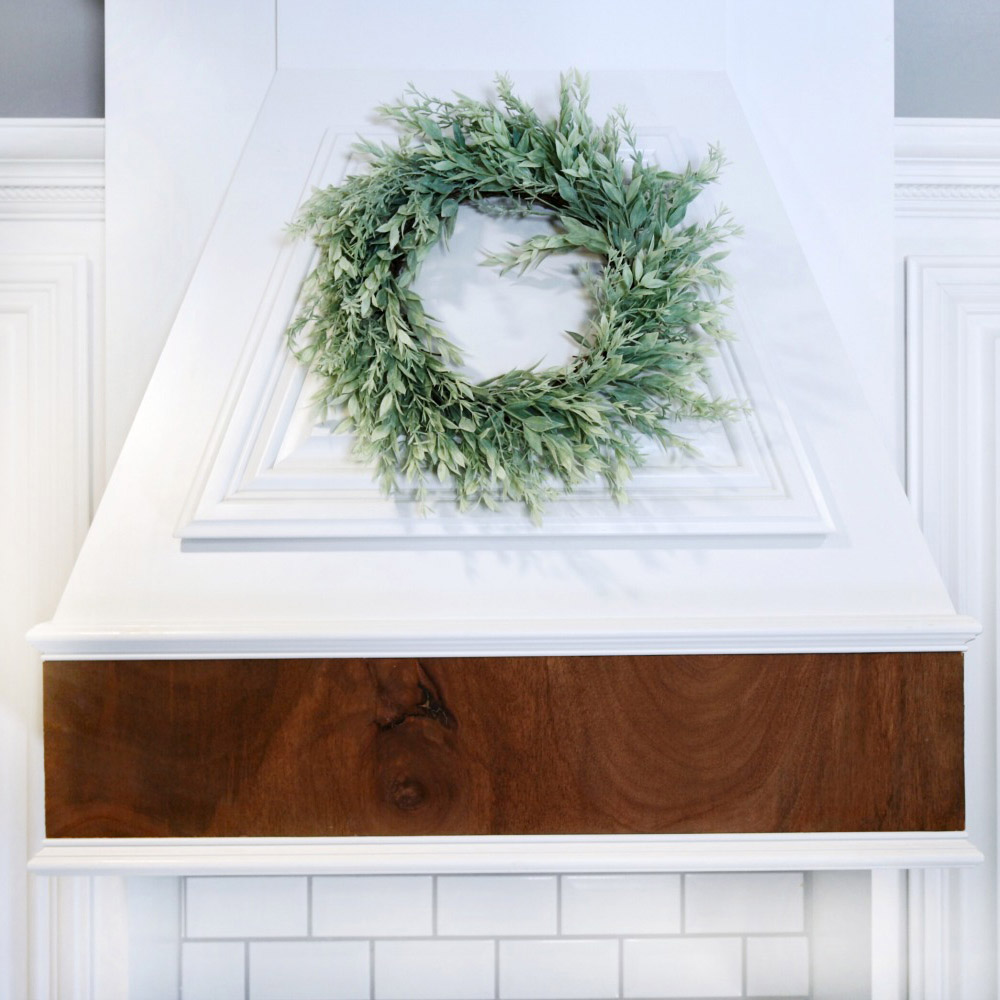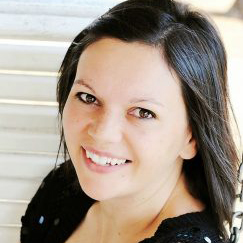 A Note From The Home Depot
Staci Salazar, the blogger behind Our Family Lifestyle, wanted to add farmhouse style to her build grade home. With a little bit of planning, she was able to make a big impact.
Read on for six simple farmhouse kitchen ideas from Staci that will give your kitchen a fresh, new look.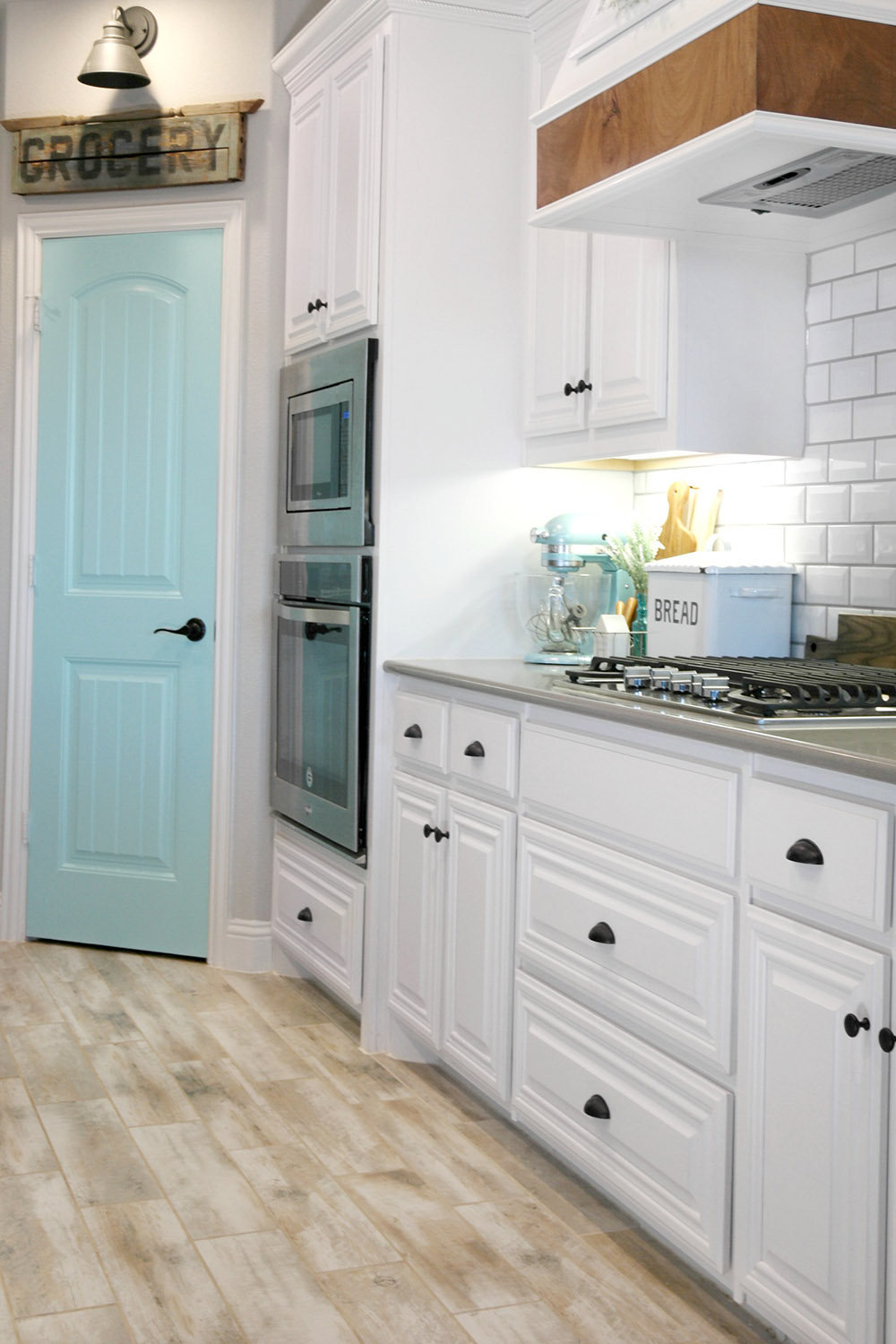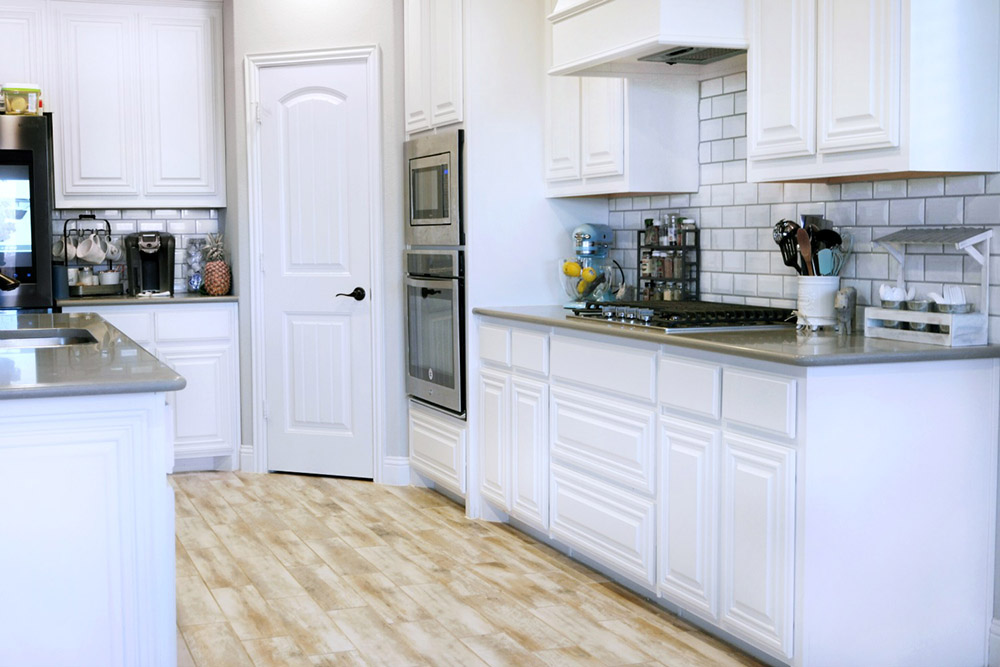 When my husband and I began to talk about building a home, we knew exactly what we wanted. We also knew that getting the look and style of "our ideal home" would require several DIY projects beyond the builder's design, but were up for the challenge.
Through the design process we made choices that would get us as close as possible to our dream home. The kitchen, being the center — both figuratively and literally — of our home, is where we focused most of our attention. White shaker cabinets, grey countertops and a subway tile backsplash helped us achieve that bright, clean look we wanted. But it was still lacking.
The builder grade kitchen was beautiful, but to us, it needed something more. We wanted to add elements that would show our personality and style. We wanted to change our builder grade kitchen into a farmhouse-style kitchen. Through our partnership with The Home Depot, we were able to make that happen.
After much deliberation and planning, we came up with six easy farmhouse kitchen ideas for our builder grade kitchen that anyone can do.
4
Cabinet Knobs and Drawer Pulls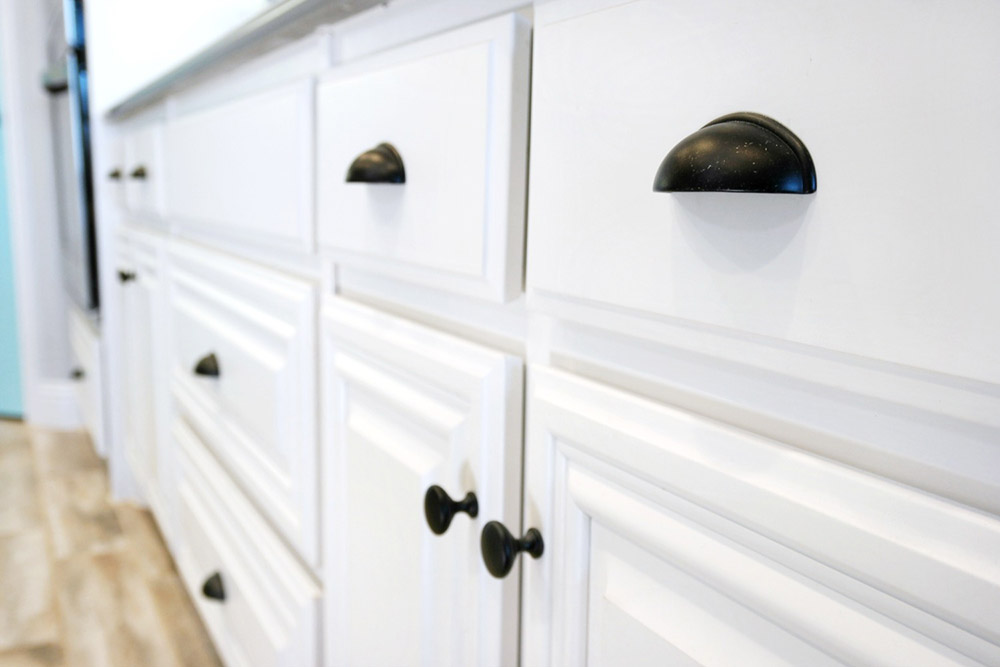 Shiplap is one of the hottest trends right now and one that I love! Our oldest daughter actually suggested the idea in and we decided to do it. Using Radiata Pine Nickel Gap Shiplap made installation easy. Each piece of shiplap is already cut to leave a natural gap. No need to find nickels or rip pieces of plywood. A coat of white paint on the wood planks after install and the entire space felt so much brighter.
During our build time, I kept looking at these large open entries between the kitchen and living area. I could not get my mind away from the idea of putting beams there. So, when the time came, it's exactly what we did. We decided on faux beams because they would be easier to hang in addition to being less expensive.
Using only Pine Common Boards, we set out to create our faux beams. We distressed the wood using tools in our garage, made the 3-sided beams, then brushed on Minwax Early American Wood Finish. We hung them across two open areas using cleats on the ceiling and they look amazing!
We went back and forth on the idea of painting our island. I stared at it for a while and we came up with a solution that would help create some depth and style instead of painting. We took off the builder end panels and applied White True Bead Wainscot Paneling instead. Then, we trimmed it out using moulding and cut 1 x 3 boards to make that ever-popular farmhouse X. More white paint and we were on to our next project.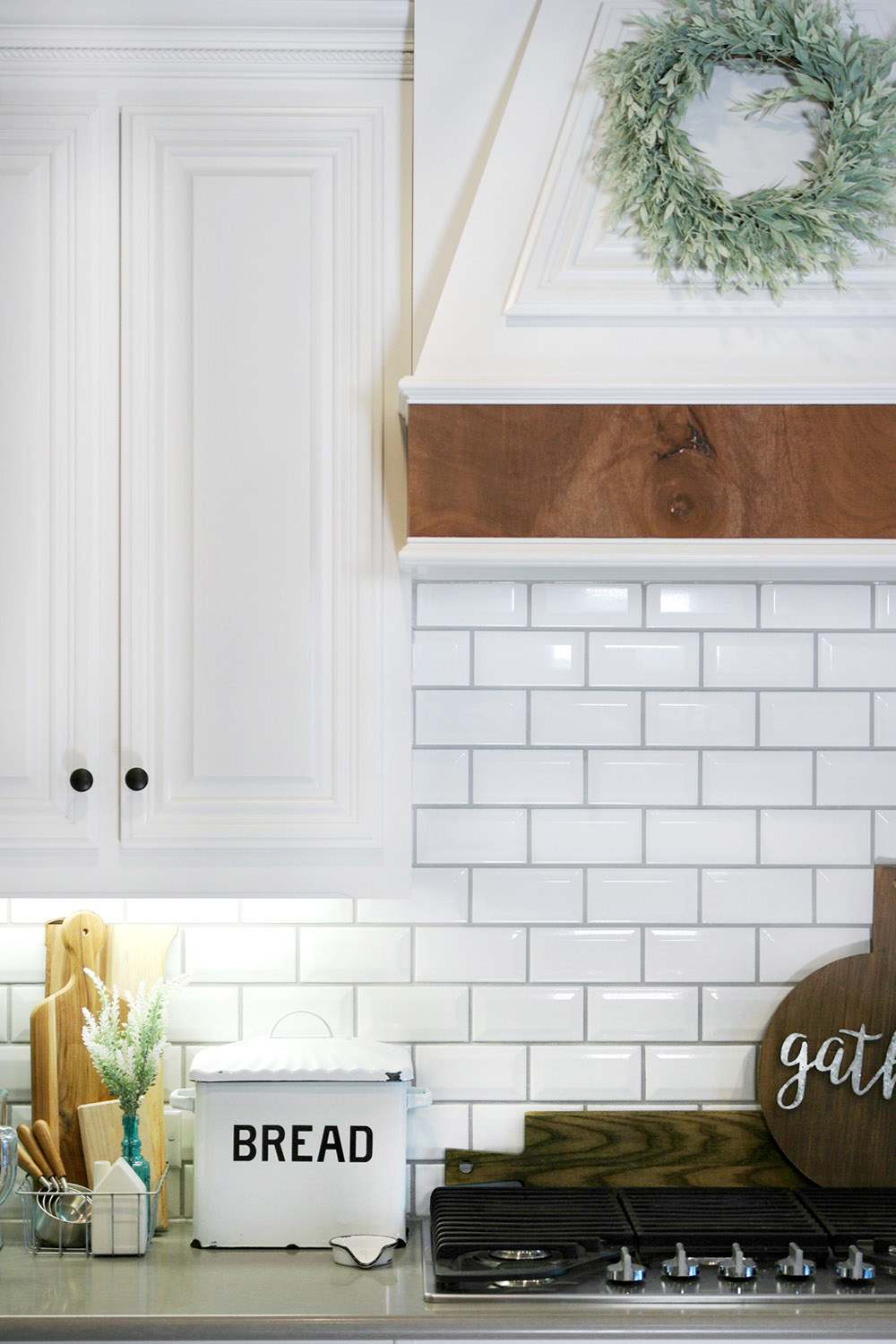 Our builder's deluxe kitchen package came with a great vent-a-hood cabinet but, again, it needed more. We had talked previously about doing something to it but weren't sure what. Taking note of the width of the area we wanted to restyle, we went to The Home Depot for inspiration. We decided to use 1/4 in. underlayment since it was light and thin. Covering it with the same stain we used on the faux beams helped tie it all together beautifully. We made sure it fit snug and secure, applied the pieces with Liquid Nails in addition to 1 in. nails, then added a wreath for extra flair.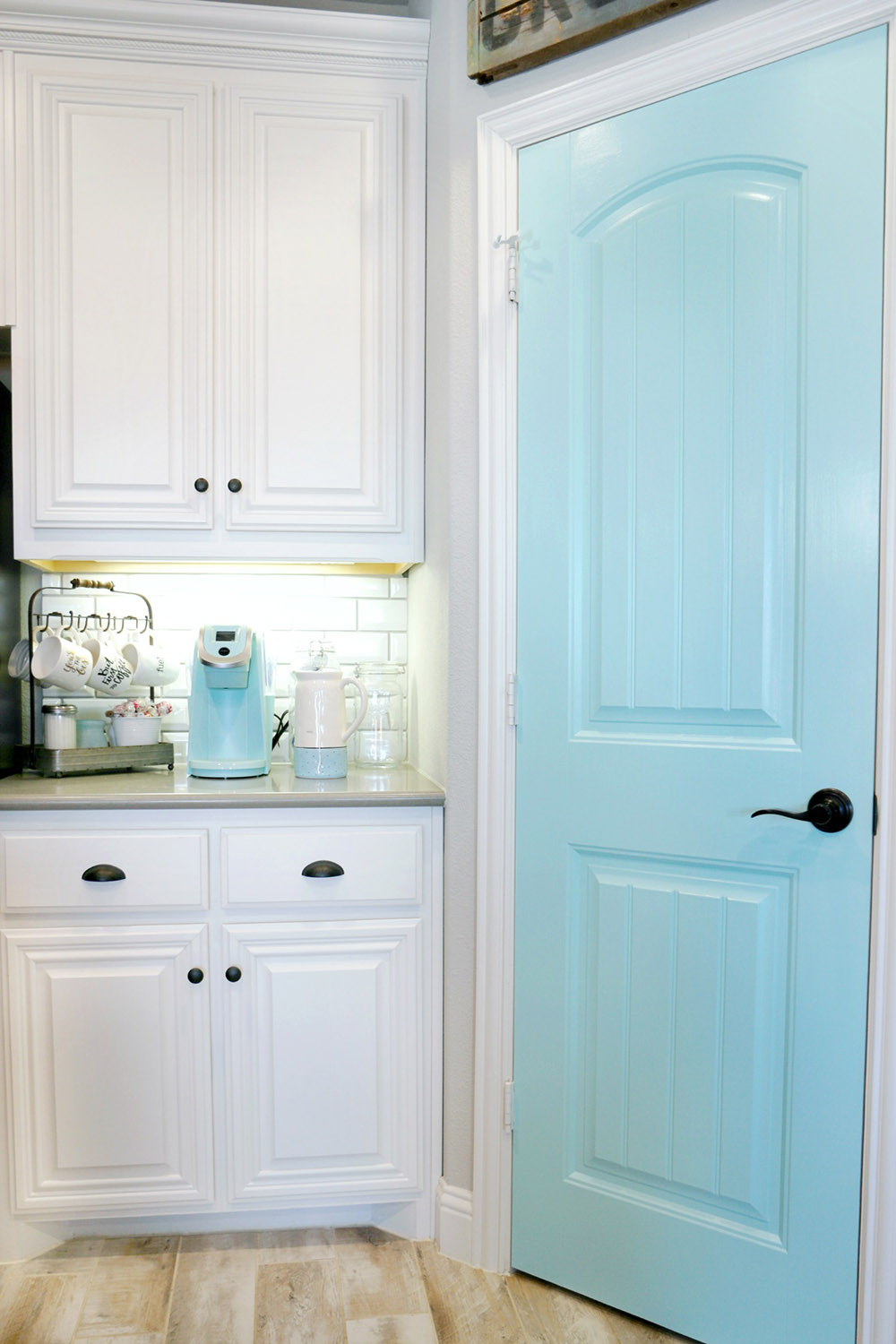 Perhaps the easiest way to change the look of any space is to simply paint. Don't like it? Paint over it with another color. Well, I decided to go bold with our pantry door. We looked at several doors for months but couldn't decide on one we both liked. Instead, I found a color that matched my small appliances and painted the door! The kids were unsure at first, but they get it now. It adds just the right pop of color and really helps liven up the kitchen.
Utilizing the supplies and tools easily found at The Home Depot, we were able to turn our kitchen into one I have dreamed about for months. We've been able to sit and admire our work for a few days now and grow to love it more each day. These farmhouse kitchen ideas has let our kitchen truly become the heart of our home.
Now that I've seen what we're capable of doing with a few tools from The Home Depot, I've got a whole new list of projects planned for the house!
This post was created in partnership with The Home Depot. The author may have received compensation for this article and associated images or video, potentially in the form of products and/or services. All expressed opinions and experiences are the author's own words.
Explore More on homedepot.com