Create a beautiful home for your feathered friends with a bird house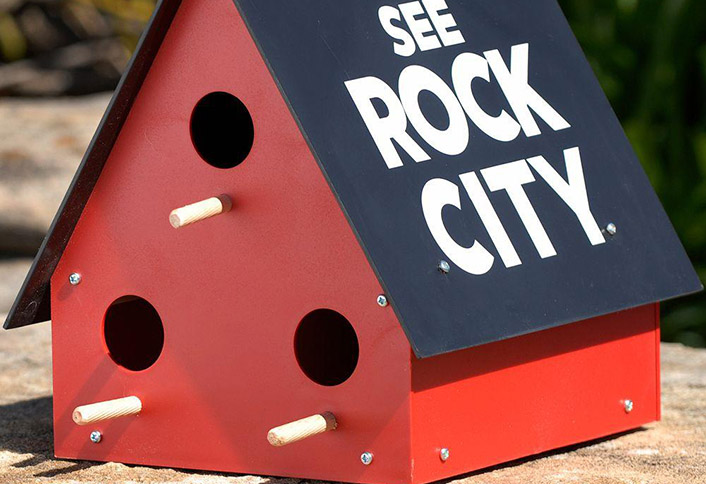 Whether you're an avid bird watcher or just enjoy providing a home for local birds, bird houses offer these fascinating creatures a safe space to nest. This guide will show you different bird house sizes and features so you can be sure you're picking the right one for your birds.
Size & Placement
There are several factors to consider when purchasing or building a bird house. The most important include the dimensions of the house, its placement above the ground and the size of the entrance hole.

Birds are picky about their nesting spaces and they are often protective of their territories, which can span hundreds of acres. Some birds like to be near water while others prefer to be near the forest. Still others tend to nest in wide open spaces. If you're trying to attract a particular bird species, do some research on their housing preferences.

Another important factor when selecting a bird house is placement. Again, this will be determined by the type of birds you wish to attract. Some birds prefer to be higher up on a tree trunk, while some seek out nesting areas closer to the ground or near water. Birds are choosy about their habitat, so it is important to determine whether the placement of your bird house will be suitable for that type of bird.

Another aspect of proper placement is protecting birds from predators such as squirrels, cats, snakes, raccoons and even other birds. There are several steps you can take to minimize threats. One thing you can do is make sure the bird house does not have a perch. A perch allows other birds or cats to trap the nesting birds in the house and harass them.


If you put your bird house on a metal pole, smear the pole with a petroleum-based jelly to deter cats, squirrels and other animals.

Add a ¾-inch-thick predator guard in front of the entrance hole to prevent cats and raccoons from reaching in and destroying eggs.

Create an angled roof with a 3-inch overhang to discourage small animals from interfering with nesting birds.

Type of Bird
Ideal Placement

Brown Creepers

Owls

Woodpeckers

American Kestrels

Chickadees

Flycatchers

Hooded Merganser

Nuthatches

Prothonotary Warbier

Titmice

Wrens


Mixed deciduous and open areas such as a meadow

Installation & Features
To ensure proper installation, first determine the required door swing and handle placement. You must be able to access the interior of the bird house so you can clean out old nests to make room for new residents. Look for bird houses with angled roofs for easy shedding of water and an unfinished interior so birds are not harmed by chemicals in paints or finishes.


Ventilation Holes: These holes should be placed near the top of the house; they offer ventilation during warmer months.

Drainage Holes: Drainage holes are several small holes in the floor of the bird house that prevent flooding when rainwater gets into the house.

Materials: Bird houses can be made from several materials including wood, plastic, pottery, gourds and aluminum. Wood is considered to be a preferred material because it insulates well, offers ventilation and is durable in a variety of conditions.

Finish: Bird houses may be finished or unfinished. Painting the exterior allows you to add a sense of style as well as function. Painted exteriors with light colors reflect heat, keeping the interior cool for birds in warmer months. Light colors also keep predators away.