Stop or throttle the flow of liquid or gas with end-of-line valves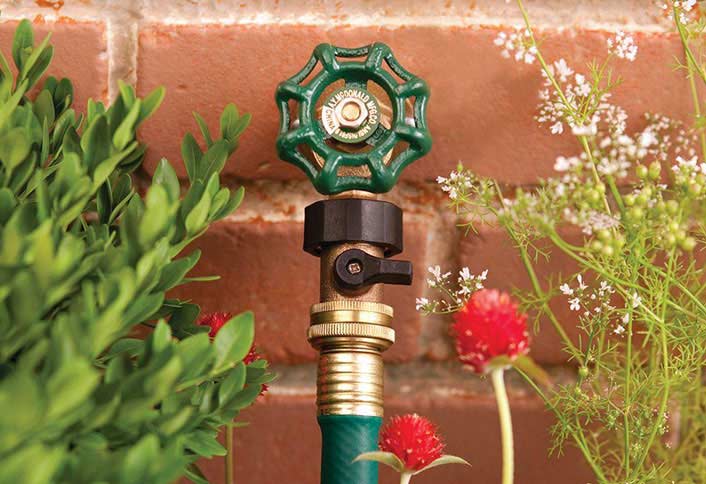 End-of-line valves are commonly used indoors on appliances, washing machines and furnaces, while outside they can be found on garden hose faucets and irrigation systems.

This guide highlights the different types of end-of-line valves, along with their materials, connections and applications.
Types
End-of-line valves fall into three broad categories: indoor, outdoor and general purpose.

See the tables for a breakdown of valve types and their uses.


Indoor Valves


Type
Application
Function and Points to Consider

Boiler drain valve

Washing machines

Water heaters

Boilers


Drains water and sediment

May be used with both hot and cold water

Removes waste water and empties it into a floor drain

Sizes: ¾" or ½"




Radiator/hydronic valve

Radiators

Baseboard heaters


Provides water balance and flow control to heating systems

May use either steam/hot water or gravity-fed hot water

Sizes: ½", ¾", 1", ¼"


Water stop valve

Controls water running to one fixture only

Usually installed as a single stop valve for a toilet and one each for cold and hot water for a faucet


Outdoor Valves


Type
Applications
Function and Points to Consider

Sillcock

Garden hoses

Provides water to garden hoses

Frost-free sillcocks are ideal for climates with freezing temperatures

Some areas require the sillcock to have a backflow preventer

Sizes: ½" or ¾"


Yard hydrant

Garden hoses

For use in large yards

Connects to water line 1' too 10' below ground


Garden valve

Sprinkler systems

Has large openings and provides a high flow rate

Designs include bent nose for installation against a wall and inverted for use with a riser

Sizes: ½", ¾", 1"


Irrigation valve

Irrigation systems

Made from brass or plastic

Anti-siphon valves prevent backflow

Valve size may differ from pipe size

Requires both control and emergency shutoff valves

Sizes: ½" to 4"


Hose bibb

Hoses

Controls water flow

Supplies both hot and cold water

Available in different sizes and designs

Can be mounted horizontally to a wall or tank

Sizes: ½" or ¾"

Materials and Connections
If you're replacing a valve, take note of how the valve connects to the pipe or line so you can be sure to buy the right one.


Metal valves connect using threaded male or female connections, solder or compression fittings.

Plastic valves can be glued to plastic pipes.

Old broken valves can cost you money over time in leaks, and some leaks can be hazardous, as is the case with natural gas.