Thoroughly clean all your hard surface floors including hardwoods, tile and linoleum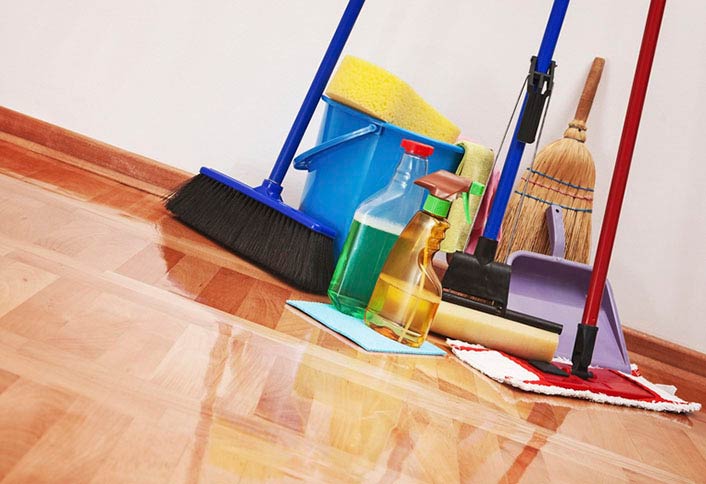 Hard surface floors are fairly easy to clean with just a little daily maintenance and upkeep. If spills are wiped up quickly and floors are regularly swept and vacuumed, you won't have to spend too much time on your hands and knees scrubbing. Inevitably, however, there will come a time when the shiny finish on a floor dulls or dirt and grime set in to the point that a little sweeping isn't going to take care of the mess.

This buying guide highlights the different types of cleaning solutions available, along with information on which solution is best for a particular type of floor.
Hardwood Floors
Each type of floor requires a different type of cleaning solution to create a glossy appearance


Use a solvent-based cleaner or polish if the wood does not have a polyurethane finish.

Sweep and vacuum prior to applying cleanser, wax or polish.

Electric floor polishers can be used to apply finishes.

Avoid using heavy-duty or abrasive cleaners as they can dull a floor's surface.

Vinyl and Linoleum Floors
Regular sweeping, vacuuming and dust mopping will help keep your vinyl floors looking good


If your vinyl or linoleum floor has a no-wax finish, use a mild all-purpose cleanser or detergent and damp mop to remove dirt and grime. Rinse thoroughly to remove the soil and soapy residue.

Avoid using solvent-based cleaners or very hot water as both can damage linoleum.

Waxed floors can be stripped, refinished and then cleaned with a degreaser or all-purpose cleaner.

Soak stains and heavy soil in cleanser, and then gently remove with a scrub brush.

Avoid scrubbing too hard when cleaning to prevent damaging waxed finishes.

Use felt pads underneath furniture to avoid marring cleaned surfaces.

Tile and Stone Floors
Cleaning tile floors is easy, but grout can be difficult to clean based upon the color or sealant


Grout treated with a silicone sealant will resist stains better.

Sweep or vacuum floors prior to mopping to remove loose dirt and soil.

Tile floors may be glazed or unglazed and each is cleaned differently.

Seal unglazed floors to prevent stains from setting.

Avoid using abrasive or highly acidic cleaners on glazed floors.

Use a grout brush to remove soil from grout.

Seal and wax porous brick and marble floors for easier maintenance.

Use a sealer designed for terrazzo surfaces if you have a terrazzo floor.

Laminate Floors
Laminate floors are one of the easiest types to clean and maintain


Regular sweeping, dust mopping and vacuuming help keep them looking great.

Use felt pads underneath furniture to ensure a lasting finish.

Cleaners used on hardwoods will be safe for use on laminate, but read the product literature to make sure.

Do not mop laminate floors and always wipe spills immediately.

A damp sponge can be used to clean up spills.

Terry cloth mop heads are best for applying cleansers to laminate floors.

Touch-up kits, which may include putty or wax pencils, can be used to repair small scratches and dents.

Floor Type
What to Avoid
What to Avoid

Hardwood

Sweep and vacuum regularly

Use solvent-based cleaners if you don't have a polyurethane finish


Water, unless floor has a
polyurethane coating

Abrasive cleaners


Laminate

Sweep and vacuum regularly

Use felt protectors underneath furniture

Position rugs to collect gravel and other abrasive material


Wet mopping

Soapy solutions

Wax and sealer

Abrasive cleaners


Stone and Brick

Seal and wax

Use a solvent-based wax

Use heavy-duty floor cleaner on concrete surfaces


Acidic cleaners

Abrasive cleaners

Alkaline cleaners


Tile

Use a grout brush to keep grout clean

Mop with a mild all-purpose cleanser


Abrasive cleaners on glazed floors

Acidic cleaners on glazed floors


Vinyl and Linoleum

Seal when new

Sweep and vacuum regularly


Solvent-based cleaners

Hot water

Alkaline cleaners