Choosing a real versus an artificial Christmas tree depends on personal preference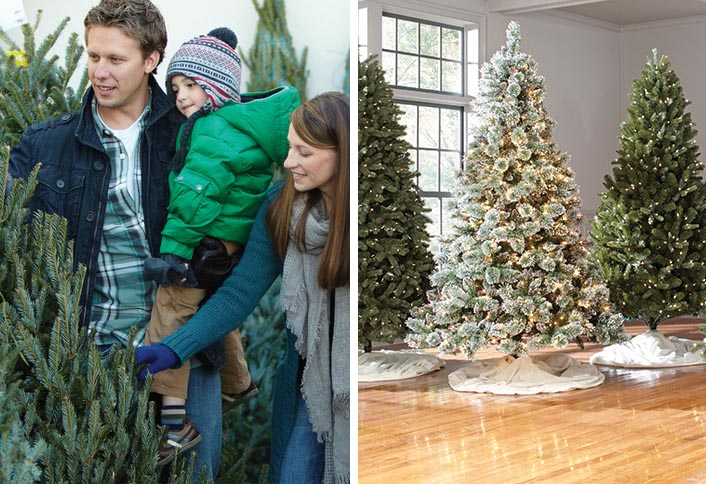 Consider the benefits of both real and artificial Christmas trees when deciding which option is best for you and your family.
Benefits of Real Trees
You can order real Christmas trees online at homedepot.com or buy them at your local Home Depot store.


Initially less expensive

Each tree is unique and different styles can be selected each year

Tree shopping is a fun, family tradition

Trees are biodegradable

Renewable, recyclable, and environmentally sound choice

Trees offer a refuge and natural habitat for wildlife


Caring for Real Christmas Trees


Display trees in water to maintain freshness and minimize needle loss

Place tree in water as soon as possible

Use a large tree stand to keep tree from tipping

Don't whittle down sides of a tree trunk to fit a stand because the outer layers of wood are the most efficient in taking up water

Keep trees away from sources of heat to keep them from drying out

Consider using a small wire to anchor tree to a corner wall for stability

Check the stand daily to be sure the water level doesn't go below the base

Always turn off tree lights when leaving the house or going to bed

Recycle your tree after the holidays at The Home Depot

Benefits of Artificial Trees
Artificial trees can also be purchased online or in store.


Last up to 10 years and are easily stored and reused

Easier to set up and maintain

Pay for tree only once for cost savings over time

Less of a fire hazard

Coordinates with other holiday décor items found at The Home Depot such as wreaths, garlands and display items