Learn how to build a space-saving storage crate to organize your work area
(Two) 15 3/4-inch pieces from the 1- x 3-inch sides
(One) 14 1/8-inch piece from the 1- x 3-inch long divider
(Two) 12 7/8-inch pieces from the 1- x 3-inch ends
(Two) 6-inch pieces from the 1- x 3-inch short dividers
(One) 14 3/8- x 15 3/4-inch piece from the plywood bottom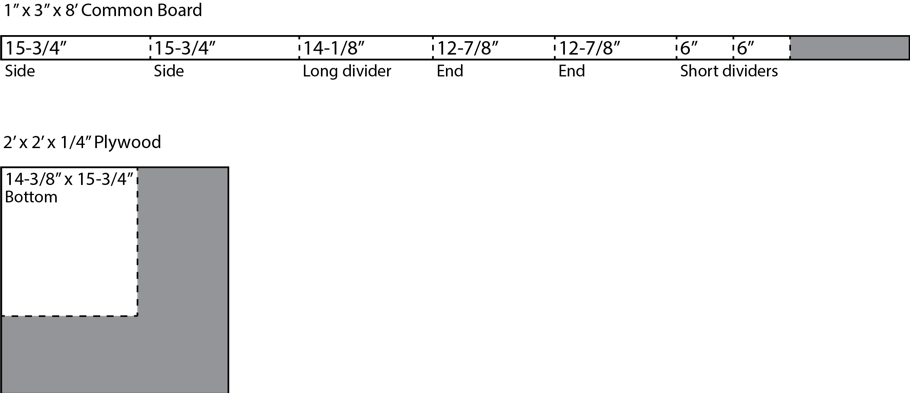 Using the measuring tape, measure and mark cuts on the boards according to the cut list.

Use a circular saw to make the straight cuts on the board.

Tip: Use a sanding block to smooth any rough edges.


Stain or paint boards prior to assembly, if desired.

• Sandwich the ends between both sides to create a rectangular frame.
• Attach with wood screws.

Tip: Use a drill bit slightly smaller than the screw (1/8-inch) to pre-drill holes in the wood. This will prevent the wood from splitting.


• Place the plywood along the bottom of the frame.
• Screw through the plywood and into the frame to secure the pieces.

• Center the long divider inside of the frame, running perpendicular to the ends.
• Secure with wood screws through the bottom and ends.
• Place both short dividers on each side of the long divider, making sure it's centered.
• Secure with wood screws through the bottom and sides.

• Use supplied screws to secure handles.
• Check that the handles are centered on each end.

Place containers in the caddy.