Automatic irrigation systems negate having to constantly tend to your lawn for proper watering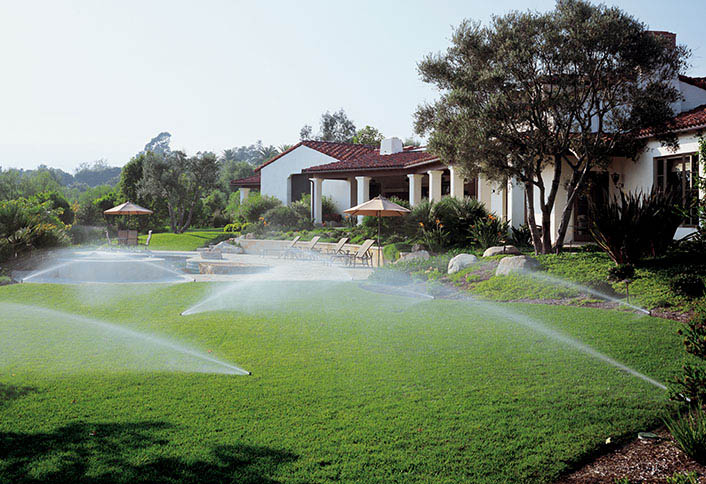 Irrigation systems can save money on water bills over using a sprinkler system. Using an efficient irrigation system may help conserve water by allowing you to customize the amount you need to specific areas.

This buying guide highlights the different types of irrigation systems and helps you determine the water capacity and measurements required for an efficient system.
System Components
Common system components are pipe, pump, valves and control box


The size of your lawn will dictate how much pipe you need and how many valves you will have to use.
Irrigation kits include all the parts you'll need for installation.
Use different size heads in different zones for more efficient watering.
Some heads use a fine mist while others emit a steady stream.

Digital controllers make it easy to set your watering schedule with the touch of a button, even remotely, and can be set to different times for different areas for better efficiency.

Timers enable presetting times so the system can begin early when you are asleep or away on vacation.

Moisture sensors can automatically shut off the system if the lawn has received adequate rainfall to avoid flooding and excess runoff.
Measurement
Create a house and yard diagram complete with measurements for decks, walkways, driveways and fences


Note which areas are grassy and which contain flowers, trees and shrubs and mark the locations of your water meter and supply lines.

Keep in mind winterizing requirements if you live in a colder climate.

Consult the following chart to determine water capacity:


Determining Water Capacity

Turn off all faucets and water sources.
Attach a pressure gauge to an outside faucet, and
turn it on until the gauge reads 35 psi. Leave it running.

Locate the outside faucet closest to your home's main water source, and turn it all the way on.
Place a 5-gallon bucket underneath the faucet, and time how long it takes to fill. Turn water off once bucket is filled.

Use the chart to the right to determine capacity in gallons per minute based on how long it took to fill the bucket.


5 seconds = 60 gpm

10 seconds = 30 gpm
15 seconds = 20 gpm

20 seconds = 15 gpm

25 seconds = 12 gpm

30 seconds = 10 gpm

35 seconds = 8.57 gpm

40 seconds = 7.5 gpm

45 seconds = 6.67 gpm

50 seconds = 6 gpm

.
Type of Pipe
Size
Maximum gpm

Galvanized

3/4" -inch Galvanized
1" -inch Galvanized

Polyethylene

3/4" -inchPoly Pipe
1" -inchPoly Pipe

PVC

3/4" -inch Schedule 40
1" Schedule 40
3/4" Class 200
1" -inch Class 200


8 gpm
13 gpm
10 gpm

15 gpm


Type K Copper

3/4" -inch Copper Tube
1" -inch Copper Tube
Winterization and Watering Tips
Be cognizant of which areas need more water than others before installing your system


Plants and flowers need more water than grass.
Grass needs more water than trees and shrubs.
Avoid over watering and run your system early in the morning so vegetation has time to dry out before nightfall.
Winterization involves removing excess water from the pipes to protect them from damage when temperatures drop below freezing, which can be done by blowing air through the system.

Consider drip irrigation for trees, shrubs and areas that lack grass.

Install pipes 8 – 12 inches deep to avoid accidental damage.

Have utility companies mark where pipes and power lines are before digging.