Here's how to use a pressure washer that handles heavy-duty concrete cleaning with ease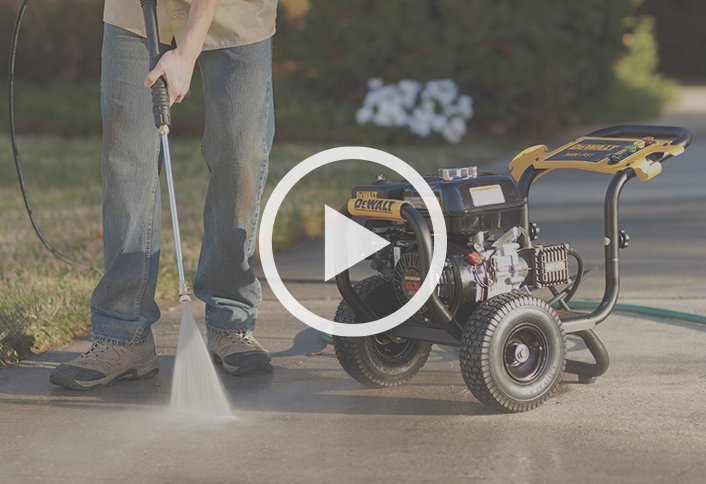 Specifically designed for heavy-duty cleaning or paint stripping, pressure washers use less water than a garden hose. This guide will help you interpret GPM and PSI ratings so you can understand how to use a pressure washer best suited for your project.

Tip: Pressure washers are available for rental at your local Home Depot Tool Rental Center.
How Do Pressure Washers Work?
Pressure washers use pumps, powered by gas engines or electric motors, to amplify the water pressure, providing the power necessary for a variety of cleaning applications.

Pressure washer pumps have two connection points for low and high pressure. The low pressure connection (IN) is threaded to accept a standard garden hose. The high pressure connection (OUT) accepts a high pressure hose (typically M22 threaded or 3/8-inch QC) that connects to a hand-held wand.

The pump is the most important component on your pressure washer.

Axial pumps, best used for small jobs around the house, are easy to use and require little maintenance.
Triplex pumps, ideal for daily or frequent use, need to be maintained but can be repaired to ensure years of quality performance.

Interchangeable nozzles control the wand's spray pattern. Most pressure washers include wands that use a ¼-inch quick connect system.



Tip: It's recommended that you apply a pump protector after every use. Pump protector will lubricate your pump's seals and prevent the buildup of corrosive minerals and ice.

Cleaning Power: PSI and GPM
Cleaning power is measured by PSI (pounds per square inch) and GPM (gallons per minute) rating.

Tip: To determine the cleaning power of a pressure washer, multiply the PSI x GPM. The resulting number will help you compare models so you can choose one that will be up to the job.

PSI: Pounds per square inch measures the pressure, or cleaning force, of water created through the pressure washer. Use the PSI rating to help you determine how powerful the water stream will be.

GPM: Gallons per minute measures the volume of water delivered through the pressure washer. This number will help you determine how fast the pressure washer will clean, and how effectively it will rinse away debris.


1,300 – 1,800 PSI: Up to 1.5 GPM

Consumer electric motor
models

Residential electric grade

Light-duty

Best for infrequent jobs

Use for car washing, shutter cleaning, spot cleaning, grills, lawn furniture, light mildew/mold removal


2,000-3,000 PSI: Up to 2.8 GPM

Consumer gas engine
models

Residential gas grade

Heavy-duty

Best for common jobs

Use for deck and pavement cleaning, sidewalks, siding, tougher stains


3,000-4,000+ PSI: Up to 4.0 GPM

Professional gas engine
models

Professional grade

Best for tough, heavy jobs

Use for industrial cleaning, concrete, pavement, siding, paint stripping, graffiti removal, stubborn stains, mold and mildew removal

Buying Considerations
Consider the flow of your water supply and double-check the amps required to power the model you plan to buy.


Well water may be incompatible with most washers because of low water flow.

Look for a pressure washer that has a ground fault interrupter built into the cord. (Note: Some require a 20-amp circuit.)

Check to see if the brushes, nozzles and tips match the types of projects you plan to tackle. There are many attachments that are made for specific projects, including rotating brushes and extension wands for high cleaning.

If your cleaning needs are more demanding, consider a unit that includes electronic fuel injection, or EFI. This feature gives the pressure washer 50 percent easier starting and better fuel economy.

Pressure washers with the PWMA logo indicate that they have been certified by the Pressure Washer Manufacturers' Association.