WHAT YOU NEED FOR THIS PROJECT
WOOD CUT LIST
PUMPKIN
Four cedar fence pickets cut into 18-inch long pieces (length can be flexible to accommodate all four cuts on a single cedar fence picket)

Two 1 x 2 x 20-inch long

One 1 x 2 x 8-inch long (length can be flexible to use up scrap wood)

FRONT BOX
One 17-inch long cedar fence picket

Two 5 ½-inch long cedar fence pickets

One 16-inch long cedar fence picket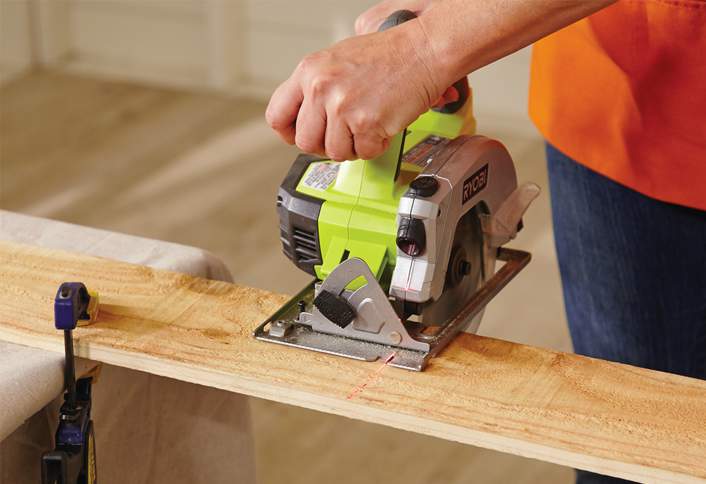 • Cut all of your boards according to the cut list.
• For the pumpkin pieces, you have some flexibility to cut slightly shorter to accommodate all of the pieces per the materials list.
• For the box pieces, it is important to cut straight and accurate to the cut list.

Tip: The easiest saw to cut these pieces with is a miter saw, but a circular saw can be used as well.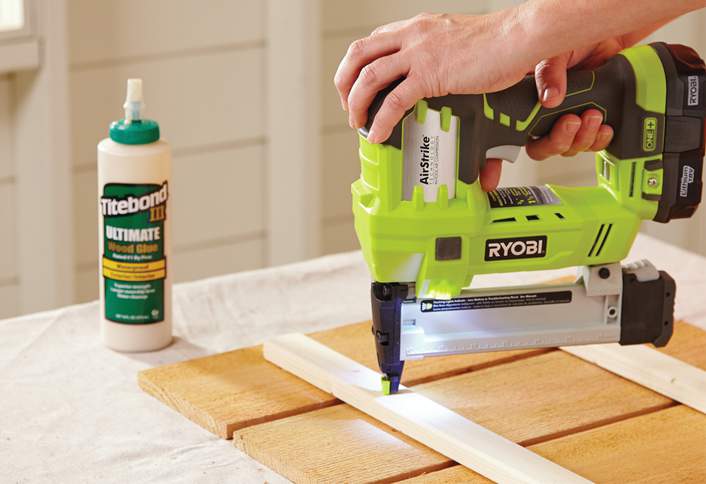 • Lay the four fence pickets on the work surface so the overall width is about 23 inches.
• Place the 20-inch long 1 x 2-inch boards on top, with about a 1 ½-inch gap on either end.
• Use wood glue and two 1-inch staples per overlap of 1 x 2-inch board and each cedar fence picket to secure the 1 x 2-inch boards to the fence pickets.

Tip: Use the 1 ½-inch wide stems as a guide when spacing out boards.
3
Secure the pumpkin face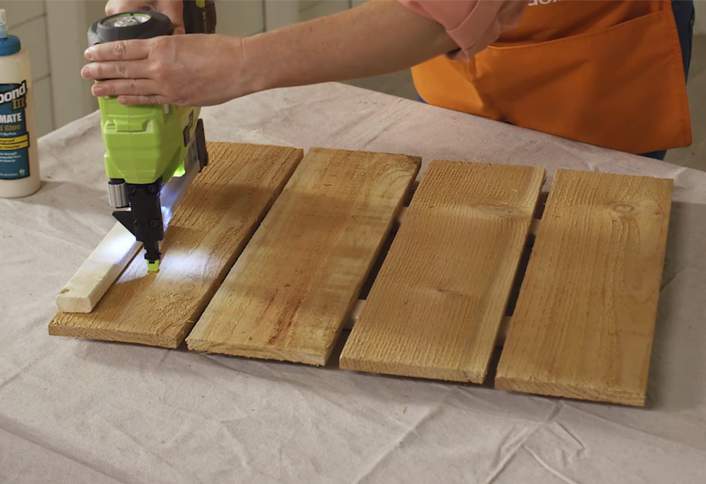 • Flip the project over.
• Add two additional staples per overlap of fence picket and 1 x 2-inch boards to secure fence pickets from the front to the 1 x 2-inch supports.

Tip: Do not staple within 1 inch of the edges, as there is no 1 x 2-inch backing here.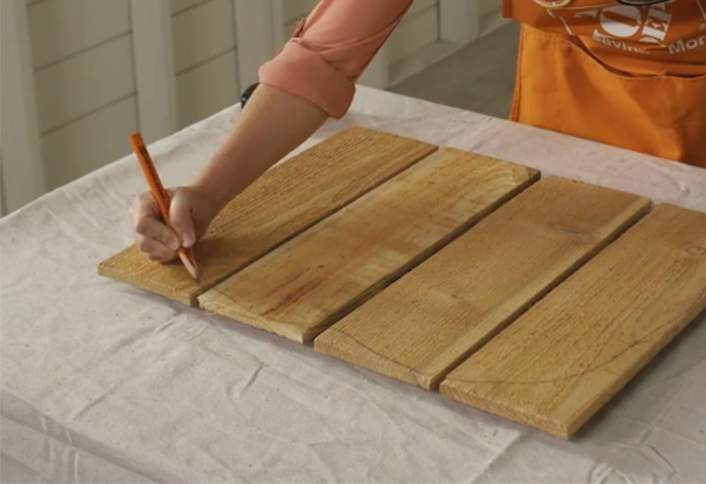 • Starting 3 inches out at the bottom edges, draw a pumpkin shape on the front of the cedar boards.
• Avoid drawing so that the 1 x 2-inch supports will be crossed.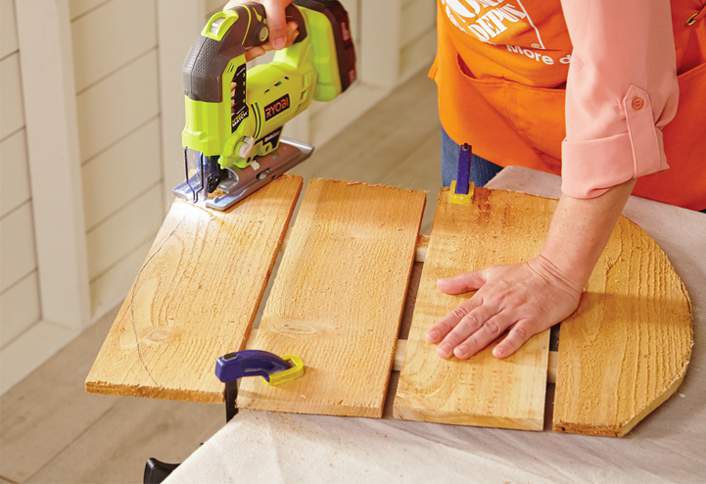 • Position the project with the area to be cut hanging over the work surface so that the jig saw blade can cut freely.
• Use the jig saw to cut out your pumpkin shape on one side.
• Remove the clamps and reposition and reclamp to cut the other side of the pumpkin shape.

Safety: Secure the project to the work surface with two clamps and test to make sure project is secure before cutting.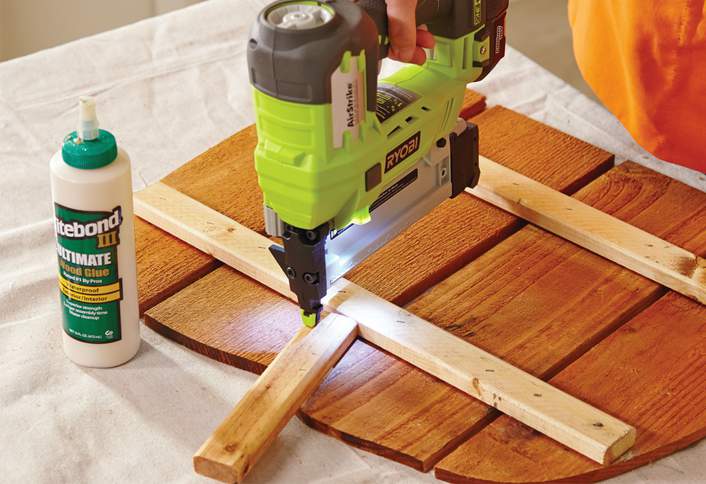 Place the stem in the center of pumpkin and attach with glue and staples.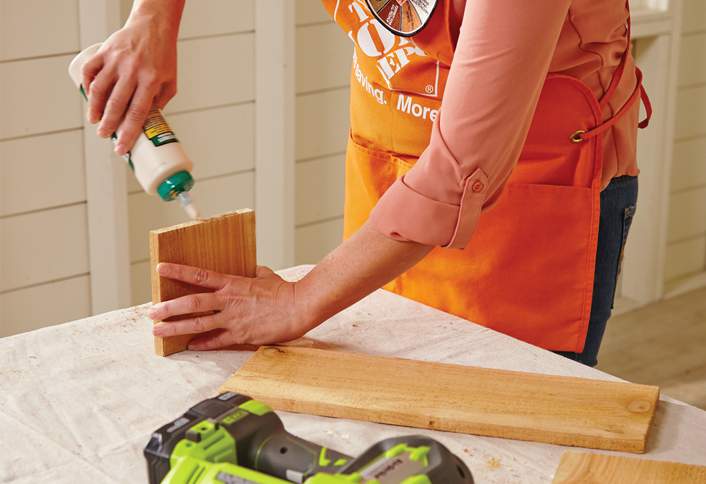 Use the glue and staples to attach the front of the box to the sides of the box.
8
Attach the bottom of the box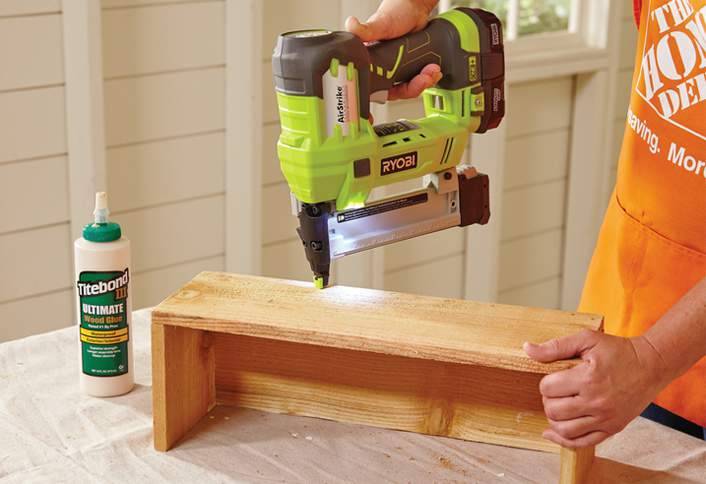 • Apply glue along the three exposed edges on one side of the box and attach the final piece to make the bottom.
• Staple in place along the side and front edges with staples.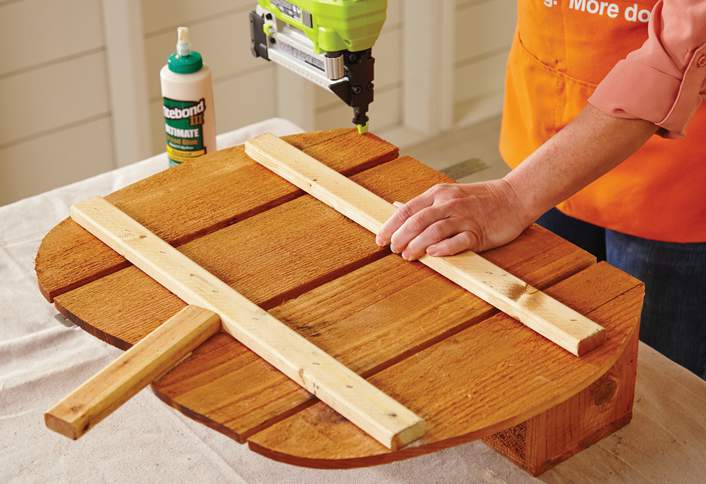 • Place the box open side up on your work surface.
• Apply glue along the top edges.
• Place the pumpkin on top, aligning the bottom edge and the start of the pumpkin shaped cut with the outside corners of the box.
• Use staples to secure bottom of pumpkin to bottom of box.

Tip: Use a straight edge to guide you when stapling the pumpkin to the sides of the box.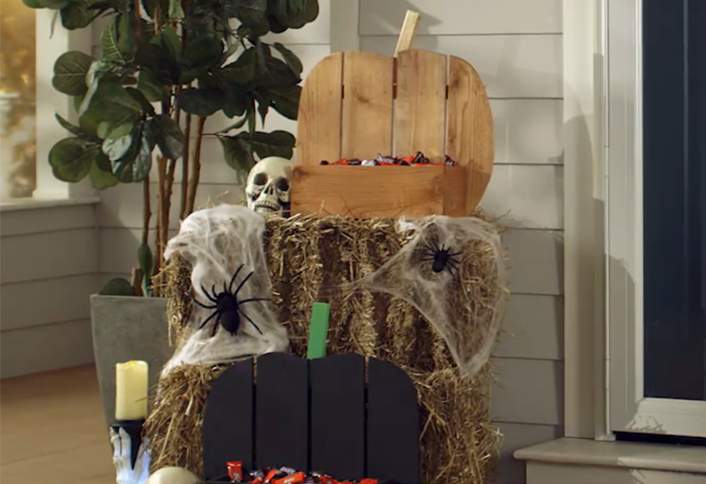 Sand any rough edges with a sanding block. Paint or stain as desired and enjoy!