Adding a few small appliances to your kitchen can make your time spent cooking an enjoyable experience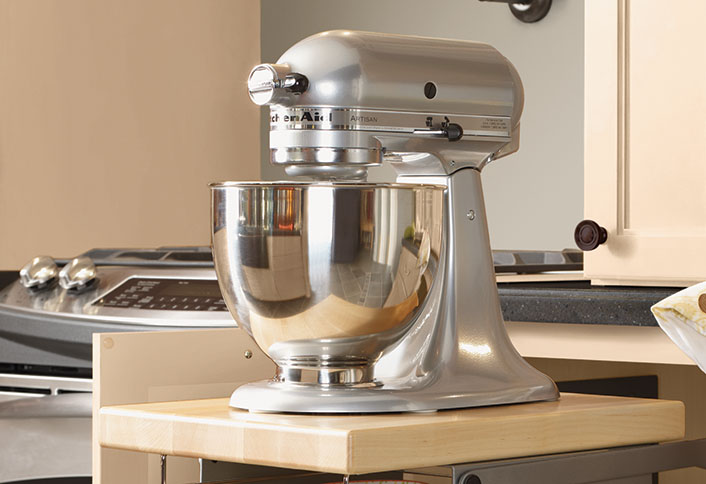 When deciding which small appliances are right for you think about the most common tasks you perform in the kitchen, how much available counter space you have, whether you are more concerned about cost or functionality, and whether there are any special features that are important to you.
Coffeemakers and Bean Grinders
Most models brew between 10 and 12 cups, though smaller 4-cup units are also available.


Thermal carafes keep coffee warm for hours without overheating or scorching
Pause-and-pour feature allows you to grab a cup of coffee before it is finished brewing
Models equipped with an alarm allow you to set up your coffee pot to brew automatically at a specific time
Espresso makers make café-style drinks such as cappuccinos and lattes

Bean grinders and coffee mills make it easy to grind coffee beans for a fresher flavor
Blenders
Blenders are often used to make blended soups, smoothies, frozen drinks, dips and other items.


More powerful motors and ice-crushing capabilities are good for smoothies and other frozen drinks

Automatic power adjustment maintains a consistent speed under any load
Food Processors
Offers some of the same functionalities as blenders, but can also be used for other activities like chopping vegetables or grating cheese.


Usually includes a variety of attachments and accessories that perform different functions
Blender/food processor units combine the functionality of both appliances in one convenient machine
Mixers
Mixers can either be handheld or mounted on a stand.


Handheld mixers tend to be more compact for easier storage.
Handheld mixers are used for everything from stirring a cake mix to making creamy mashed potatoes
Stand mixers can be used for all the same tasks, but don't require holding
Stand mixers are good for mixing thicker ingredients, including kneading bread and other labor-intensive tasks

Specialty Appliances
Some small kitchen appliances are designed for specific tasks. Some of them can be used frequently, while others are designed for use during special events.


Ice cream and frozen yogurt makers create homemade frozen treats
Griddles and waffle makers create waffles, pancakes and more
Electric knives and meat slicers carve up roasts or prepare sandwich meats
Countertop grills grill burgers inside the kitchen

Popcorn makers pops theater-style popcorn

Pizza ovens perfectly cook authentic, delicious pizza

Toaster and Toaster Ovens
You can choose from the standard two-slice toaster or a family-sized eight-slice model. For more functionality, consider a versatile toaster oven that gives the same capabilities as a toaster with some of the features of an oven.


A cool-touch exterior helps prevent accidental burns
Lift levers make it easier to grab toast when it gets stuck
Toaster ovens with convection capabilities provide even more cooking versatility
Digital controls allow for more precise settings and results

Fryers, Steamers and Cookers
There are many appliances designed to help out with steaming, frying and cooking food.


Deep fryers safely heat oil to high temperatures to make French fries, wings, egg rolls and more
Slow cookers offer savory cooking with minimal effort
Combination units that provide boil, steam and fry capabilities offer added versatility
Selecting Small Kitchen Appliances
Use the chart below to learn about which small kitchen appliance is right for you.


Task
Appliances
Points to Consider

Brewing coffee and creating other coffee-based beverages

Bean Grinder / Coffee Mill
Coffeemaker
Espresso Machine

Programmable units brew coffee at a specified time

Espresso machines with a steaming wand heat and froth milk and other liquids

Adjustable coffee mills and grinders allow you to select how coarse or fine your grounds are


Chopping and slicing

Blender
Electric Knife
Food Processor
Meat Slicer


Food processor attachments with varying
levels of thickness allow more cutting versatility

Cordless electric knives give you more freedom of movement


Grating and shredding

Multiple speeds allow you to adjust for different types of items

Blending

Automatic power adjustments maintain speed
under any load

Blender/food processor combos offer more versatile use


Whipping, mixing and stirring

Blender
Handheld Mixer
Stand Mixer

Stand mixers can generally handle more demanding loads

Mixers with multiple attachments enable you to
do more

Handheld blenders are ideal for soups and sauces


Indoor grilling

Countertop Grill
Electric Griddle

Precise temperature settings offer better cooking control

Indicator lights let you know when the surface is hot

Nonstick surfaces make cleanup easy


Making popcorn, pizza and other specialty items

Deep Fryer
Ice Cream Maker
Pizza Oven
Popcorn Maker

Rice Steamer

Waffle Maker


Ideal for those who frequently perform one specific kitchen task

Indicator lights on waffle irons and other devices let you know when your items are ready

Entertaining

Chocolate Fountain
Cotton Candy Machine
Fondue Set

Designed for special occasions and events
Good for those who regularly entertain

Toasting bread, bagels and other items

Toaster ovens with multiple racks can accommodate more items

Cooking

Capacity should be large enough to handle your biggest crowd

Frying

Boil/Steam/Fry Combo Unit
Deep Fryer

Enables safe, convenient cooking with oil
Precise temperature settings offer more control

Steaming

Boil/Steam/Fry Combo Unit
Rice Cooker
Steamer

Some rice cookers can be converted to steam other food items
Features
Digital Controls. Allow for more precise control.
Indicator Lights. Tells you when a unit is on, what settings have been selected, and when items have finished cooking.
Cord Storage. Provides built-in cord management.
Space Saving. Ideal for kitchen short on counter space. Look for below-cabinet and wall-mounted models.

Programmability. Can be set up to operate on their own for added convenience.

Nonstick Surfaces. Easier to clean and care for.

Decorative Colors and Design. Designs range from sleek, sophisticated stainless-steel exteriors to solid colors and patterns.