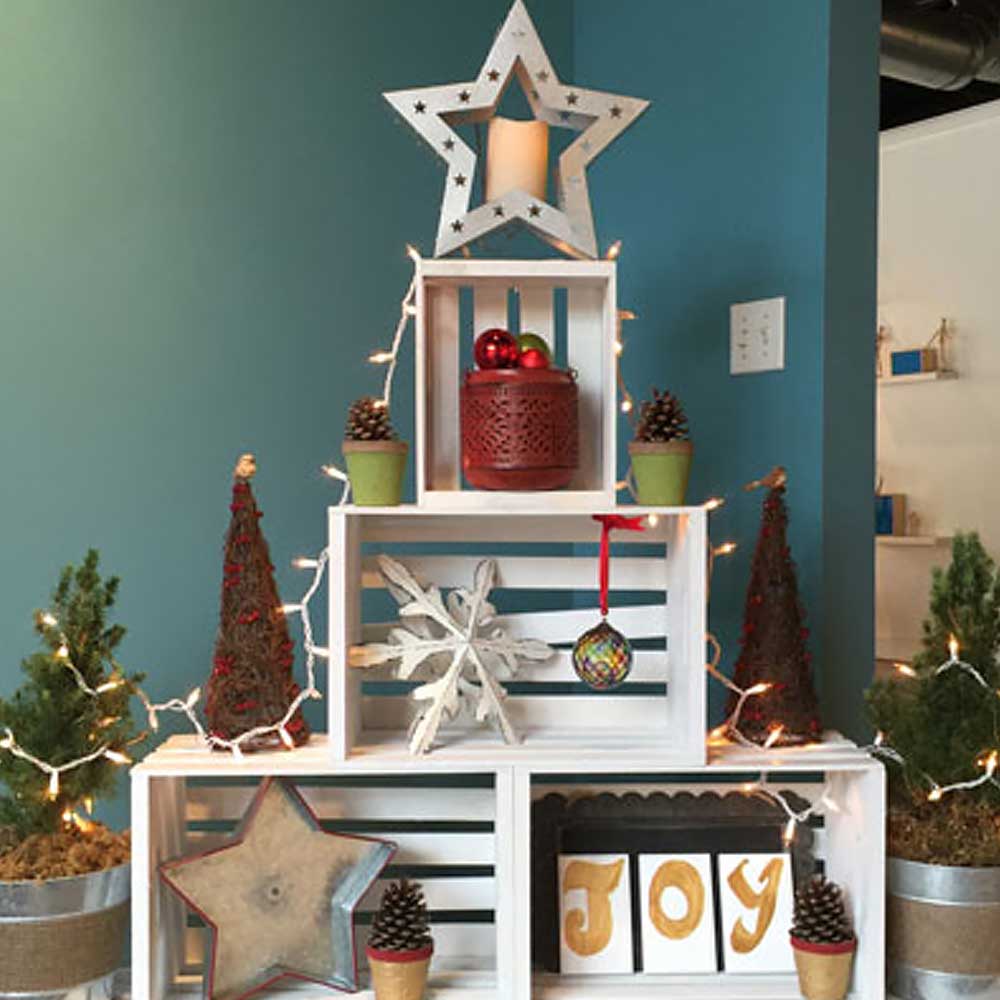 If your house lacks holiday cheer as the countdown to Christmas begins, fear not. With these quick and easy last-minute Christmas decorating ideas, you'll be ready in a snap.
Have a tight space? Use it to your advantage. Small corners can easily transform into festive holiday décor.
Create an alternative holiday tree by painting and stacking Crates & Pallet storage crates decorated with greenery, lanterns, star candle holders, ornaments and more.
Natural elements gathered from your own yard (or a neighbor's) can be put to work. Just gather up pine cones, pine branches and plantings.
Rustic Christmas Tree from Flowerpots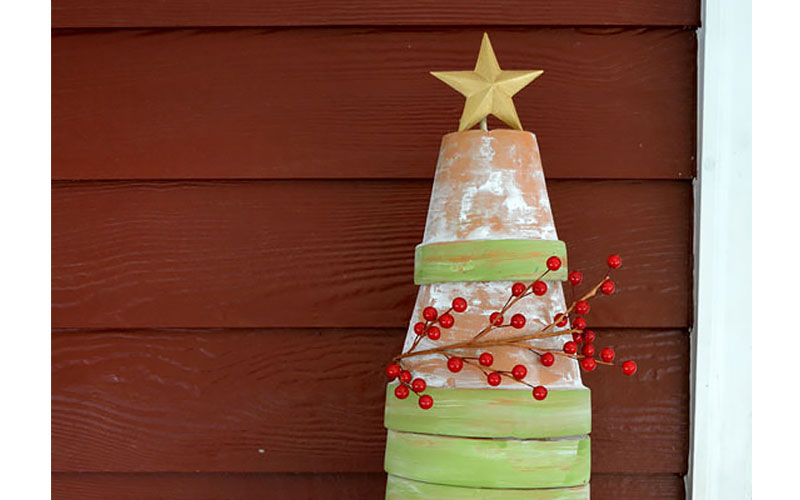 Nook Filled with Lanterns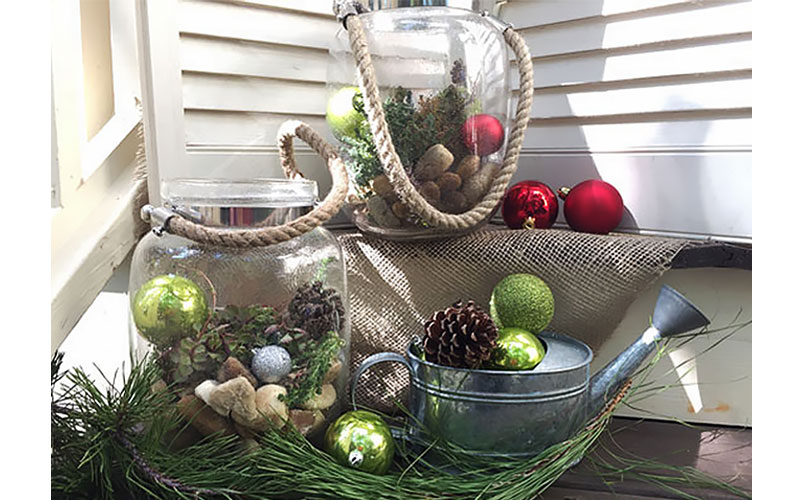 Look around your home to see what's available to incorporate and pull together in a hurry.
An old pair of white shutters can become the backdrop of a rustic Christmas display with hurricane lantern terrariums with succulents, ornaments, pine cones, a galvanized watering can and clippings from your holiday tree.
A roll of burlap can be made into a decorative holiday curtain around a doorway or even a rustic runner on a tabletop.
For more looks with succulents, read our story on succulent holiday hanging baskets.
Planters on Stairs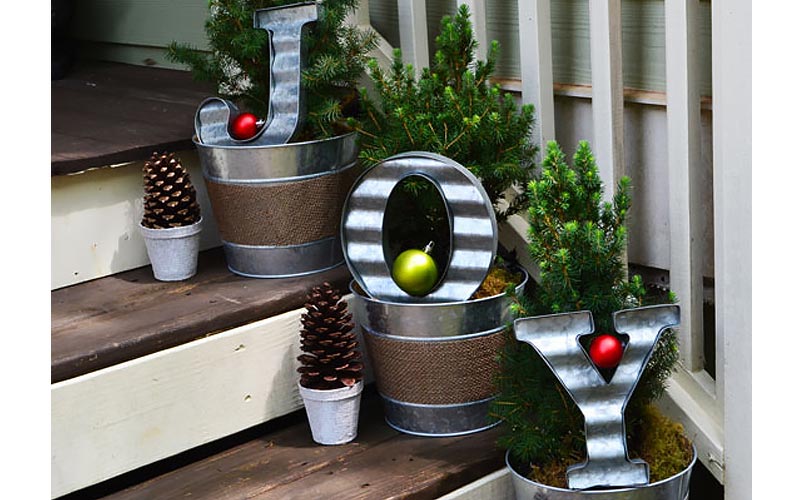 Try lining your stairs with burlap-wrapped planters filled with dwarf Alberta spruce trees placed with sheet moss and galvanized letters. Toss some ornaments in for a filled-out look. For additional ideas, read our story on holiday porch decor.
Centerpiece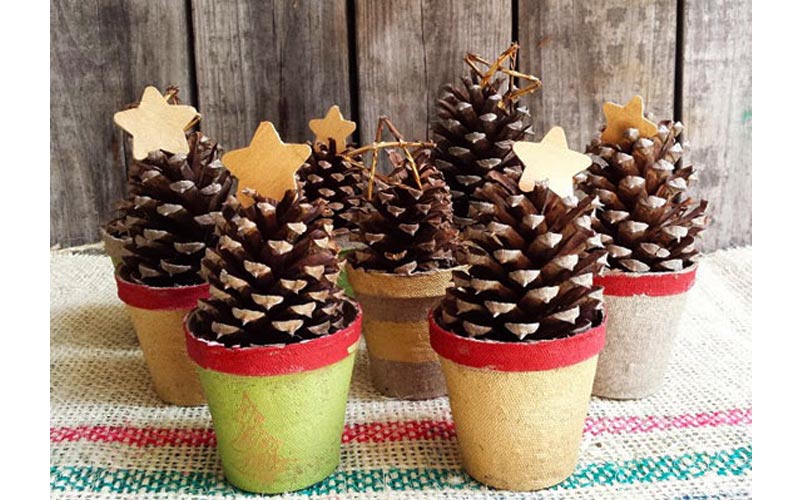 Jiffy peat pots left over from gardening season can be painted and added to an entryway console, dining table, mantel, kitchen island or just about anywhere.
Trees in Planters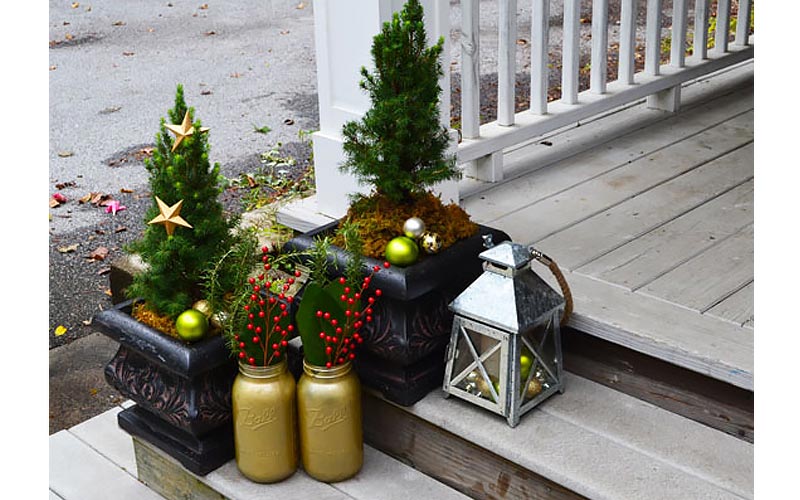 Another idea: Decorate the spruce trees with painted wood stars and plant in decorative containers with sheet moss. Pair the trees with mason jars spray painted gold and filled with magnolia leaves and berry sprigs. The galvanized lantern has an LED candle and ornaments.
Wooden Stockings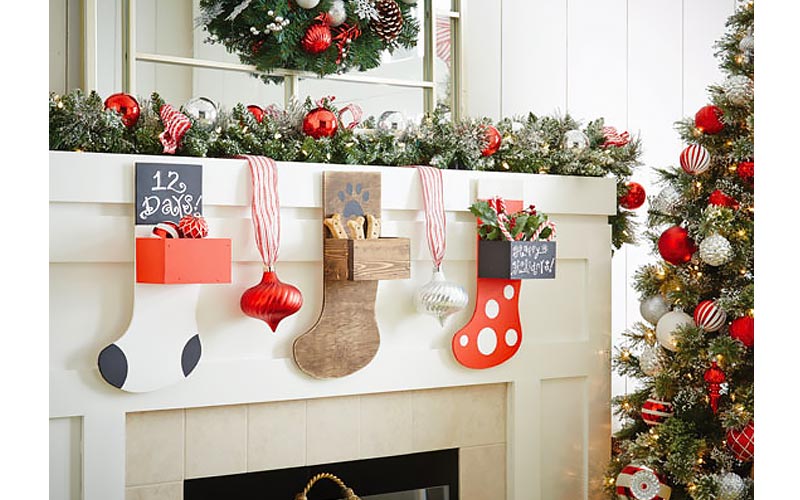 These cute wooden stockings could be hung by the fireplace with care or used outside as decorative planters. They're a perfect place to stash away treats for family, including your four-legged friends. The stockings could also be used for Santa's cookies, and carrots for his reindeer.
Holiday Tree from Tree Branches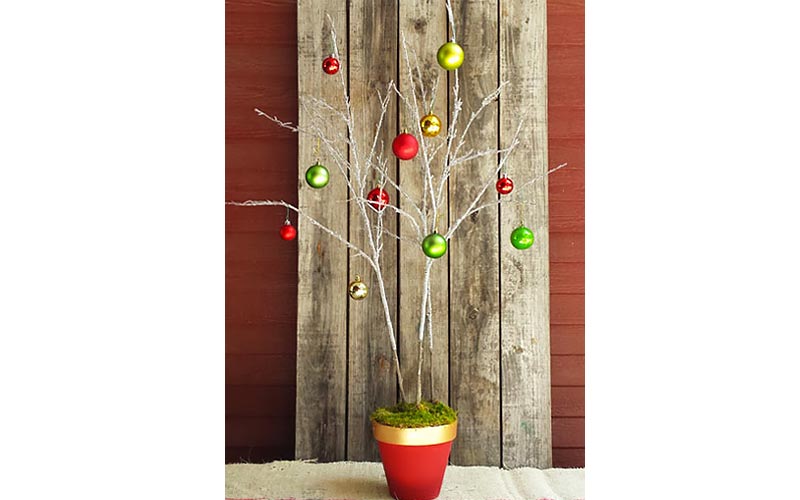 Make an inexpensive topiary tree using a painted terra cotta pot, a can of insulating foam sealant and some decorative branches.
After you paint the pot using spray or chalky paint, place heavy rocks in the bottom for weight. Next, spray the foam until about half full (the product expands as it dries).
Insert your decorative branches and top off with more spray foam. Finish with sheet moss and ornaments. Strings of LED lights would be a nice touch.
Christmas Card Holder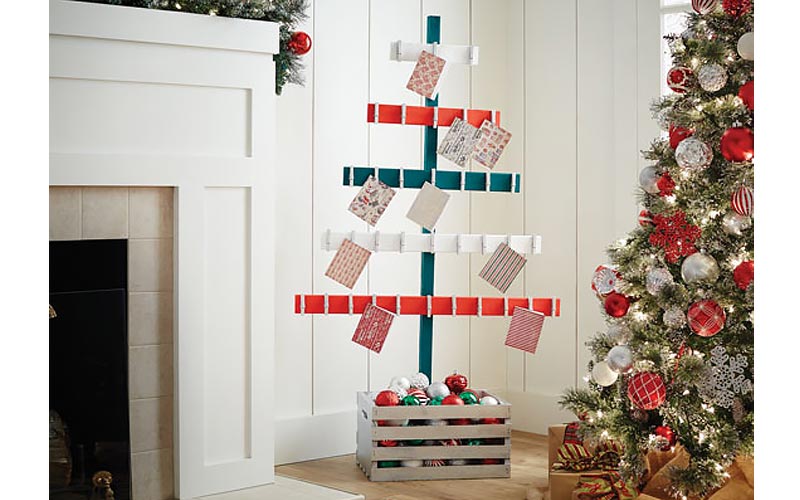 If you have a bit more time, you can try your hand at a DIY Christmas card holder. Not only does the tree hold cards, but it can also serve as your holiday tree. Use a crate underneath to store ornaments or even gifts. Remove the crate and the card holder can hang on a wall or on your porch.
Punch Up the Decor with Poinsettias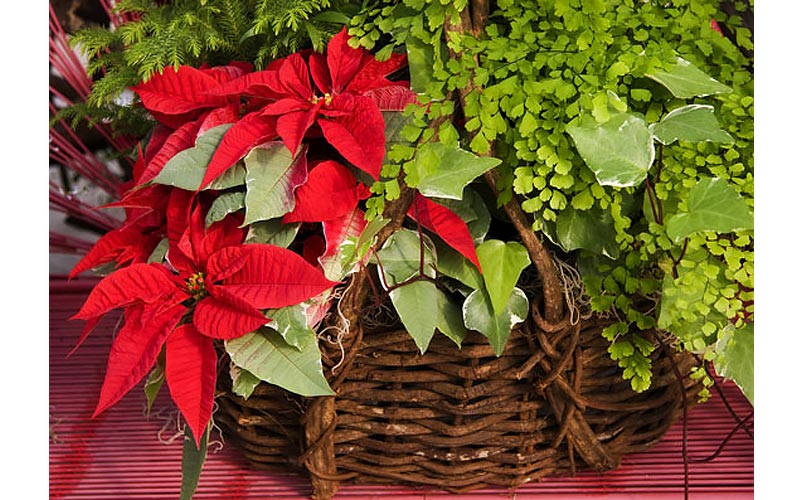 Poinsettias are another option. Added to baskets with other plants, they help make any room look merry.
Remember, your holiday decorating ideas don't have to cost much to create. It just takes a little time to punch up your holiday décor at the last minute, including in small spaces. Have fun, let the ideas flow, and don't forget to add wreaths.
Floral Holiday Centerpiece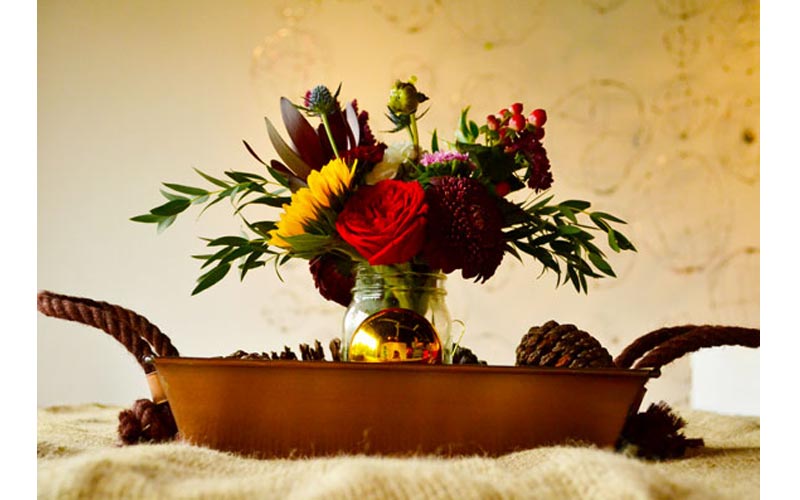 Inspirational Stones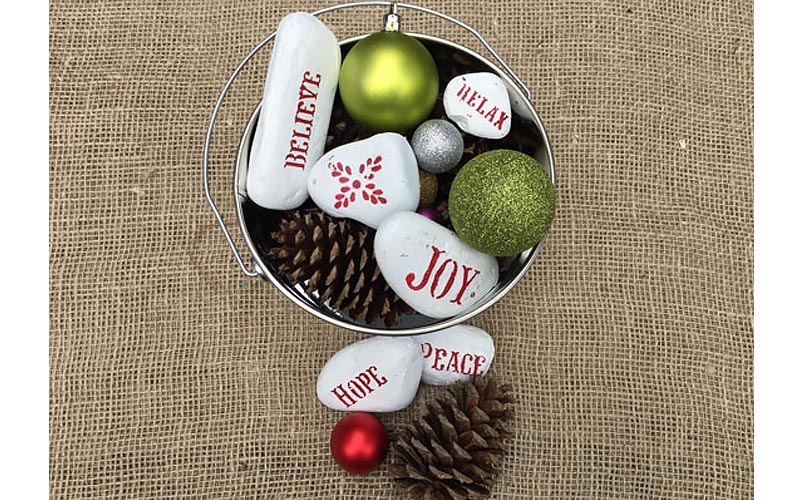 Wooden Crate Tree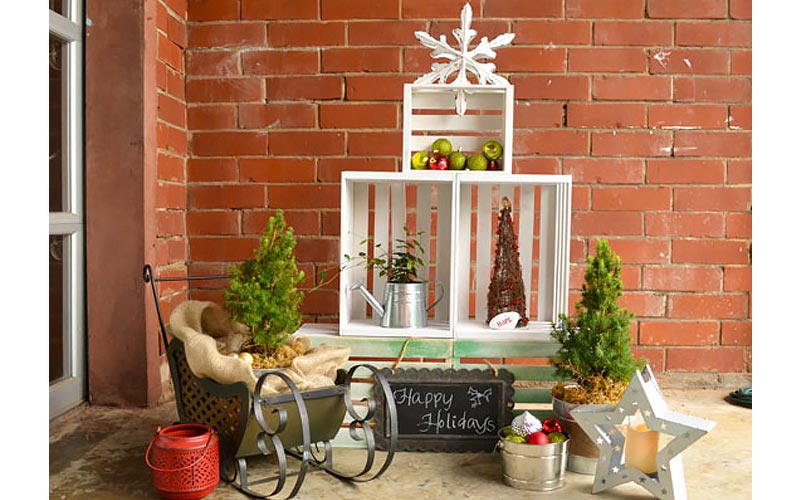 Terrarium Filled with Succulents and Ornaments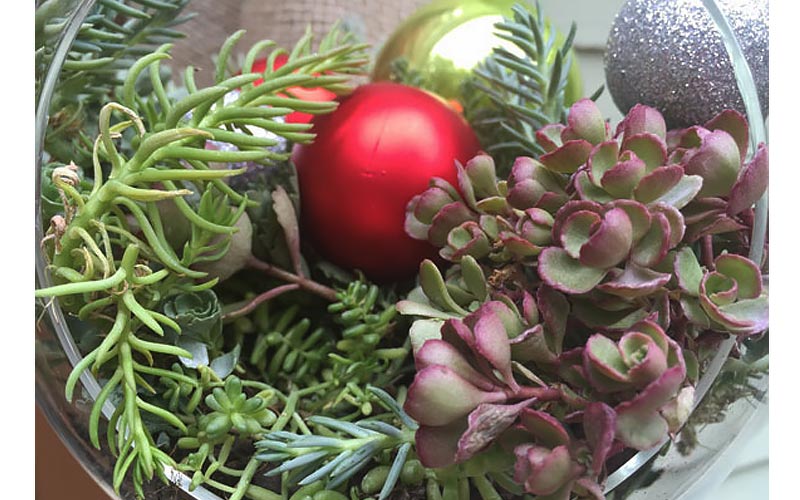 Christmas Tree in a Crate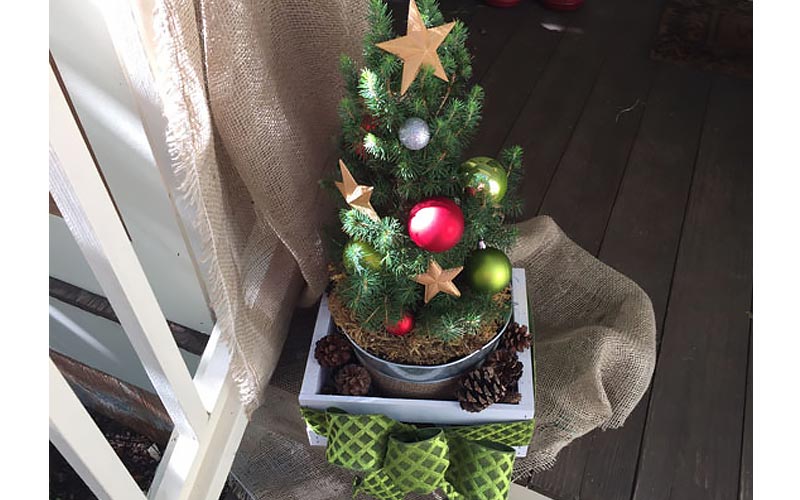 Joy Sign with a Star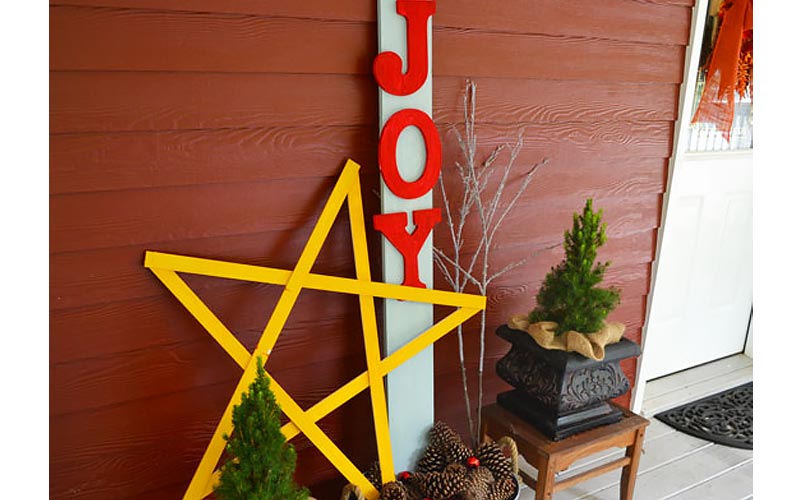 Stacked Tray Centerpiece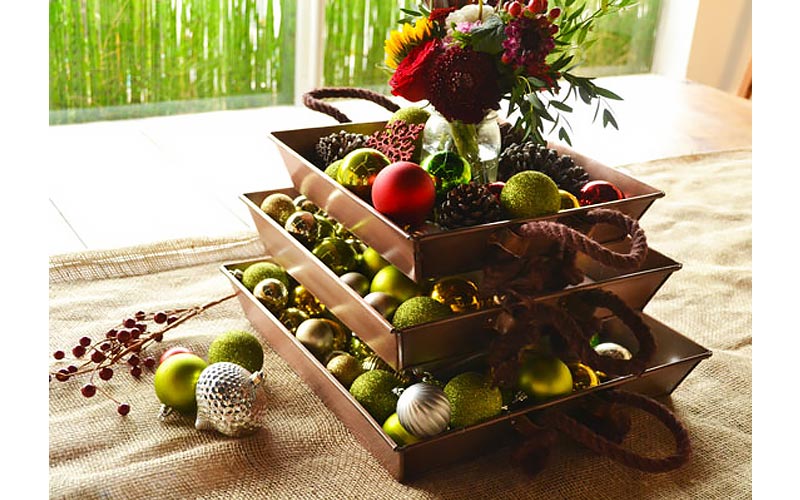 Pinecones and Ornaments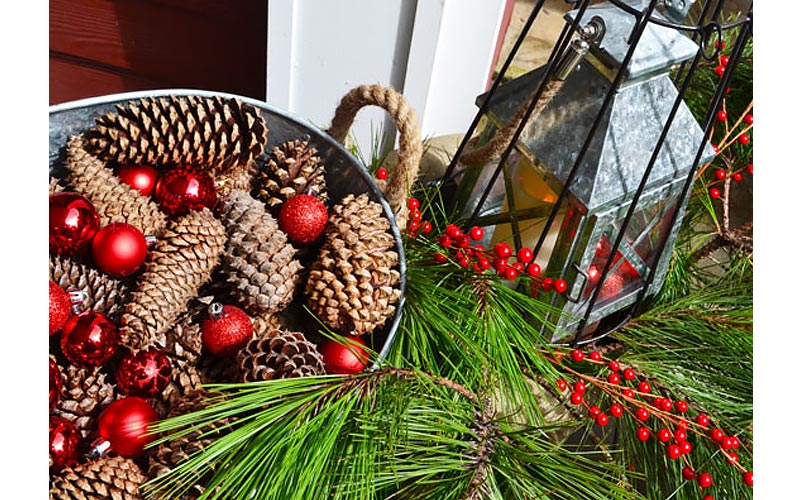 Photos by Laura Mercer, Renee Valdes, Lucy Mercer, The Home Depot and Shutterstock.
Photo shoot location for the Crates & Pallet Christmas Tree: Color Wheel Studio in Decatur, Ga.
Explore More on homedepot.com