Prolong the life and beauty of outdoor surfaces such as concrete and wood with exterior sealers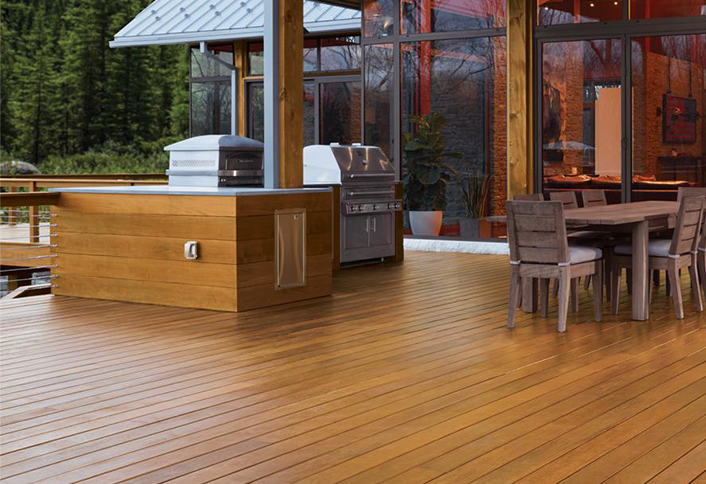 Exterior sealers seal porous surfaces, acting as a beautiful top coat that delivers excellent protection for decks, fences, driveways, patios and walkways. They also protect the finish coat on masonry from alkalinity and efflorescence, and seal out moisture. This buying guide highlights the different types of exterior sealers available so you can pick the right one for your job.

Tip: Before applying a sealer, make sure your work surface is clean and free of loose wood or fibers. Some manufacturers combine the primer and sealer to save time during application. If you plan to paint over the sealer, look for a variety that says it can be painted, otherwise the paint may not adhere correctly.
Types of Sealers

Wood repellents, water-repellant preservatives, wood toners and concrete sealers are the most common types of exterior sealers.


• Protect against damaging effects of road salt, acids, household cleaners and weather
• Resist dust and make surface easy to clean
• Help control water evaporation
• Ideal for use under latex, alkyd or polyurethane paints or carpeting

• Form protective coating for surfaces, ranging from wood to masonry
• Provide protection from water damage, stains, wear and more

• Water repellents protect against rot and decay by preventing the growth of mildew, fungus, mold and more
• May also protect against wood-eating bugs
• EPA registered

Wood toners

• Water repellents with a tint
• Provide added protection from UV damage due to tint
• Can be applied over previously painted surfaces



PAINT SEALER Varieties




Like paints and stains, sealers are available in water-based and oil-based variations. The more pigments a sealer has, the more opaque it is and the more it will mask its surface.

Water vs. Oil Bases


Water-based sealers have fewer volatile organic chemicals.

Oil-based sealers and applicators require special disposals to prevent fire and pollution.

Water-based sealers can be cleaned with soap and water, while oil-based need to be cleaned with solvents.


Colors


Sealers with more pigments last longer, but they mask the grain and sometimes color of their surface.

Sealers are available in an array of wood tones, as well as other colors.

Sealers are available in a variety of finishes, from flat to high gloss.


Longevity


Sealers with more opaque block more UV rays and last longer.

A higher percentage of solids indicates better quality and longer life.