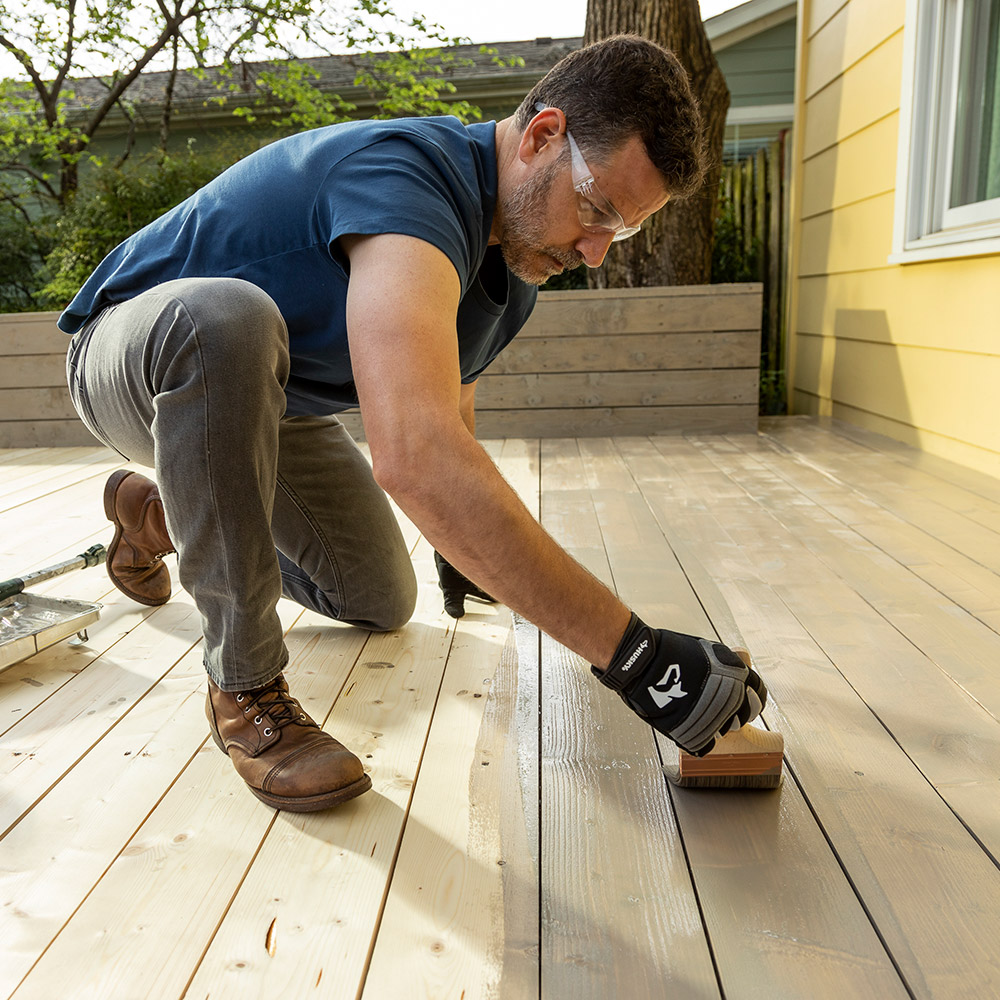 Staining a deck brings out the rich colors and textures of the wood's surface. However, applying wood stain does more than enhance a deck's appearance. Exterior wood stain provides vital protection from the elements and keeps the lumber from warping. 
You can expect to apply deck stain every three to five years to keep your deck looking its best.
Learning how to stain a deck means you'll be able to achieve for professional-looking results. Read this guide to learn the best way to stain a deck. It includes information on prepping and applying deck stain. A typical home deck can be cleaned and stained in a weekend. Depending on the weather and size of the deck, it may take longer.
1
What to Use for Staining a Deck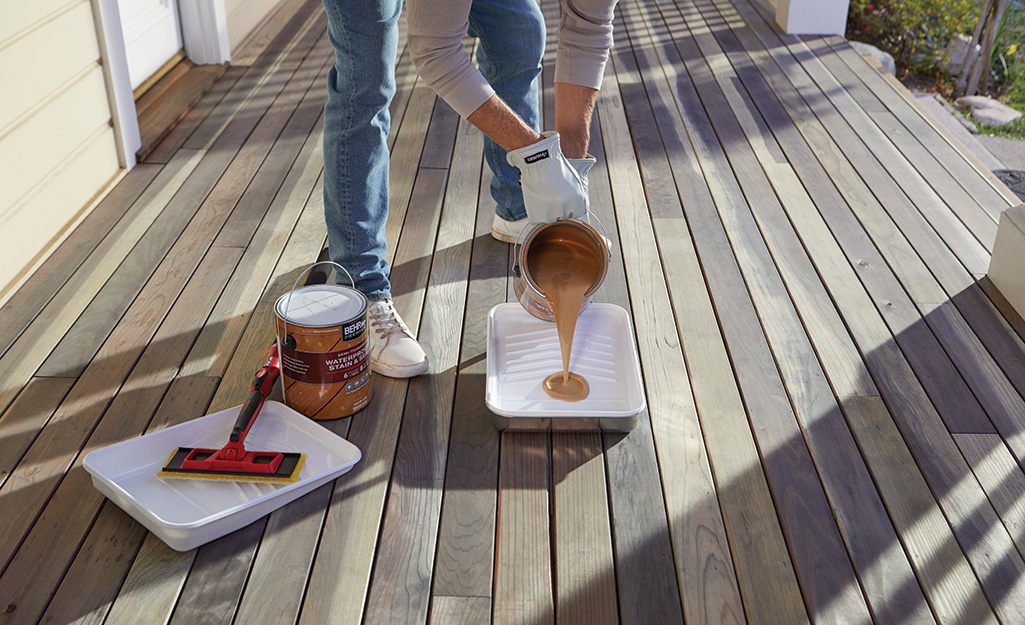 A paint roller is one tool that's essential to apply stain smoothly and efficiently. Choose a roller for this task with a nap that can hold a good amount of stain and spread paint out quickly. Look for rollers with a nap of 1/4 to 3/16 inches for a smooth deck surface and a nap of 3/8 to 1/2-inch for rougher or textured wood surfaces. As for roller materials, polystyrene fibers and foam are suitable for the task. 
Before you begin, here are some materials needed in preparation to stain your deck:  
Be sure to have on hand rags for cleanup, and tape and plastic for protecting adjacent surfaces from overspray or roller marks.
Refer to finish manufacturers' suggestions prior to applying stain or finish, and assemble the correct solvents for cleaning.
When planning this work, be sure to check the weather and plan accordingly. Deck finishes typically require 24 hours of curing time prior to exposure to rain.
It is easier to apply stain in the early morning or late afternoon, or at a time when sunlight is not beating directly upon the surfaces. Since decks are large, this can be a little tricky. Observe how the sun travels along your work surface and determine the best times to apply stain. This is so that the finish doesn't start drying too quickly and allows you the most time to blend in lap marks to achieve the most even and balanced application of stain possible.
Here are a few more application options for staining a deck: 
Decide whether you're applying the bulk of the stain with a roller or a paint sprayer. Regardless of the primary application method (roller vs sprayer), a brush is necessary to cut in corners and other trim areas and hard-to-reach areas.
Paint brushes enable you to apply stain over a large area in less time. A wider paint brush allows for a more uniform coverage and finish.
A staining sponge can give more control over how much stain you apply by hand, particularly on areas like railings and gaps where the deck boards meet.
Use a paint pad applicator for a smooth, even finish and good coverage. An applicator attached to a pole is easier than using a brush to stain a large deck by hand, and more accurate than using a pressurized sprayer.
You can use an airless paint sprayer to apply stain quicker than is possible with a roller or brush. While staining your deck with a sprayer is the fastest way, it helps to have some experience in using a sprayer for the best results.
When staining your deck, it's also good to follow these rules of thumb to stay safe:
Personal protective equipment (PPE) includes safety glass, respirator (just in case someone finds themselves sensitive to odors) and nitrile gloves (in case someone has sensitive skin). Since this work is performed outdoors, there should be ample airflow where a respirator is not crucial, but should be maintained as an option, just in case.
Never dispose of oil-soaked finish rags in the trash. Oil-soaked rags can spontaneously combust. Therefore, it is imperative that these rags are either soaked in water and then laid out to dry prior to disposal, or simply laid out flat where they can dry. Same is true for the roller. It's not worth it to clean and salvage the roller, but it is imperative that the roller be allowed to dry, as with the rags, to prevent the risk of a fire. Be sure to clean brushes with mineral spirits.
2
Clear and Sweep the Deck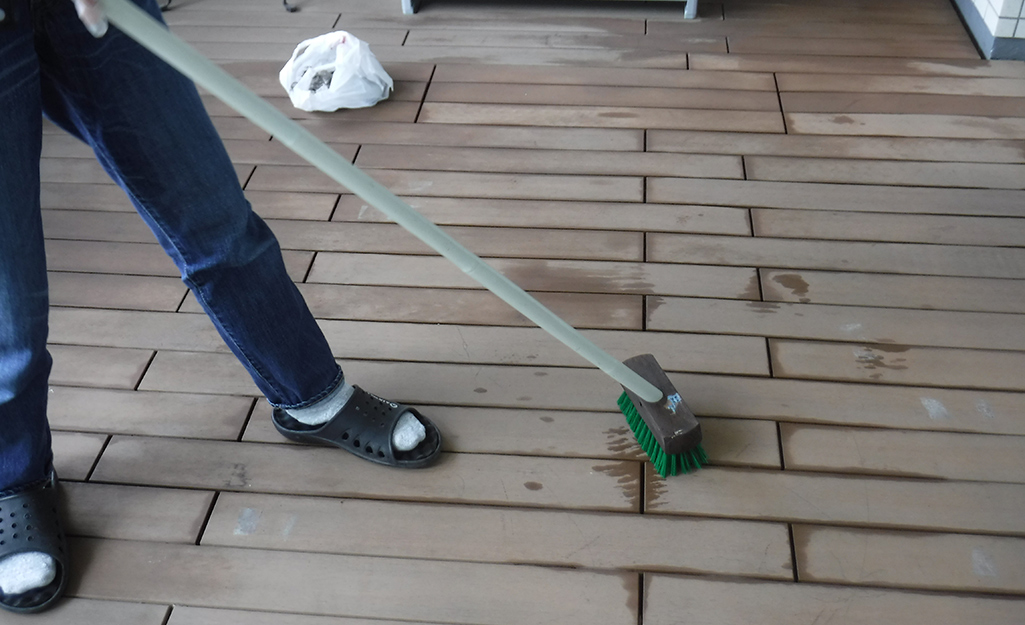 Thoroughly clean the deck surface before staining to ensure the stain coats are applied evenly and do not peel when dry. 
Remove patio furniture and potted plants from the deck.
Sweep the deck to remove all leaves and other debris.
Inspect the deck for broken screws, warped lumber and other imperfections. Make repairs before staining the deck.
Apply wood cleaner to the surface of the deck. Let it remain on the wood surface for about 15 minutes, then work the cleaner into the surface of the deck with a scrub brush. Scrub thoroughly to remove all residue.
Rinse the cleaner from the deck using a garden hose or a pressure washerequipped with a 45-degree tip set at 1200 to 1400 psi. Spray with the grain of the wood.
Allow the deck to dry, which could take as long as a day or two.
Once the deck is dry, use an orbital sander with 60-grit or 80-grit sandpaper to remove any remaining residue from the deck.
Pressure washing is also an option for cleaning and prepping the surface of the deck, particularly older decks.
If a deck is a new build using pressure treated lumber, the lumber will need to dry for 2 to 4 months to allow the deck stain to adhere properly.
3
Prepare the Deck for Staining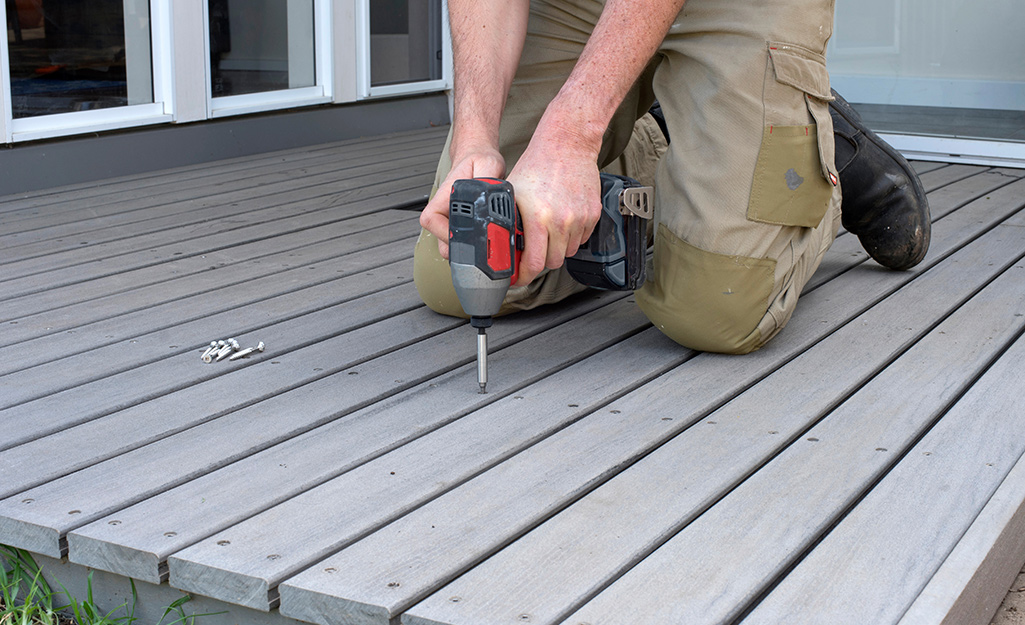 The task of how to stain a deck begins with preparation. 
Inspect the deck closely for wood damage. Replace any broken, rotted or warped boards.
Check the surface for broken screws or exposed nails and replace them if needed.
Apply a small amount of deck stripper to an area on the deck, preferably on an inconspicuous area.
Let it sit for about 15 minutes, then wipe it off with a rag. If the stain comes off, the stain is water-based. Follow the directions on the deck stripper to remove this stain from the deck. It's also important to note that water-based and oil-based finishes aren't compatible. You can't (or shouldn't) put a water-based finish over an oil-based finish.
If it does not come off, the stain is oil-based. Oil-based stains can be recoated after you use a deck cleaner.
4
Stain the Railing and Other Raised Features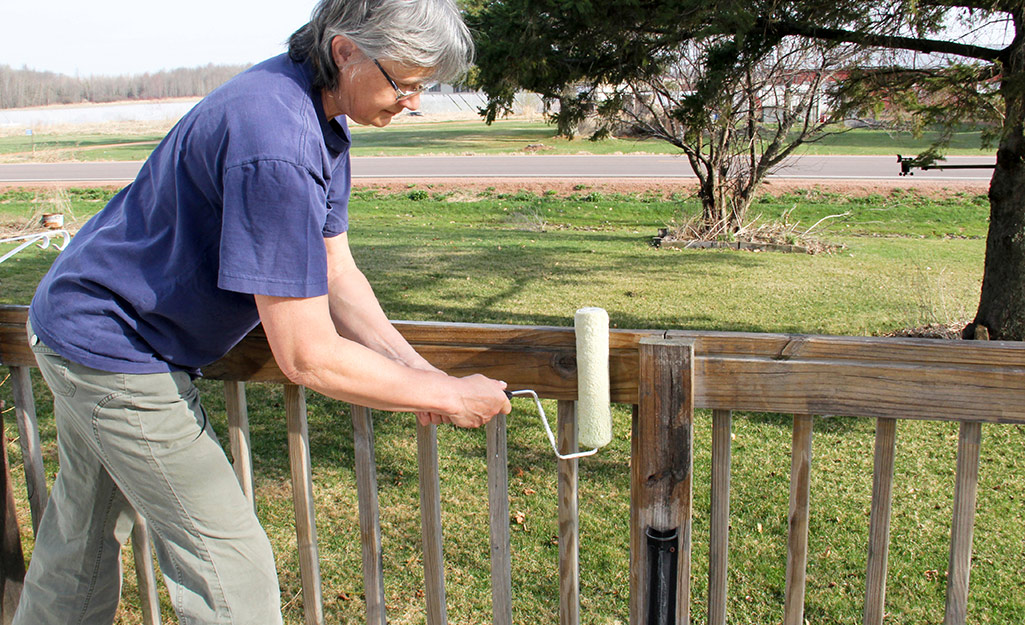 The first step is to apply stain to the handrails, balusters and spindles. Before applying stain, use painter's tape to protect areas like the house's siding. Sweep the deck one more time to remove any leaves, dust or debris that might have settled while the cleaner was drying. 
Stir the stain thoroughly before applying and pour into a paint tray. Since exterior finishes have a higher solids content, it's important that materials are stirred frequently.
Apply the stain to a test patch of wood to confirm that you're satisfied with its color and appearance.
Begin by staining the railings, posts and balusters with a paint brush or hand-held paint pad. Use long, even strokes.
Stain the inner and outer sides of the deck stair handrails.
Tip: Cover the deck surface with towels or a drop cloth below the stair railing and around the balusters and spindles before staining them. They'll catch falling stain drips and specks and protect the deck surface.  
Before you begin to stain the deck boards, decide if you want to use exterior stairs or the door to your house as your exit. This comes in handy when it is time to do the next step. Apply the stain while moving in the direction of your exit. Don't stain yourself into a corner.
Stain the deck boards using a paint pad applicator attached to a pole, or a pole-equipped roller. An applicator or roller allows you to cover a large deck surface with stain in less time. It is less labor intensive than staining a large deck with a paint brush by hand and more accurate than using a pressurized sprayer.
Apply one coat of stain in long, even strokes. Usually, one coat will be enough.
Use a paint brush to stain between cracks and in any problem areas.
Once you're finished, clean the brushes and paint tray.
Allow the stain to dry for at least 24 hours.
Protect your deck even more with a coat of sealant. This will keep the deck looking its best even longer.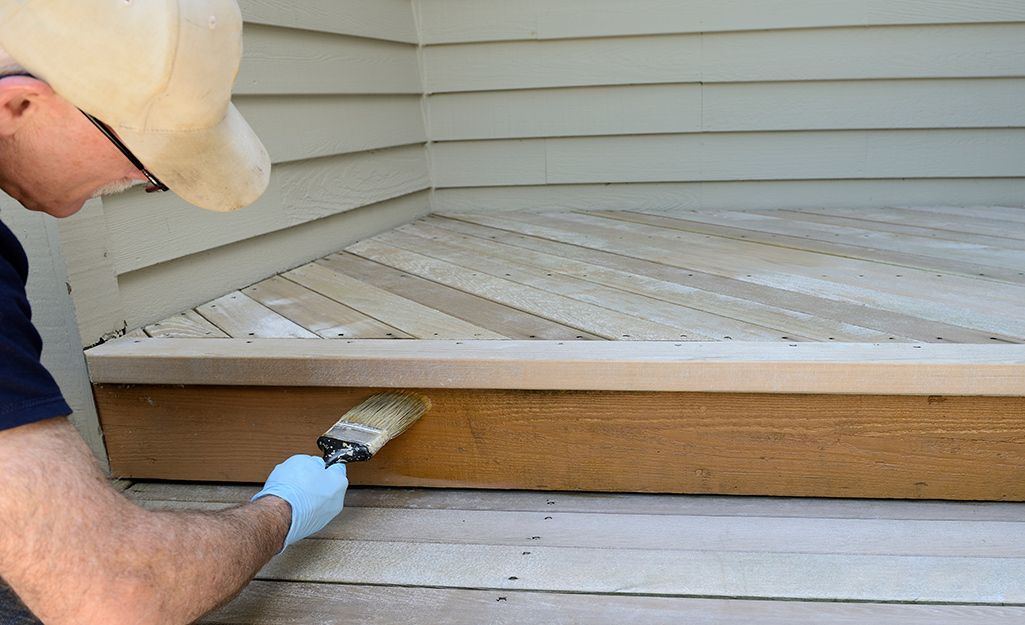 Once you've applied stain to the railings and deck floor, all that's left is to stain the stairs. Use a large paint brush or hand-held paint pad applicator for best results. Deliver an even coat of stain to the stairs and add another coat if needed. 
Staining a deck will protect it from fading, natural wear and water damage. Make staining easy and get professional results by prepping and cleaning your deck in advance. Once you have learned how to stain a deck, you can refresh its appearance every few years so that your deck stays beautiful.
Ready to get the tools and materials for staining a deck? The Home Depot delivers online orders when and where you need them. 
Explore More on homedepot.com