Decks, fences and exterior furniture can be slowly damaged by sunlight, rain, humidity and hail. Protect your wooden outdoor items from aging and wear by finding the best deck stains for your projects. While paint offers a colorful, protective coat, exterior wood stain can be also be a smart choice. Deck stain shields against the elements while bringing out the wood's natural beauty. 
This guide will review the different types of exterior stains to determine the best exterior wood stains for your project. It'll also outline tips on how to apply the best deck stains for your specific type of wood. In addition, you'll learn when to stain or re-stain your wooden project, whether it's a deck, fence or table.
Consider the Climate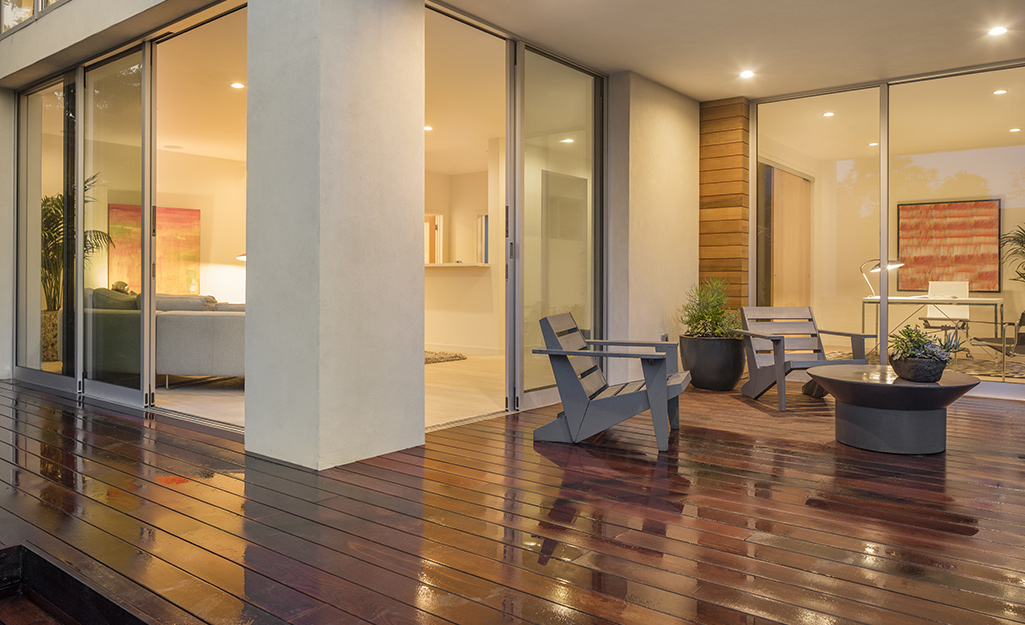 Before you select a deck stain, fence stain or other stain for exterior wood, consider your climate and weather patterns. For long-lasting results, prepare the wood surface based on your environment and reapply sealer yearly:
Wood in wet conditions absorbs water, leading to cracking and warping. The best exterior wood stains also contain a built-in protective sealer. If your stain doesn't include a sealer, apply one after staining to keep moisture from seeping into your deck.
In areas with high humidity, the best deck stain choices are mildew resistant. Prepare the surface with a deep cleaner, then apply your stain to help block out unwanted growth. 
In hot and sunny areas, choose a product with built-in UV protection. Also, consider a semi-transparent, semi-solid or solid color stain to help protect your deck from damaging UV rays. 
When staining a sunlit deck, consider a light stain. A lighter color reflects heat, which keeps the deck cooler. A dark stain absorbs heat, creating the opposite effect.
Tip: Most stains require dry wood for application. After you apply the stain, let your deck dry for at least 24 hours. Check the weather forecast for rainfall and plan accordingly. Avoid getting your deck wet before the stain is completely dry.
Check the Wood's Condition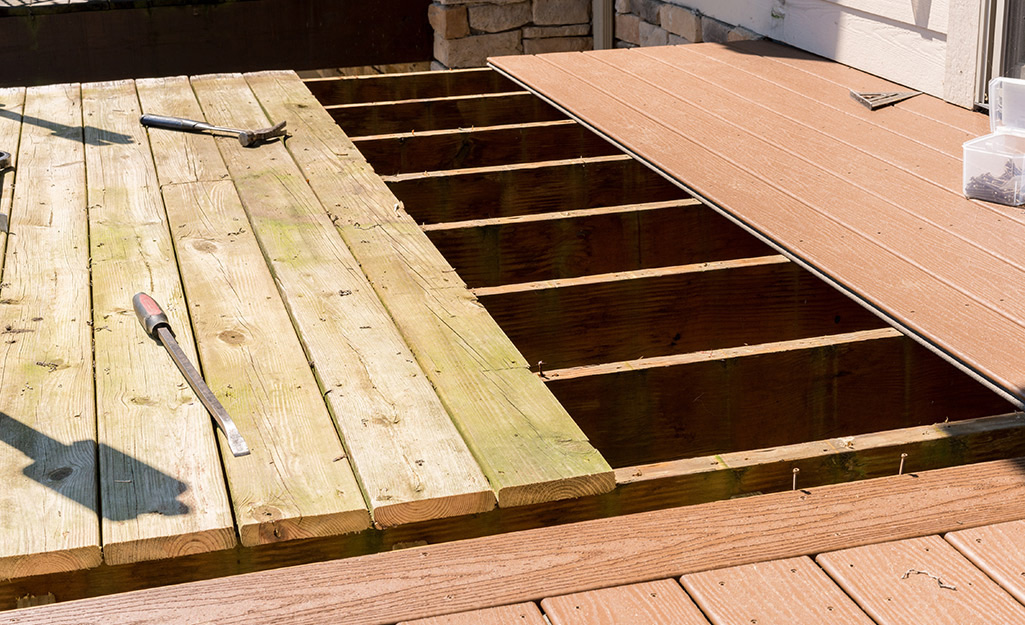 Before choosing the best exterior wood stain for your deck, consider the condition of the wood. The age or level of damage to the decking wood influences the type of stain you need. 
New wood refers to lumber used in new construction. Use clear or transparent stains for a natural look.
Existing wood is lumber that's been in place for a while and may have been treated before. Transparent or semi-transparent stains enhance the natural appearance of this wood. Semi-transparent stains last longer than transparent stains, but neither is a long-term solution.
Mixed wood refers to a project made of both new and old boards. This is common on older decks, as it's a result of replacing deck boards over time. Use semi-solid stains to allow the grain of wood to show through while also providing a uniform appearance among all boards.
Damaged wood is structurally sound but shows visible wear and tear. It may have splinters and has likely endured a lot of UV exposure. Use solid stains to cover the damage and the weathered woodgrain. It'll also help preserve your deck's remaining lifespan.
Badly damaged wood is no longer structurally sound. Replace any damaged deck boards as soon as possible. 
Tip: Consider a lighter-colored stain on a new wood structure. It gives you the option of applying darker stains in the future.
Consider Wood Type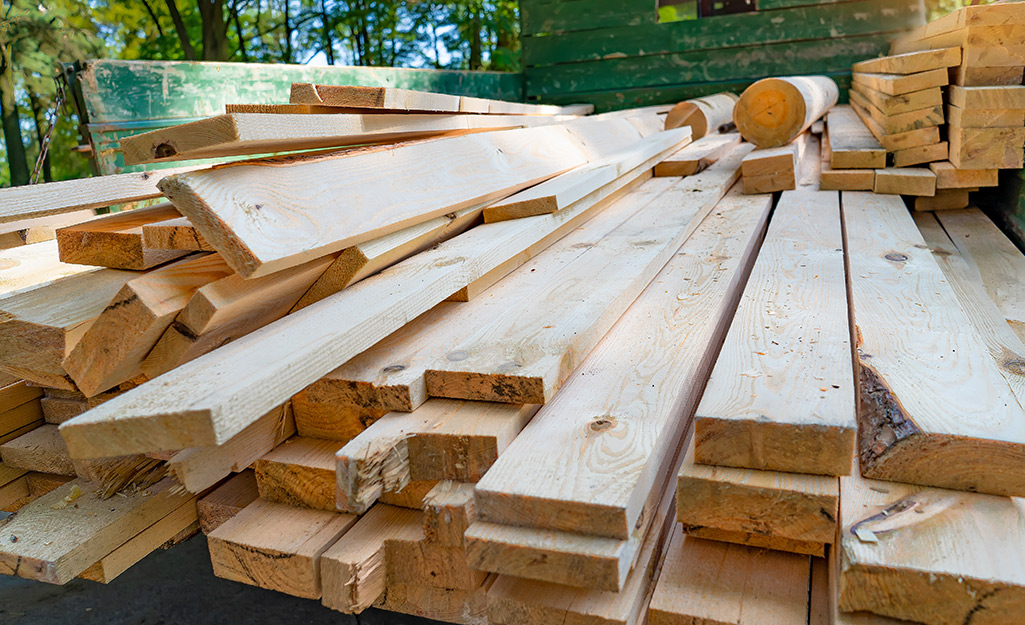 New or aged wooden decks benefit from a stain/sealer combo. Enjoy the natural wood grain with a clear coat or shift the color with a tinted stain. Many new decks shine with a transparent stain, but the choice is yours. 
In general, soft woods like cedar or redwood should be stained and sealed for longevity. Hardwoods like teak, ipe or Brazilian ash are dense and strong, so staining isn't necessary to protect them.
Redwood: Protect a new redwood deck with a semi-transparent or a clear penetrative stain. You'll get the protection of a stain and allow the natural beauty of the wood to shine through. After the initial stain application, seal it once a year to keep the finish fresh.
Cedar: If you like the look of cedar, use a transparent stain to shield against UV rays and keep out moisture. Older cedar decks can benefit from a semi-transparent stain. Depending on the color, you can revive your deck so it looks like new or enjoy the natural weathered look. Like redwood, apply a sealer yearly to extend the life of your project.
Teak: For a deck with minimal upkeep, go with a hardwood. Teak, for example, has a high upfront cost, but it's so hardy that staining or sealing is optional. It's an excellent choice for an investment piece, as it'll only improve with weathering and age. 
Pressure Treated Wood: Treated wood can be stained, but it needs time to weather and dry out first. A new pressure-treated wood deck could take 3-6 months to dry completely from its chemical treatment. However, this varies by the type of treatment and the climate. 
Exterior Deck Stain Transparency and Color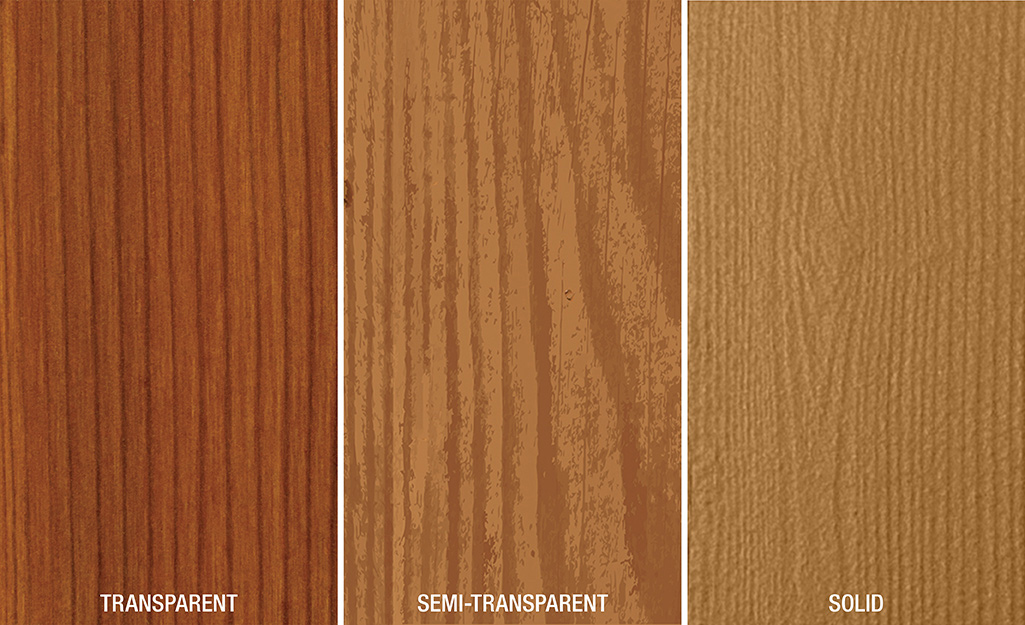 The best way to stain a deck means matching your wood age and type with a proper stain. Wood stain falls into three different formula types: water-based, oil-based and hybrid stains. Stain formulation also affects how much wood grain shows:
Water based stains, including acrylic stains, are durable and provide good protection. 
Oil-based stains showcase the beauty of wood grain but require chemical cleanup. 
Hybrid stains offer the best of both worlds. 
You can get varying levels of transparency with stain. Choose how much wood grain showing through versus how much solid color you want on your deck. Opacity, or the intensity of pigment in the stain, has a major impact on your project's final appearance. 
Consider stain formulation, color and transparency when choosing the best exterior stain. Wood age and type also narrow your stain options:
Clear and toner stains are ideal for new or premium wood surfaces. They contain no pigment, allowing the wood to weather and gray naturally.
Transparent stains show a great deal of wood grain while hiding a few imperfections. These nearly clear stains contain a hint of wood-inspired color. For previously coated wood, use a paint or stain stripper before applying a layer of transparent stain.
Semi-transparent stains are a popular choice. They provide more color to hide imperfections while allowing some wood grain and texture to show though. Also called translucent stain, semi-transparent stain is often natural wood-tones of red, brown or tan.
Semi-solid stains provide the same color as semi-transparent stains but conceal damage better.
Solid stains provide the most color, protective durability and ability to hide imperfections. They're available in a wide variety of colors, including natural browns and reds as well as blues, grays and blacks. In sunny climates, the less natural colors of a solid stain may be less durable.
Restoration stains are used for aging wood or composite surfaces to coat and fill cracks and imperfections. It's thicker than other stains and shows less wood grain. It's sometimes categorized with deck paint.
Tip: Solid stains that provide a restorative surface film are ideal for badly damaged wood. These stains cover the wood with a thick and flexible coating. They also capture and seal in small splinters.
Water-Based Exterior Deck Stains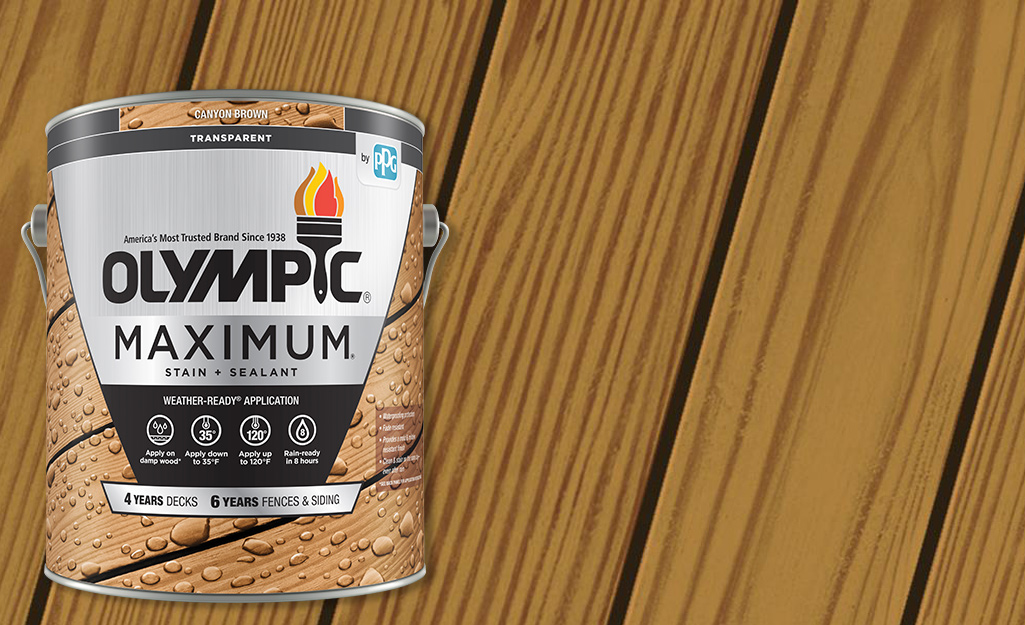 Water-based and acrylic stains are durable and easy to apply. They're better suited for fences or furniture than decks:
They offer a choice of solid, vibrant colors and can be comparable to house paint.
They're lower in VOCs (volatile organic compounds) than the alternatives. This makes them more environmentally friendly. 
These stains dry quickly and can be applied in low temperatures.
Water-based and acrylic stains only need soap and water for cleanup. 
They're often recommended for woods that resist decay and rot, such as cedar, cypress and redwood.
They can be more expensive than oil-based stains and don't wear well.
Oil-Based Exterior Deck Stains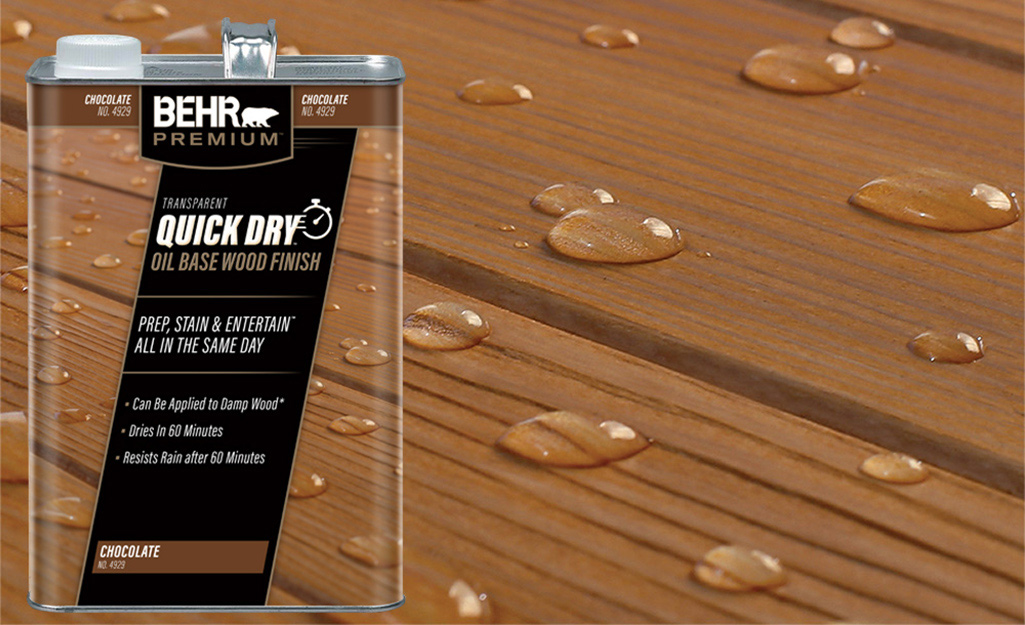 Oil-based or alkyd stains are designed to penetrate the wood. This highlights the wood grain and offers a more natural appearance for your fence or deck.
They protect decks from water damage better than the alternatives.
They're more challenging to apply. Oil-based stains require solvents for cleanup and aren't as environmentally friendly as other stain types. 
Alkyd stains are often less expensive than water-based stains.
Hybrid Exterior Deck Stains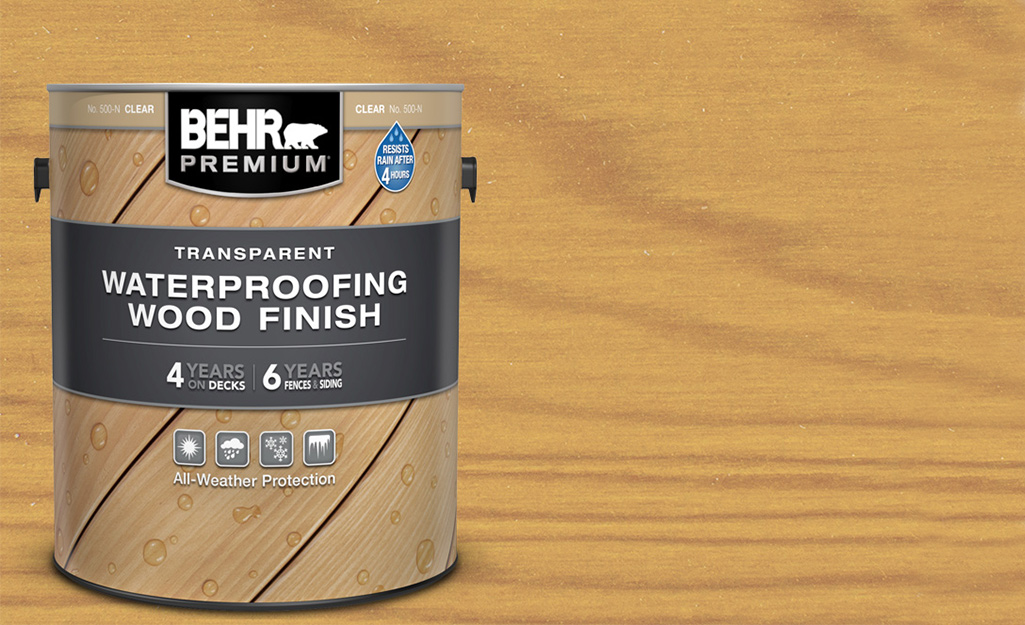 Hybrid stains are blends of alkyd and acrylic stain. They carry the best qualities of both stains:
Hybrid stains are as durable and easy to use as acrylics, but they also highlight wood grain as well as alkyds.
They offer powerful adhesion and repel water.
Hybrids are also low in VOCs and can be applied in cold temperatures. Cleanup is a breeze with soap and water.
Stain Application Frequency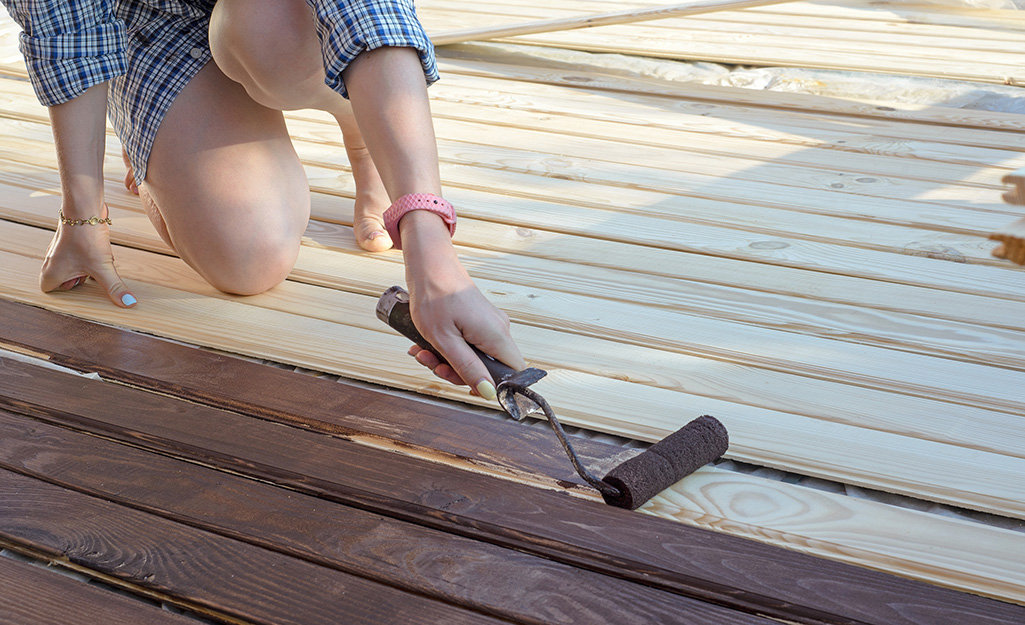 Exterior deck stains last longest when they cover the most wood grain. Sunshine, specifically UV rays, and rain wear down a protective stain. Although some stains may last longer, in general, you'll need to re-stain your deck every 2 or 3 years. 
It's time to stain when you see mildew, the color fades or the deck takes unusually long to dry. Climates with harsh winters or extremely hot and dry conditions can take years off your deck stain's life. The stain on a fence or other wooden structure will likely last longer, as it gets less foot traffic and won't have rain pooling on it.
In ideal conditions for a deck with not much rain and indirect or dappled sunlight:
Clear and transparent stains need a touchup every year or two.
Semi-transparent last 2 to 3 years.
Semi-solid stains are good for 2 to 4 years of protection.  
Solid stains on decks may protect up to 5 to 7 years. 
Tips for Using Exterior Wood Stains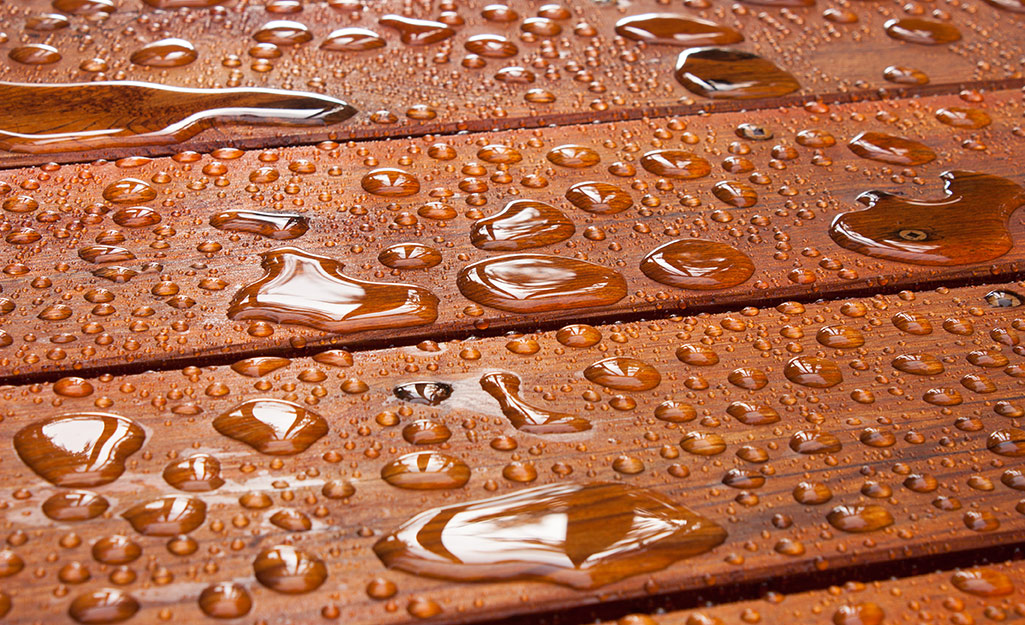 Consider these tips when using the different types of exterior stain and deck stain. They'll help you get the most beautiful and long-lasting results for your project.
Before staining wood: 
Check to see if it'll absorb the stain. Simply wet the wood's surface. If the water beads up, lightly sand the surface and try the test again. When the water sinks into the wood, it's ready for stain. 
Deeply clean weathered wood before staining. Use a cleaner that removes mildew, dirt and discolorations. Any growth or surface dirt could affect or dull your final color.
Only apply stain to dry wood. Moisture may give you an uneven finish.
After staining wood: 
Read the manufacturer's recommendations for maintenance. Some projects may require a simple cleaning and re-treatment. Others need stripping, sanding and another stain application.
Sweep your decks regularly. Rearrange outdoor furniture every so often to prevent sunlight from bleaching mismatched color patches onto the wood.
Regularly check your deck for signs of wear and tear. Repair any damage as soon as possible.
Matching your wood type and condition with the protection it needs means that your deck can beautifully weather the elements. Now that you know how to choose the best deck stains, you can enjoy your outdoor space for years to come.
Need help identifying the best exterior wood stain for your project? Find products fast with image search in the Home Depot Mobile App. Snap a picture of an item you like, and we'll show you similar products. 
Explore More on homedepot.com