Be prepared to take on any painting project with a variety of paint brushes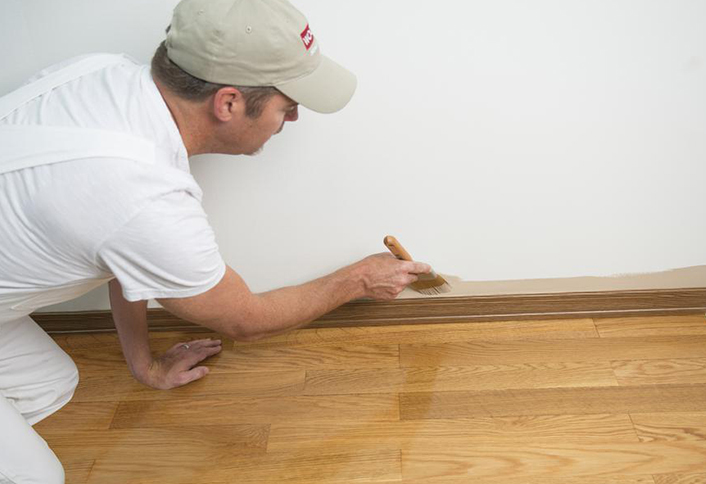 Not all paint brushes are equal – bristle materials are available in synthetic or natural fibers, and there is a range of brush sizes and angles, all designed for different purposes. A top-quality brush will hold more paint, streak less, lend a better finish and last longer. Look for a brush with metal bands, known as ferrules that are attached to the brush with screws or rivets and multiple spacers separating the bristles to keep them in place and create large paint reservoirs. This guide highlights the different types of paint brushes available, along with tips on their care so you can ensure an extended life of professional results.
Types of Paint Brushes
The two main types of brushes are made from either natural or synthetic fibers.
Natural Fibers
Natural brushes are softer than synthetic and perform better when paired with oil-based paints.


Black China

Recommended for oil-based paint, stain
and varnish

Ox Hair Blend

Recommended for oil-based paint and
varnish

Produces the smoothest finish of all
natural bristles, but more expensive

White China

Recommended for oil-based paint, stain,
varnish, polyurethane, lacquer and shellac

Produces a smoother finish than a black China brush
Synthetic Fibers
Synthetic brushes offer more versatility and can be used with all paint types.


Recommended for water-based paint; most can also be used with oil-based paints
Not recommended for applying shellac or
lacquer

Recommended for water- based and
oil-based paint

Bristles vary in stiffness; softer bristles will
produce a smoother finish

Can be used for water-based or oil-based
paint and stain, as well as varnish, lacquer
and shellac

Stiff bristles tend to leave brush strokes
Brush sizes and shapes
Most paint brushes are between 1 and 4 inches wide and are available with straight or angled edges. Each shape is designed for a specific paint job.


1-inch (straight edged or angled)

Corners or window sashes
Edging, trim and windowsills
Tight corners, fine detail work

2-inch (straight edged or angled)

Woodwork and trim
Framework and molding
Cutting into corners

3-inch (usually straight edged)

Large flat surfaces
Cabinets, doors, beams, fences, stairs

4-inch (usually straight edged)

Very large surfaces
Ceilings, walls, siding, floors

There are more job-specific brushes designed for hard-to-reach spots, including radiator brushes for painting old-fashion cast-iron radiators, and stucco brushes.
Care
Taking proper care of your brushes is just as important as buying the right brush, so you can continue using them time and time again.


Clean your brushes in warm, soapy water as soon as you're finished painting, but do not leave them soaking.
Store brushes in their packaging to help them retain their shape when not in use.
If possible, hang your brushes to dry, or lay them flat.