A balcony is the great spot to relax and enjoy the weather from the comfort of your own home. Arranging a functional and inviting balcony design only requires a few simple pieces. This guide offers a variety of small balcony ideas so you can decorate outdoor space on any budget.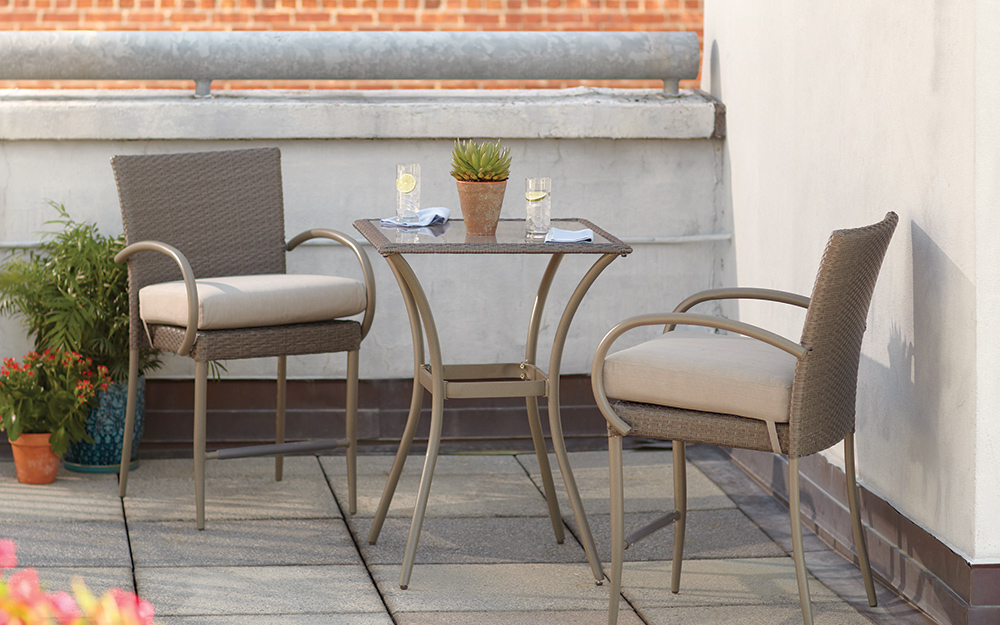 For a cozy place to unwind, invest in outdoor furniture that fits the space.
Bistro sets are an ideal choice for small balconies. Use one to create a cozy nook for morning coffee and afternoon breaks.
Outdoor benches with padded cushions provide a comfortable lounge area on any balcony. Pair with an outdoor ottoman for a place to kick up your feet.
For more spacious balconies, larger patio sets, patio chairs and sectionals offer enough seating for the whole family.
Made from diverse materials like wood, wicker, and metal, balcony seating is available to complement any décor scheme or aesthetic preference.
Tip: Hammocks are a great space-saver on smaller balconies.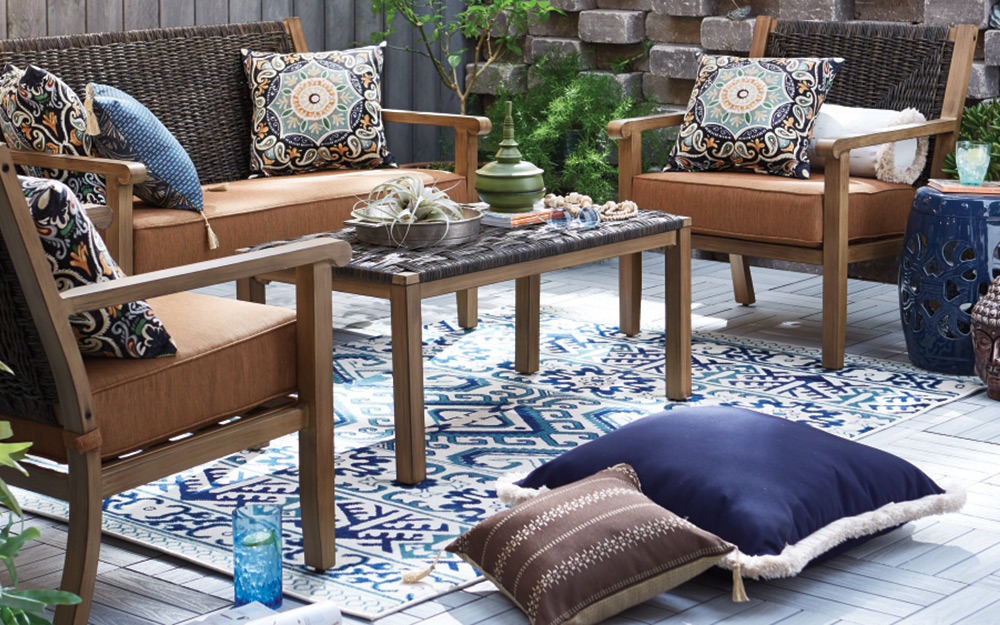 Add extra comfort to your seating with outdoor throw pillows. Available in a variety of colors, sizes and shapes, they also provide visual intrigue to your outdoor space and can help convey your décor theme.
Spruce up the whole space with an outdoor area rug. They add both color and texture to the area with very little effort. Outdoor rugs are the perfect accent for cement balconies that may have unsightly cracks or stains.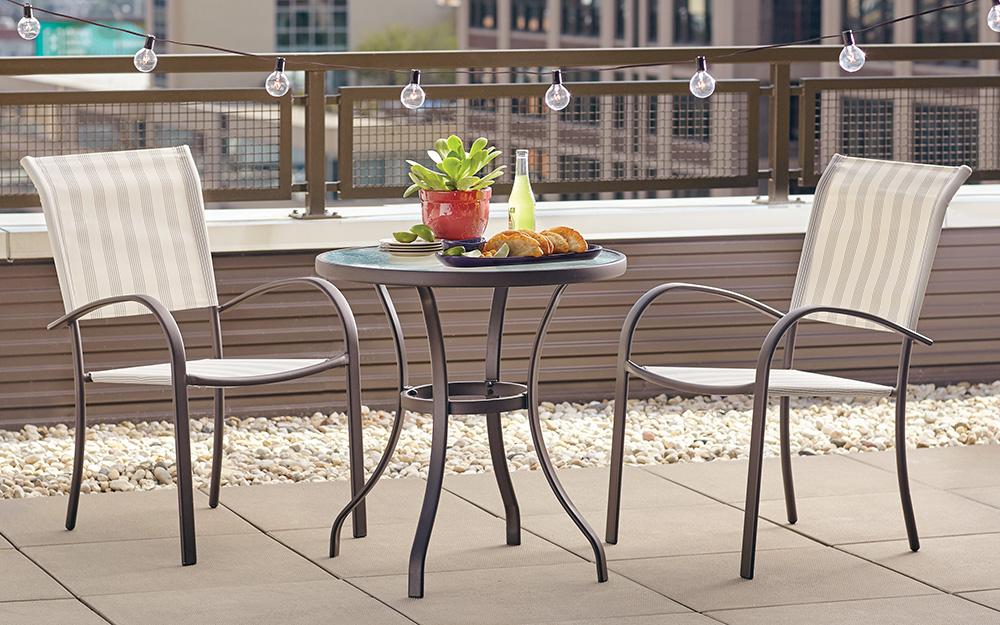 Illuminate the balcony with a set of string lights for a warm and inviting atmosphere. Whether they're hanging from your balcony's ceiling or wrapped around the railing, these add whimsical charm to any space and offer gentle light once night falls.
Decorative outdoor lanterns are also an attractive addition to any balcony. Powered by traditional candles or flameless LED candles, these lanterns can perch on a small table, sit on the floor or hang from the ceiling.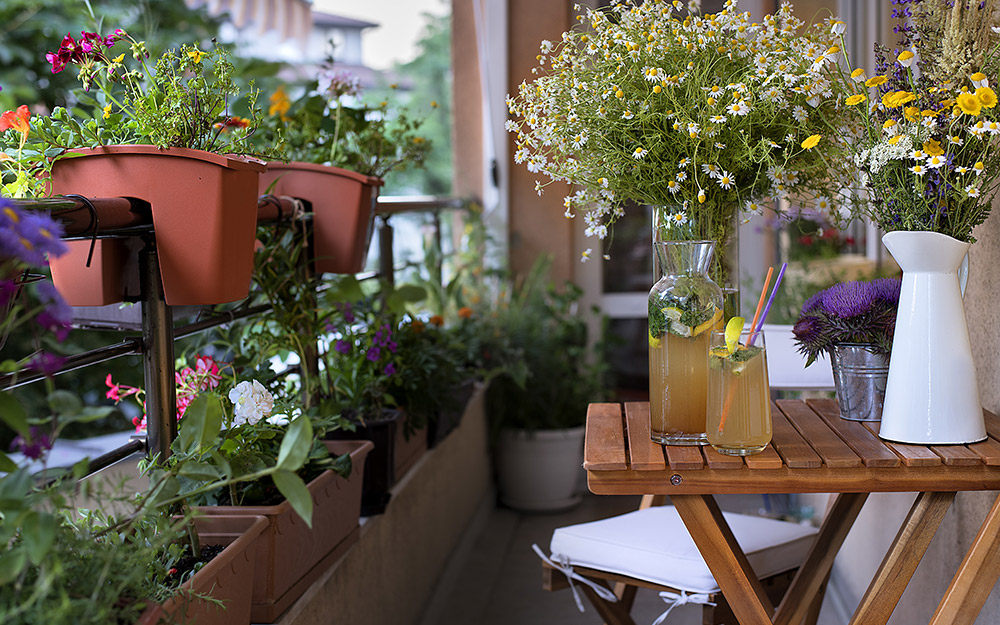 Bring some life to your balcony with container gardening. Fill planters with flowering plants of your choice, set up flower boxes to adorn your railing or create a simple shelf to hold smaller potted greenery.
Go the extra mile by installing a plant trellis made from wood or plastic. Place the trellis against a wall and let the plants grow vertically. This takes up less space and is a great way to add a garden on smaller balconies. Your balcony trellis can also be positioned as a protective screen to offer additional privacy.