A balcony is a great spot to relax and enjoy the weather. You can create an inviting balcony space with a few simple pieces and a little imagination. This guide shows you small balcony ideas, large balcony ideas and ways to dress up your outdoor space on a budget. Get inspired by the 12 balcony decorating ideas below. 
Chic & Small Balcony Ideas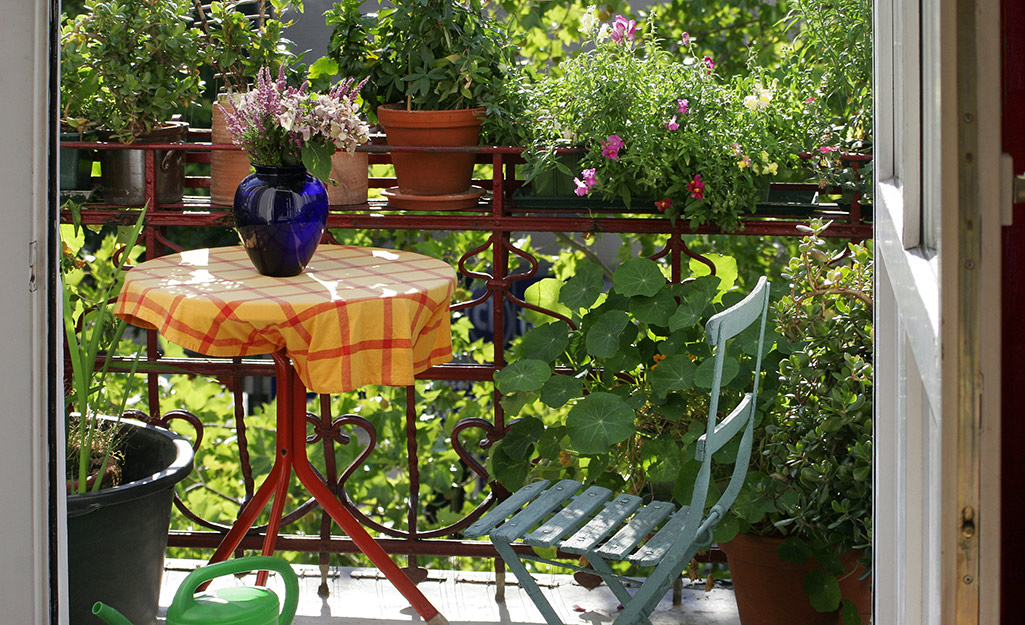 Invest in outdoor furniture that fits the space. For example, bistro sets are a classic small balcony decor idea. Use one to create a cozy nook for morning coffee and afternoon breaks. Add a punch of color with a bright tablecloth or a striking vase. 
Classic Balcony Furniture Ideas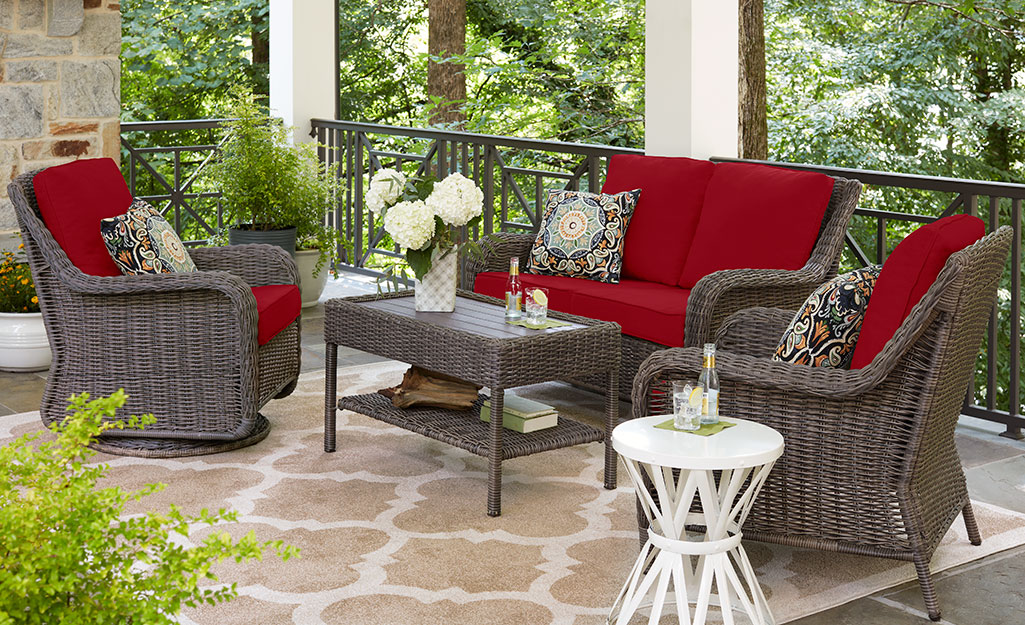 When you have the space, you can't go wrong with a matching patio set in traditional wicker. Define your seating area and add texture with an outdoor rug. Outdoor rugs are also the perfect solution for cement or concrete balconies that may have unsightly cracks or stains.
Modern Balcony Ideas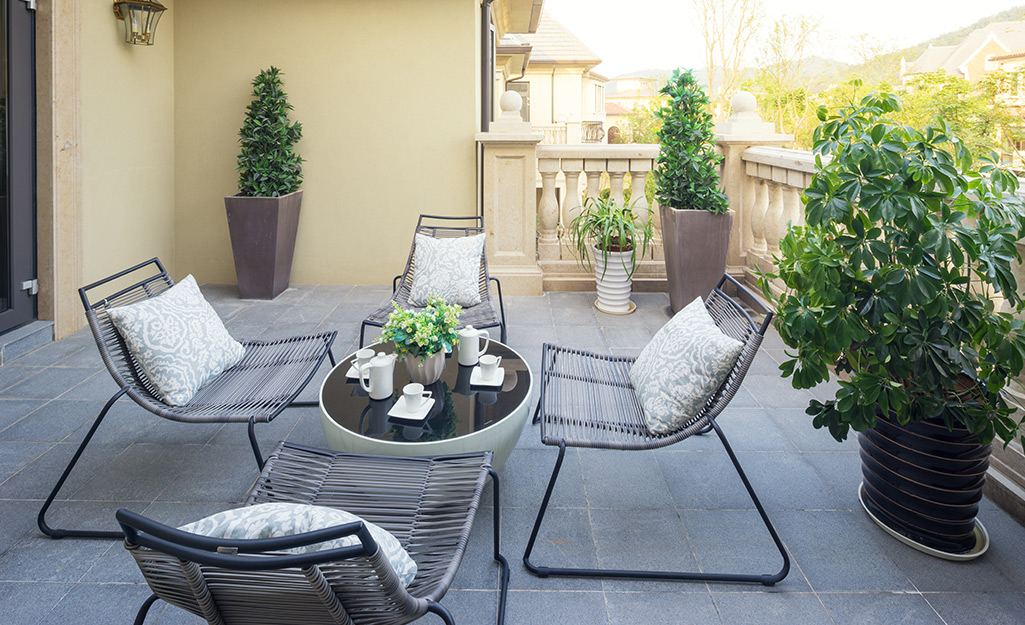 Fill a large outdoor area with a spacious patio set and enough patio chairs for the whole family. Go modern with balcony seating in wood, whicker or a sleek black metal patio set paired with oversized planters in angular shapes and earthy shades.
Apartment Balcony Privacy Ideas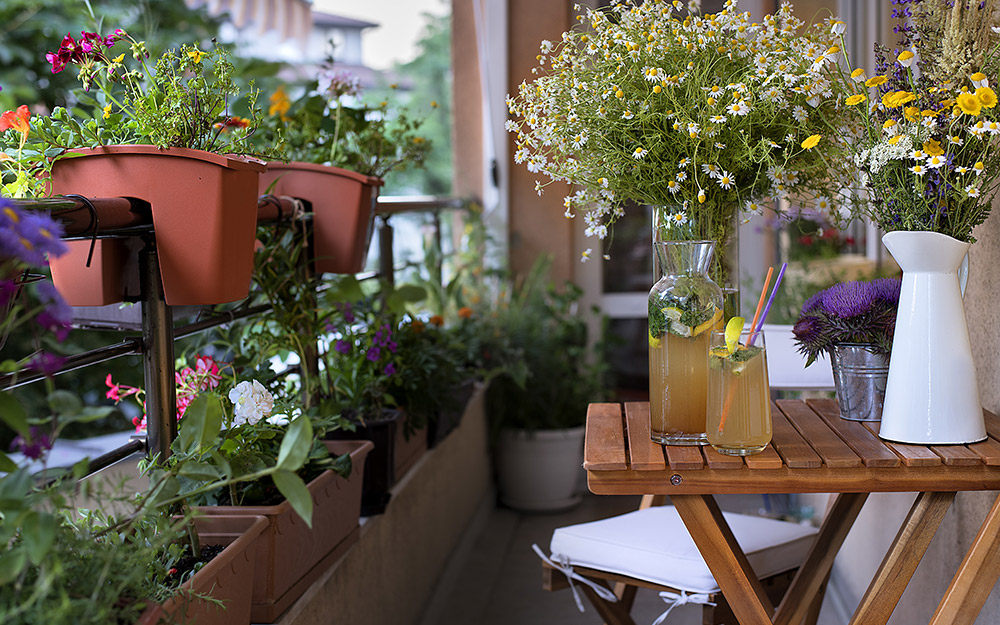 Making your balcony more private when living in an apartment can be as simple as hanging plants from the railing or installing a plant trellis. Place the trellis against a wall and let the plants grow vertically. This takes up less space and is a great way to add a garden on smaller balconies. 
Balcony Garden Ideas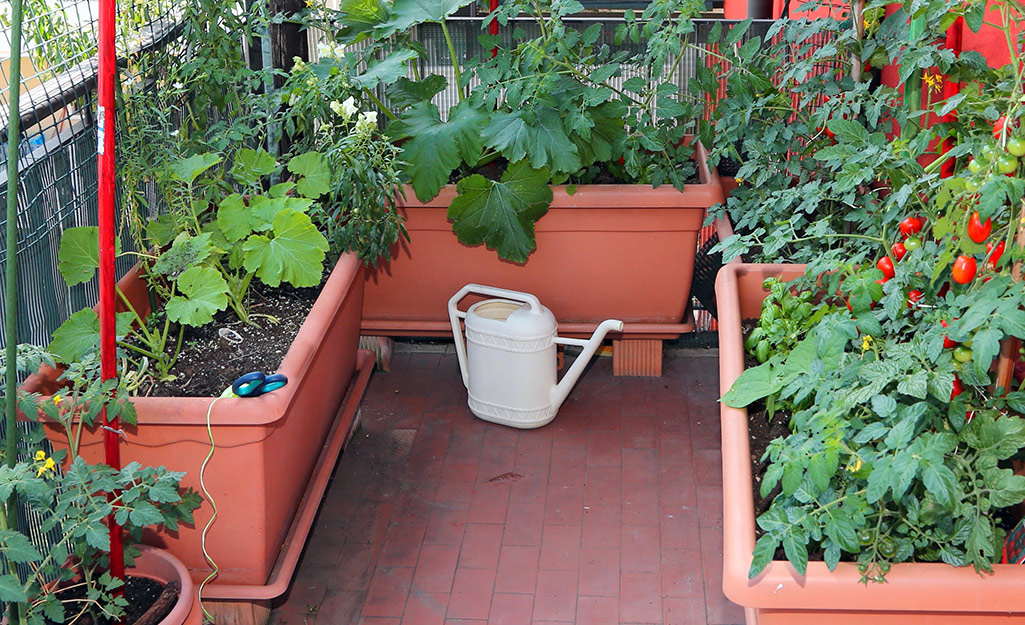 Bring some life to your balcony with container gardening. Fill planters with vegetables or flowering plants of your choice. Set up flower boxes to adorn your railing or hang shelves to hold smaller potted greenery. Depending on your area, plant sun-lovers such as salvia or those that thrive in shade like impatiens.
Dine Out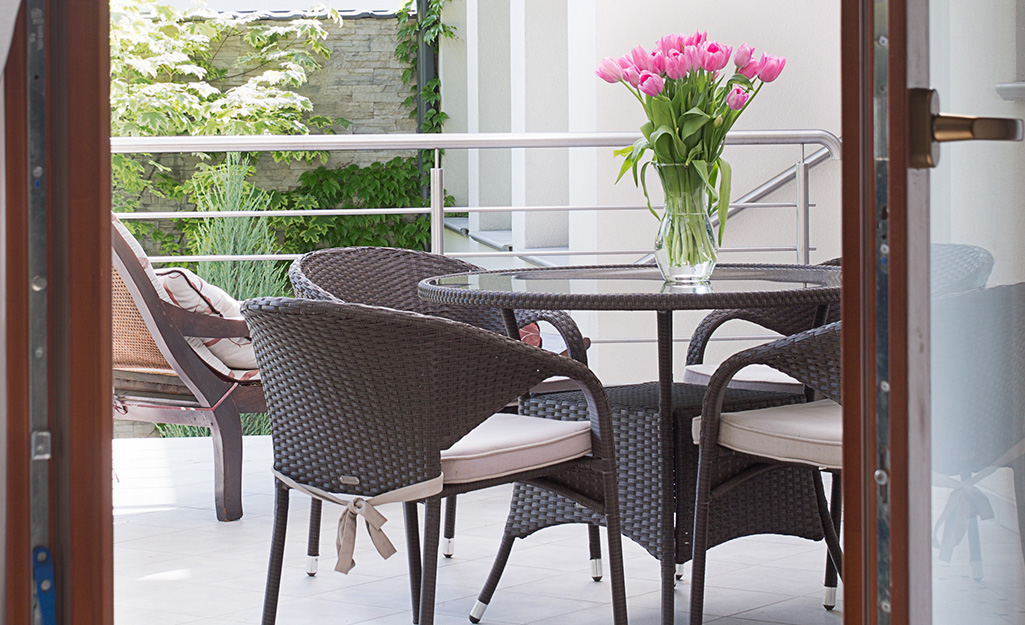 Here's a smart balcony decorating idea that's both festive and relaxing: move your dining room outside. Make room for everyone with a round table and add padded seating that provides enough comfort for hours of conversation. Use hanging shelves to display plants or for storage.
Tip: For an unobstructed view over your railing, consider using the added height of bar stools and an equally tall table.
Colorful & Cool Balcony Ideas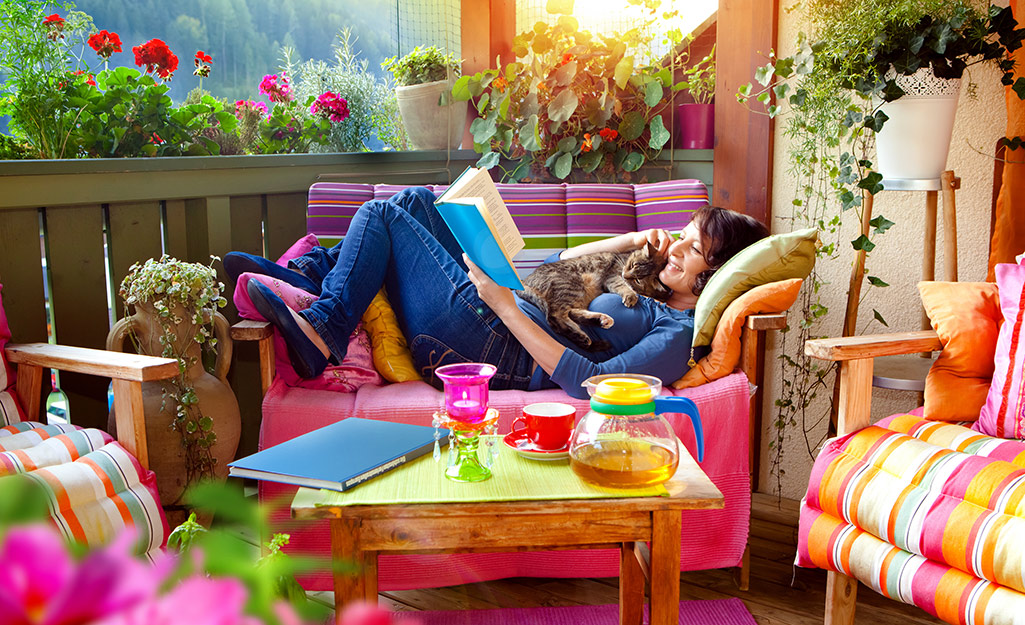 Make your balcony beautiful with color. Choose bright, vibrant fabrics for eclectic style. Mix patterns and textures for a sophisticated take on the look. Consider whimsical balcony ideas such as vintage seating, hammocks or hanging chairs. 
Tip: Give your place in the sun a touch of shade with an outdoor umbrella or retractable awning.
Luxe & Large Balcony Ideas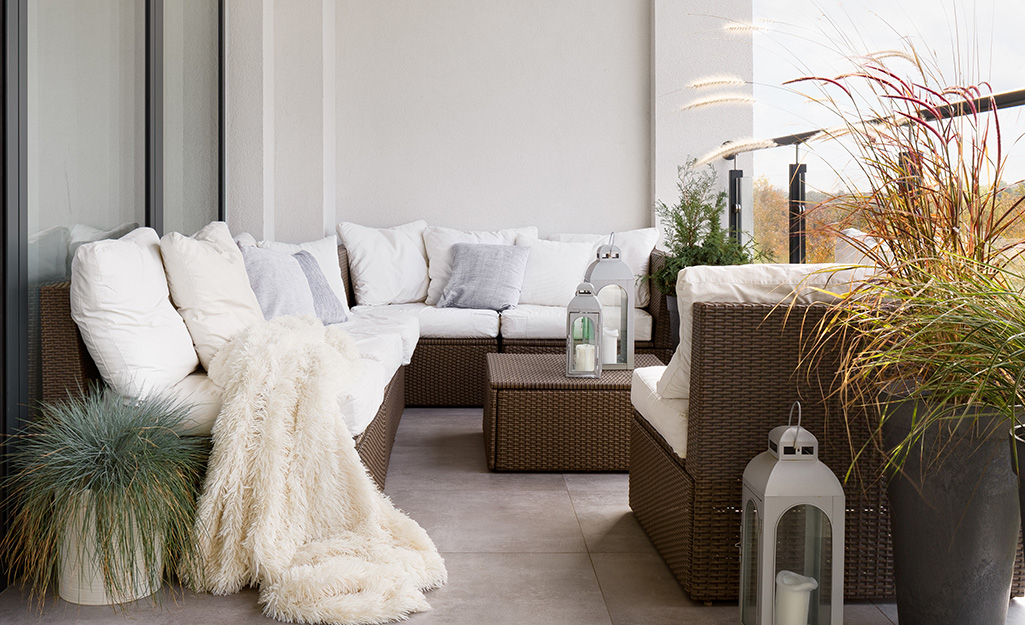 Transform large balcony ideas into lovely, luxe spaces with lounge-worthy outdoor sectionals and indoor living touches such as faux fur throws and an abundance of plump pillows. 
Outdoor Family Room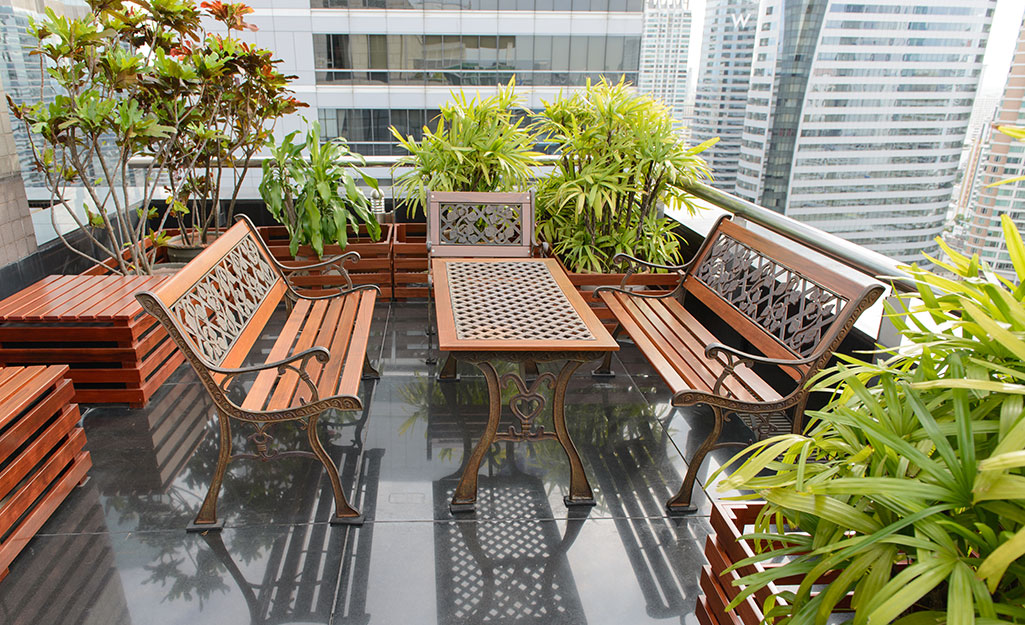 One of the best balcony furniture ideas are outdoor benches paired with a matching table. Roomy yet streamlined, benches fit nicely in both large or small spaces. Choose a classic wood look reminiscent of a day in the park. 
Small Balcony Decor Ideas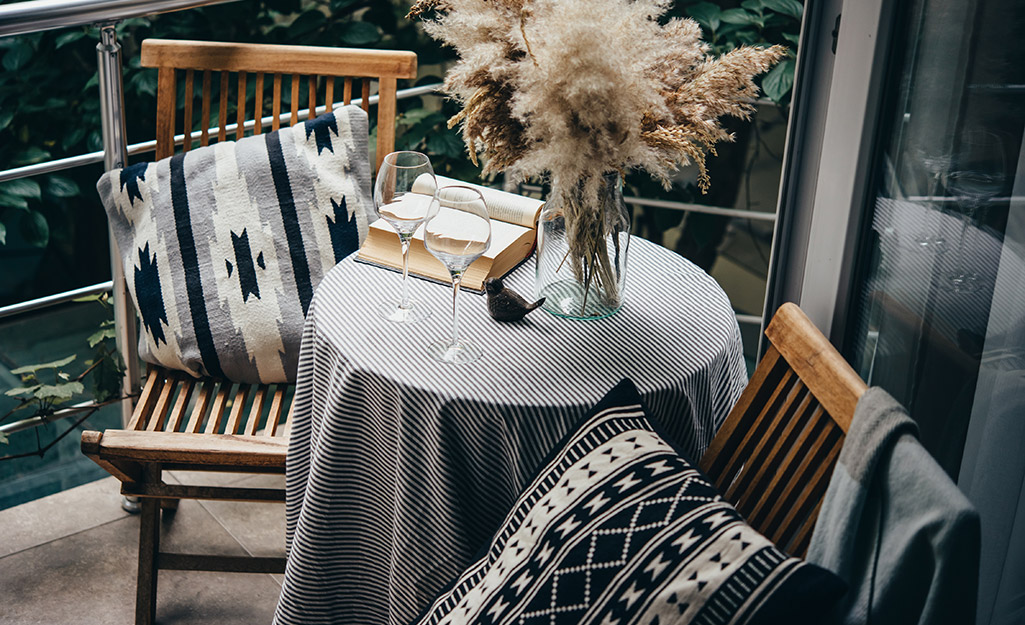 Give a small balcony a feeling of opulence with oversized outdoor pillows. Available in a variety of colors, sizes and shapes, they provide visual intrigue to your outdoor space and can pull together your decor theme.
Space-Saving Balcony Ideas
Not enough room for a patio set? Try an outdoor ottoman and small tray table. Small but comfy, an ottoman provides enough seating for one while the tray makes bringing drinks and snacks out a breeze. Lower seating will also give the illusion of more space. 
Balcony Decorating Ideas with Lights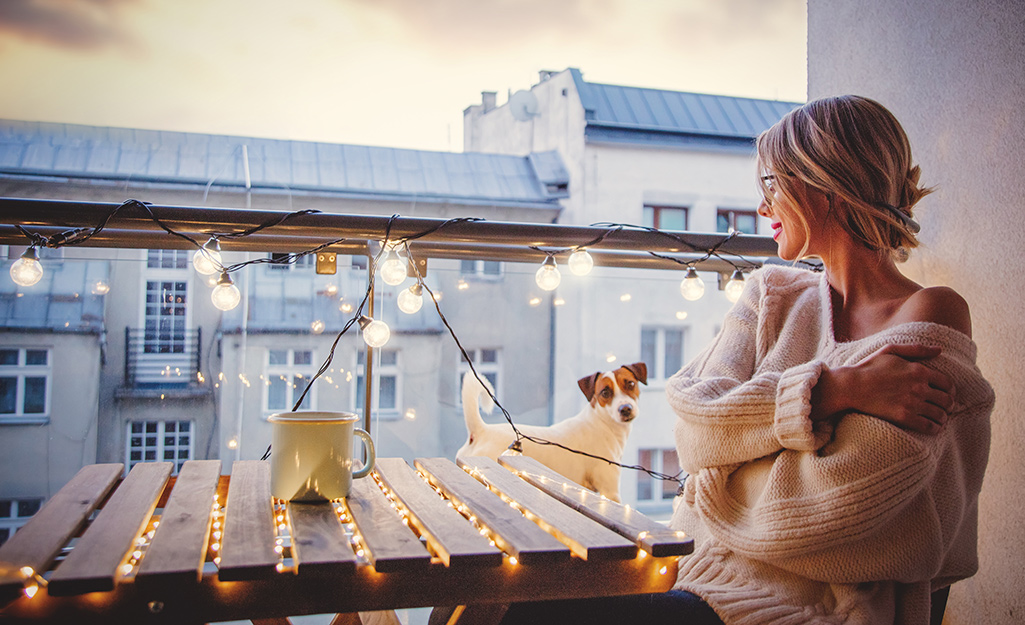 Illuminate the balcony with a set of string lights for a warm and welcoming atmosphere. Whether they're hanging from your balcony's ceiling or wrapped around the railing, these add whimsical charm to any space and offer gentle light once night falls. Or use decorative outdoor lanterns powered by traditional or flameless LED candles.
After you've found the perfect balcony decorating ideas for your space, get everything you need. From furniture to outdoor decor, The Home Depot delivers online orders when and where you need them.
Explore More on homedepot.com