Use these colorful container garden ideas to add creative bursts of color to your landscape. All types of gardening can be adapted to accommodate your container gardening and patio gardening ideas. Whether indoors or outdoors, from terrariums to teacups, plant pots to barrel planters, there are many creative ways to dress up your greenery, flowers and edible garden plants.
Container Garden Designs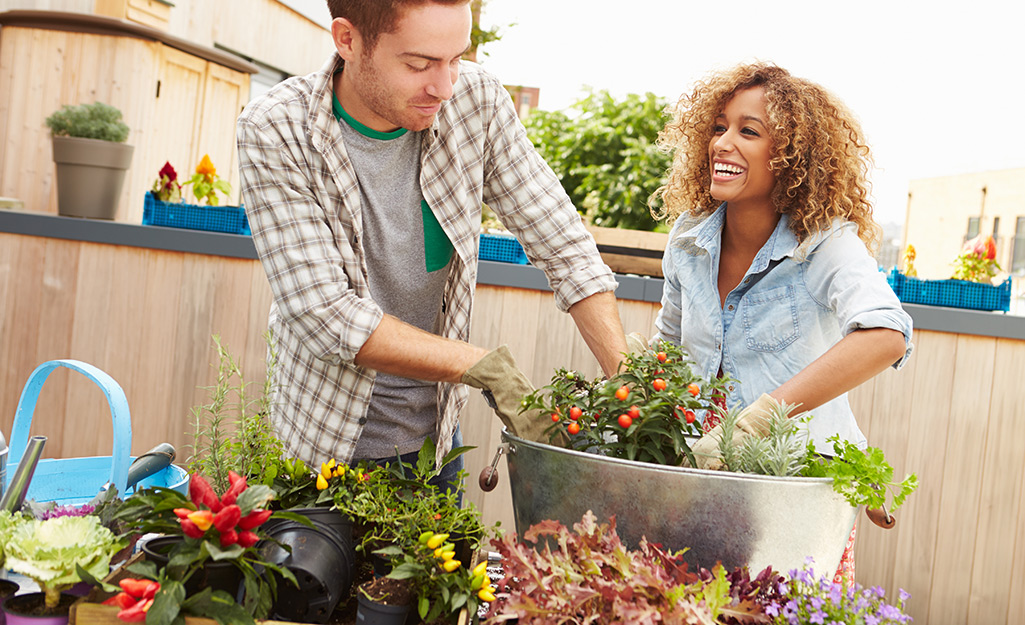 If your planters will be located outdoors, choose containers based on your decor style and any climate concerns. Make sure your container is large enough to hold all of the plants you want to use (18 to 24 inches in diameter is a good size range to start with). Your container should have drainage holes in the bottom. You can drill holes, if necessary. In the garden, a water source should be easily accessible so you can keep up with the watering schedule.
The right soil is crucial to the success of your planting. Use high-quality potting soil with good water retention. Mix in the appropriate nutrients depending on the types of plants you've chosen. Feed plants every few weeks or as recommended with quality liquid fertilizer.
How to Thrill, Fill and Spill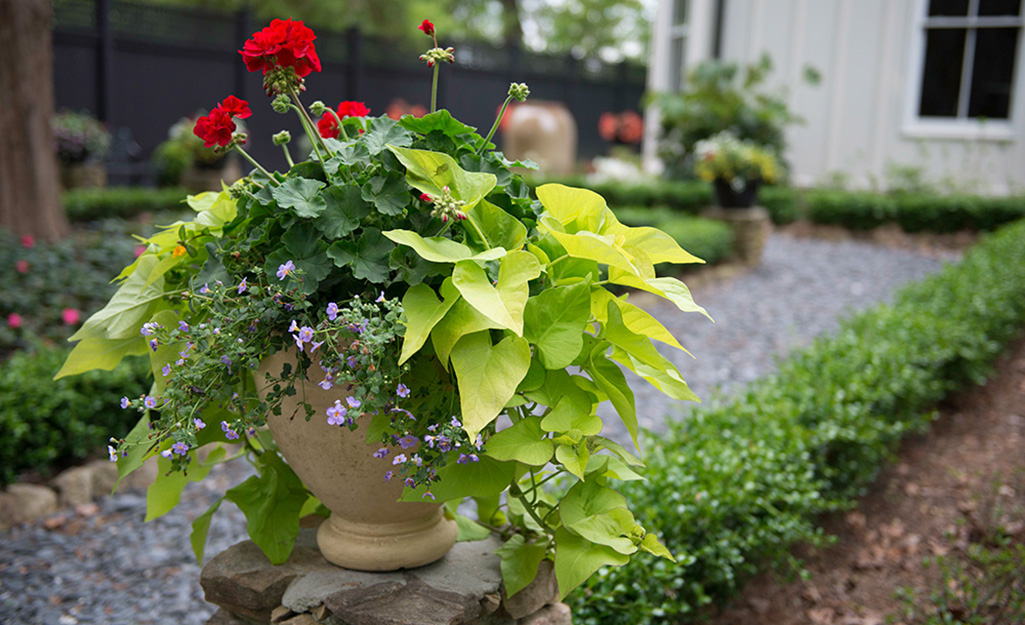 Plant combinations using the "thriller, filler, spiller" method are the easiest way to make your outdoor planter ideas come to life.
Anchor the planter with a vertical, architectural-style plant as the "thriller" element. Surround it with a medium-height plant as "filler" to fill in additional space and frame the plant. Lastly, choose softer plants that tumble out of the edge of the container towards the ground. This is the "spiller."
Change Plants with the Seasons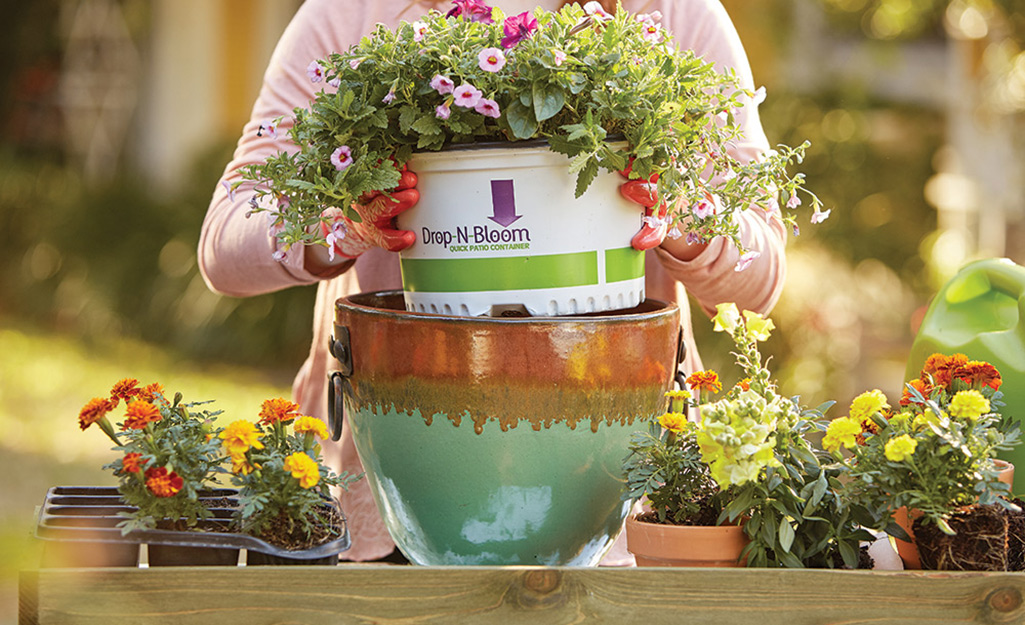 Use planters to rotate a seasonal array of annuals to punctuate your decor. Easily swap out the washed pastels of spring for the sunny yellows of summer. Use vibrant reds and oranges for fall. Christmas favorites like poinsettias brighten the holiday season. Use seasonally appropriate planters for an even more festive touch.
Group Containers Together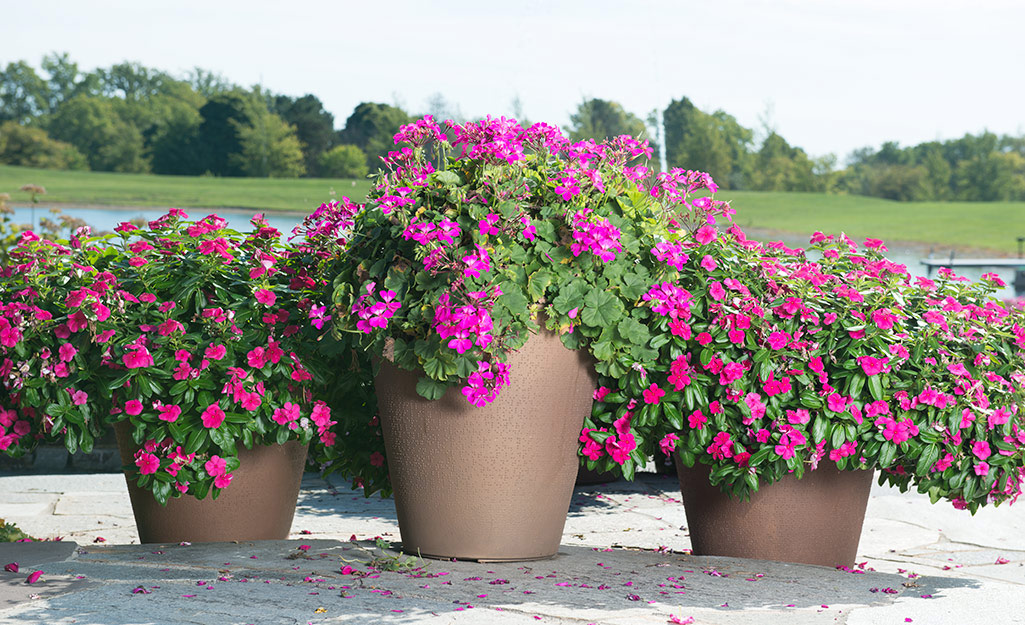 Arrange a planter collection along a walkway or flanking an entry door for a welcoming burst of color.
Group small or medium-sized containers for maximum impact. A corner filled with terra cotta containers of many sizes will look luxurious. Use the thriller-filler-spiller idea here, too. Put the tallest in the center or back, place groups of fillers in the middle and arrange cascading elements around the perimeter.
Grow Vertical Gardens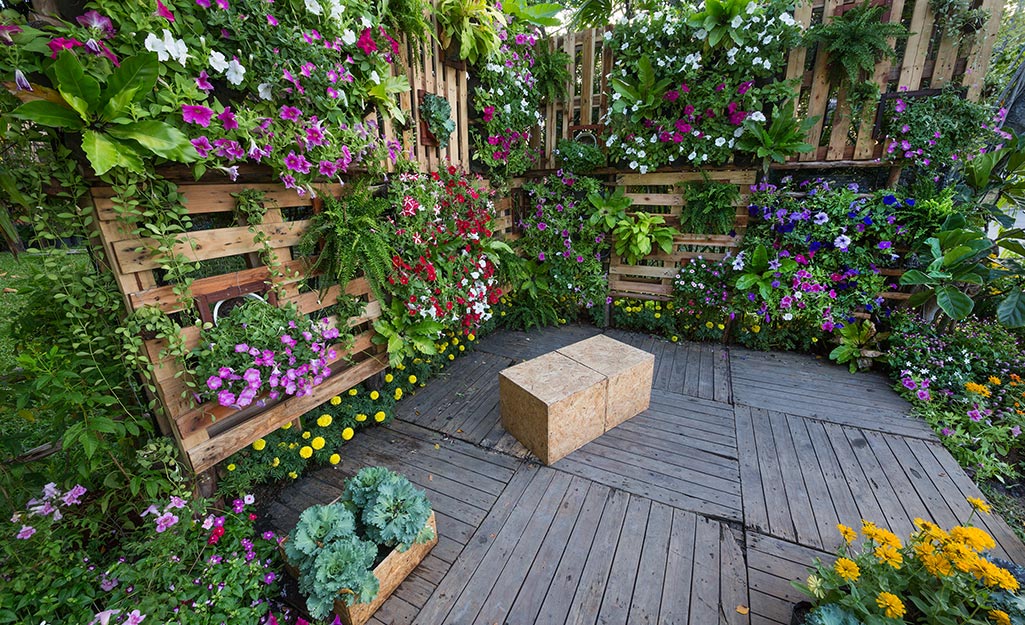 Take your gardening to new heights by creating a vertical garden wall. Vertical garden planters are both architecturally interesting and space-saving.
Grow Edibles in Containers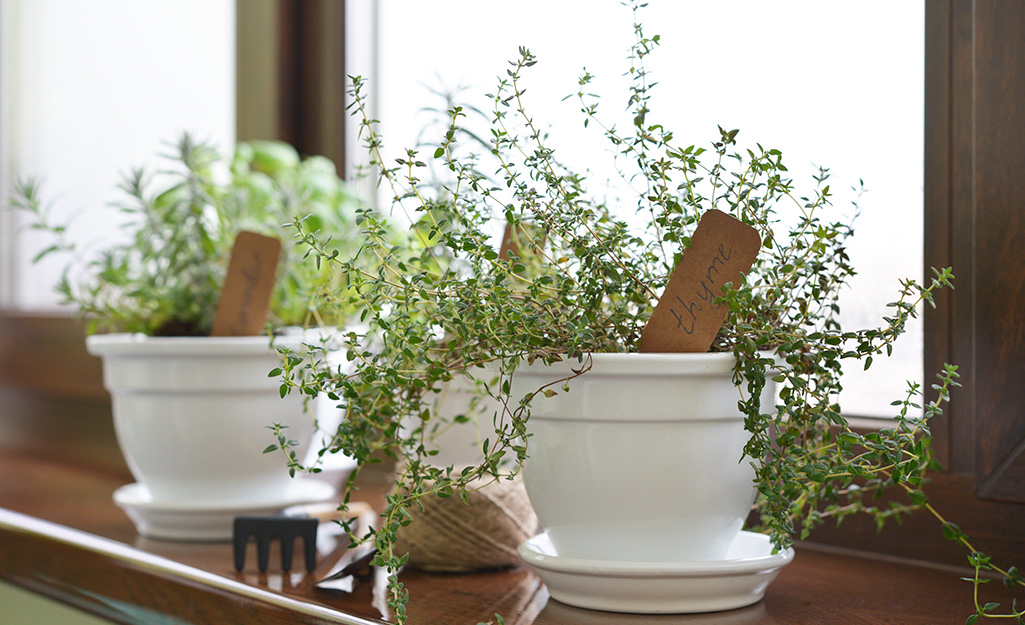 Create edible gardens in planters with herbs or compact vegetable varieties such as lettuces, kale, cherry tomatoes and peppers. These smaller varieties often have generous yields. You can keep a container of herbs growing indoors year-round.
Tip: Use a large container and add frames or tomato cages to combine low-growing and climbing vegetables. This lets you grow more in less space.
Plant Ornamental Grasses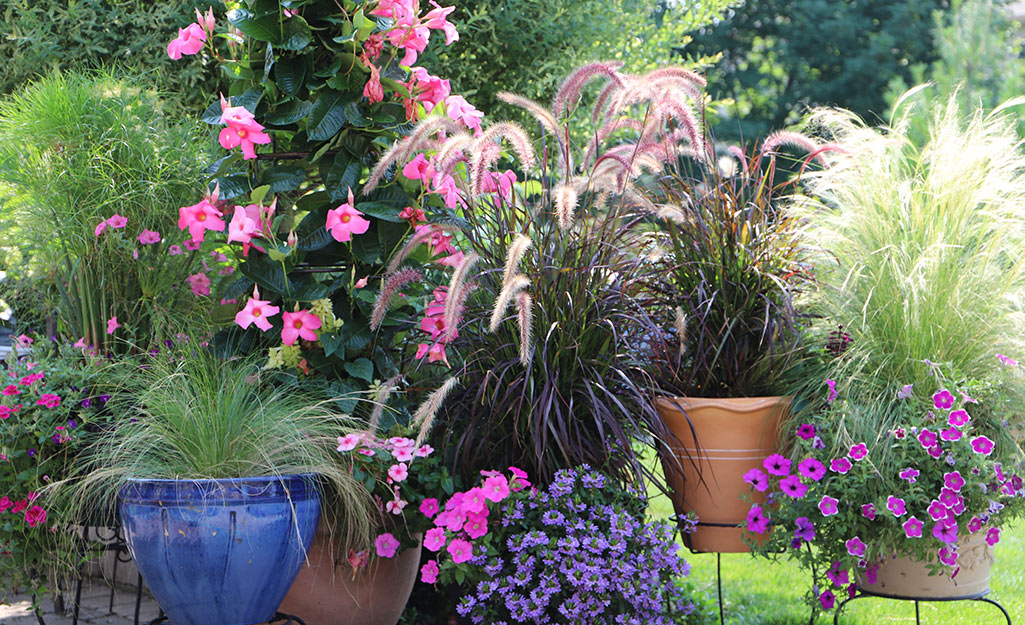 Ornamental grasses are easy and low-maintenance plants that add drama to your landscape. Plant grasses in tall, narrow planters to complement the plants' shape. Learn more about types of ornamental grasses.
Beachy Beauty in a Container Garden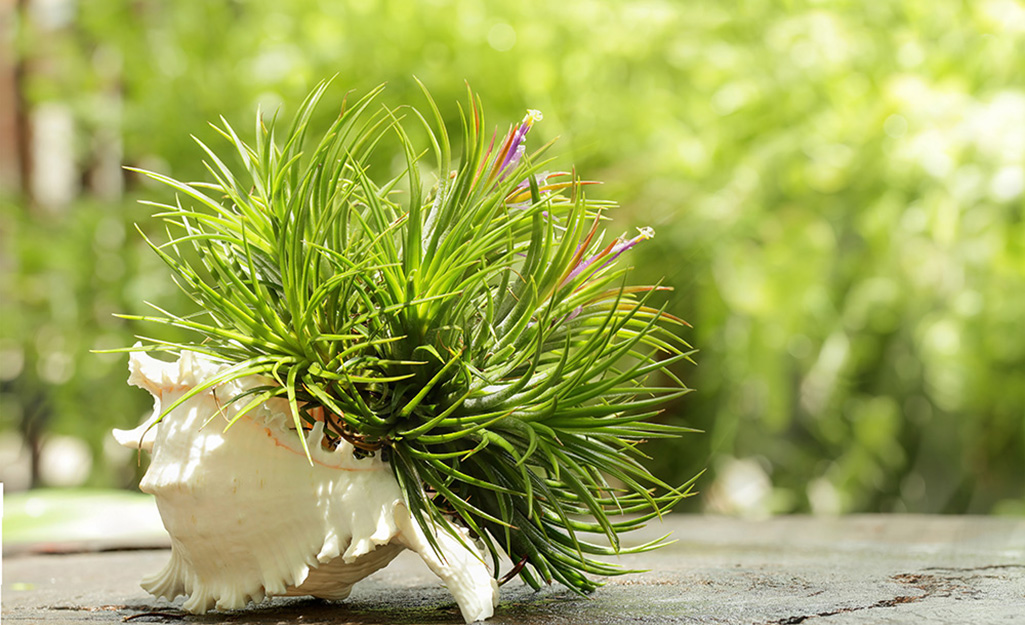 Go coastal by creating a beachside scene in a planter. Fill a wide, shallow planter with potting soil and choose two or three succulents or small ornamental grasses. Arrange the plants in the soil, add washed sand and decorate with pieces of beach glass, shells or small driftwood. You can also plant a single beach plant in a large shell for an interesting memento.
Plant in Creative Containers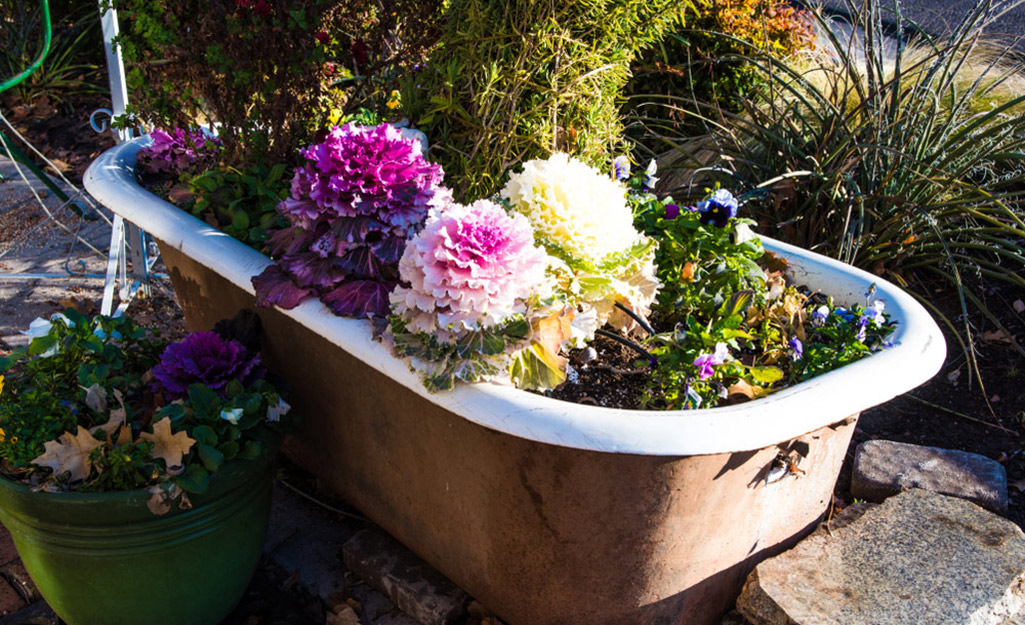 Found objects can make interesting planters or flower pot holders depending upon their construction. For example, use an old ceramic bathtub as an outdoor planter with minimal construction required.
Place it in the sun or shade, as the plants require, then fill it with soil and plants. The drain at the bottom of the vessel removes excess water. Alternatively, simply fill it with a layer of river rock or gravel and group other planters inside the tub. This will make it easy to rotate plants seasonally in and out of the quirky landscape feature.
A large, sturdy planter can become living garden furniture itself. Position an 18-inch stone planter near your patio furniture in a lightly shaded area. Plant with hardy, drought-tolerant succulents, leaving about 4 to 6 inches of room from the top of the tallest plant to the rim of the container. Cover the planter with a tempered glass table top about 24 inches in diameter. This combination table and greenhouse makes an interesting patio feature, and the top will only have to be removed periodically for watering.
Tip: To reduce the overall weight and the amount of soil needed for large containers, partially fill them with packing peanuts or empty plastic bottles. Spread a layer of newspaper and then cover with potting mix.
Grow in Hanging Baskets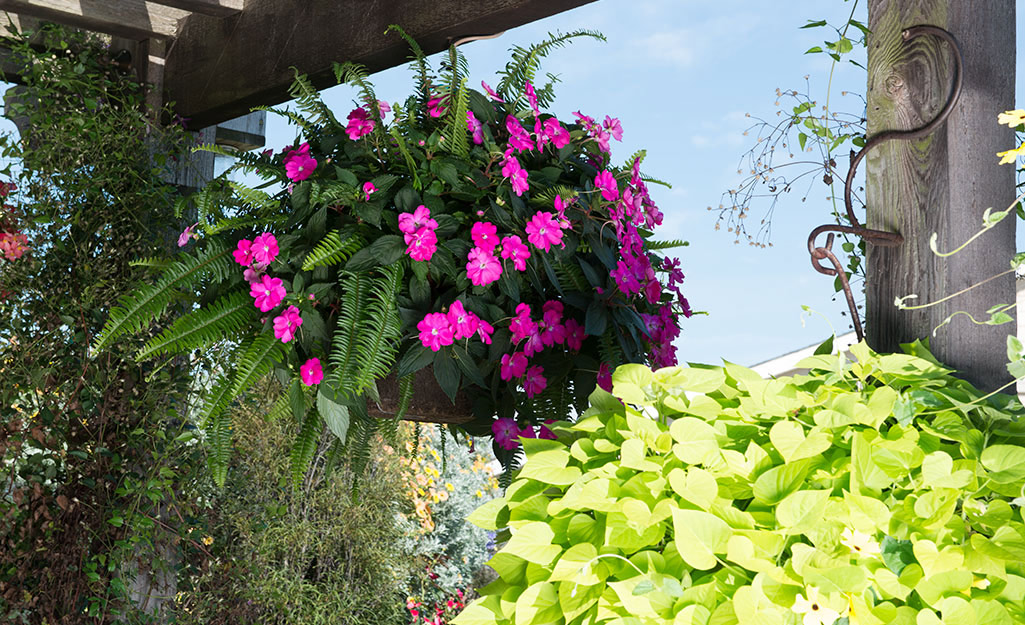 For an easy project, find an area on the porch that needs a pop of color and install hooks and chains. Select your plants. Then, choose a ready-made container with colors and flowers you love for either a sunny or shady spot.
Remember to read plant tags to understand how much and when to feed your plants. When the top of the soil is dry to the touch, water until it trickles out the drainage holes.
Get creative with finishing touches. You can also use a hanging basket in a container. Just cut off the hangers and pop it in a container for instant color. Learn more about planting hanging baskets.
Planting in a Large Container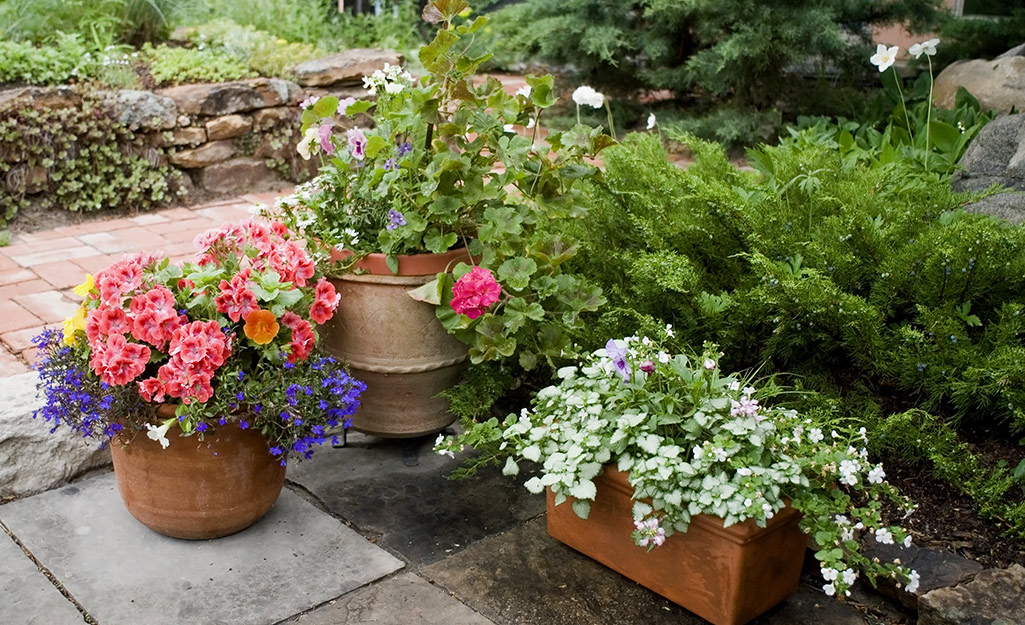 Spring and summer are the ideal time to decorate your front porch, balcony or patio with perennials, hanging baskets and other containers of flowers and ferns. Bigger is certainly better when it comes to curb appeal, and container gardening can instantly create a show-stopping focal point. Large containers (18 inches in diameter and up) have the advantage of holding more soil and needing less irrigation; they also hold more plants. If planter pots become difficult to move, use plant caddies for portability. Read more in How to Create a Container Garden.
Tips for Growing Container Gardens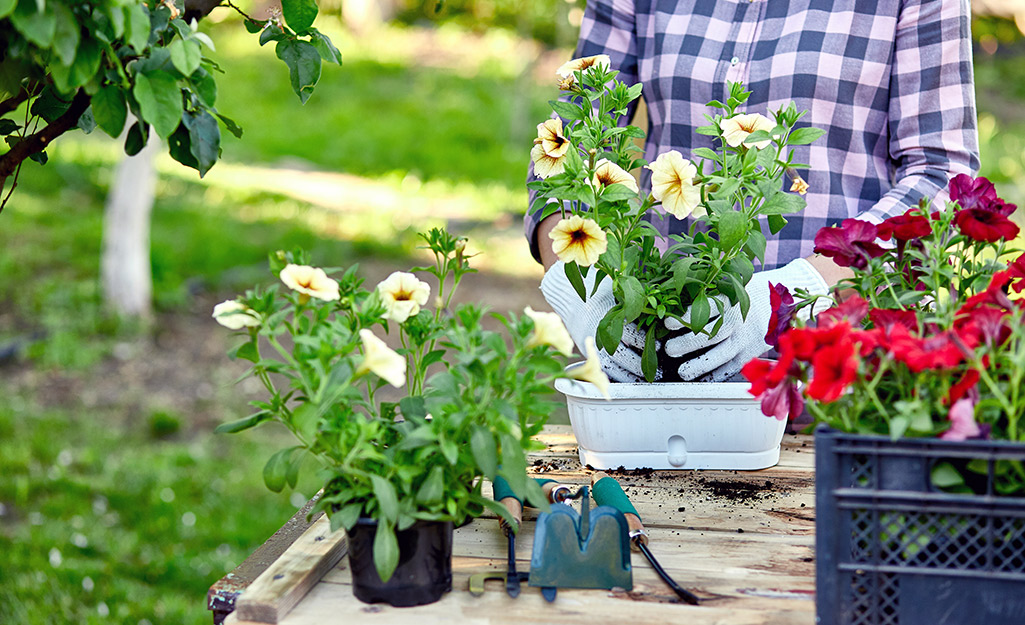 Choose soilless potting mix. Lightweight, well-draining, moisture-retaining potting soil is the key to providing adequate drainage while nourishing plants' roots. An exception is if you're planting succulents. In that case, choose the soilless potting mix designed especially for desert and cactus plants.
Regularly feed with an organic fertilizer. All that watering and blooming means nutrients get washed out. Fertilize once a month to keep the show going.
Consistently water. Roots are more compact in a container, so frequent watering is necessary to keep plants happy. If you have a lot of containers, consider drip irrigation to help out with the watering. In the heat of summer, most containers will need to be watered at least every other day, and sometimes twice in one day. On the other hand, some plants like it dry. Ornamental grasses, succulents, sedums, geraniums, zinnias and marigolds can take hot and dry conditions. Herbs like rosemary, oregano, sage and thyme can take the heat, too.
As you get ready for the season, here's how to clean last year's planters: Discard all plant material and soil and use a scrub brush to remove any stubborn dirt and salt deposits. Fill a big container such as a wheelbarrow, or large galvanized tub with 10 parts water to 1 part bleach (a 10 percent bleach solution). Submerge the pots and let soak for 10 minutes. Scrub the pots, rinse and leave in the sun to dry.
For a quick splash of color and guaranteed success, buy ready-made containers with ferns or flowers. You can also buy ready-made combination planters, or get creative with your favorite flowers, grasses and foliage.  From planters and baskets to soil and fertilizer, we can help you find everything you need to get your container garden ideas up and off the ground. The Home Depot delivers online orders when and where you need them. 
Explore More on homedepot.com