Enjoy the weather in style by creating a beautiful, functional patio for your home. Even if you're working with limited outdoor space, you can find ideas for decorating a small patio and make a big impact. Read on for both luxe and budget-friendly small patio ideas. Get tips about including the right seating, lighting plus ideas for decorating a small patio.
Small Patio Outdoor Dining Ideas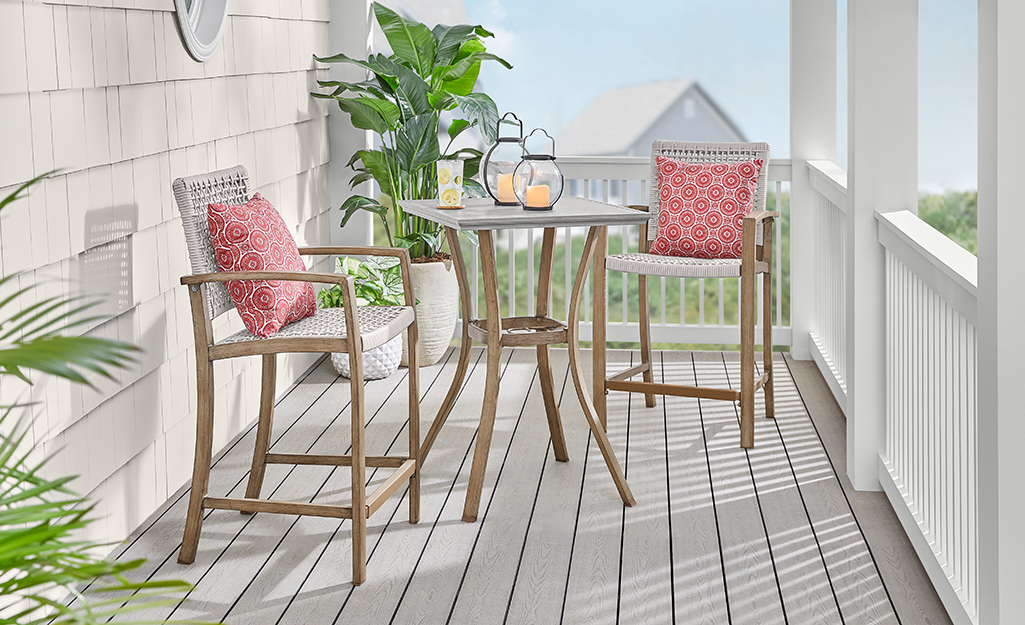 Prioritize your time outside by making an outdoor dining area your patio's focal point. Since you're decorating a smaller space, choose a size-conscious option like a patio conversation set, a quaint bistro set or a slim rectangular table. Many outdoor tables have matching chairs or you can mix and match for a more whimsical look.
Small Patio Shade Ideas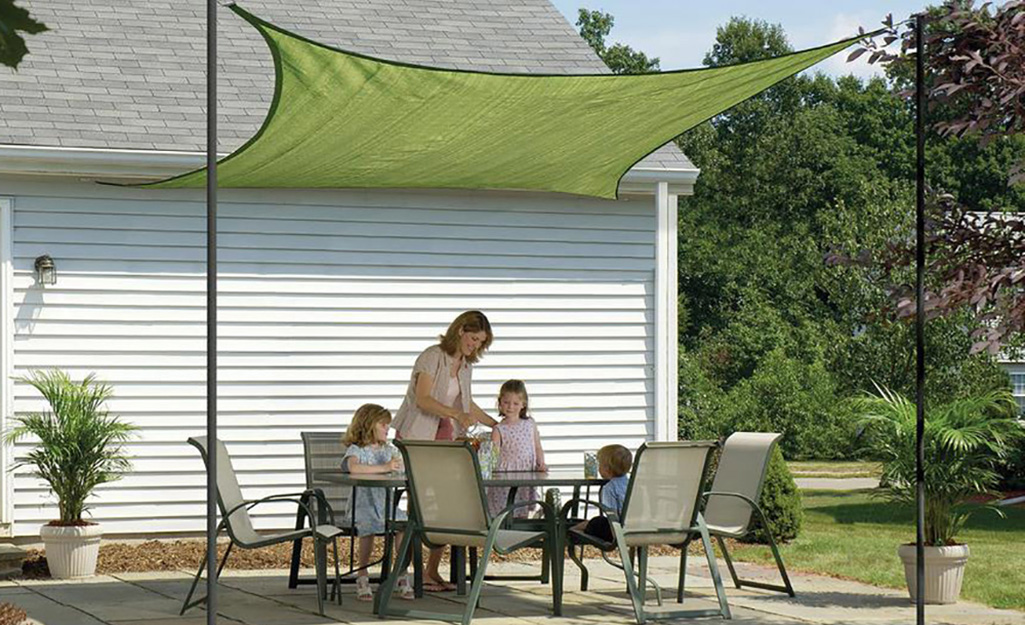 Install sun sails for a modern take on the traditional patio umbrella.  Available in a selection of attractive colors to enhance your decor, they provide ample shade and help to block out harmful UVA and UVB rays. Sun sails are an affordable shade option, and since they're hung overhead, they take up minimal space.
Small Patio Outdoor Seating Ideas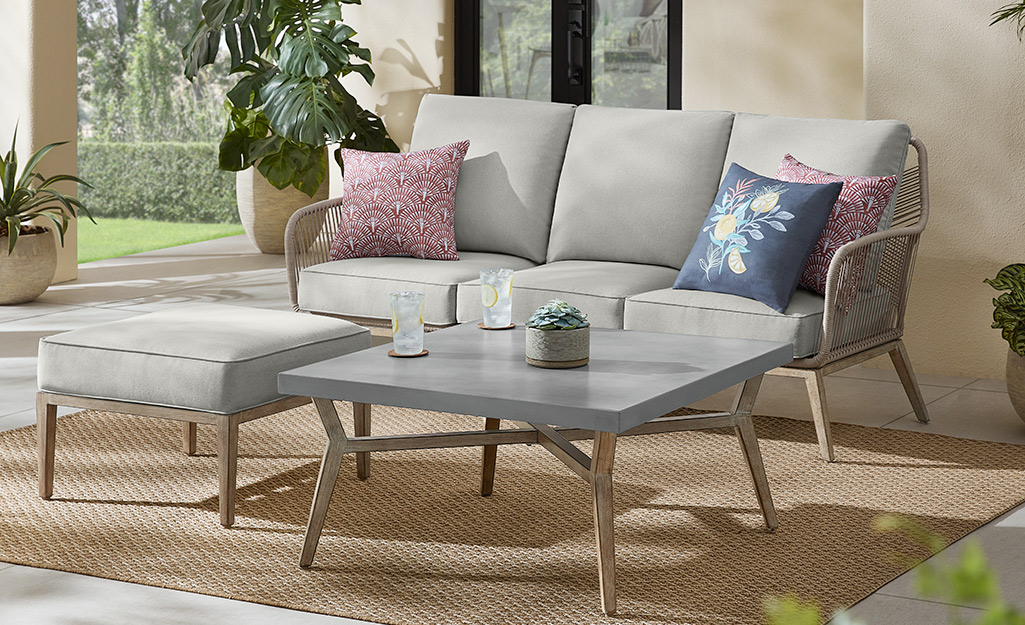 Bring the comfort of your living room outside with a cushioned seating set. Choose a small sofa or two lounge chairs, then add an ottoman or coffee table if your space can accommodate these pieces.
Outdoor loveseats are available in an array of high-quality materials like dark wicker, woven steel and acacia wood.  Accent the furniture with outdoor pillows and outdoor rugs in whichever color or pattern best fits your style.
Small Patio Decorating Ideas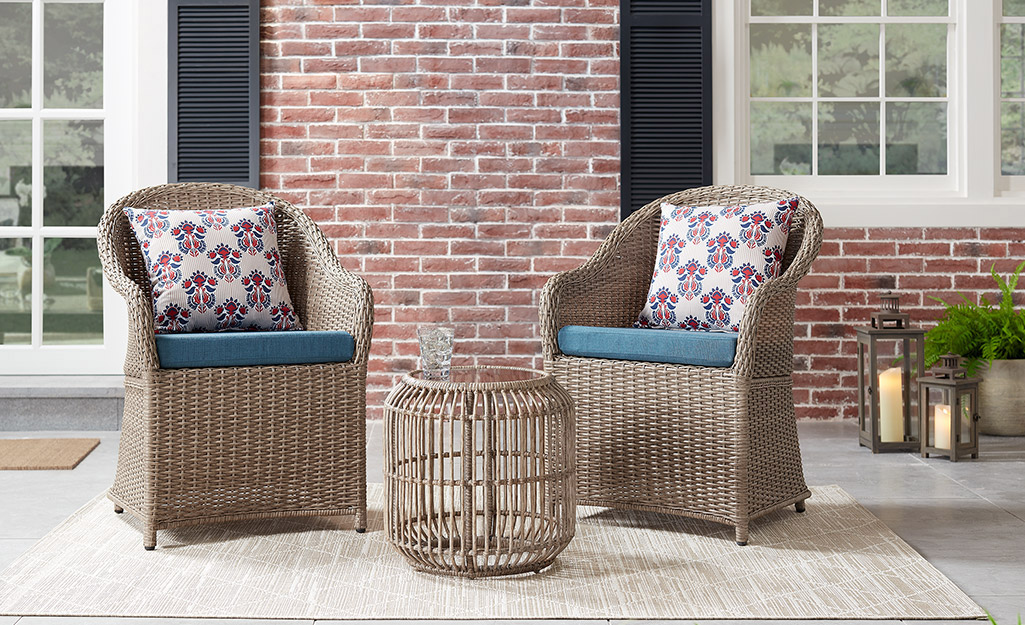 Decor is one of the easiest ways to create an inviting space. When decorating a small patio include outdoor pillows with vertical stripes and narrow planters for tall plants. Avoid choosing wide pieces that consume floor space and create the illusion of a cramped patio.
Brick Patio Ideas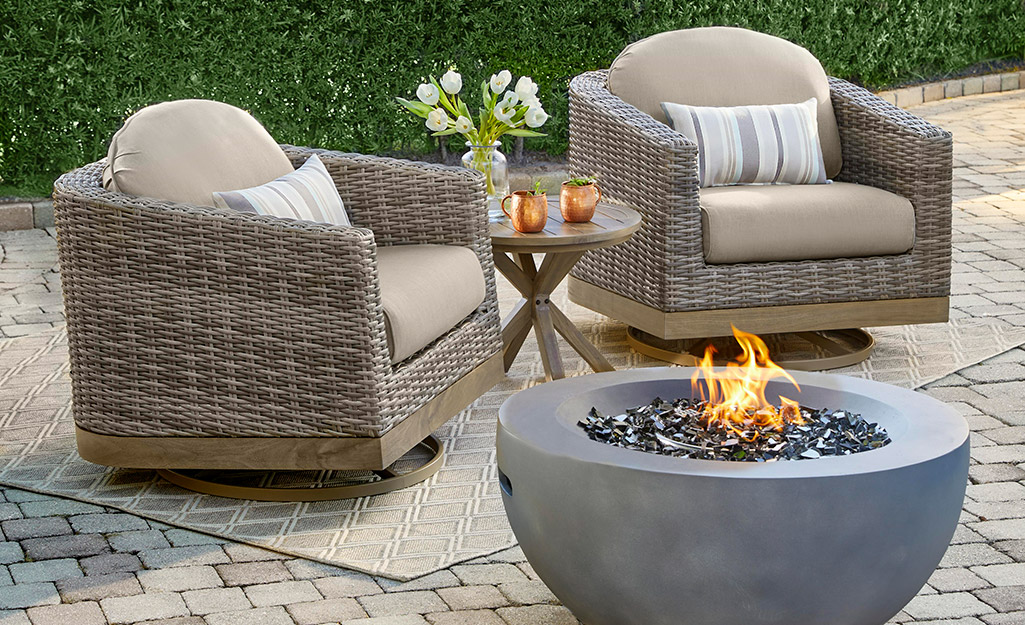 A small brick patio often has charm already built into it. Use a minimalist approach when the outdoor space is made from bricks or pavers. Highlight the construction of the patio and don't cover up or distract from the space.
Covered Patio Ideas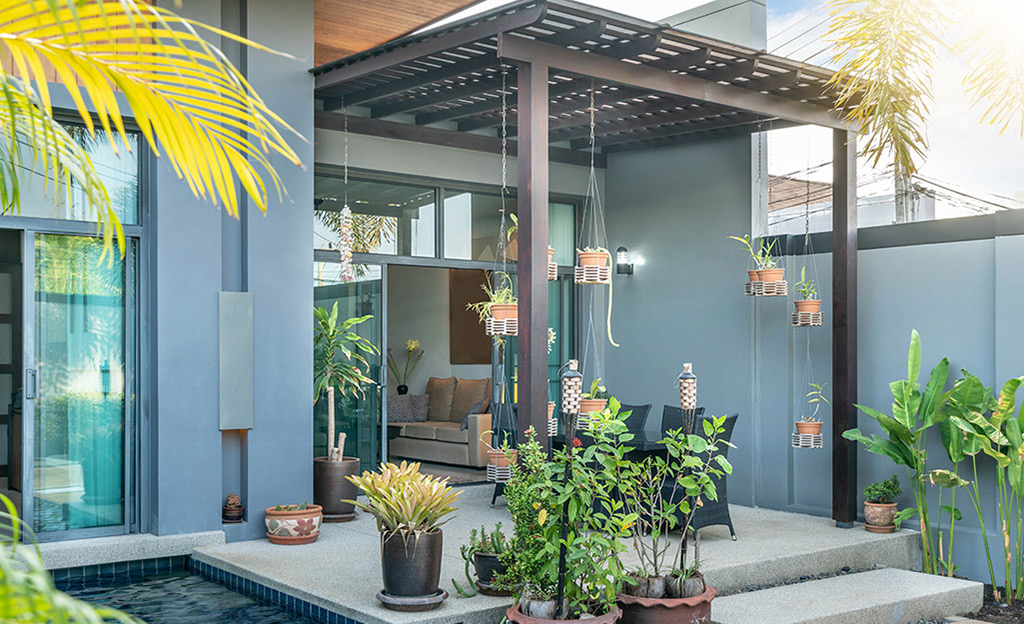 The bright sun or a light rain shower won't keep you from enjoying your outdoor space if you have a covered patio. The solution doesn't need to be a permanent fixture. Create your shaded retreat with a retractable patio awning.
Making a Small Patio Space Feel Bigger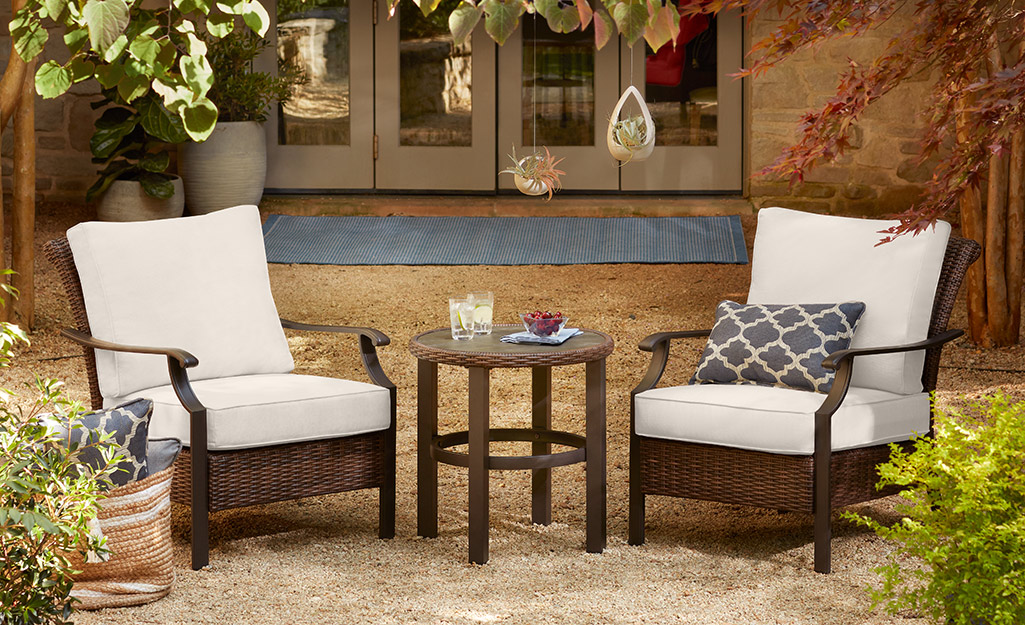 Borrow techniques used for small rooms when thinking about small outdoor patio ideas. Choose pieces of waterproof patio furniture that have a smaller footprint and leave more open floor space. Use tall, narrow planters to draw eyes up from the patio floor. Hang a mirror to create the illusion of a larger space.
Small Patio Design Ideas
Even though floor space can be scarce, the sky is the limit with small patio ideas. Choose decoration and furniture that have vertical design elements. Select a bar-height table with stools that take up less space than chairs.
Budget Friendly Small Patio Updates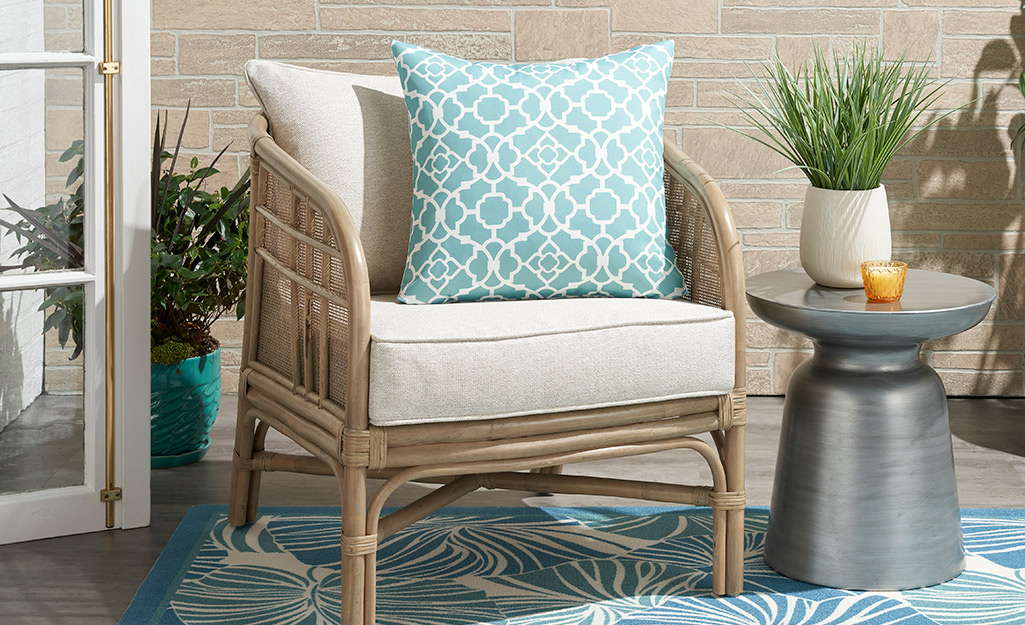 Small outdoor patio ideas don't have to break your budget. Throw pillows and a matching outdoor rug quickly spruce up your space. Use simple planters with succulents, flowering annuals or perennials to freshen your patio. Remove clutter around your small patio by using furniture with hidden storage.
Small Patio Garden Ideas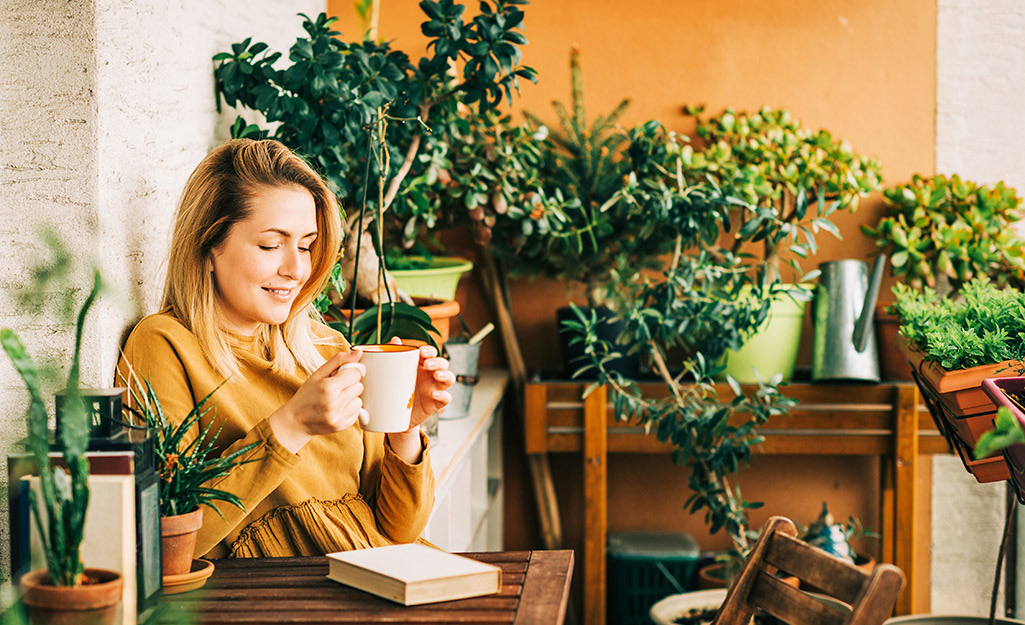 Patio ideas for small spaces should make good use of what's available. Maximize wall space and grow a vertical garden with a DIY planter wall project. Personalize the look by choosing plant pots that fit your outdoor design theme. Place a trellis against a wall and let plants grow vertically for a space-saving solution that can also add privacy on a balcony.
Small Patio Lighting Ideas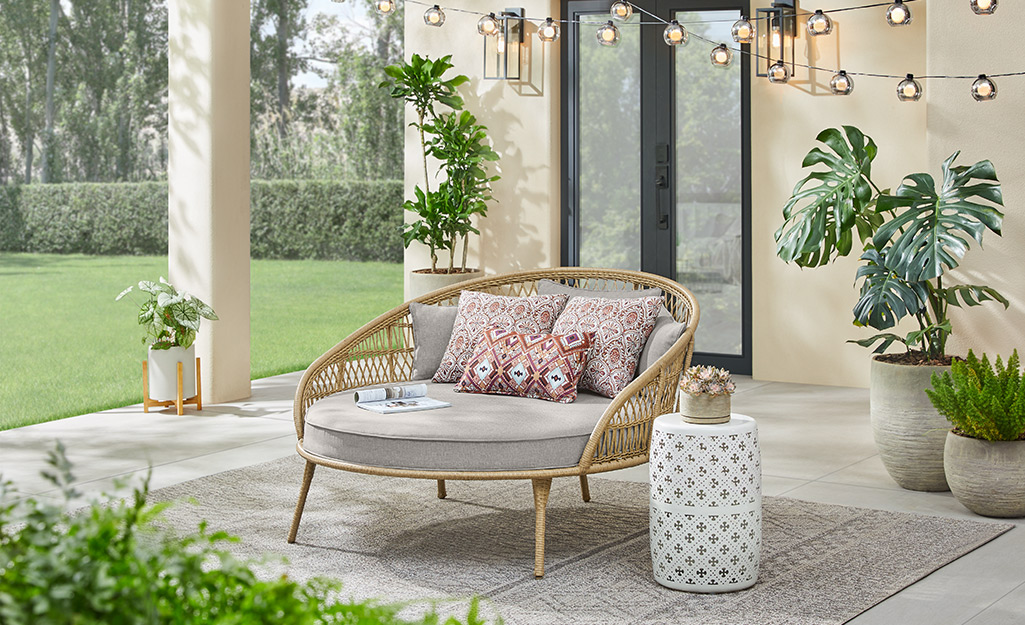 Brighten up your outdoor space with strands of charming string lights. Choose metallic string lights with large exposed bulbs for a contemporary look or lantern-style string lights for a classic accent. 
Having string lights in your arsenal of small backyard patio ideas will draw eyes upward and create the feel of a bigger environment. If you're unable to hang lights, use outdoor lanterns to accessorize and light up the space.
Apartment Small Patio Ideas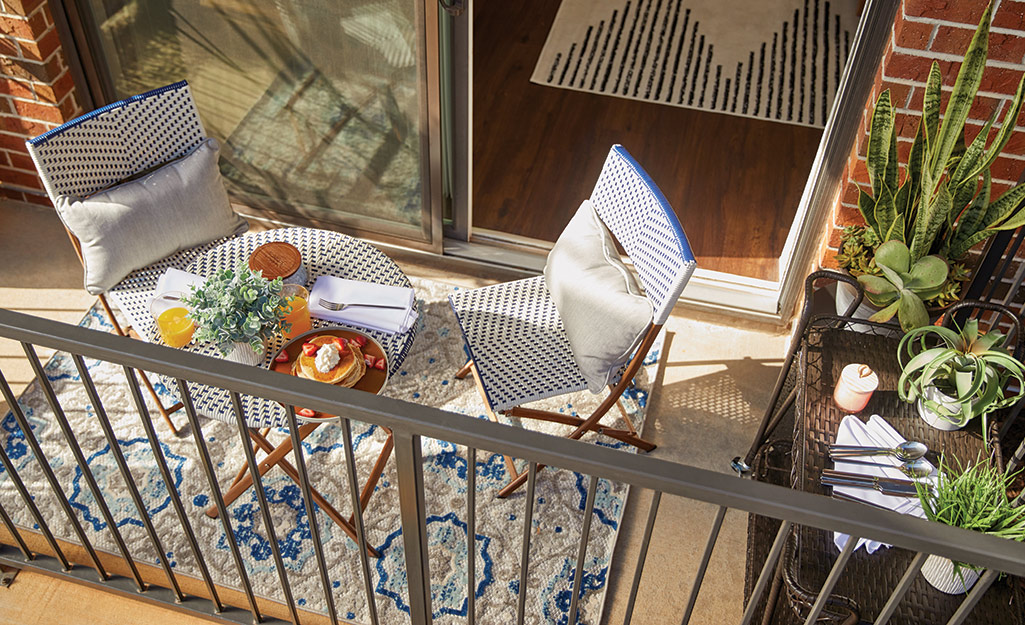 Apartment residents often look for tiny patio ideas. Select pieces that have two purposes, such as a bench with hidden storage. Or take another simple approach with a small table with chairs that can be folded and put away when not in use. 
There are a wide variety of small backyard patio ideas that can work for even the tiniest space. Spruce up a balcony or do a little small patio decorating and instantly create a relaxing outdoor space. Ready to bring one of our small patio ideas to life?  Find products fast with image search in The Home Depot Mobile App. Snap a picture of an item you like and we'll show you similar products.