Make yard cleaning quick and easy with gas or electric leaf blowers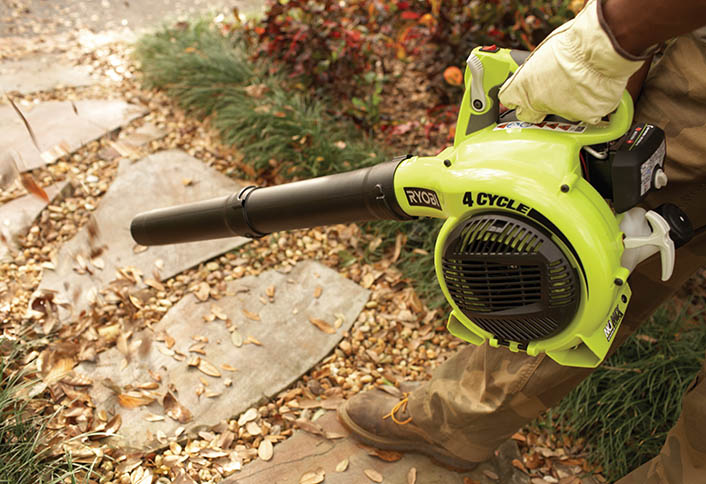 Tidying up the lawn after you're done mowing or corralling a yard full of leaves is easy with the help of a blower.

From removing grass clippings from sidewalks to mulching leaves to cleaning gutters, a blower may prove to be one of your handiest and most versatile tools.

They are powered by either gas or electricity, and come with an array of different features, so this guide will help you understand your options.
Safety: Blowers can be noisy, so use ear plugs or headphones to protect your hearing. Safety glasses will help prevent debris from getting in your eyes and, depending on what materials you're working with, you may want to consider a mask to prevent inhalation of harmful particles.
How Blowers Are Powered
Electric blowers are lighter than gas and are easier to start but they require an extension cord. Gas blowers are cordless, but require gas and oil and are generally heavier. Battery blowers offer the convenience of gas-free, cord-free blowing with rechargeable batteries.


Corded Electric

Easy startup

Lightweight design

Quieter than gas models

Don't require oil or gas

Don't produce any fumes or emissions


Cordless, increasing range and maneuverability

Heavier and usually more powerful than electric blowers

May be hand-held, wheeled or backpack

Require fuel; conveniently located choke makes operation easier

May require higher upfront investment

Two-stroke engines require a gas and oil mixture for operation; four-stroke engines require only gasoline


Cordless Electric / Battery

Cordless

Lightweight

Quieter than gas blowers

Comparable in price to gas blowers

Runs on lithium-ion rechargeable battery

Battery requires charging between uses

Performance and Features
Leaf blowers' power is rated in CFM and MPH. Cubic feet per minute measures the volume of air produced, while miles per hour measures the speed of air. The higher the CFM rating, the more leaves you'll be able to blow at once. The higher the MPH, the farther you'll be able to blow them. For a blower to be truly powerful, both ratings must be high.


Reduction ratio: Vacuum-capable blowers allow you to mulch and are often rated with a reduction ratio. This ratio measures how many bags of clippings a blower can reduce to one bag worth of waste. High reduction ratios indicate a blower's ability to reduce waste effectively. Mulching wet debris will have an adverse effect on the reduction ratio.

Anti-vibration harness: Backpack blowers are much more comfortable with the addition of an anti-vibration harness, which will reduce the vibration you feel throughout your back and shoulders. A padded backrest and easy-to-adjust straps will further enhance comfort.

Variable-speed motor: With a variable-speed motor, you can adjust the power level for a range of different tasks, giving you more versatility and precision.

Tool-free conversion: If you want to purchase a blower that converts to a vacuum, finding one that allows you to make the conversion without the use of tools can make life a lot less complicated.

Metal impeller: Blowers with mulching capability will benefit from having a sturdy metal impeller, which will ensure more efficient mulching and greater durability.

Comfort grip/auxiliary handle: If you spend a considerable amount of time operating your blower, look for a unit featuring comfortable handles that reduce fatigue, and an auxiliary handle that makes it easier to attack jobs from different angles.

Wide fuel fill and translucent tanks: Gas blowers with wide fuel fills are easier to fill up and translucent tanks allow you to closely monitor fuel levels to ensure that you don't run out in the middle of a job.

Gutter cleaning kit: Enhance the utility of your blower with a gutter cleaning kit, which will allow you to clean out leaves and sludge that accumulate over time.

Nozzle shapes: Round nozzles are ideal for cleaning applications. Oblong and rectangular nozzles are excellent for blowing leaves.