A quality lawn mower makes easier work of routine yard maintenance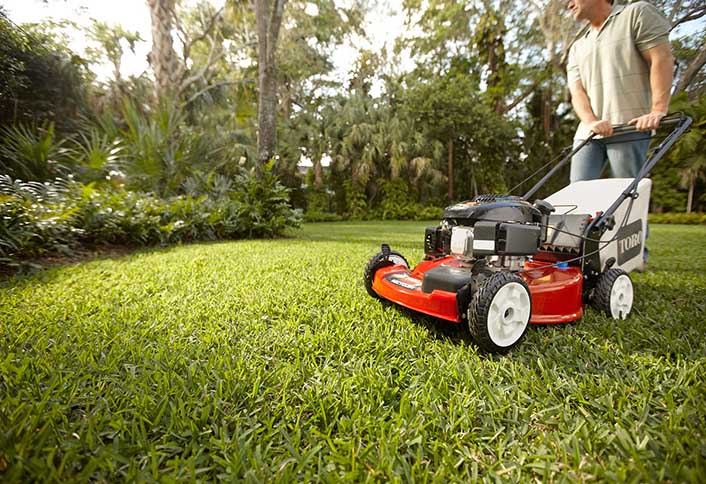 To make mowing your lawn an easier chore, match your lawn mower to the size of your yard. Start by finding one that is comfortable to use with a good number of add-ons for convenience.

This buying guide highlights the different types of walk-behind mowers, along with engines, grass disposal options and features.
Types
There are three main types of walk-behind lawn mowers: gas-powered, electric and manual reel.


Gas walk-behind mowers deliver more power and a wider cutting swath.
Electric mowers offer quieter operation and no emissions.
Manual reel mowers are economical and great for small lawns.


Mower Type
Ideal Lawn
Benefits
Points to Consider

Electric

Small to medium: at or under 1/3 acre
Flat

No emissions
Quiet operation
Easy start-up

Corded or cordless
Push or self-propelled
Narrower cutting swath
Choose from models that bag, mulch or discharge clippings


Gas

Small to large: at or under 1/2 acre
Flat or uneven

High-powered
Wide cutting swath
Handles thick grass

Requires periodic maintenance
Push or self-propelled
3-in-1 mowers mulch, discharge and bag clippings

Manual Reel

Small: less than 1/4 acre
Flat

Quiet operation
No pollutants
Low-maintenance

Manual push operation
Economical
Limited features
Engines and Grass Disposal Options
The size of your lawn should determine what size engine your mower will need to have. The bigger and more terrain in your lawn, the more powerful the engine for best results.


If you have a small, flat lawn, look for a mower with a standard engine, which features a flat head and side valve with enough power to get the job done.
Engines with overhead cams (OHC) are more powerful and tend to run smoother and more quietly.
For larger lawns or lawns with uneven or hilly terrain, look for a model with an engine that features overhead valves (OHV). OHV engines are often the most powerful, easy to start and run more efficiently over the long haul.
Some models offer side discharges where clippings shoot out as you go.

Others automatically bag clippings from the rear or side of the mower.

A mulching mower will chop the clippings into fine pieces creating instant fertilizer for your lawn.

Features
Features like self-propelled mowers and electric starters make mowing more convenient.


Self-propelled mowers automatically move forward from 1 to 3.5 MPH. You can also choose front- or rear-wheel drive depending on your yard terrain.
Eliminate tedious pull starts by choosing a model with an electric starter.
Some mowers offer variable speeds which come in handy when working near trees and garden beds.
A blade-brake clutch system enables you to stop the blade from rotating without turning off the engine, so you can safely move obstacles out of the way and resume mowing immediately.