Buying Guide
Best Exercise Equipment for Your Home
Dumbbells and other weights allow you to tone muscles while elliptical machines and treadmills offer a cardiovascular workout. Other equipment, such as abdominal machines and stretching machines, allow for a more specific focus. This guide helps you understand the different types of exercise equipment available for your home gym so you can be confident your choices will help you achieve your fitness goals.
Safety: Always test equipment before purchasing, if possible. You want to make sure that it operates smoothly and, in the case of treadmills and ellipticals, has a solid, secure base.
Strength-Training Equipment
If your goal is to increase your strength and muscle tone, an all-in-one home gym is a good place to start. These machines often utilize a cable and pulley system that allows you to achieve a total-body workout through a variety of exercises. Individual weights are best for those with limited space.
All-in one gyms generally feature a weight stack with a pin that enables you to set the proper weight level for the exercise you're performing. The more adjustments and settings these units have, the more exercises you'll be able to do, helping you to create a more varied training program.
Some home gyms feature multiple weight stacks so two people can work out simultaneously.
Home gyms with "spotting" devices help keep you safe during your workout.
Adjustable weight benches allow you to perform many different exercises with the help of dumbbells and barbells.
Hex dumbbells are less likely to roll away when resting on the ground.
Multiple dumbbells and weight plates will allow for maximum workout flexibility.
There are a number of different machines that can be used to improve cardiovascular health, including elliptical machines, treadmills, exercise bikes, rowing machines and stair steppers.
Prices vary greatly, depending on how many features a machine has and how sophisticated its technologically is. Though they may cost a little extra, machines with electronic displays that allow you to program a variety of different workouts may be worth the money.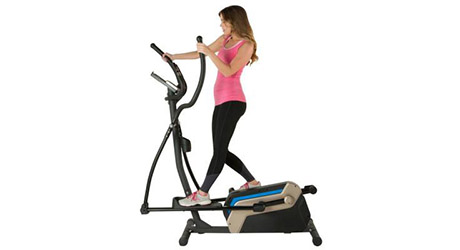 Foot pedals move in an elliptical, or ovular, motion while handles move back and forth
Provides a total-body workout
Tones muscle while improving cardiovascular health
Less likely to cause stress to joints
Resistance and incline can be increased for a tougher workout
Exercise / Stationary bike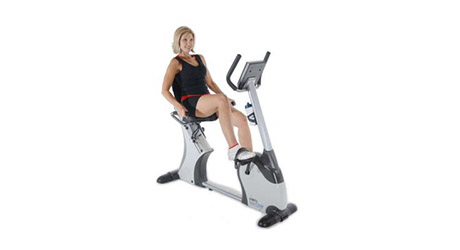 Generally features only a single wheel in the front and no back wheel
Typically designed for lower body workout; some have movable handles to provide upper body workout
Cushioned seats and pedal straps increase comfort and stability
Solid or enclosed front wheels help prevent accidental injury
Design may be upright, recumbent or semi-recumbent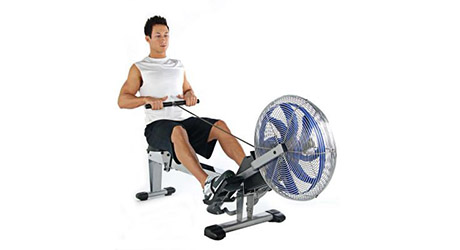 Simulates the experience of rowing, placing equal emphasis on working out the upper and lower body
Some machines can fold up; requiring less space when stored
Low-impact workout helps minimize pressure on joints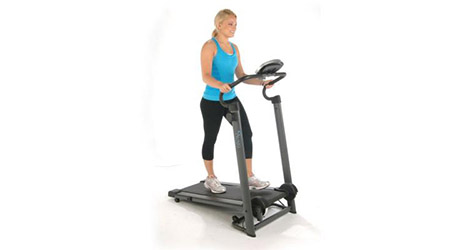 Features a conveyor-style belt that rotates at varying speeds, providing a low-impact running workout indoors
Primary lower body workout
Various speeds allow for individually tailored workouts
Inclines and interval training increase the variety of workout options
"Continuous duty" rating is more important than "peak performance" when evaluating horsepower
Safety keys help prevent accidents
Abdominal machines, stair steppers and yoga kits featuring mats, foam blocks and more can all contribute to your improved physical fitness. Accessories such as gloves, wristbands, weight belts and heart monitors can help personalize your workout to your needs.
Most intricate abdominal machines strengthen abs by adding weight to traditional ab exercises. More simple tools are available that can easily be stored in a cabinet or closet, such as an ab roller or a special frame that helps reduce head and neck strain while performing crunches.
Stair steppers typically feature two steps designed to simulate the experience of walking up stairs. When proper posture is maintained, the workout doesn't put strain on your back.
Yoga and Pilates kits may include a yoga mat, instructional video, foam block, soft strap and a bag to carry everything around in.
Boxing is a good way to build both strength and endurance. Speed bags and heavy bags offer different ways to work out, letting you choose what's most comfortable for you.
Workout balls offer another option, allowing you to stretch, strengthen muscles and work your abdominals.
Use exercise mats for stretching and abdominal exercises as well as to provide a cushion beneath weight equipment.
Stretching machines are ideal for warming up and cooling down, as they make it easier to stretch nearly every muscle.
Medicine balls can be used to strengthen and tone muscles.
Gloves and lifting straps: Available in different sizes, workout gloves are usually fingerless and provide padding that helps prevent blisters. Lifting straps are designed for use when lifting particularly heavy objects, so they'll come in handy if you're into heavy-duty weight training.
Wristbands and headbands: When you're in the middle of an intense workout, the last thing you want is for sweat to sting your eyes or to lose your grip on a barbell. Headbands and wristbands absorb sweat before it can get to either place, helping you stay focused on the task at hand.
Weight belts: If you're lifting weights, a weight belt can provide extra support for your back, helping you maintain proper form and posture to prevent injury.
Heart monitors: One of the keys to achieving improved cardiovascular health is to reach your target heart rate during workouts. Heart monitors allow you to determine whether or not you have reached that rate, making it easy to increase or decrease the intensity of your workout accordingly.