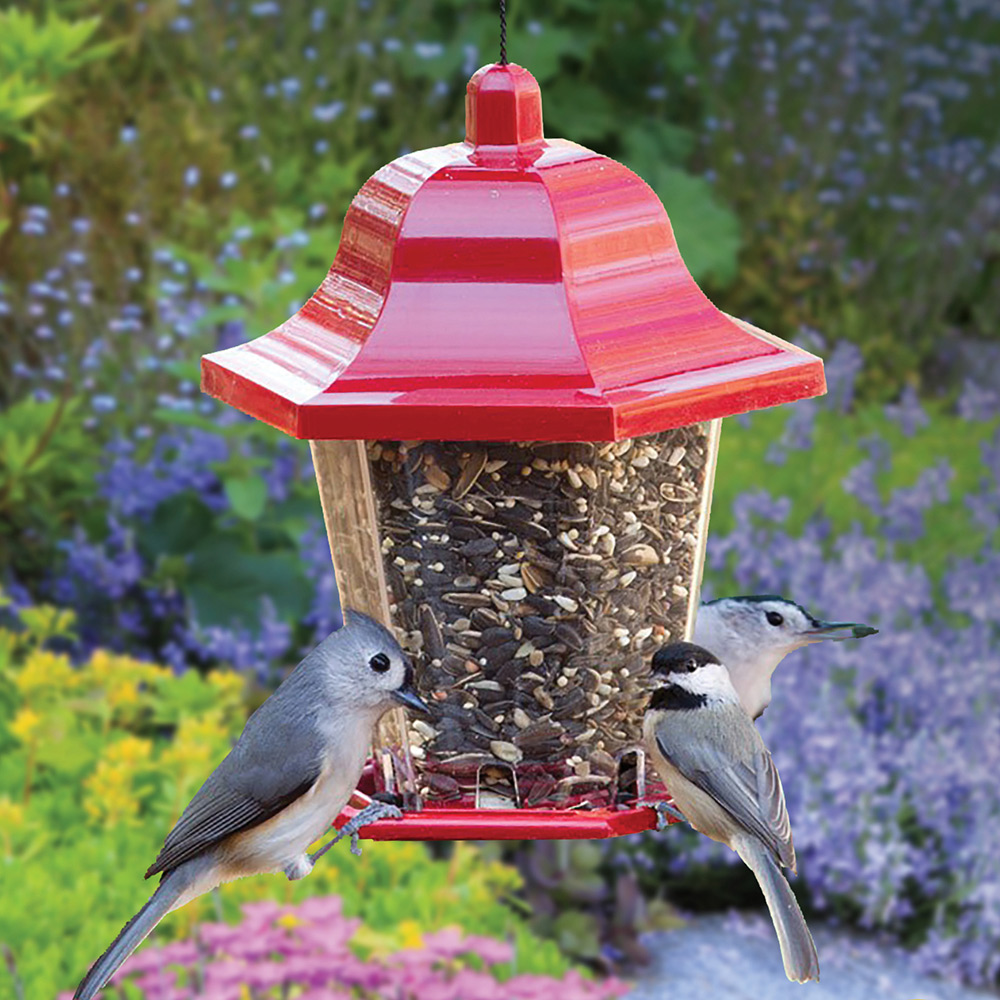 If you're not getting the most out of your bird feeders, it may be time to change your selection of bird seed. While any mix of bird seed can attract less picky species, the right bird seed can draw new bird varieties to your backyard and even help keep away undesirable visitors like squirrels. This guide provides a list of bird food and identifies the right types of seed for specific birds and feeders.
How to Choose Bird Seed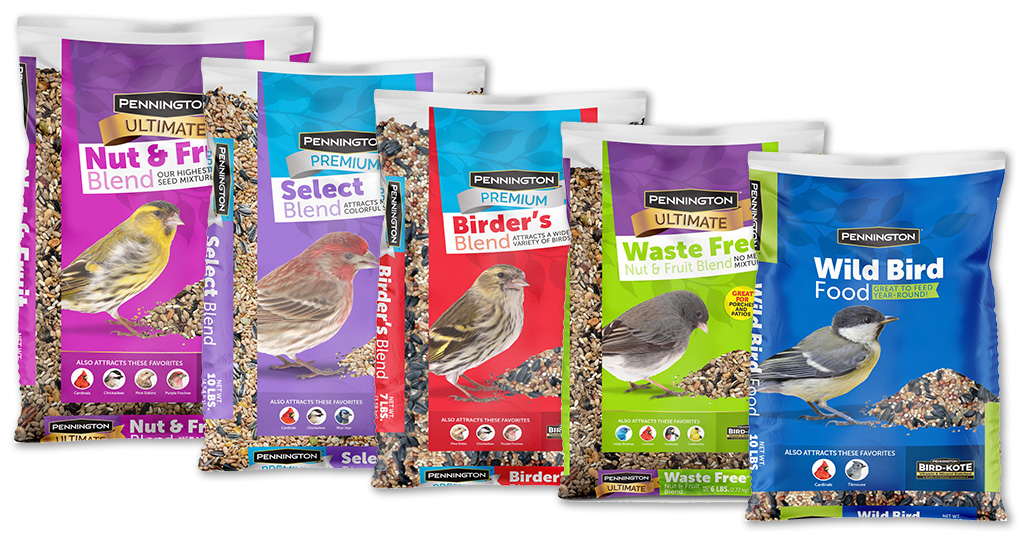 Start by choosing the bird seed that appeals to the birds that already visit your yard. The increased activity will pique the curiosity of other species of birds, and you will be able to expand the varieties of seed later. After all, you cannot attract birds that are not in your area, no matter what types of bird seed you offer.
Consider whether you want to deter certain backyard visitors. Squirrels, raccoons, chipmunks and aggressive birds such as jays can dominate bird feeders and keep away the birds you want to see. Avoid bird seed that attracts these undesirables, and choose bird seed that does not interest them instead.
Choose the right type of bird seed for your bird feeders. Not all bird feeders can accommodate certain types of seeds, so if you already have bird feeders, you must find compatible bird seed. Keep in mind that some bird feeders suit certain types of birds more than others, so you may want to change your bird feeders or add more varieties in the future.
Find high quality bird seed. Always look at the bird seed ingredients before purchasing. Lower quality bird seed mixes will have high proportions of fillers like milo and corn that are less desirable to many birds. You can also determine quality by the freshness of the seeds and the sturdiness of the packaging. Bird seed should be as fresh as possible and well-protected from water, debris and pests.
Black Oil Sunflower Seeds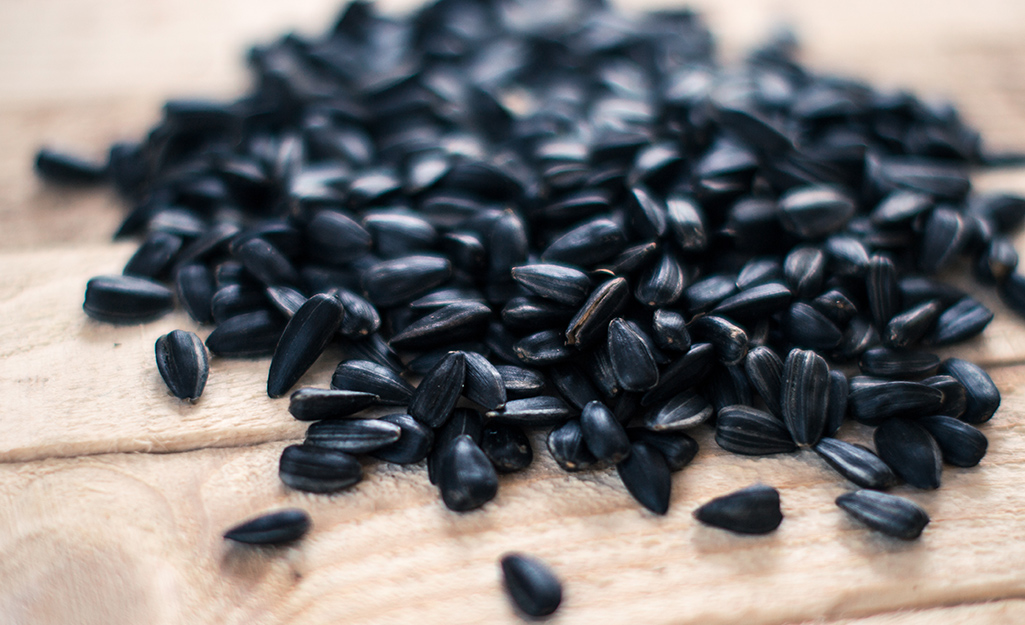 Black oil sunflower seeds are the most popular bird seed and have wide appeal to many bird species. They are a staple in most bird seed mixes, or you can purchase them on their own.
They have a high oil and fat content, so they are a valuable food source for birds in the winter.
Their hulls are very thin, making them easy to crack open for birds with smaller or weaker bills.
You can sprinkle these seeds directly on the ground or put them in hopper, tray, tube or mesh feeders.
These seeds are preferred by cardinals, chickadees, sparrows, finches, titmice, woodpeckers, grosbeaks and jays.
Striped Sunflower Seeds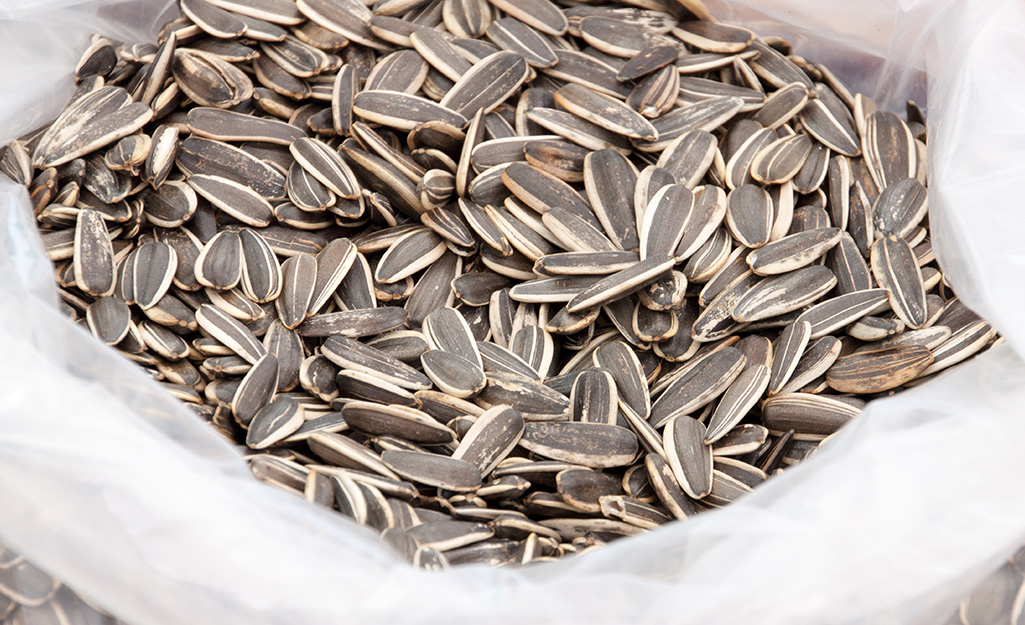 Another popular option, striped sunflower seeds often accompany black oil sunflower seeds in bird seed mixes.
Like black oil sunflower seeds, they have a high oil and fat content.
Unlike black oil sunflower seeds, they have a thick hull that is hard for small or weak-billed birds to crack.
You can sprinkle these seeds directly on the ground or put them in hopper, open tray, wide-mouthed tube or broad-mesh feeders.
These seeds appeal best to cardinals, jays and grackles.
If you find that many striped sunflower seeds are left behind in the feeder or on the ground below, consider swapping this variety for black oil or hulled sunflower seeds.
Tip: All types of sunflower seeds are popular with squirrels, so use a specialized squirrel-proof feeder to keep them away. 
Nyjer (Thistle) Seeds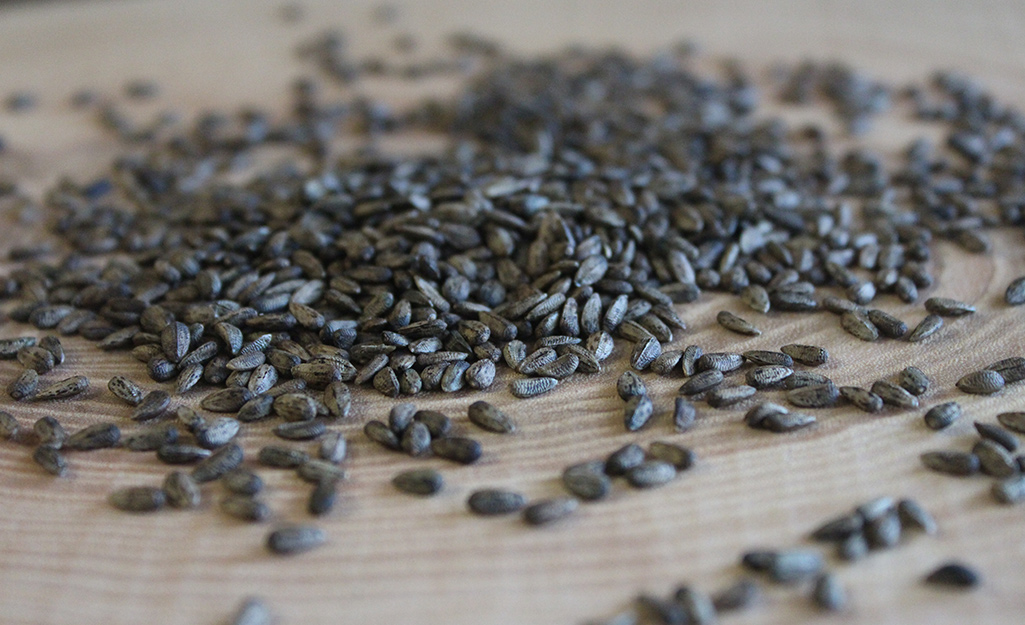 Nyjer seeds, sometimes called thistle seeds, are thin and small.
They are exceptionally high in oil and high in fat and protein.
Since they are so small, these higher priced seeds will easily blow away in the wind, so use a mesh or sock feeder to keep them in place for your birds.
Nyjer seeds are best for clinging birds like siskins, goldfinches, repolls and juncos. Larger finches and quails will eat the seeds that fall onto the ground beneath the feeder.
Millet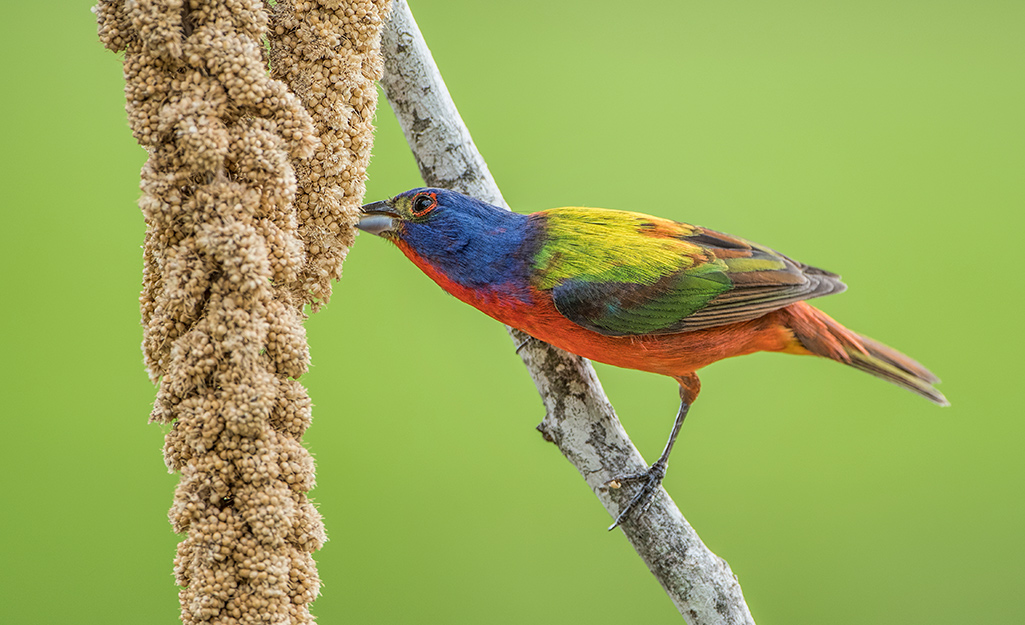 Millet is a grass seed popular with many small birds. These seeds are smaller than a grain of rice and easy for birds to eat.
Millet is high in fat, protein, starch and fiber.
These seeds are best in hopper, tube and tray feeders.
Although many birds will sample millet in a mix, it appeals most to finches, juncos, buntings, sparrows, towhees, doves and wild turkey.
Safflower Seeds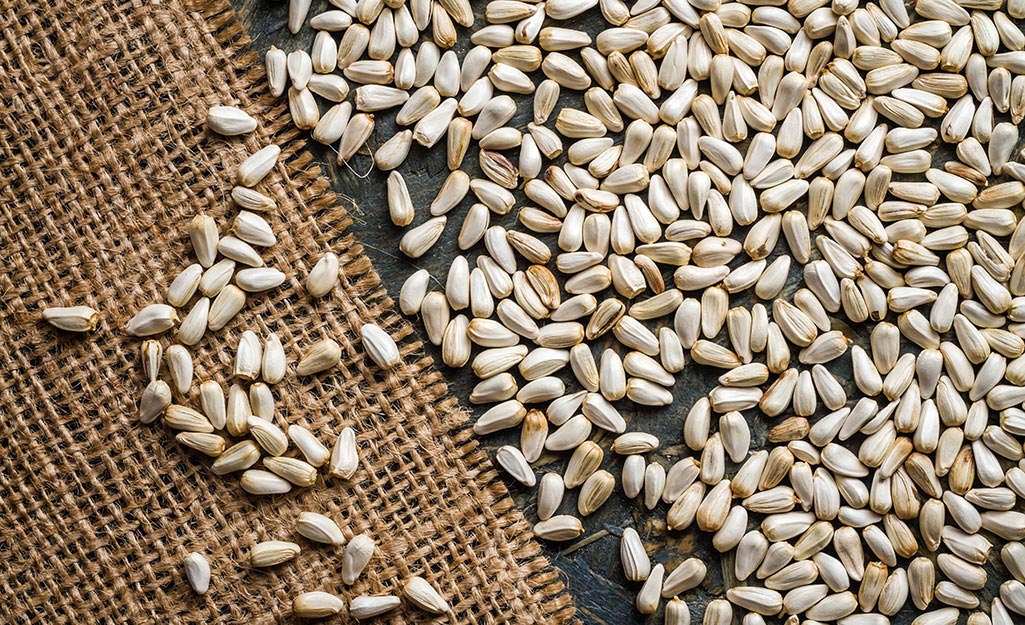 Safflower seeds are large seeds that look like white sunflower seeds.
They have a thick hull that makes them inedible for small and weak-billed birds.
They can be put in any feeder that also accommodates sunflower seeds.
Safflower seeds taste bitter to squirrels and other sensitive tasters like chipmunks and raccoons. If too many pests are stealing sunflower seeds from your feeders, swap out the sunflower seeds for safflower seeds.
Safflower is one of the best seeds for cardinals, nuthatches, jays, woodpeckers, house finches and doves.
Cracked Corn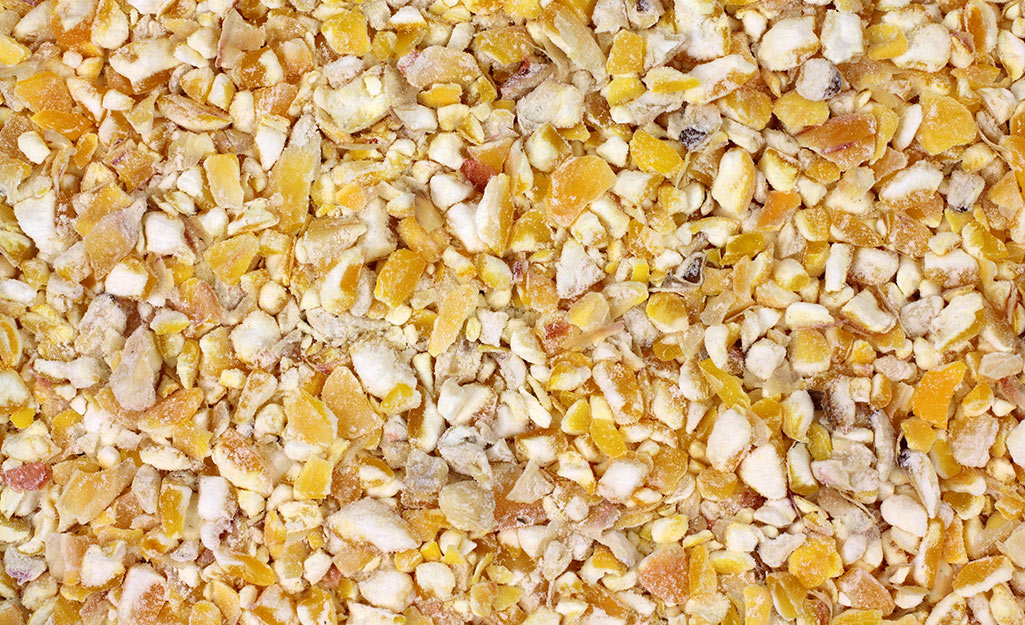 Cracked corn is usually used as a filler in bird seed mixes but can be a great choice for ground-feeding birds with large appetites.
It is high in carbs, but low in most other types of nutrition.
Hopper, tray and platform feeders are the best feeder options for corn. Otherwise, distribute the cracked corn directly onto the ground.
Sparrows, jays, towhees, grouse, quail, doves, blackbirds, grackles, ducks and wild turkey will all readily eat cracked corn.
Throw cracked corn onto the ground to tempt larger birds away from more expensive types of bird seed. 
Milo (Sorghum) Seeds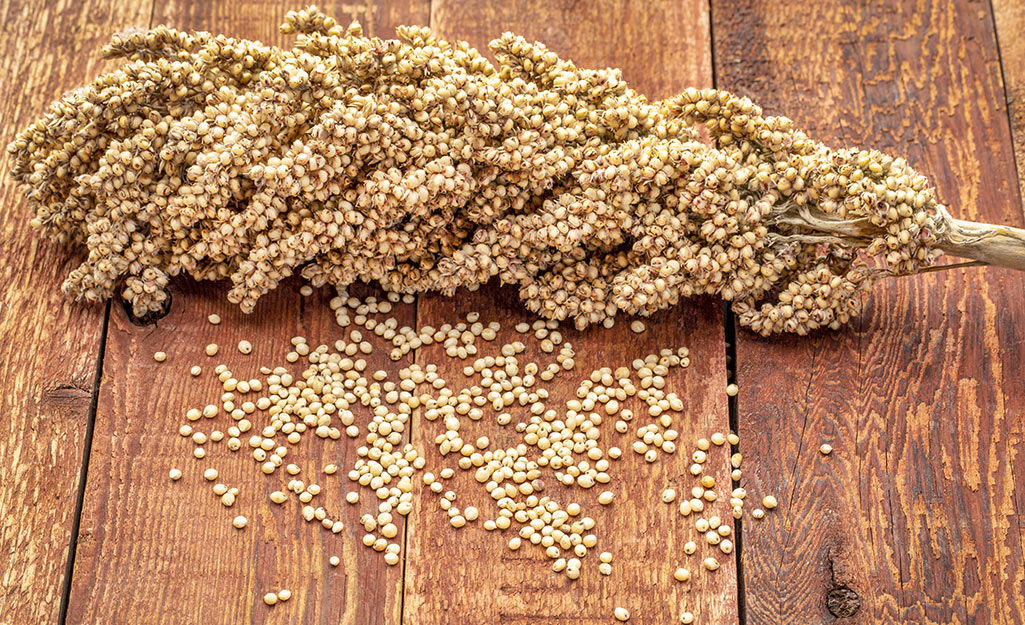 Milo seeds are used as a filler to lower the price and extend the life of bird seed mixes.
They are low in nutritional value.
Ducks, geese, wild turkey and some other large birds are most likely to eat milo, but some other birds may eat these seeds depending on what else is available.
Suet Cakes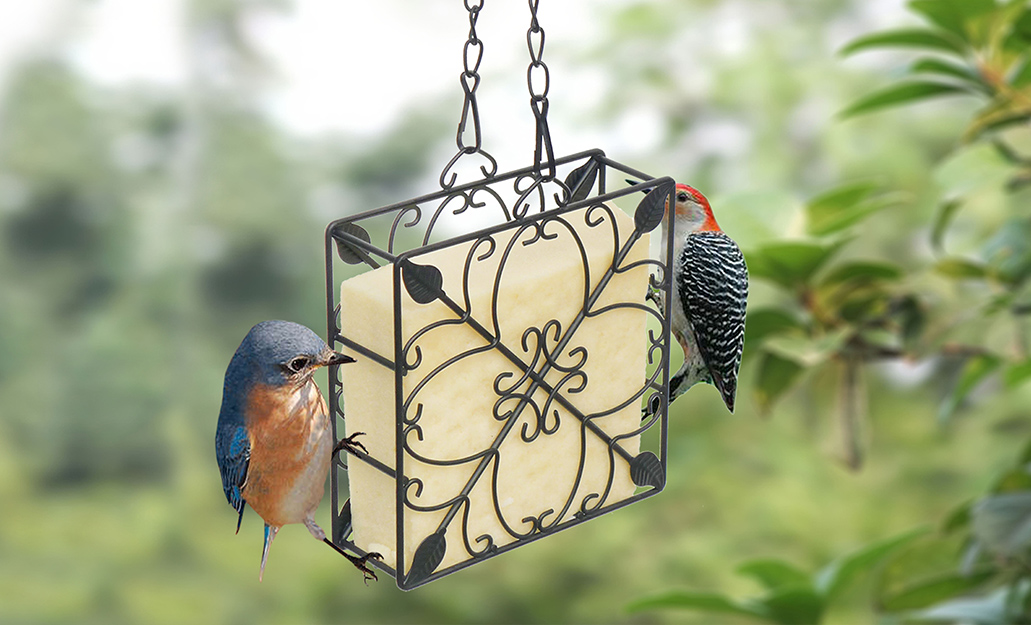 Suet cakes are a dense mix of animal fat and seeds, nuts, insects and/or fruit.
Thanks to their extremely high fat content, suet cakes are the best option for winter birds.
Suet cakes come in many different shapes, but they are most commonly square blocks that fit into a wire suet holder.
Suet is great for attracting birds that might not otherwise visit bird feeders, such as orioles, woodpeckers and tanagers.
Different suet cake blends will attract different types of birds: woodpecker blends consist of fruit and nuts; bluebird blends include insects; songbird blends use a mix of fruit and seeds.
Some suet cakes will include peppers that birds cannot taste but will repel squirrels and other pests.
Tip: When not in use, freeze suet cakes to keep them fresh. 
Use a variety of bird seed and feeders in your yard to attract the biggest variety of birds. It's also a good idea to provide water. When you're ready to shop for birdseed, use The Home Depot Mobile App to decide what mixture will work best in your yard. And if you need additional accessories for your bird garden, shop The Home Depot for bird baths, feeders and houses.
Explore More on homedepot.com