Ceiling fans circulate air to keep any area of your home comfortable and to help you save on your energy bill. They can also add an extra touch of style to your home decor. Whether you're replacing an old fan, updating an existing room or building a new home, this guide will help you find the best ceiling fans for your style, ceiling height, size of your space and your budget. 
Ceiling Fan Location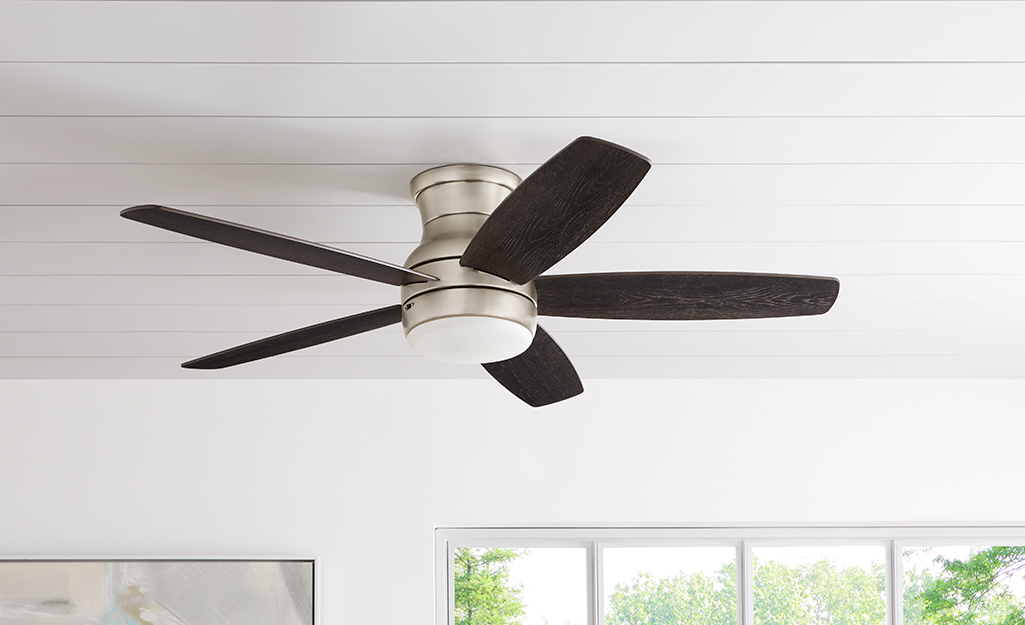 When choosing a new ceiling fan, it's important to think about where you plan to hang it. Will the ceiling fan installation take place in a living room or are you searching for the best outdoor ceiling fan to cool off things on your patio? 

Wet/damp ratings indicate whether a ceiling fan is recommended for indoor or outdoor purposes. If you plan to hang a ceiling fan inside a damp area, such as the bathroom or outdoors, you will need to find one that meets UL's wet/damp rating. A damp rating means the fan can be used in areas with excessive moisture, but covered, such as on a covered patio or in a bathroom. A wet rating means the fan can withstand direct rain, snow or excessive moisture as in an open gazebo. 

Tip: While an outdoor fan can be used indoors, an indoor ceiling fan should only be hung inside your home. 
Ceiling Fan Sizes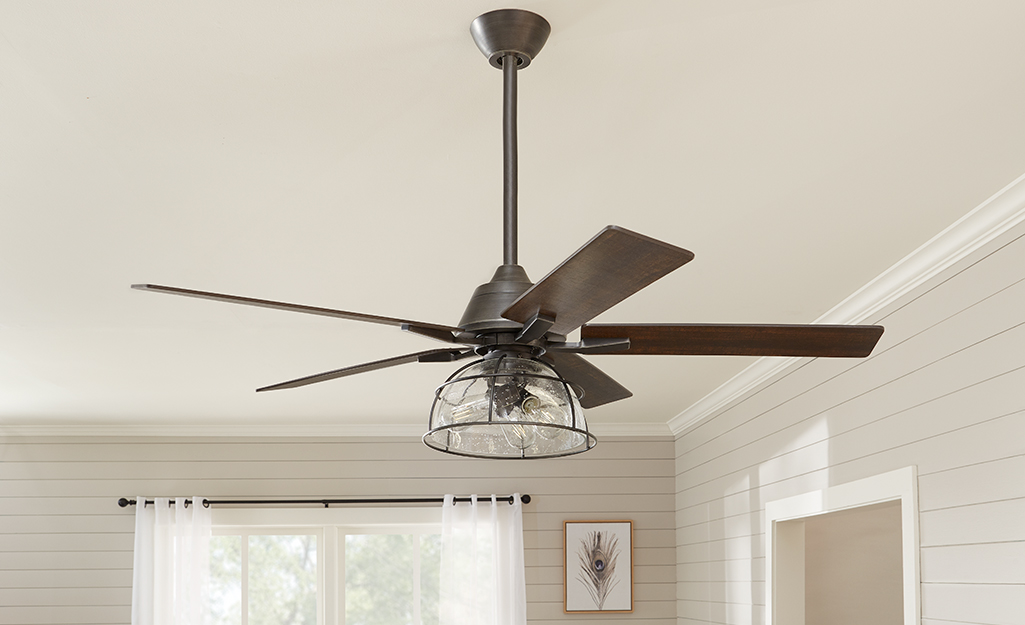 Because the ceiling fan's main purpose is to circulate air and regulate the temperature in a room, it's important that your fan size matches your room size. 

When deciding between ceiling fan sizes, measure the room before you purchase your ceiling fan to ensure you get the size that will be most effective for the space. Measure from floor to ceiling to determine mount type (flush, downrod, standard) for the intended location. 

For any room larger than this, consider using two fans to move air around the room.

For guest bedrooms and bathrooms, small ceiling fans work well whereas larger spaces, like a great room, will benefit the most from large ceiling fans. 

Recommended fan width based on the length of the longest wall in your room: 
Length of longest wall is less than 12 feet, your fan width or blade span should be 46 inches or less. 
Length of longest wall is 12 to 18 feet, your fan width or blade span should be 48 to 56 inches.
Length of longest wall is more than 18 feet, your fan width or blade span should be 56 inches or more.
Ceiling Fan Mounting Type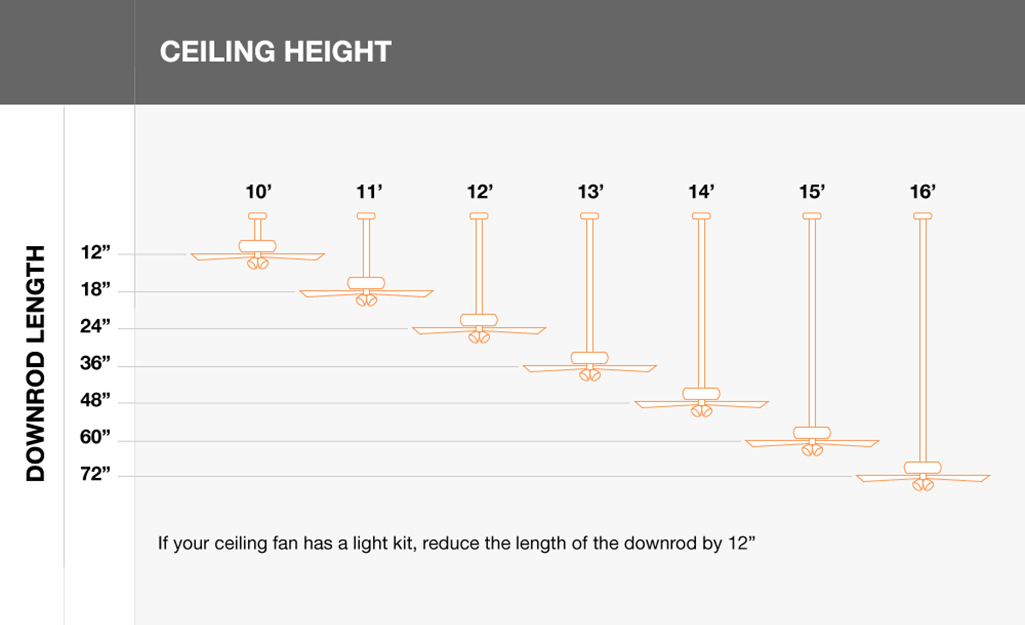 Measure your ceiling height to choose the correct downrod length. Subtract 12 inches from the downrod length if your ceiling fan includes a light kit.
In addition to ceiling fan sizes, the mounting type you choose is extremely important. Here's how to find the best mounting type for your room.
When choosing your fan, you will come across the terms "downrod" and "flush." Pay close attention to your ceiling height so you can determine which mounting option you need. 
Ideally, your ceiling fan height (from floor to blade) should be 8 feet. Fans mounted too close to the ceiling will trap or move less air around the space. 
Flush mount: Mounted to the ceiling, this option is ideal for rooms with low ceilings. 
Downrod mount: The best ceiling fans for living rooms or rooms with a ceiling height greater than 8 feet typically include a downrod. Very high ceilings, such as a vaulted ceiling, may need a longer downrod, so check the downrod size prior to purchasing your fan. 
If you have a tall, vaulted or sloped ceiling, hang your ceiling fan from a downrod to lower it to the desired 8 or 9 feet from the floor. If your ceiling is sloped, check that the ceiling fan you are buying can be installed at an angle. If not, a sloped-ceiling mounting kit may be required.
Tip: When possible, hang the fan in the middle of the room and allow at least 18 inches between fan blades and the walls. 
Ceiling Fan Styles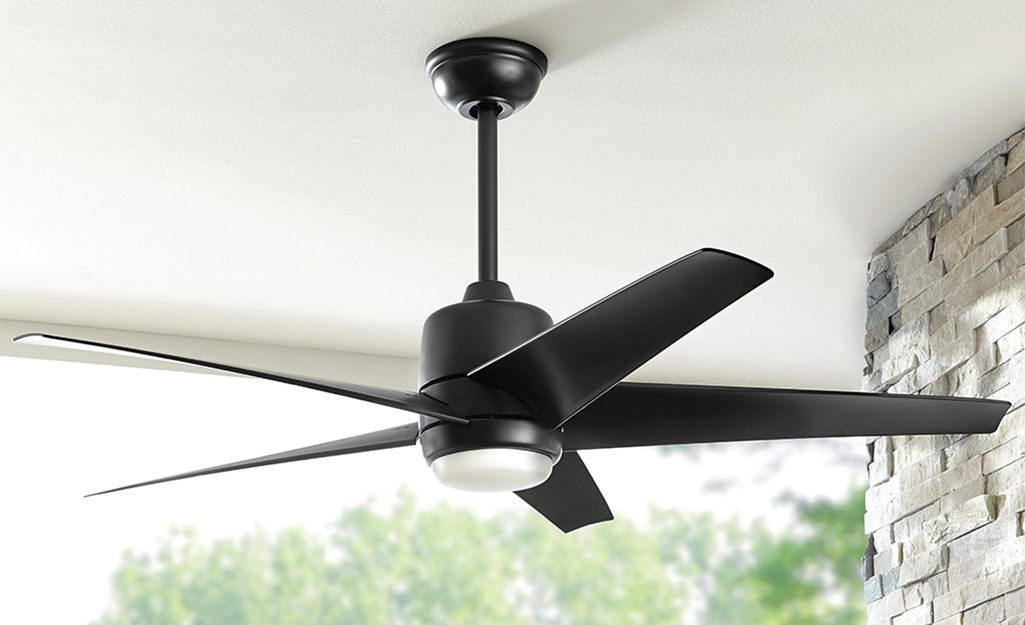 With so many types of ceiling fans available, blades are offered in a variety of finishes, including natural, white, oak, black and more. Some blades will offer a reversible finish. 

Light shades are usually glass, either frosted or not. Ceiling fans themselves also come in a variety of finishes, and it's best to try to match the tone to the other finishes in your room/home.

If your cabinet knobs are oil-rubbed bronze, choose a fan with a complementary finish. If possible, try to match your ceiling fan style and finish to your home's decor (flooring, paint and furniture colors and style). For example, a modern-style fan with a silver motor finish or black fan blades may look out of place in a home with cottage style.
Coastal: Fans with natural wood-look blades and oil-rubbed bronze, white or matte black finishes work well. Tropical-inspired ceiling fans featuring bamboo, rattan blades and leaf-inspired designs complement beach homes and cottage-style houses. 
Modern: A contemporary style ceiling fan with clean lines and metallic finishes are ideal for this style home. Look for fans with a brushed nickel, satin nickel, matte black or chrome finish, as well as fans with a sleek blade design that are right at home in a loft, industrial or mid-century modern space. 
Cottage: Classic white ceiling fans capture cottage style best. If this is the style of your home, look for a ceiling fan that's all-white, including hardware, or features nickel hardware. 
Traditional: Classic dark wood blades, like oak or walnut, paired with oil-rubbed bronze or brushed nickel finishes and a timeless downlight or bowl kit will blend in perfectly with a traditional-style room. 
Farmhouse: Natural wood tones, inspired from the great outdoors, mixed with bronze or matte black hardware complement this home decor style. Look for a ceiling fan that uses Edison-style bulbs for more farmhouse appeal.
Ceiling Fan Features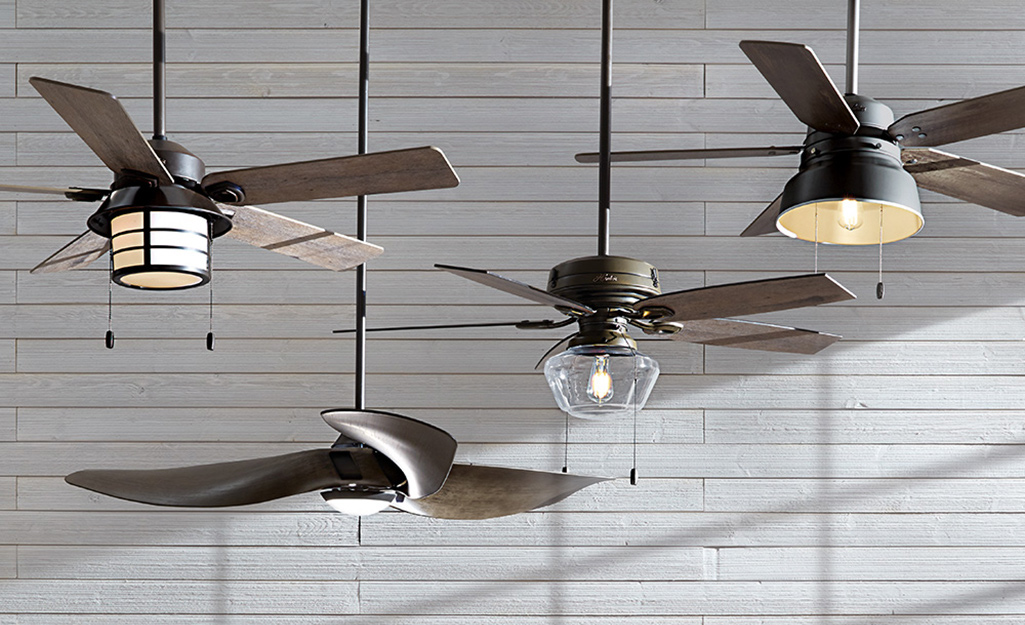 There are certain features to keep in mind when you're shopping for a new ceiling fan. Do you need a remote control? Or are you just looking for a simple, small ceiling fan with a pull chain? How you control your ceiling fan's speed and lighting depends on the accessories included. Here are some common control options to consider: 
Pull chain: A standard ceiling fans will include pull chain controls that allow you to adjust fan speed and lighting. This easy-to-reach control is ideal for areas with low ceilings or in rooms that aren't used often. 
Remote control: The best ceiling fans for high ceilings will likely include a remote control. Handheld and convenient, ceiling fan remotes are lightweight and portable, allowing the fan to be operated within a 30 to 45-foot range. 
Wall control: This option allows you to control the fan by pressing a button. It is like a remote but is secured to the wall in place of a switch. 
Smart ceiling fans: Fan and light settings can be controlled with an app on your smart phone or device.
Ceiling Fan Lighting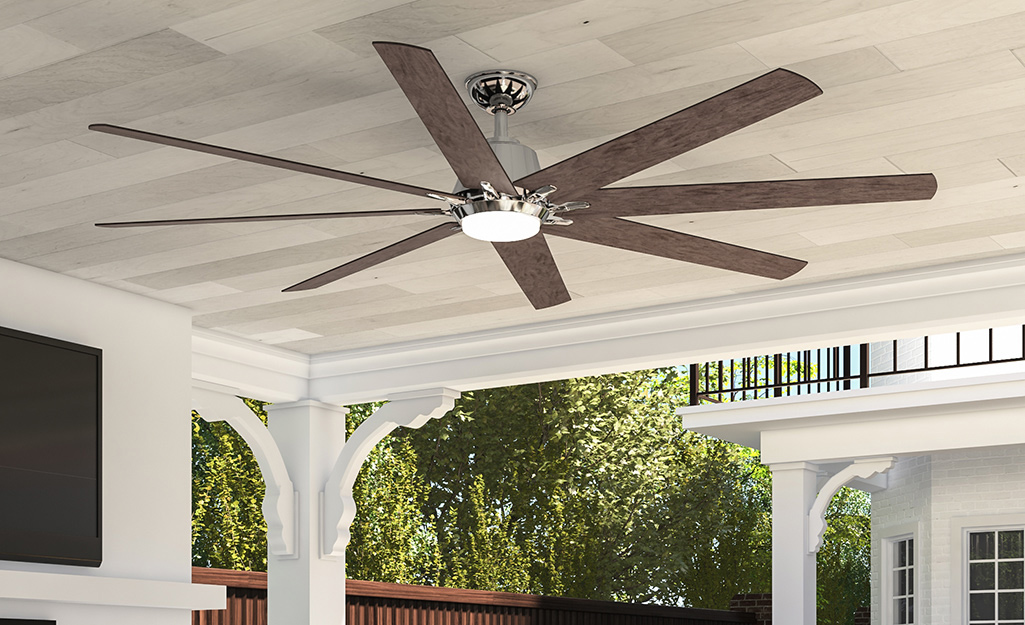 The majority of ceiling fans come with a light kit; however, if you are hanging the fan in an area with good natural lighting or already-installed lighting, buying ceiling fans without lights is perfectly fine. If you do choose a ceiling fan with lights, you will need to decide between these types of lighting output. 
LED bulb: Consumes the least amount of energy; has an average lifespan of 50,000 hours. Bulbs can be switched out quickly for replacement or to change bulb style or color temperature.
Integrated LED light kit: LED bulbs are built into the fan. They last a decade or more with regular use. In many modules, the LED light kit can be replaced or repaired at the end of its life by contacting the manufacturer for the replace part or unit. 
Tip: Remember to match your light fixture and bulb style to your home decor, if you can. 
Airflow and Efficiency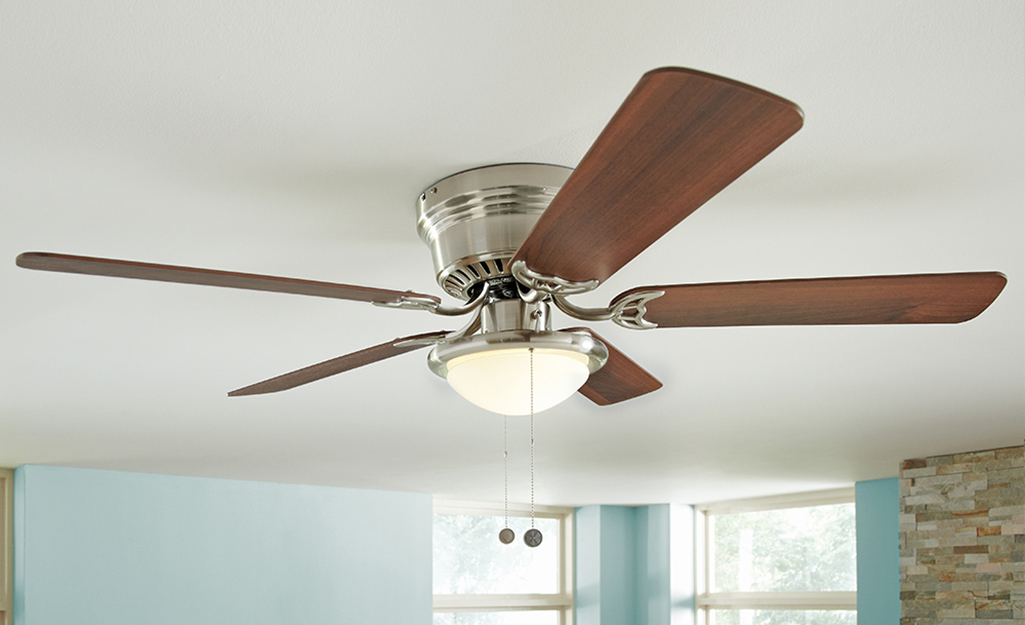 A fan motor determines its efficiency and airflow. Airflow efficiency is measured in cubic feet per minute (CFM) of air being moved. Fans either come with a DC motor or an AC motor. DC motors tend to produce less heat and consume less energy than heavier AC motors. Fans with high CFM, or airflow efficiency, are perfect for outdoor spaces or garages because they will circulate more air and can help keep away insects and pests. 
If energy-efficiency is at the top of your must-have list, look for an Energy Star rated fan. These certified ceiling fans use up to 20 percent less energy. Energy Star-certified ceiling fans can help reduce your heating and cooling costs.
It's important to note that dirty fan blades will not have a high airflow efficiency, so be sure to dust your ceiling fans often. 
Tip: In the summer, run your fan counterclockwise for a cool breeze. In the winter, run your fan clockwise to push down warm air circulating near the ceiling to better distribute the heat throughout the room. You can change the fan direction using a switch on the motor housing or a button on the fan remote.
From learning how to measure for a ceiling fan to finding the best outdoor ceiling fans for your patio, we are here to help. Ready to cool things off in your living spaces? We have options to deliver online orders when and where you need them.
Explore More on homedepot.com