With so many options, features and finishes, buying a new dishwasher may seem a bit confusing at first. Whether you're updating your entire kitchen, seeking a sleek, stainless steel model or just ready for a simple upgrade, this dishwasher buying guide will help you choose the right model for your budget and needs.  
What Are the Main Types of Dishwashers?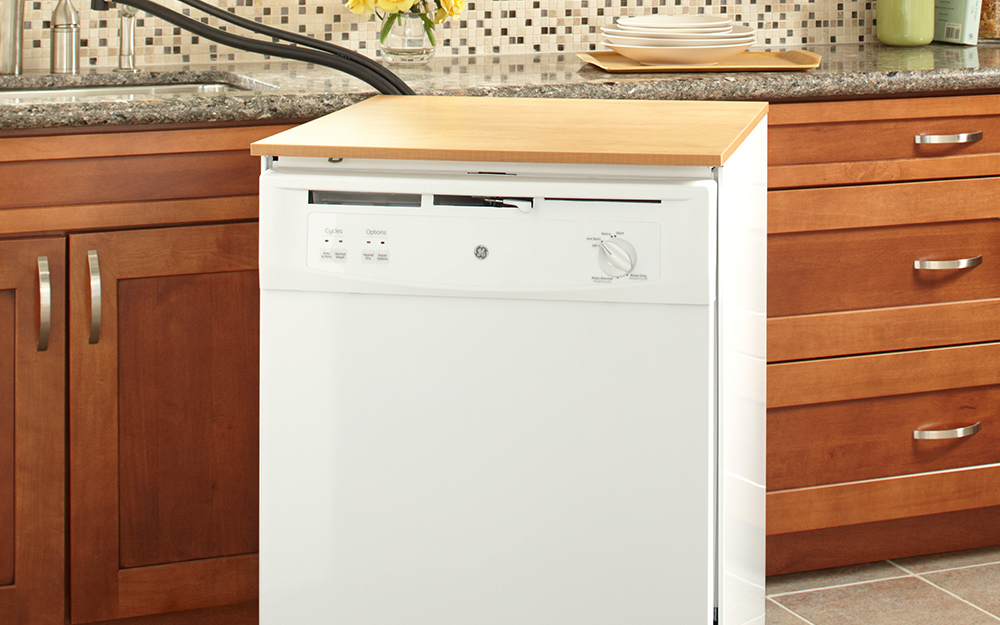 The three most common types of dishwashers are 24-inch built-in, 18-inch built-in and portable dishwashers. While most kitchens have one of these three types of dishwashers, you may find that the best dishwasher option for you is an integrated dishwasher, a freestanding dishwasher, a drawer dishwasher or a countertop dishwasher.  
Built-in dishwashers are the most popular and recognizable types of dishwashers. A built-in model has an independent and permanent connection to your plumbing, unlike some dishwasher types that need to route water from your sink plumbing. This dishwasher slides into place and is secured in a spot under your cabinets, which help buffer noise during wash cycles. The sides of a built-in dishwasher are unfinished, so you can remove it easily after disconnecting the plumbing and unscrewing two connection points at the front of the dishwasher.  
Standard built-in dishwashers measure 24-inches wide. Due to their popularity, 24-inch built-in dishwashers are the most widely available dishwasher option and have the broadest variety of features. A compact 18-inch built-in model is a popular choice for smaller homes and apartments. 
If you don't have enough room to install a dishwasher under your cabinets, portable dishwashers are a great option. Portable dishwashers are compact, freestanding units that connect to your sink instead of having its own plumbing. As long as you have an adapter for your sink faucet, this appliance can be connected directly to your kitchen sink whenever you need to wash dishes, then disconnected and put away for storage afterward. The top of the dishwasher is usually a countertop material, giving you extra working space if needed. This type of dishwasher is popular for small homes and apartments and for those who move frequently but want to take their dishwasher with them. 
When even portable dishwashers are too inconvenient for your space, you can choose a countertop dishwasher instead. Countertop dishwashers are versatile, easy to use and small enough to sit on your counter. They connect to your sink using a quick connect adapter and use less water and detergent than standard dishwashers. However, countertop dishwashers have a lower capacity than other types of dishwashers, so they are a better option for small households than large households. 
Integrated Dishwashers
Integrated dishwashers are built-in dishwashers that are professionally installed with a custom cabinet panel on the door. The control panel is hidden on the top of the door, so that the dishwasher blends seamlessly with the rest of your cabinetry. An integrated dishwasher usually requires a contractor to make repairs or remove it from the cabinets. 
Drawer Dishwashers
Drawer dishwashers have two levels that open like drawers rather than having a pull-down door. These dishwasher drawers are designed to be loaded and unloaded conveniently from the top and reduce strain on the body from bending. If dishwasher accessibility is a concern, this may be the best dishwasher for you. 
How Big Should a Dishwasher Be?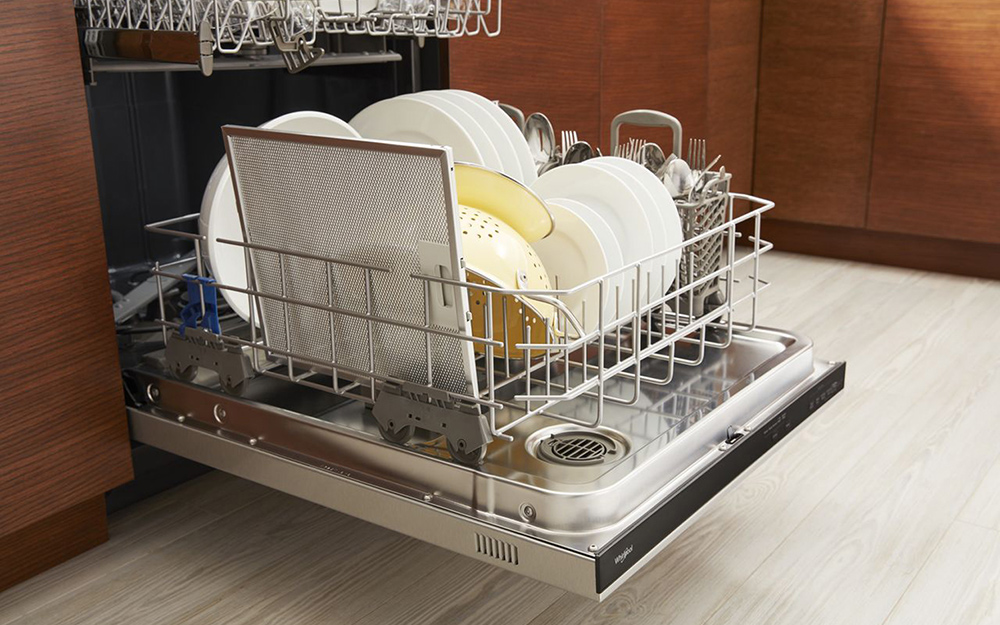 The dishwasher size and load capacity you need will depend on the size of your household. While a one- to two-person home can opt for a smaller model, a large family can get more overall savings out of a dishwasher with a larger tub for items like pots and pans.  
Standard Dishwashers 
Dishwasher capacity is typically measured in terms of the number of place settings that will comfortably fit inside the unit. A place setting includes a dinner plate, side plate, soup bowl, glass, teacup and five pieces of cutlery. A standard 24-inch built-in dishwasher can usually hold up to 12 place settings, with some taller tub models holding up to 16. When choosing your next dishwasher, open each model and look at the tines. A dishwasher with less space between each tine means you will have more space to load dishes. Wider tines take up more space and don't allow for large loads. 
Compact Dishwashers
All countertop dishwashers are considered compact dishwashers, although you can also purchase integrated dishwashers in this size. Compact dishwashers are approximately the size of a microwave and can wash about six place settings at a time. Although they tend to use more energy and water to wash fewer dishes than standard or slim dishwashers, compact dishwashers can be a great option for small homes or for those who need an elevated dishwasher for accessibility reasons. 
Slim Dishwashers 
An 18-inch dishwasher is classified as a slim dishwasher. Slim dishwashers can hold approximately ten place settings and are best for smaller kitchens that don't have the under-cabinet space for a standard dishwasher. Many portable dishwashers are slim models to make them easy to move and store.
What Are the Styles of Dishwashers?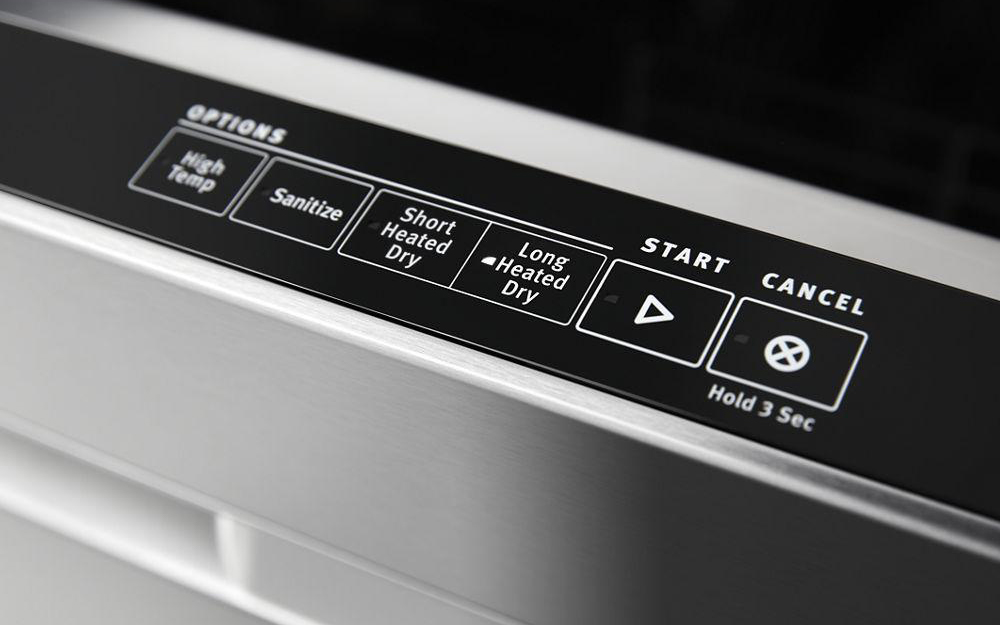 Just as important as size and capacity, the best dishwasher for you should have a finish and design that matches the rest of your kitchen. When buying a dishwasher, be mindful of the handle type, control panel and finish that suits your style. 
Dishwasher Finish
Most dishwashers are available in five shades: white, bisque (off-white), black, slate and stainless steel. Some dishwashers offer a panel-ready design for a fully integrated style. Most modern kitchens have stainless steel or black dishwashers for a sleek yet understated look. Traditional dishwashers are most often white. Choose the finish that best fits your kitchen's style. 
Dishwasher Handles
The handle on the dishwasher door can also have an impact on the overall style and look of your dishwasher. Recessed, pocket and bar handles are the standard and most popular choices. Dishwashers with hidden control panels, including integrated dishwashers, typically have either pocket or bar handles. Dishwashers with visible control panels on the front of the door will almost always have recessed handles directly below the panel. When deciding on your preferred style of handle, consider the look of the other appliances in your kitchen. Also consider the cleaning needs of each style; recessed and pocket handles make it easier to wipe down the dishwasher's surface. 
Dishwasher Control Panel
Dishwashers have either a front control panel, located on the front of the dishwasher, or a top control panel (also called "hidden" or "fully integrated"), which is located on the inside edge of the dishwasher door. Each option has its own benefits, depending on your needs. Front control panels make it easy to know which phase of the wash cycle your dishwasher is in. Top control panels are often good for households with small children as they keep the buttons hidden while also providing a sleek look. However, it may not be as easy to tell what cycle your machine is in. Your dishwasher buttons may either be actual buttons or touch control. 
What Are Important Dishwasher Features?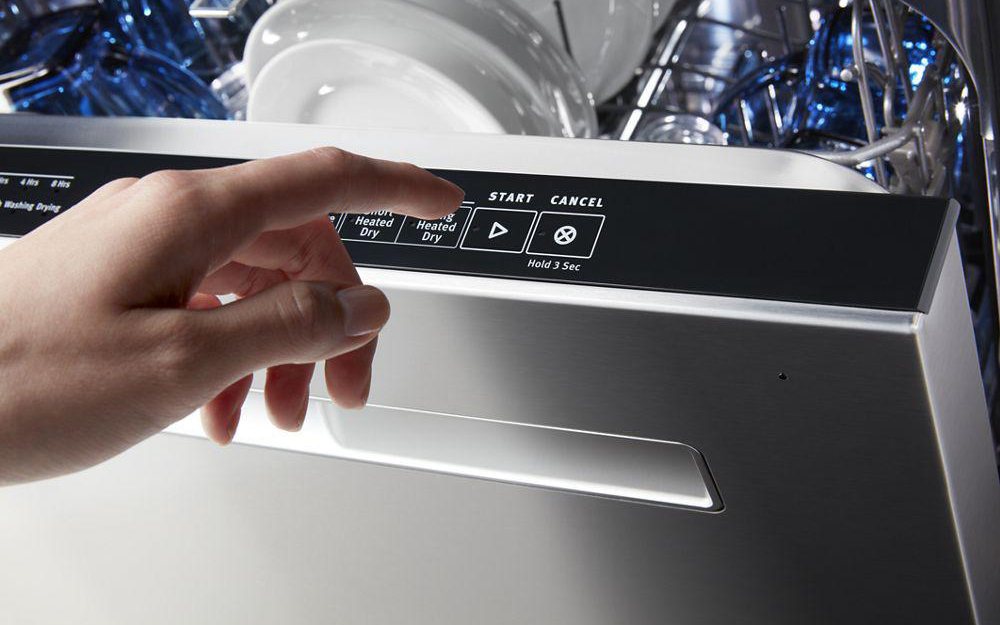 The best dishwashers for your lifestyle will have the right combination of size, aesthetics and wash features. When buying a dishwasher, look for features that will save you money, time and effort.  
Adjustable or Removable Racks 
Customize your dishwasher with racks designed to accommodate all your washable items. Third racks offer more space for larger cooking tools and racks with removable or fold-down tines let you configure your dishwasher to fit wine glasses, cookie sheets and more. 
Cleaning Power
Sensor technology monitors the soil level and/or temperature of your dishwater to provide just the right amount of cleaning power for efficient operation and thorough results. 
Noise Level
With advancements in technology, finding the quietest dishwasher is much simpler than it used to be. There are a variety of noise reduction packages available that include quieter motors, soundproof tubs and improved insulation that result in low decibel ranges. The main thing to look for is the dBA rating or the decibel level. The lower the decibel, the quieter the dishwasher. 
Special Cycles
In addition to standard everyday cycles, many dishwashers offer specialty cycles designed to tackle specific tasks. Look for delicate wash cycles for china and other hand-wash items, tough scrubbing cycles for hard-to-clean pots and quick wash cycles to give you clean dishes faster. 
Interior Tub Type
Basic models will use plastic tubs, while more upgraded versions feature stainless steel interiors. While this has no effect on the dishwasher's cleaning power, stainless steel interiors offer lasting, durable performance and better sound dampening than their plastic counterparts. Because of their metal interiors, they reflect heat for more energy-efficient drying and can withstand the high temperatures of sanitizing rinses. 
Energy Efficient
Contemporary dishwashers use less energy and water than older models, lowering your utility bills and conserving energy. To improve energy efficiency, look for the ENERGY STAR label. ENERGY STAR dishwashers exceed federal standards for energy use by 25-percent or more. Dishwashers with a delay-start feature allow you to program your dishwasher to run during non-peak hours. Units with features such as sensor technologies and rapid wash cycles offer added efficiency. 
Heated Dry
Dishwashers equipped with an internal heat booster raise water temperatures to the appropriate level, allowing you to keep your hot water heater at a lower temperature for even greater savings that won't sacrifice performance. 
Extra Options
Some dishwashers will offer extra options such as a hard food disposer, which is meant to help you skip the garbage disposal so you can put the dishes straight into the machine, or a filter which keeps water free from dirty food debris. While these features are ideal for some households, those seeking a quieter dishwasher will want to think twice about these options, since they add to the noise level.
Other Considerations When Buying a Dishwasher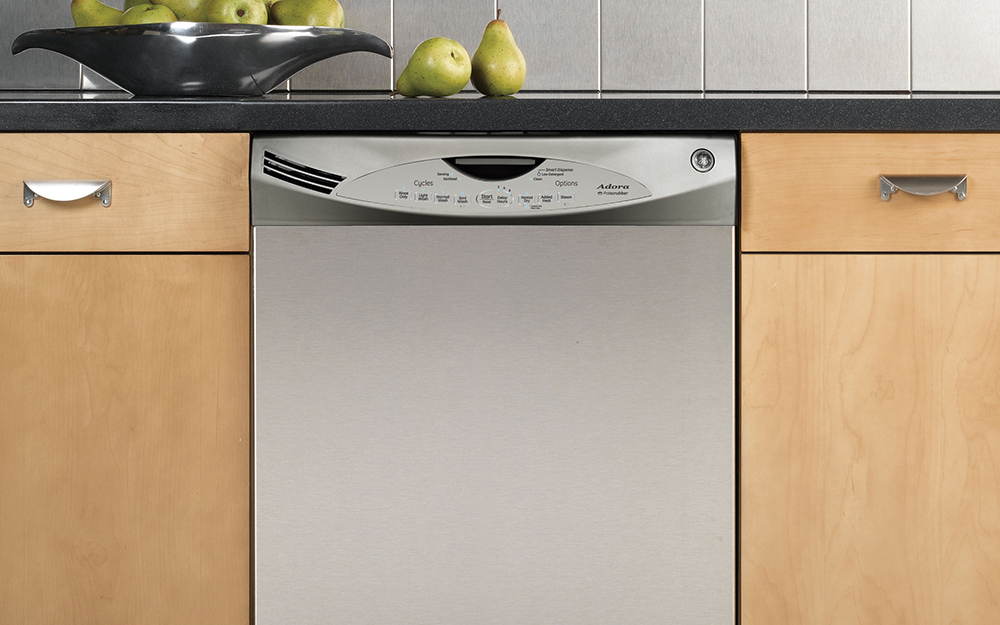 From budget to personal style, several factors go into buying a dishwasher, so it's important to think about what you need. How often do you cook at home? How frequently will you need to run your dishwasher? How large of a capacity will you need? Do you want the quietest dishwasher available? Are you looking for an energy-efficient model? By answering all these questions, you can narrow down the choices.   
You will also need the correct type of outlet for your new dishwasher installation:
3-prong plugs are used for homes build before the year 2000.
4-prong plugs are used for homes built after the year 2000.
When you add professional installation to your new appliance purchase from The Home Depot, the delivery agent carries both types of cords to make sure your home is covered with a compatible plug.  
When you purchase a new appliance from The Home Depot without professional installation, a 4-prong cord is sent by default. If your home is equipped with a 3-prong outlet, you will need to purchase a 3-prong cord or connector adapter separately.
Choosing the best dishwasher for your kitchen comes down to finding the size and type of dishwasher that makes sense for your lifestyle, customizing the dishwasher style to your preferences and ensuring it has features that save you time and money. Buying a dishwasher can be straightforward once you understand all the options available in this dishwasher buying guide. 
When you find a style of dishwasher you like, snap a picture using image search in The Home Depot Mobile App to find more of what you want. Need it today? The Home Depot will deliver on your schedule. Order before noon for conveniently scheduled same-day delivery.
Explore More on homedepot.com