Grilling with gas tends to be quicker and easier than other kinds of outdoor grilling, without leaving as much of a mess. This propane and natural gas grill buying guide reviews the different types of gas grills and their features that will best fit your outdoor feast.
Pros and Cons of Gas Grills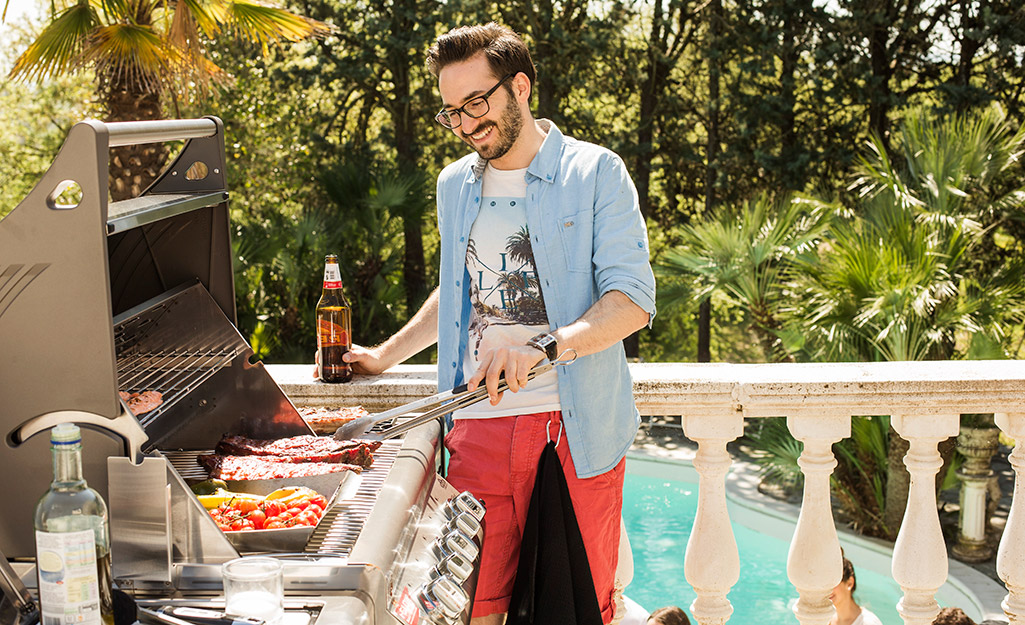 Gas grills are popular types of outdoor barbecue grills due to their fast heating, simplicity of operation and relatively minimal cleanup required.
Some charcoal grill enthusiasts prefer the smoky flavor of meat cooked over coals compared to natural gas or propane heating. However, many gas grills offer the option of adding charcoal or wood pellets while cooking to enhance the flavors. In addition, hybrid or combo grills are designed for both gas and charcoal grilling (but not always at the same time, depending on the model).
Gas grills tend to be more expensive than charcoal grills. They regulate the heat with temperature control knobs and reach temperatures between 400 and 600 degrees Fahrenheit. Gas grills may require maintenance or replacement of such parts as the burners, valves, vents or heat shields. Popular materials for gas grills include stainless steel, cast aluminum and porcelain-coated steel.
Natural Gas vs. Propane Grills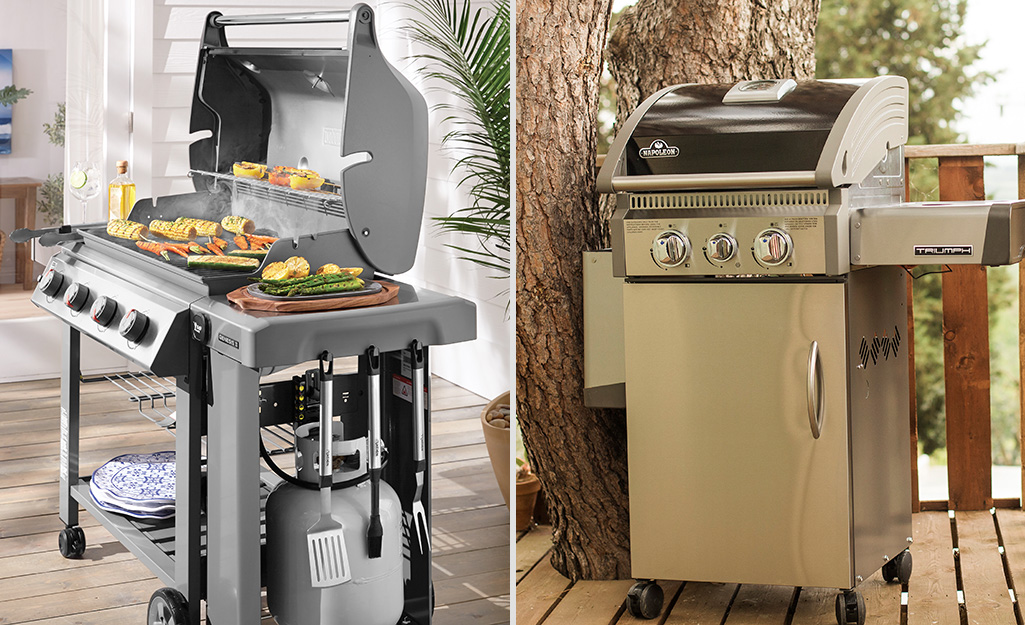 Gas grills run on two types of fuel, either propane and natural gas. The fuel type is not interchangeable: a propane grill cannot run on natural gas or vice versa.
Propane gas comes in refillable tanks, with a 2-pound propane tank providing about 25 hours of grilling time.
Natural gas costs less than propane and avoids the inconvenience of replacing tanks. Natural gas grills require the up-front installation cost of a natural gas line from your house to the grill, which limits the grill's mobility options.
Freestanding and Portable Gas Grills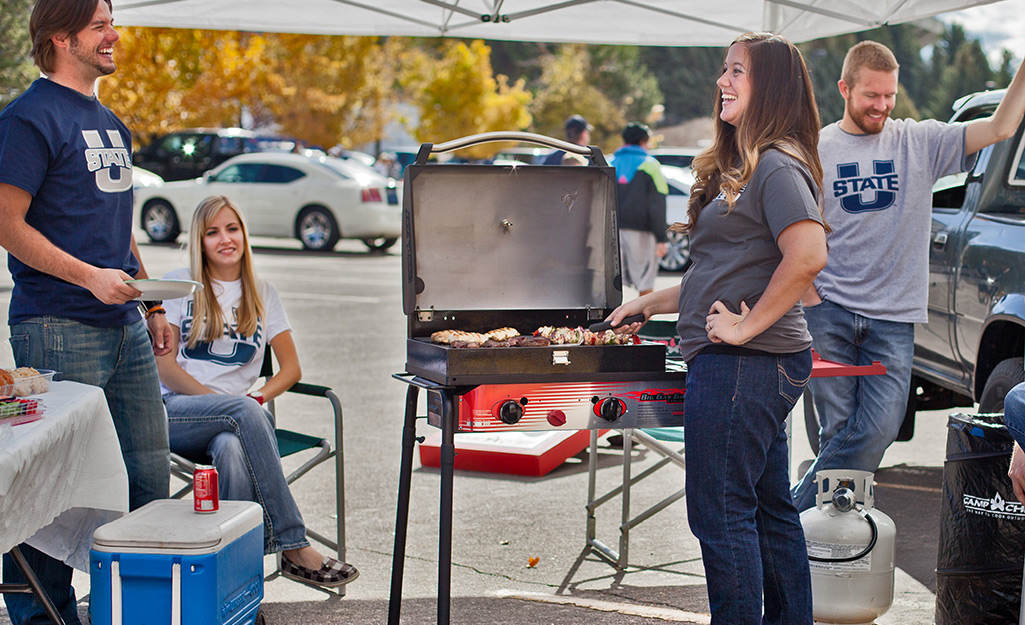 Freestanding gas grills are the most popular type of gas grills, built on wheels for mobility and featuring access doors and drawers for storage of propane tanks and grill accessories. Freestanding or cart-style gas grills can range in size from smaller grills that can cook 18 burgers or fewer at a time to larger grills that can cook 20 or more. Portable gas grills are compact freestanding models built for easy transportation. A portable grill is designed to run off a smaller propane tank.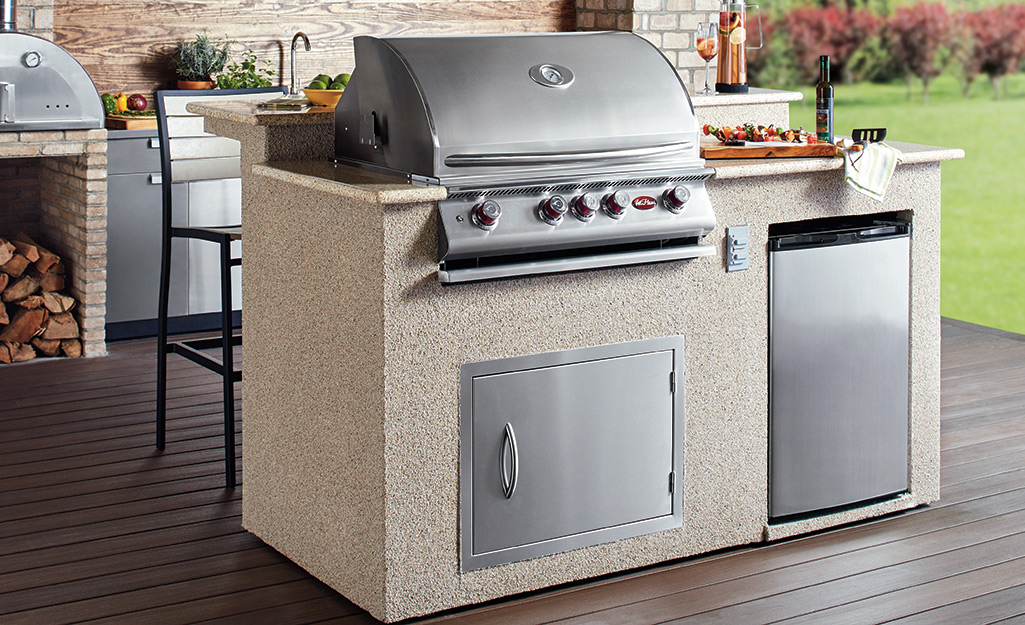 Built-in natural gas grills and built-in propane grills are designed to be installed seamlessly in a custom-made outdoor island or other fixture, much in the same way that an indoor stovetop is installed in a kitchen counter. They provide a showpiece for outdoor entertaining, but have no options for mobility.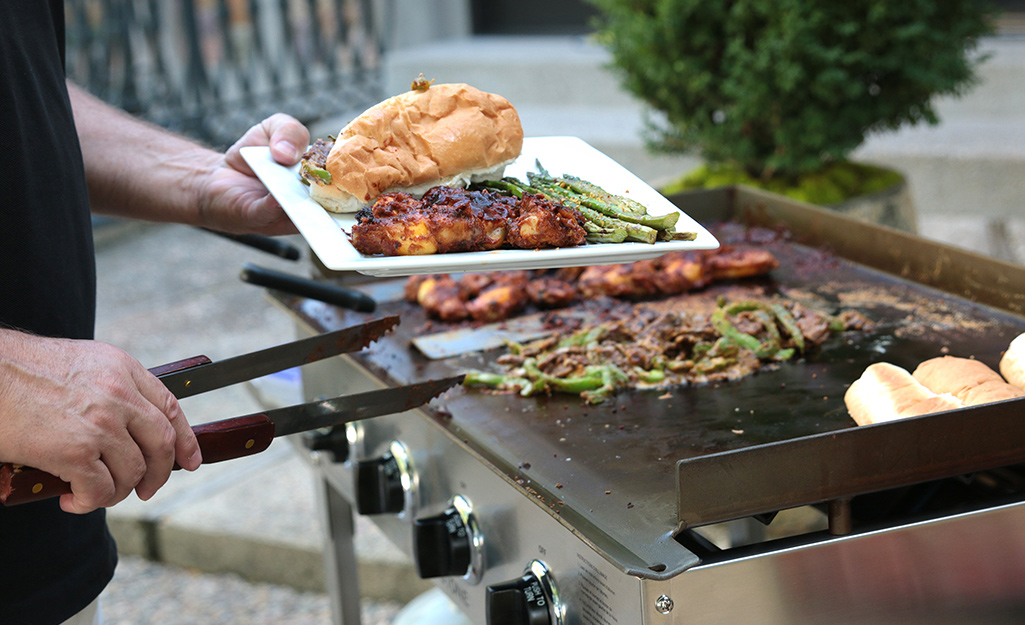 Flat top gas grills, also called gas griddles or hibachis, have flat cooking surfaces in contrast to the grates of standard outdoor grills. Cooking takes place on the open surface rather than covered by a lid. Flat top gas grills can prepare such items as fajitas, fried rice, bacon and eggs, as well as the familiar cookout fare.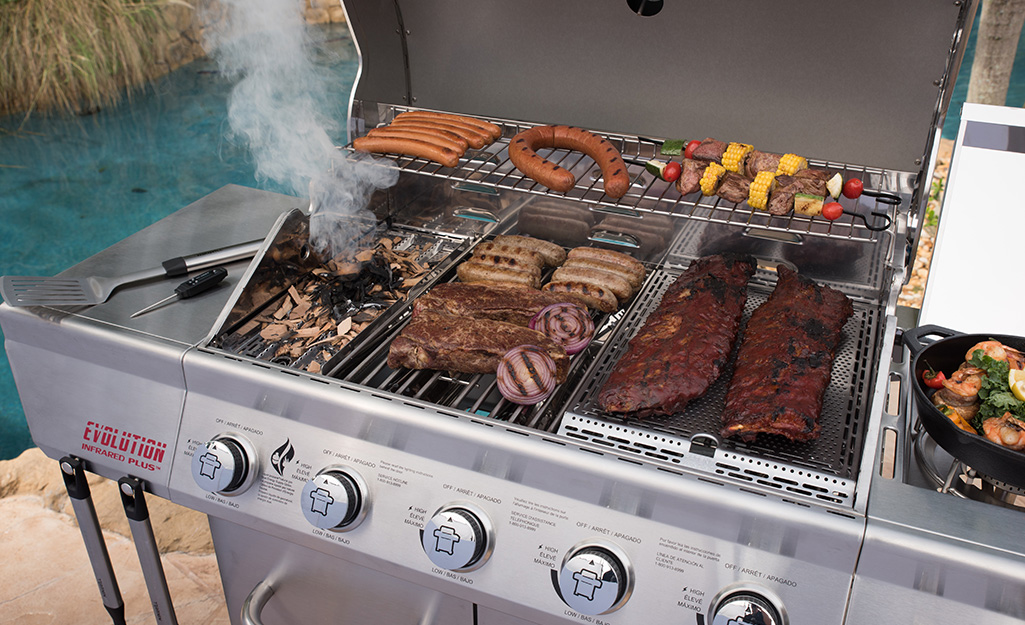 Infrared gas grills use gas fuel to heat an infrared element to cook food. The technology can achieve higher heat than conventional grills and cook foods more quickly while avoiding flare-ups. Foods cooked on infrared grills tend to retain more moisture, which enhances flavor. Infrared gas grills can be significantly more expensive than conventional grills. Infrared grills can also run on electricity.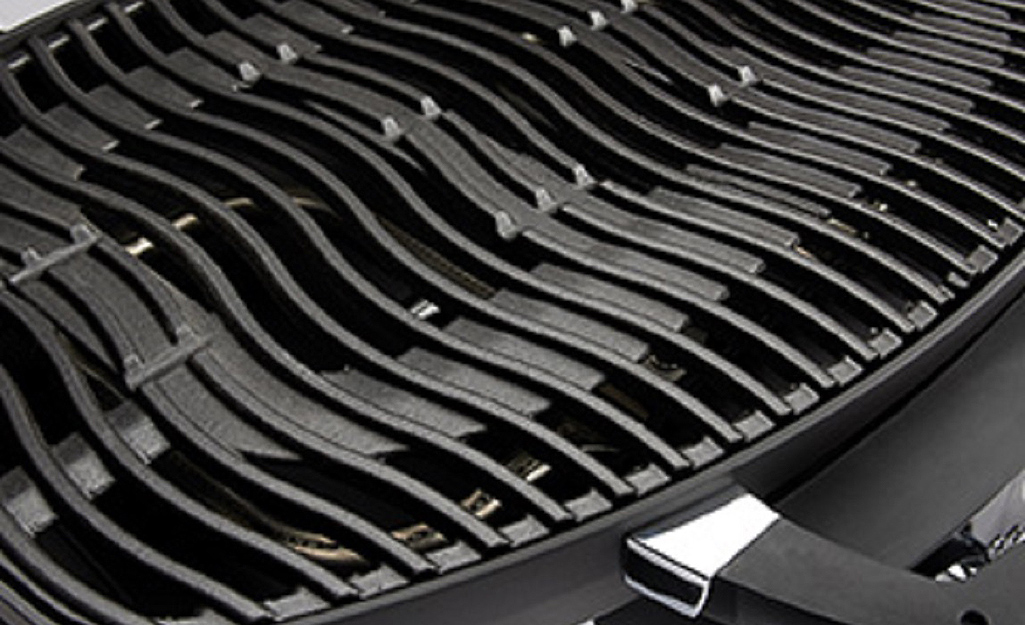 Most grills have grates or grids as their cooking surfaces, made of such materials as steel, porcelain and cast iron.
Steel and stainless steel grates tend to be the least expensive but also the least durable. They're also the most likely to chip, although stainless steel lasts longer and has better no-stick properties than plain steel.
Porcelain-coated grates have a mid-range price but also have a tendency to chip and should not be cleaned with metal scrapers.
Cast iron grates are the heaviest, most durable and most efficient at heat distribution and retention. They can cook more quickly, but tend to be the most expensive and require more maintenance than other grates.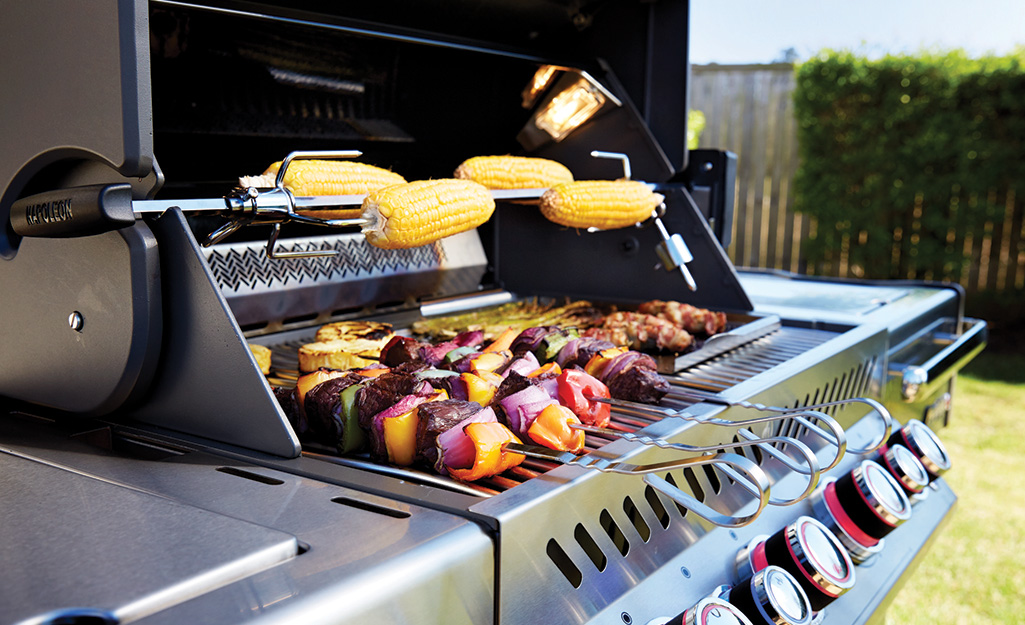 Consider the different features of charcoal grills when choosing the one that suits your needs.
The burners provide the source of the flame of a gas grill. Brass or stainless steel burners tend to be the most durable, while aluminum burners wear out more quickly and iron burners may rust.
Ignition styles for gas grills tend to be push-button ignition, which generates sparks, or electronic ignition, which requires batteries but proves more reliable. Some gas grills are manually lit with matches.
Flame tamers provide a barrier between the burners and the grate, shielding food from flare-ups and the burners from dripping juices. They tend to be made of porcelain or stainless steel.
Side burners give cooks the option of preparing sauces and other dishes without leaving the grill.
Rotisseries provide an automatic rotation accessory for slow-roasting poultry and other items.
Warming racks provide a raised area for keeping food warm while away from the direct heat.
Grease pans are designed to collect grease and other drips for easy disposal.
Control knobs give cooks more precision in setting the temperature. Some are LED lit for improved visibility, especially after dusk.
Fuel gauges indicate the amount of propane remaining in the tank.
Enclosed cabinets provide storage and tank pull-out trays make it easier to swap out an empty tank for a full one.
Review the different size, fuel types and features of propane and natural gas grills to select the one the one that best suits your taste for outdoor cooking.
Need help identifying a gas grill? Find products fast with image search in The Home Depot app. Snap a picture of an item you like and we'll show you similar products.