When you're ready to buy a sewing machine, the most important factor is how you plan to use it. If the goal is to hem pants and whip up curtains, choose a basic and inexpensive sewing machine with several stitching options. 
The machine's size and weight, included accessories and options are important factors to consider. This overview explains the  different types of sewing machines and stitches together the features you want to achieve the best results.
Types of Sewing Machines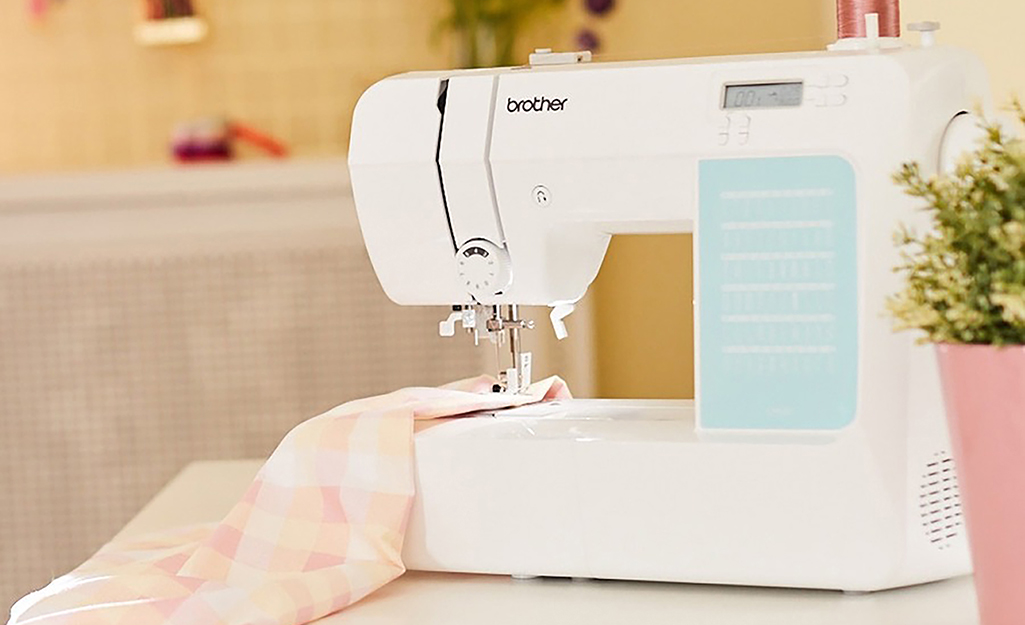 Beginning sewers should start with a machine that's the easiest to use and master. Look for novice-friendly features like an automatic needle threader, multiple built-in stiches and an automatic one-step buttonhole.
Avid sewing enthusiasts deserve a machine with all the bells and whistles. If the plan is to quilt, embroider or go heavy on details, upgrade to a machine with more complex stitches, features and attachments. A machine that's fast and can sew through canvas, leather and other heavy fabrics is also good choice. Specialty sewing machines are available for the look of a professionally tailored finish. 
Sewing machines are one of two types: mechanical or computerized (also called electronic). Mechanical models are less expensive and require manual attention to details. Electronic and computerized sewing machines offer greater precision than mechanical machines, along with a wide array of decorative stitches. 
Tip: Even the best sewing machines will seize up if they're not regularly cleaned and serviced. Consult your sewing machine manual and follow the recommended maintenance schedule and instructions.
Mechanical Sewing Machine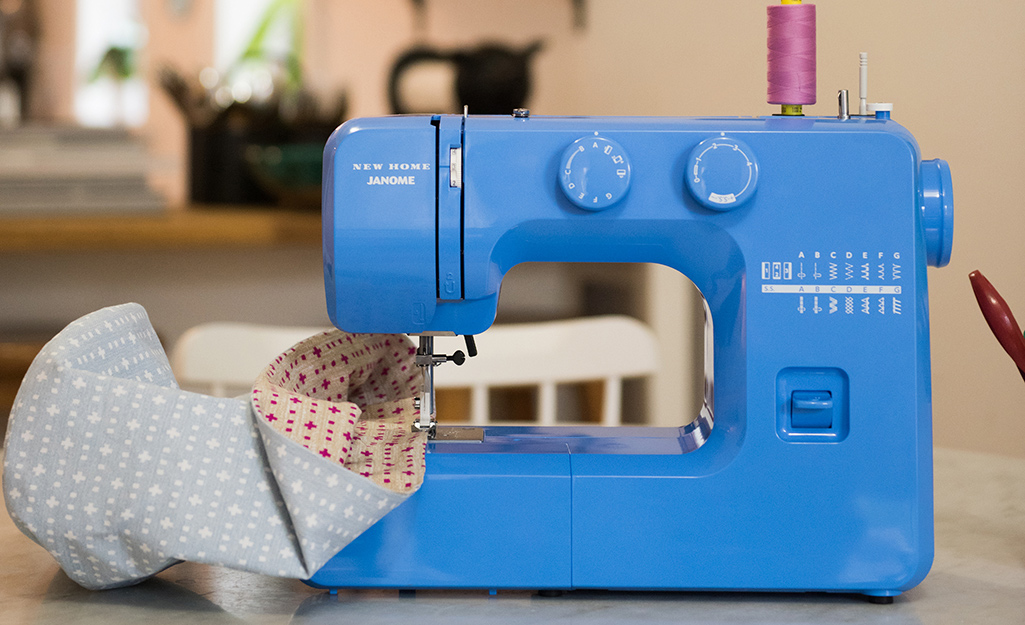 If you're an newcomer or amateur on a budget, a mechanical sewing machine is a great starting point. Most controls are manipulated by hand and can perform basic sewing tasks like hems, repairs and simple projects.
Best for beginners learning to sew
Stitch, needle threader position and fabric are typically manually controlled
Smaller variety of stitches, higher-end models may include decorative stitches
Less features than computerized versions
Budget friendly
Electronic Sewing Machine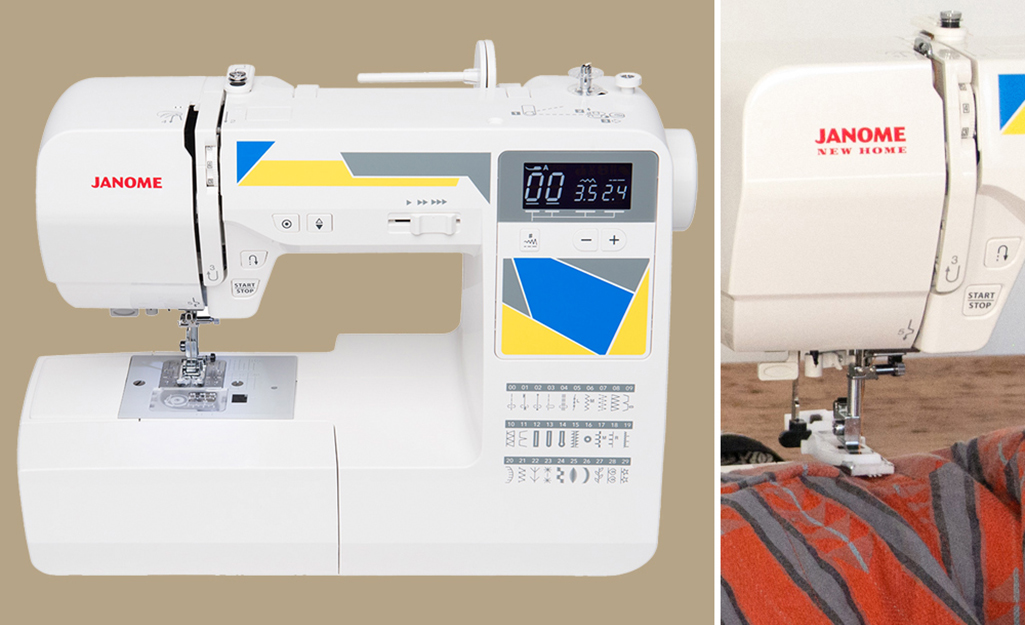 Electronic or computerized machines usually have an automatic needle threader and LCD screen to help see the adjustments you're making. Many computerized models are capable of creating embroidery designs. The increase in speed, efficiency and expanded capabilities come at a higher cost than mechanical machines.
Better choice for more advanced tailors and crafters
Automated controls through touchpad screens or dials
Precise control of stitch length and width, memory-save option
Some models have hundreds of built-in stitches and buttonhole styles
More expensive than manual versions
More professional attention to maintenance
Specialty Machines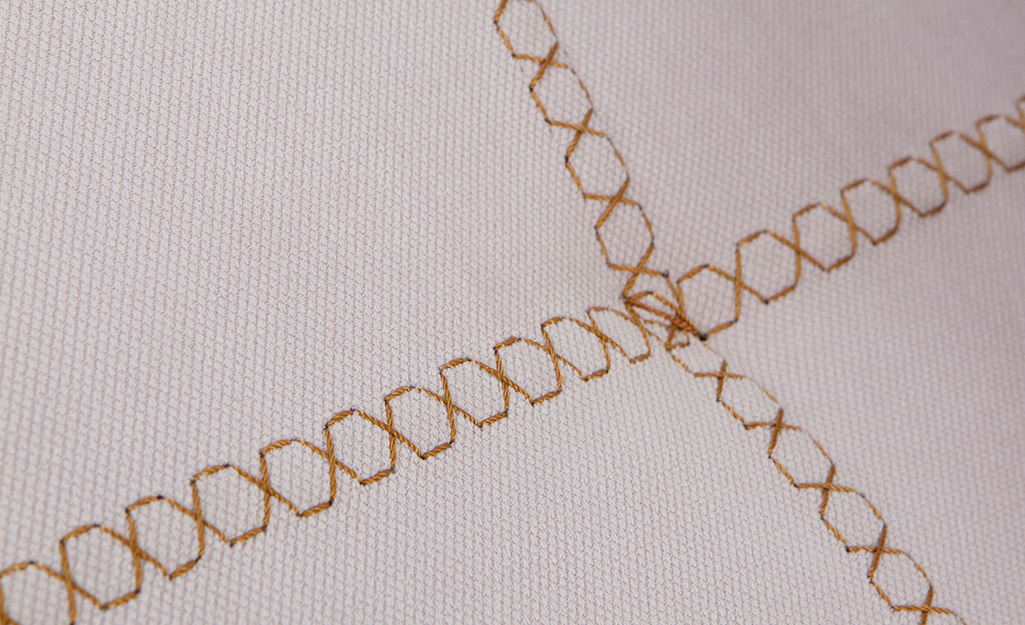 Specialty sewing machines are devoted to more specific types of stitching. The machines are typically heavy duty by design:
Chain stitch machine: Binds fabric with durable chain stitches.
Blind stitch machine: Finishes a garment or sewing project with virtually undetectable seams.
Cover stitch machine: Creates durable, clean-finished seams which can move with knits and other stretchy fabrics.
Flat stitch machine: Creates a single flat seam or a seam that's flat on both sides.
Embroidery Machine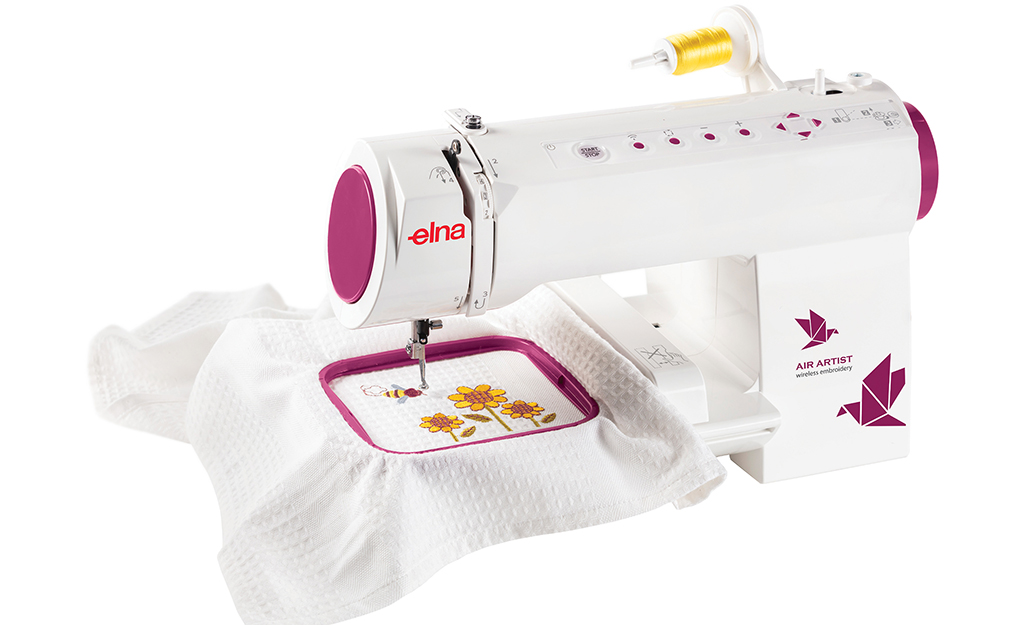 This electronic machine personalizes a project with an embroidered name, letter or shape. It's great for decorative details, however, the machine does not function as a regular sewing machine. Embroidery machines are programmable. Many include a variety of pre-loaded patterns and the option of uploading your design via a USB.
Tip: To maximize your crafting area, choose a model that handles both embroidery and regular stitching.
Serger Machine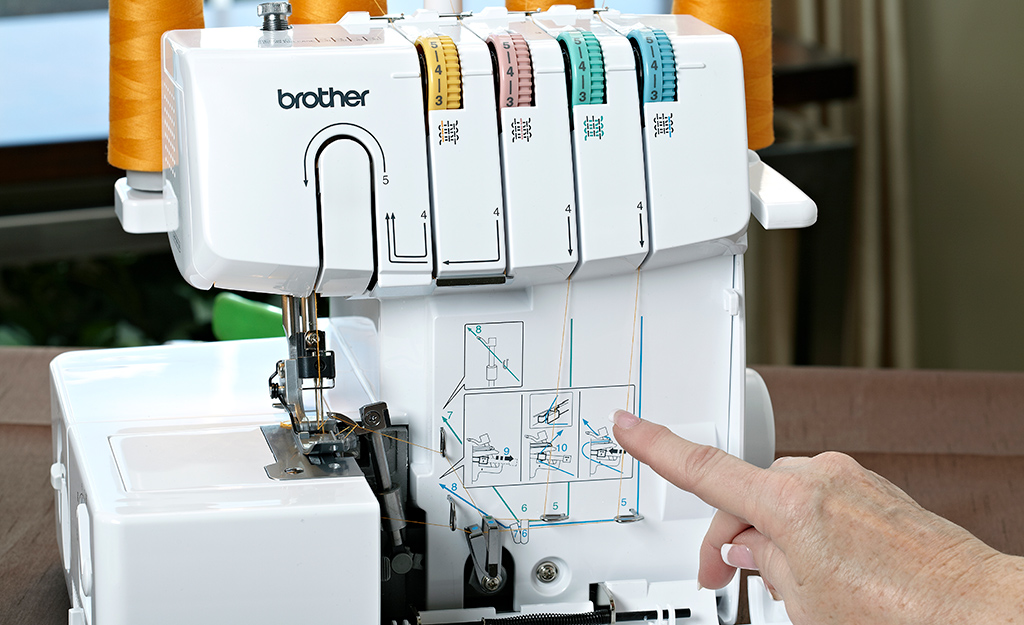 Also known as overlock or overedge machines, sergers give textile projects a neat finish by trimming off seam allowances and cleaning up raw edges. Sergers work quickly, usually with two needles and up to eight spools of thread. They're ideal when fabrics are light and flimsy, like satin or a stretchy knit. 
Tip: Perfectionists will appreciate the professional finish created by a serger machine. 
Quilting Machine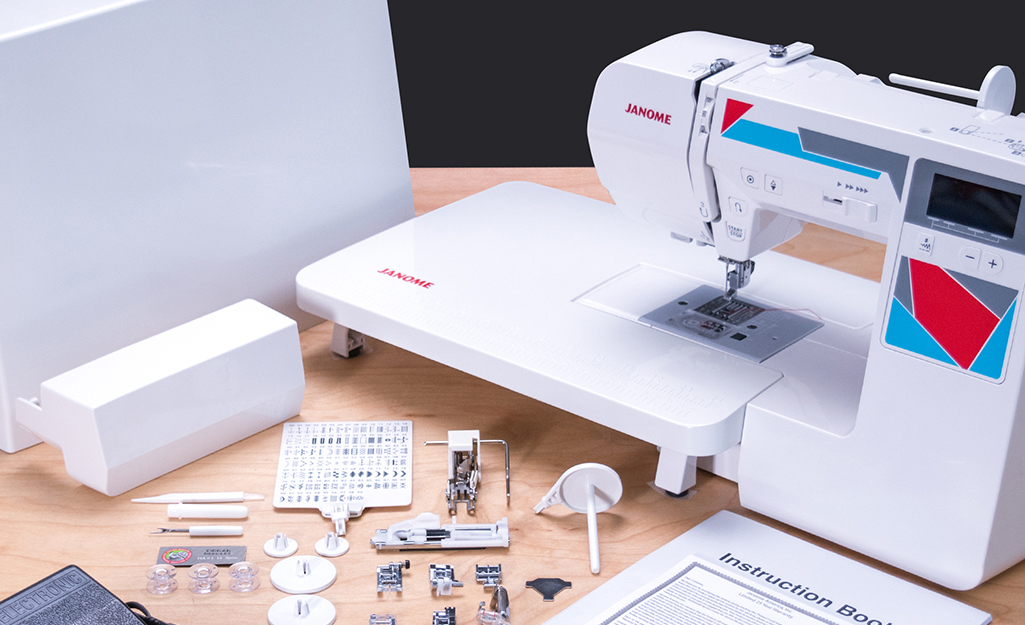 A long-arm sewing machine is another name for a quilting machine. These units have an extra flat space on a titular arm where large swaths of fabric lay flat while being worked on. Unlike domestic sewing machines, these sew through thick layers like a quilt. 
Look for a powerful, heavy-duty motor, variable speed settings and automatic thread cutters.
Essential Features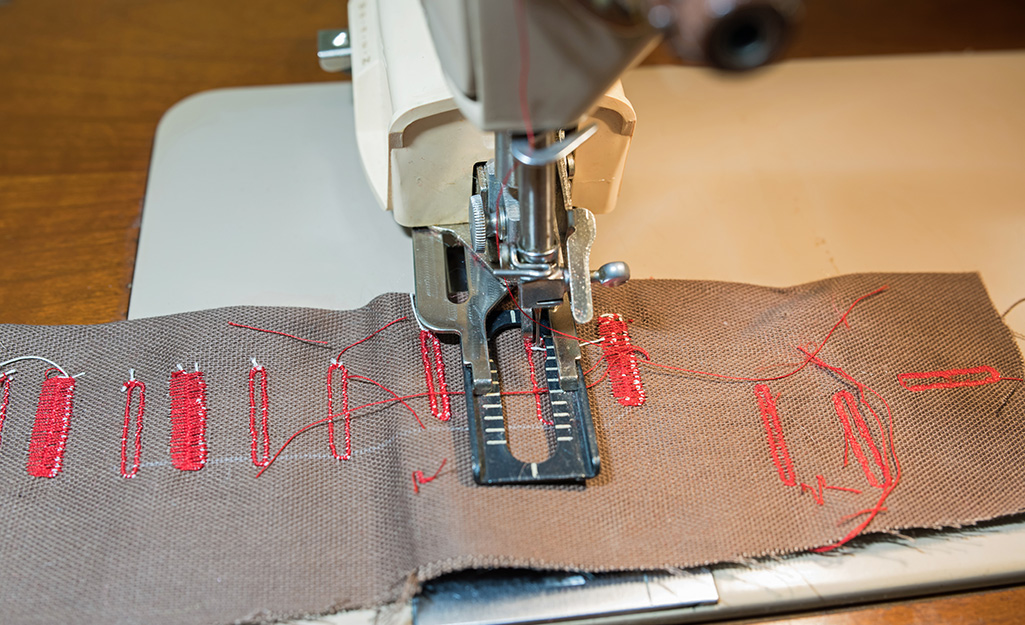 At any price, a good sewing machine should have several basic features that help produce top-quality projects.
Stitch range: The more stitch options, the better, for regular sewing. A machine with a basic stitch selection is good for occasional mending and light sewing needs.
Buttonholer: Machine stitches the chosen hole size and shape. This can range from a one to multiple buttonhole options.
Top-load bobbin: Easily replace thread without taking apart entire casing. Look for a see-through bobbin cover as well.
Bobbin-thread lift: Brings bobbin thread to the surface without placing fingers under the presser foot.
Free arm: Sews narrow, round pieces such as sleeves, collars and pant hems. Large arm space and long arm features are a must for bridal wear and large projects.
Built-in needle threader: Saves time and strain by automatically placing thread correctly.
Heavy-duty: Ability to sew through leather and upholstery.
Light weight: Easier to carry and maneuver if stored or transported to class.
Tip: A hard case protects your sewing machine from dust and moisture, keeps it stored when needed and assists with transport. Some machines are sold with cases, others have cases that can be purchased separately.
Whether you're a seasoned sewer or beginner, there's a large selection of sewing machines to suit your needs. The key is understanding what type, its functionality and, ultimately, the performance. When you're ready to set up shop and sew, The Home Depot delivers online orders when and where you need them. 
Explore More on homedepot.com