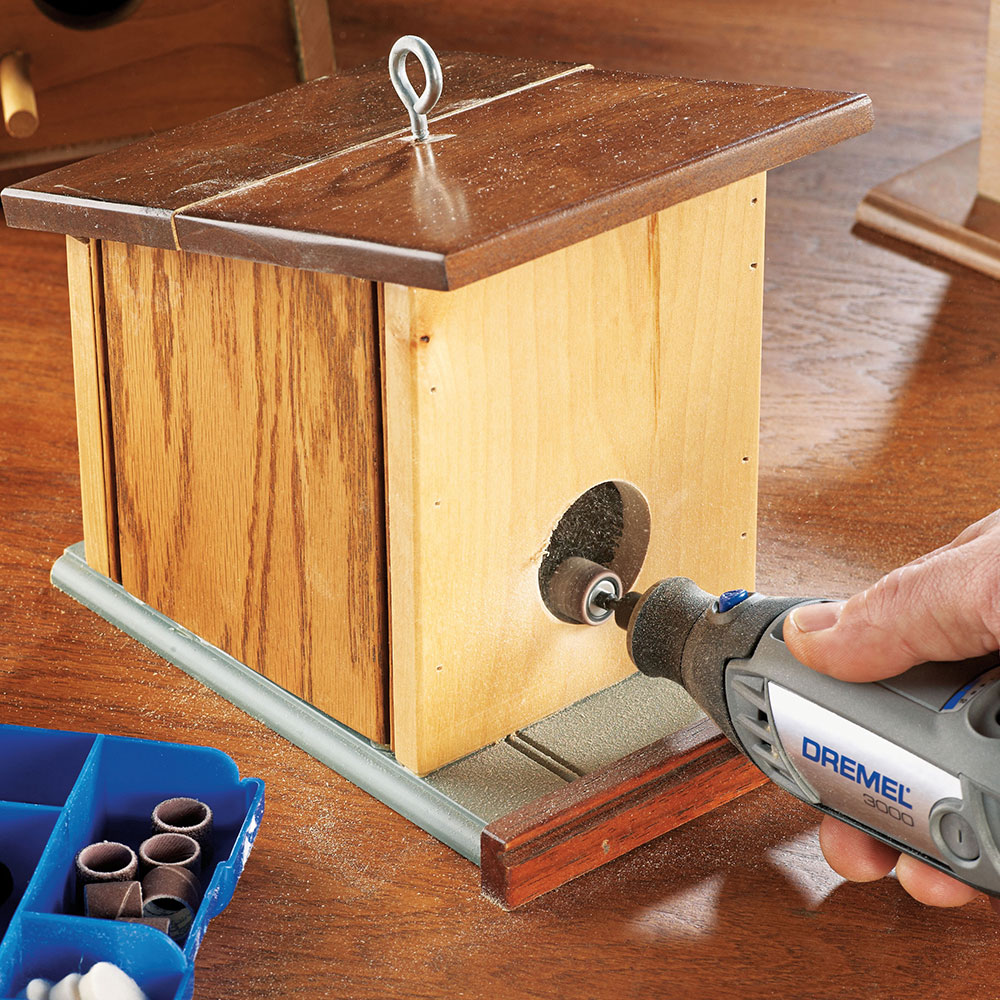 A rotary tool is a versatile, handheld power tool with a fast-spinning motor tip that is used for grinding, sanding, honing and polishing a variety of materials. Rotary tools have a large assortment of attachments designed for different tasks, making them a staple in many toolboxes. With the right rotary tool bits, a rotary tool can act as a lightweight, easy-to-use alternative to more heavy-duty power tools.  
This guide will teach you how to use a rotary tool effectively, how to choose the best rotary tool for you and a few simple rotary tool projects you can try yourself.  
Choose the Best Rotary Tool for Your Projects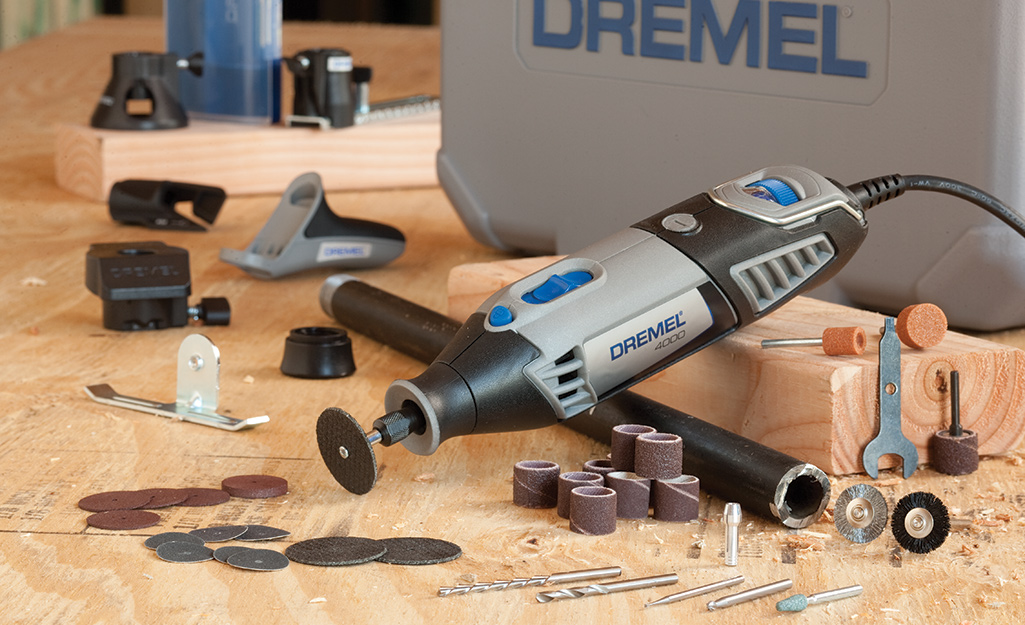 When choosing the best rotary tool for your needs, consider the types of projects you plan to complete and how a rotary tool can assist. Below are some qualities you can look for in a rotary tool: 
Rotary tools can be pneumatically powered (i.e. powered with pressurized air) or electronic. Pneumatic rotary tools are often called "die grinders" and are primarily used for heavy-duty, professional tasks. Typically, "rotary tool" refers to the lightweight, electronic counterpart that has more general use.
Rotary tools can be corded or cordless and powered by a rechargeable battery pack. Corded rotary tools can reach speeds up to 35,000 rotations per minute (rpm), while cordless rotary tools typically only reach up to 15,000-rpm.
More expensive rotary tools will have variable speeds, while less expensive rotary tools tend to have one fixed speed.
For a long-lasting rotary tool, look for one that allows you to replace the motor brush when it becomes worn.
The most versatile rotary tools will have an easy bit change feature and several compatible rotary tool attachments.
To ensure you have plenty of compatible bits for different tasks, consider a rotary tool kit that comes with several bits for the most common rotary tool tasks.
Learn the Basics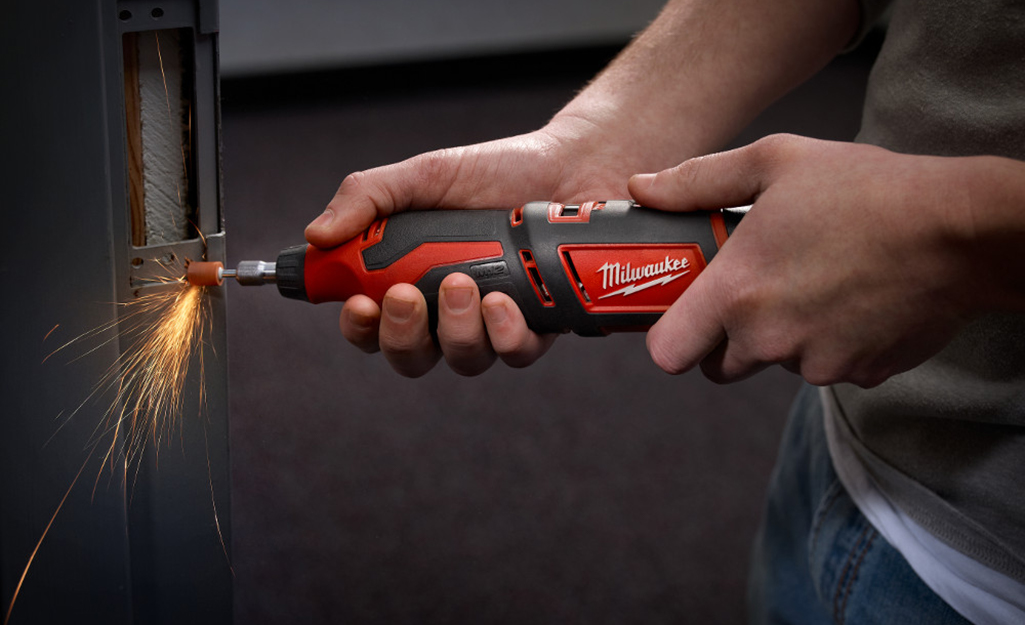 When using a rotary tool for the first time, familiarize yourself with the tool. 
Find the on/off switch and the speed controls.
Next, find the button that detaches the tool bits and practice removing and replacing bits.
Note the shank size of your rotary tool bits, since the shank size determines which bits your tool can use.
If your rotary tool has a replaceable battery or motor brush, practice removing and replacing these parts as well.
Remember to take the appropriate safety precautions when operating any power tool. Before operating your rotary tool, ensure you have safety goggles and work gloves on hand. 
Choose the Right Rotary Tool Bits for Your Project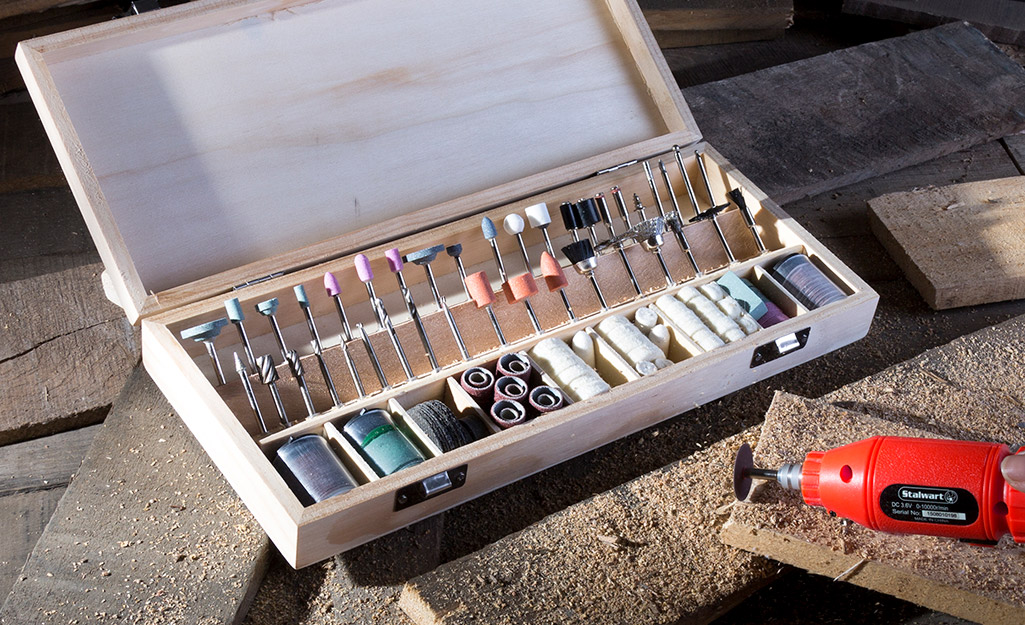 A rotary tool's success depends on utilizing the correct rotary tool bits for a particular task and material. Bits are interchangeable so long as they have the same shank size. Below is a list of common tasks and the coordinating types of bits.
Carving and engraving: high speed cutters, engraving cutters, carbide cutters, diamond wheel points and sanding drums
Routing: router bits, including straight router bits, keyhole router bits, corner router bits and groove router bits
Drilling: drill bits
Polishing: polish points or cones, sharpening wheels and sanding drums
Tip: There are many more specialized rotary tool bits than those listed above. If you are uncertain about the type of bit you need for your next project, consult an expert at The Home Depot nearest you. 
How to Cut with a Rotary Tool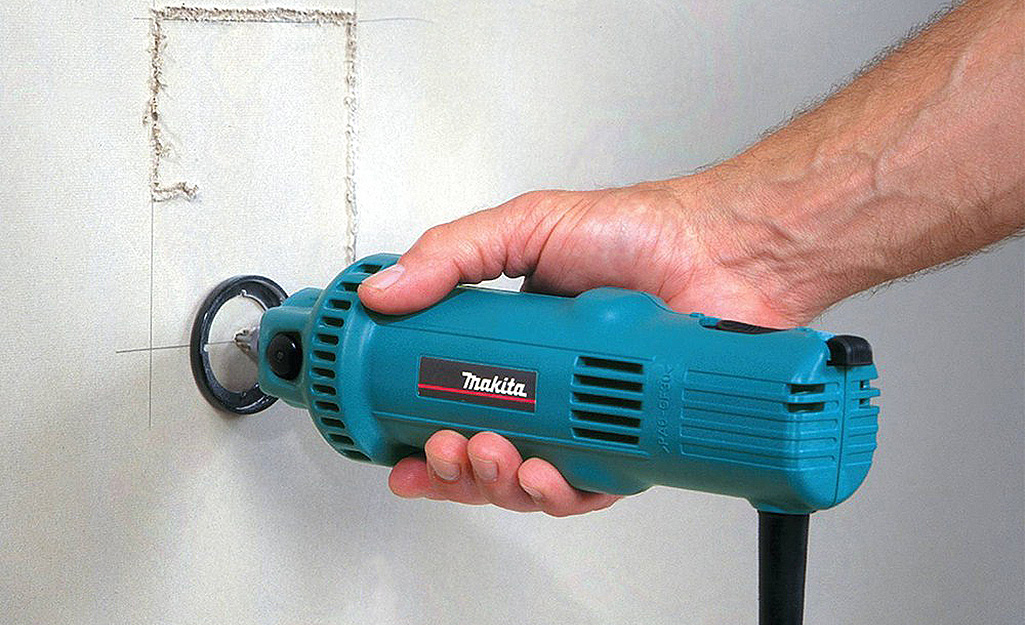 Rotary tools are great for making small or detailed cuts. When making long, straight cuts, however, you should opt for a different type of saw, since all the cuts you make with a rotary tool will be freehand.  
For cutting drywall, wood, plasterboard or other light materials, use a straight router bit.
For cutting metal or plastic, use a cutting wheel bit.
For cutting thicker metal and other tough materials, use a carbide cutter.
Draw an outline on the material to follow while cutting.
Cutting may take several passes, especially for thicker materials.
When cutting metal, use cutting oil to decrease friction and thus reduce the amount of heat generated from the tool.
Tip: Rotary tools are ideal for plumbing projects, since they are small and easy to maneuver and can cut through metal and PVC piping. 
How to Carve with a Rotary Tool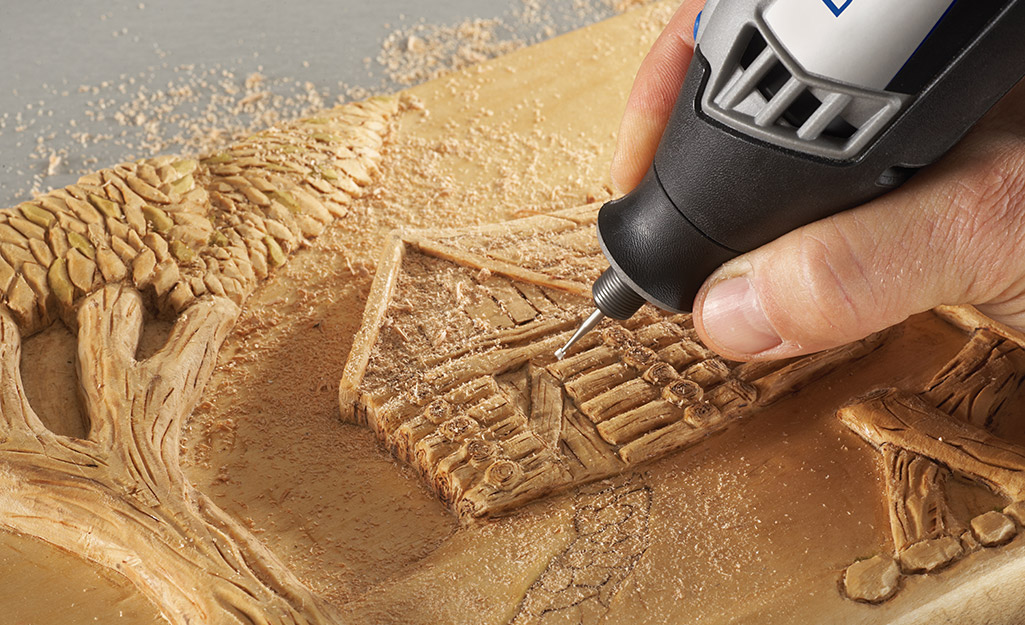 A rotary tool offers fine, detailed control, making it an excellent tool for carving and etching. Rotary tools are often used for detailing work on wooden cabinetry and furniture. 
Typically, carbide rotary bits and router bits are the go-to bits for carving and etching. These bits come in many different sizes to suit any project.
If while carving you notice smoke or discoloration of the material, then the rotary tool's speed is too fast. Lower the speed setting.
If the rotary tool's motor slows, stutters or makes an unusual grinding noise, then you are applying too much pressure. Ease up on the carving material.
How to Sand or Polish with a Rotary Tool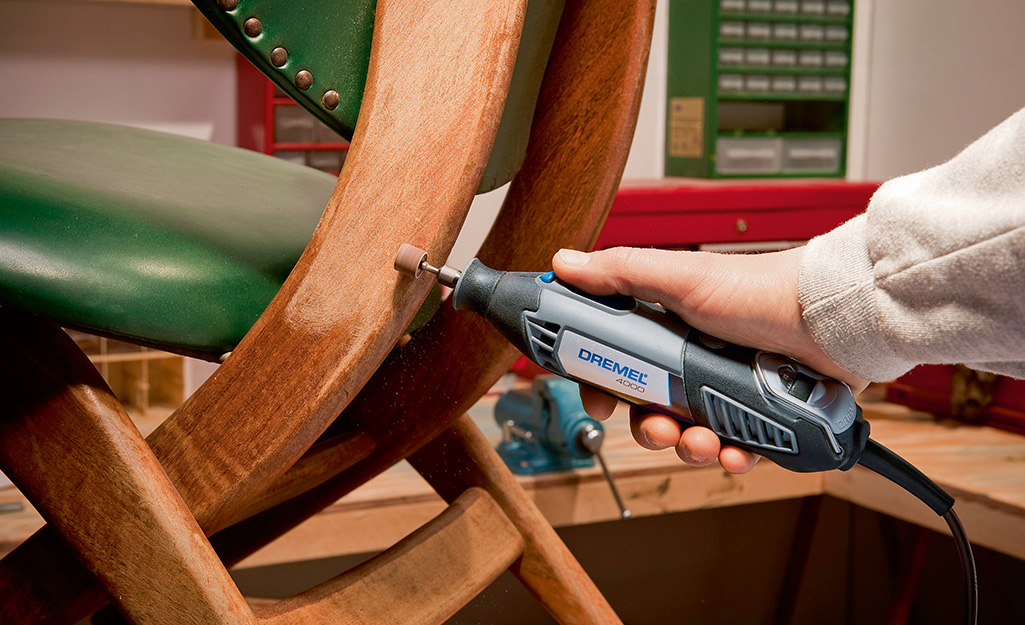 Rotary tools can be tough enough to sharpen knives or gentle enough to polish jewelry. You can even use a rotary tool at a low speed to file pet nails. 
For sanding or filing projects, use a sanding drum bit. Sanding drum bits come in a range of coarseness. Coarser bits are better suited for sanding tough materials, while softer bits are made for gentler, finer sanding jobs.
When polishing, use a wire brush, polishing point or polishing wheel with a wax or polishing compound.
Start at a low speed and work up to a medium speed as needed.
For big jobs, move from coarser bits to softer bits.
Rotary Tool Projects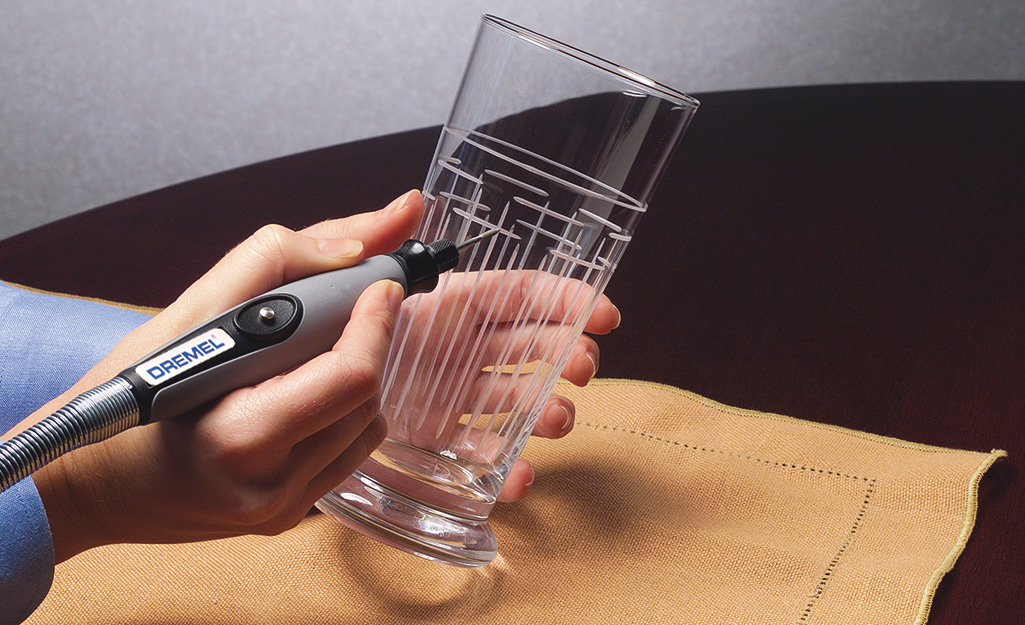 Since it is so highly adaptable, a rotary tool can be used in a wide range of DIY projects. Try substituting a rotary tool for other power tools like drills, sanders and electric saws, especially when you need fine motor control for small, tight spaces and projects. Armed with a rotary tool alone, you can complete the following projects: 
Carve designs into wood, stone or metal surfaces.
Cut and sand wood or plastic.
Etch mirrors or glass, including windowpanes, tumblers and glass tables.
Cut tile for installing plumbing or for custom backsplashes and flooring.
Cut sheet metal into unique shapes to create jewelry, home decor or custom home repairs.
Sharpen knives, chainsaws or other blades.
Polish jewelry and devices, including laptops and smartphones.
Remove rust from devices and metal appliances.
With so many ways to utilize it, knowing how to use a rotary tool is essential for the avid DIYer. A rotary tool kit makes a smart addition to any toolbox. The Home Depot delivers online orders when and where you need them.
Explore More on homedepot.com