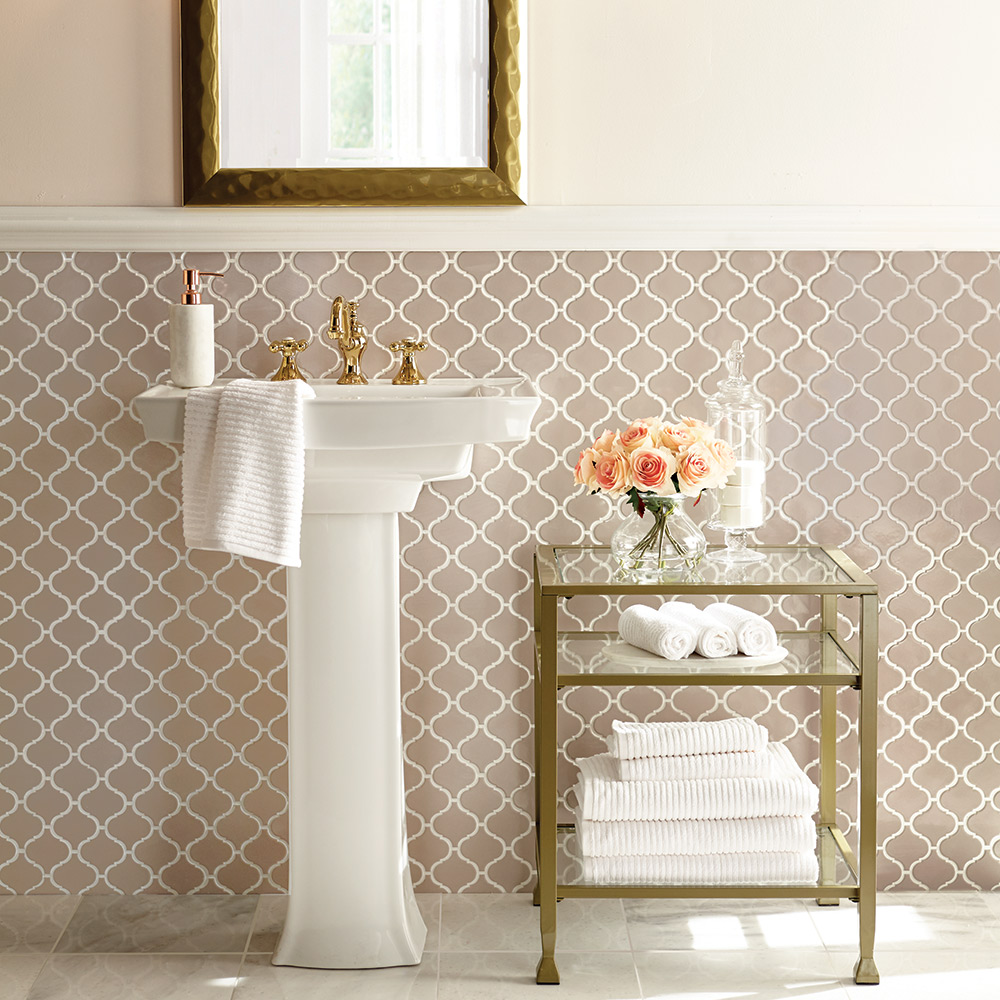 Repairing a sink by yourself can feel like a difficult task, but sinks aren't all that complicated. For many people, learning the parts of a sink and the proper layout is all that's required to take on basic maintenance tasks.
Use this guide to learn more about the parts of a sink, the parts of a drain and what they do. Broken down by sink type, this guide is a must-read before you roll up your sleeves and get started with repairs.
Parts of a Sink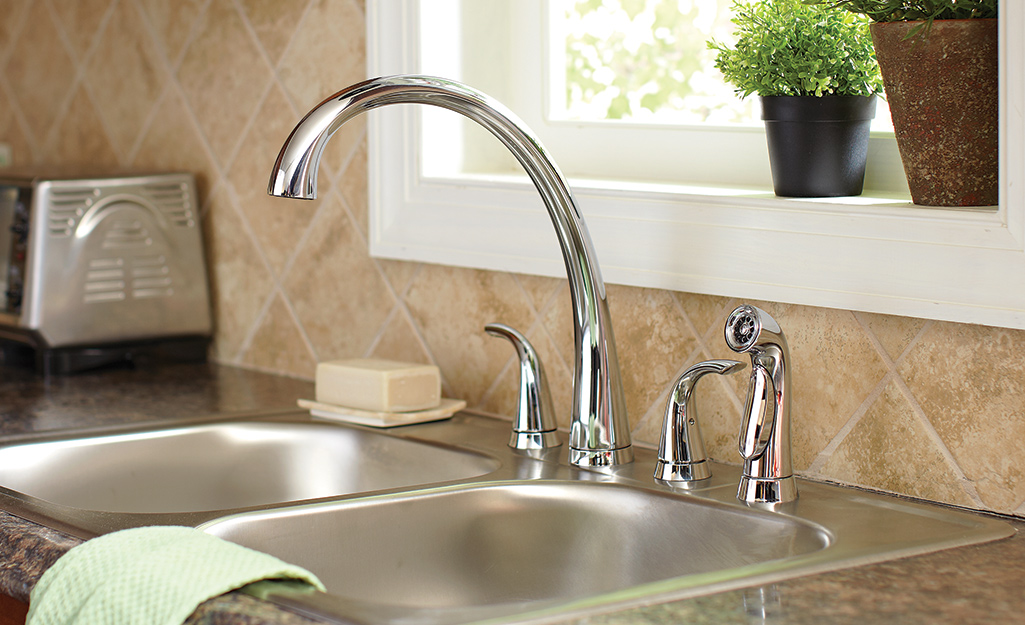 Every sink is different, and what you'll find in the bathroom is unique compared to what you have in the kitchen. Still, many of the parts of a sink are the same on all models. 
Here are some of the common parts of a sink you'll find almost everywhere:
Faucet: The faucet is the part of a sink where the water pours out. Parts of a sink faucet include a water spout, controls, gaskets, flanges, aerators, washers and an assortment of screws, depending on the kitchen or bathroom sink faucet you have in your home.
Controls: Controls are what allow you to turn the water on or off. Single lever styles that rotate to control water temperature and separate left and right hot/cold controls are common. A variety of styles mean you can pick the one that functions and looks best in your home.
Basin: The basin is the part of the sink that holds water from the faucet. It has a drain in the bottom that allows water to escape. A variety of sizes, styles and materials are used for bathroom, kitchen and utility sink purposes.
Drain: All sinks have a drain to allow water from the faucet to flow out of the sink basin. The drain is connected to your P-trap and plumbing connection hidden within the walls.
Tailpiece: Often referred to as the drain tailpiece, this is the section of piping that connects to the drain fitting. It carries water away from the sink.
Water supply lines: These attach to the sink's faucet controls. They bring hot and cold water through separate supply lines to the sink for use.
Trap: A P-trap is a two-part pipe under your sink that allows waste and water to pass through. The bend in the pipe prevents sewer gasses from entering. Today, most models are two pieces joined together. Older P-trap systems may be glued in place and should be replaced with an updated two-piece system. Similarly, S-traps left over from old construction should be converted to P-traps, since P-traps offer a reliable water seal to prevent gasses from coming back up into your home.
Cleanout: Located near the P-trap, a cleanout is a pipe fitting that allows you to clear clogs and remove debris.
Shut-off valve or stops: Often featuring an oval-shaped handle attached to a flexible braided metal line, a shut-off valve is located near a sink to help you control the flow of water. By turning the shut-off valve, you'll control the supply of water to the sink without turning the water off for the whole house. Individual shut-offs may be referred to as stops.
Still not sure what parts make up a sink? View each sink parts diagram below for a more detailed visual representation.
Parts of a Kitchen Sink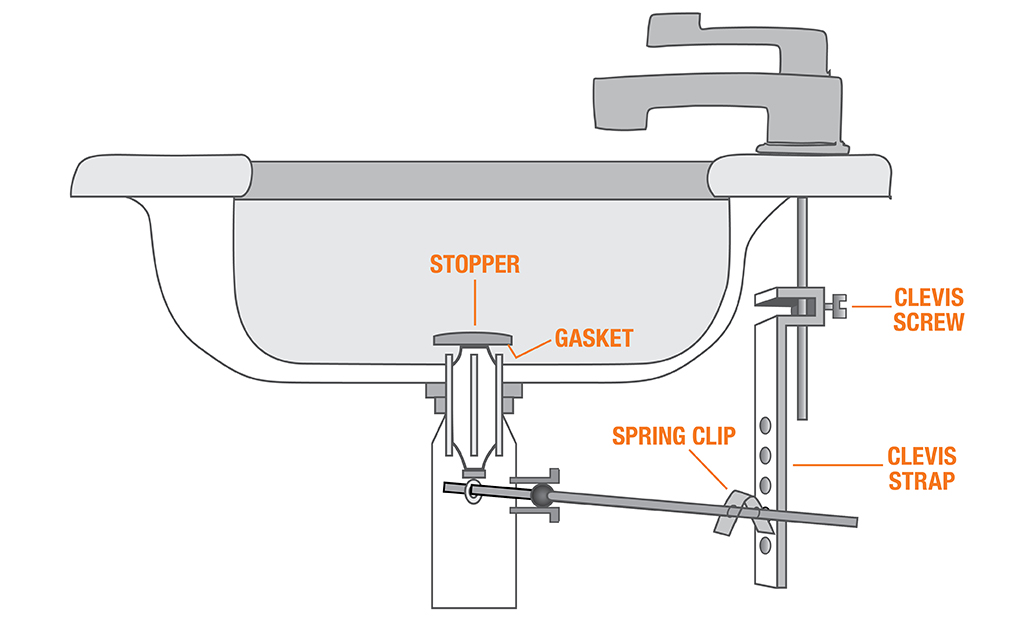 Kitchen sinks include many of the same parts that you'll find on any sink, like a basin, faucet, control lever or handles and hot and cold water supply lines. However, kitchen sinks often have a few extra parts. 
Here's what you'll find on a kitchen sink assembly:
Escutcheon: This is the piece that attaches to your kitchen faucet or faucet lever. Your water supply lines and coupling compressor (if you have a garbage disposal) are attached on the underside.
Spray head: A spray head is a detachable fixture that makes tasks like washing dishes easier. Spray heads typically share the same water supply lines as your faucet via a connecting spray hose. In most kitchen sink setups, you can use either the faucet or spray head, but not both at once.
Strainer: This multi-piece system helps filter debris out of your system. Strainer systems are typically comprised of a strainer body, a coupling and a flange. Your strainer system connects to your drain pipe as well.
Garbage disposal: Attached to your P-trap, a garbage disposal helps grind down food debris and carry it away from your sink, preventing clogs.
Stopper: Stoppers in the kitchen are designed to help collect food waste. However, the parts of a sink stopper are not typically fitted permanently in place, so you can use the garbage disposal as needed. For a kitchen sink, many people use a separate stopper basket to collect food debris. Some sinks come with specially designed models, but all-purpose stoppers typically work just as well.
Use our kitchen sink plumbing diagram for a more detailed visual.
Parts of a Bathroom Sink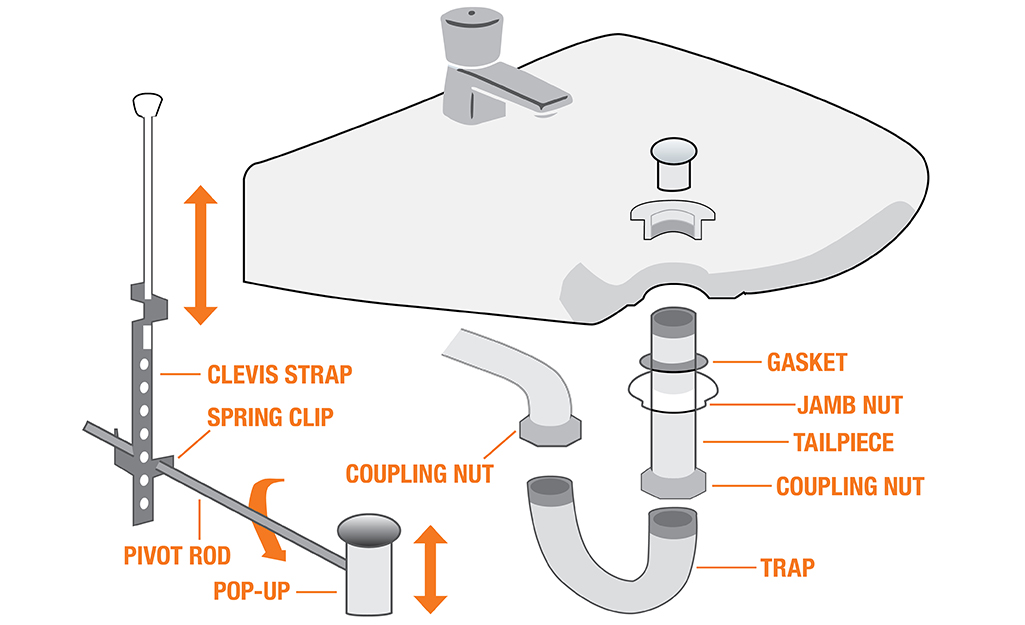 A bathroom sink has fewer parts than your average kitchen sink. Here are the extra sink parts typically found on a bathroom sink fixture that may be different from your kitchen or utility sink:
Stoppers: Many bathroom sinks have a drain that can be closed to keep water in the basin. These are called stoppers, and they include a fitting that goes inside the drain and a lift rod to raise and lower the stopper valve. A pivot rod, spring clip, clevis strap and associated hardware are used to activate the mechanism.
Valve stops: A little different in the bathroom, most sinks here have a separate shut-off handle for hot and cold water. With a double vanity, you'll likely have a set of two on each sink. These are used to turn the water off to the sink without impacting toilet fixtures or other parts of your bathroom. Your valve stops are connected to your water supply lines via flexible braided metal tubing.
Use our sink plumbing diagram to familiarize yourself with the different bathroom sink parts and the parts of a sink drain.
Parts of a Sink Faucet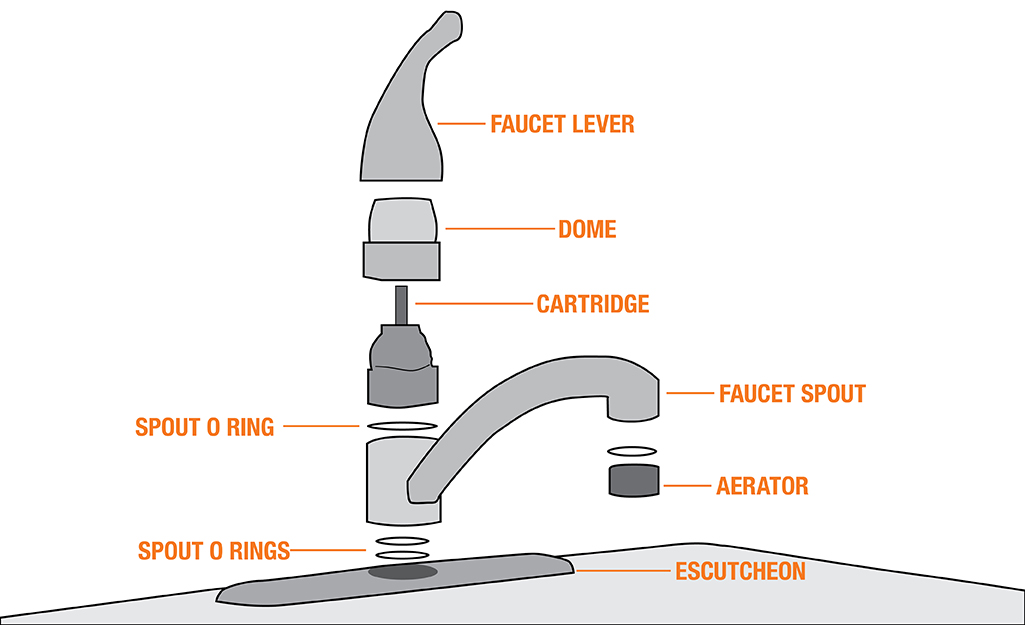 Your sink's faucet has a variety of parts. Use this glossary to help you better understand what the parts of a kitchen faucet are called:
Faucet lever: This is the control for the water supply. You'll use this to turn water on and off during normal operation. Most kitchen sinks utilize a single lever that can be turned left or right to control the temperature of the water.
Faucet body: Below the faucet lever, you'll find the faucet body. This connects to the water supply lines to bring water to the spout. This is non-adjustable once installed.
Spout and spout assembly: The spout and spout assembly are the internal and external components that allow water to flow from your faucet.
Aerator: Located at the end of the spout, the aerator is designed to regulate the flow of water out of the spout.
Escutcheon: This metal piece sits on top of sink and covers the holes that connect to your pipes and faucet handles.
Spray hose: This connects the water supply to the faucet as a whole. It also connects your handheld sprayer to the water supply if your sink is fitted with one.
Compression couplings: Compression couplings work to connect two different pipes to your fixture and valves. These are located between your hot water supply line, cold water supply line and the left and right valves covered by the escutcheon.
Water supply lines: Kitchen sinks are typically fitted with two supply lines – a hot water supply line and a cold water supply line. A dish washer water supply line will be present if applicable.
Dish washer drain hose: This is used to remove water from the dish washer. You can usually spot this drain hose quickly because it has a loop at the top to keep dirty water from settling or returning to your sink.
Shut off valves: Your shut off valves control the flow of water to the sink. Turning them off stops the flow of water for repairs or in the case of a leak.
Along with these parts, all sink faucets use an assortment of nuts and washers. These will vary depending on the particular hardware you are using.
Parts of a Sink Drain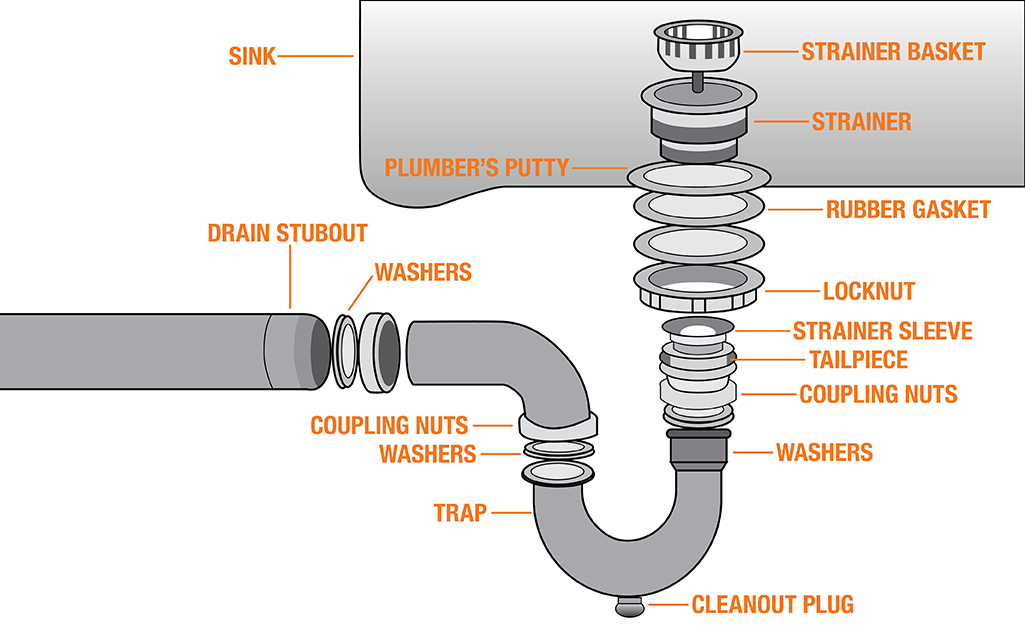 Sink drains aren't particularly complex, but if you're new to plumbing parts, they can be tough to understand. Here are the parts of a sink drain you need to know about**:**
Strainer basket: This part fits into the opening at the bottom of your sink basin. It helps collect food debris and is typically an optional product, though some sinks come with them. Universal replacement strainer baskets are available.
Strainer flange: This piece sits directly below your strainer basket. When applicable, it will connect to your garbage disposal.
P-trap: Made up of two pipes, this assembly removes waste and water from your sink. These pipes form a pronounced bend to help avoid clogs.
Strainer nut, rubber gasket and friction gasket: These parts work in unison to create a secure seal between your strainer flange and P-trap. Plumber's putty is typically used to keep these pieces in place.
Save money and tackle your next sink installation or repair job with fixtures, fittings and sink parts from The Home Depot. You'll find everything you need on The Home Depot Mobile App. Whether you're a first-time DIY-novice or you're a plumbing pro, we've got the hardware, accessories and tools you need to get any job done right.
Explore More on homedepot.com