Proper yard maintenance means you need to incorporate a variety of tools. When it comes to pruning shrubs and removing heavy branches, a pole saw is your yard's best friend. However, understanding how to shop for the best pole saw can be confusing. This guide will teach you about which features to look for, such as height, weight and power options, so you can find the best pole saw for your needs.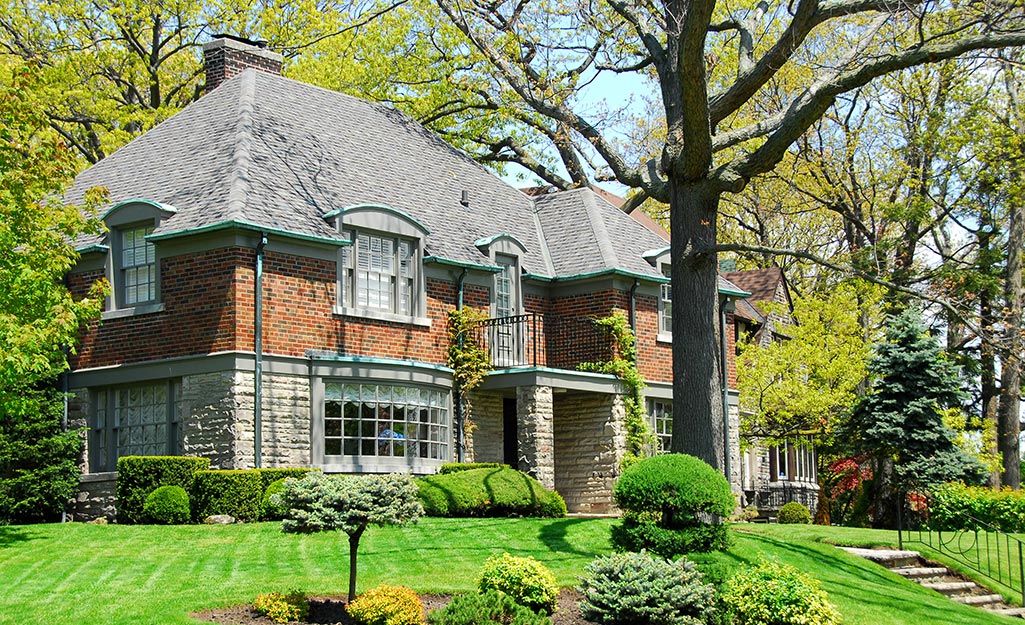 Before you begin shopping for a new pole saw, there are a few factors to consider:
Understand how to use a pole saw: As with any tool or project, you want to do your research before you purchase or begin using the item. For instance, the best saw for cutting tree branches may be different than the best pole saw to prune small bushes. Go to the store, look around in person, hold the saw in your hand and do research online.
Yard size: Does your yard have a lot of shrubbery? The larger your yard, the more powerful your pole saw.
Tree coverage/height: If your yard contains a lot of older, larger trees, pole saw length is going to be very important to you. Additionally, a cordless pole saw may be easier to use when dealing with taller trees.
Frequency of use: Do you plan to use your pole saw regularly? Then a gas-powered, durable pole saw may be the best choice for you.
Special features: Are you the type who likes more hands-on projects, like self-oiling a chain? Or would you prefer to keep your yard work simple and quick with a self-oiling chain? Knowing the type of features you need, like removable saws, gas power and more will help when it comes time to narrow down your options.
Budget: Consider whether you need to invest in a gas-powered option for regular use or if you can buy a less expensive electric model.
Manual vs power: With longer reaches and no chain involved, manual pole saws are lighter and more inexpensive than any powered option. They don't require maintenance but they will require more effort to use and cannot cut as easily as other models. Featuring a long handle and a blade, these are good choices for those who may not like to use power tools. As for power options, pole saws are available in cordless, electric and gas options.
Tip: Always wear a form of safety gear when operating power pole saws.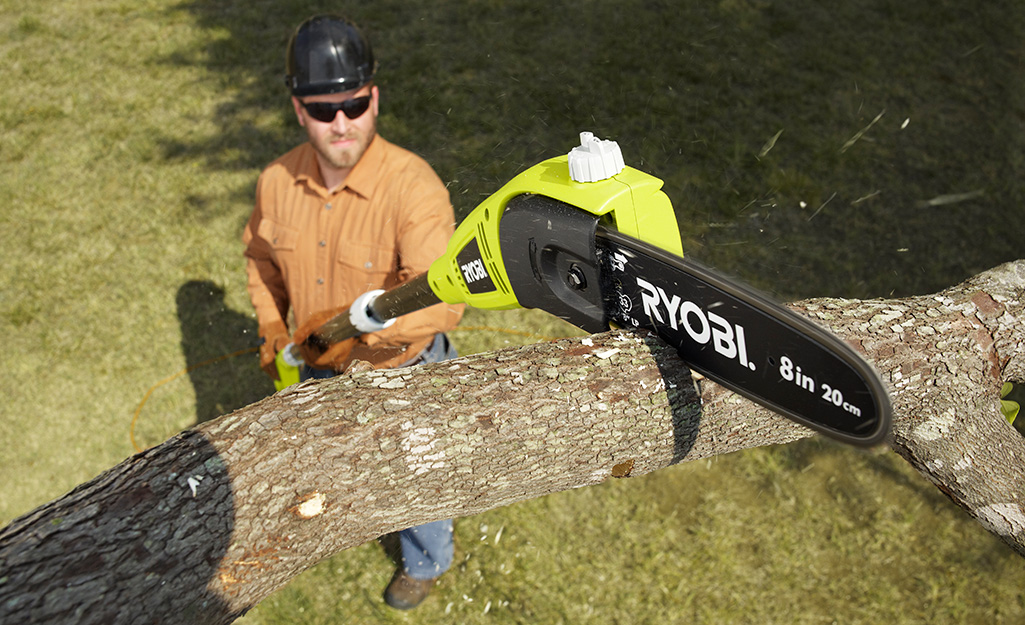 Need for a power outlet makes electric pole saws perfect for small yards.
Quieter and lighter than gas pole saws but not as powerful.
Great for occassional use.
Easy to start and operate.
Affordable.
Cannot be used in wet conditions.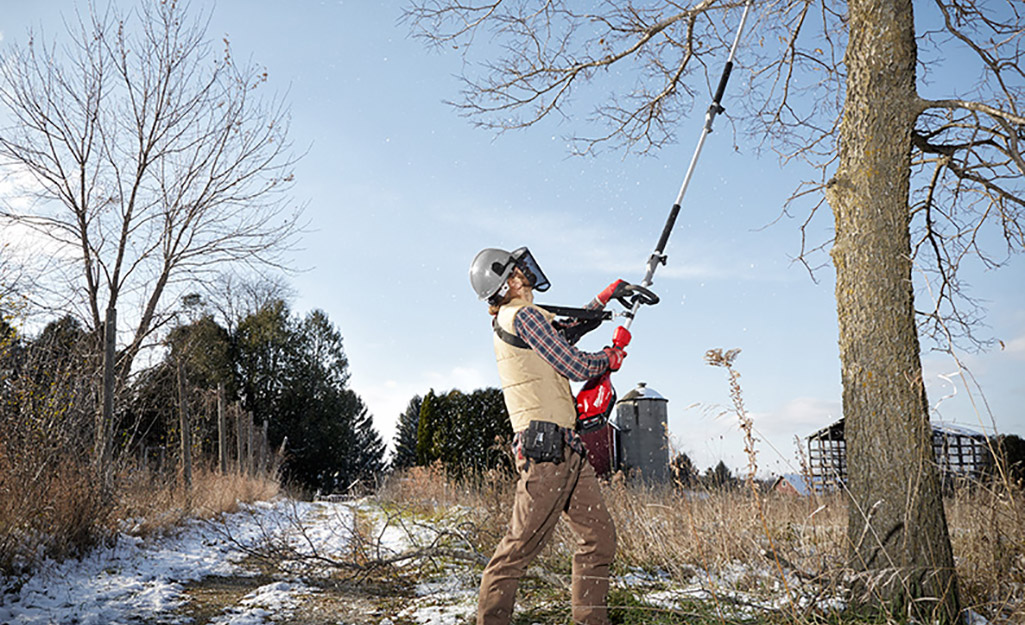 Ideal for medium to large yards, cordless pole saws rely on a rechargable 20 or 40 Volt Lithium-Ion or Ni-Cad battery for their power, making them less powerful than other power options.
A great choice if you need the ability to reach longer distances or higher trees. In terms of cutting ability, this type of pole saw will work best on tree branches between three and eight inches in diameter.
Require very little maintenance.
Cannot be used in wet conditions.
Lighter, quieter and more portable than other power options.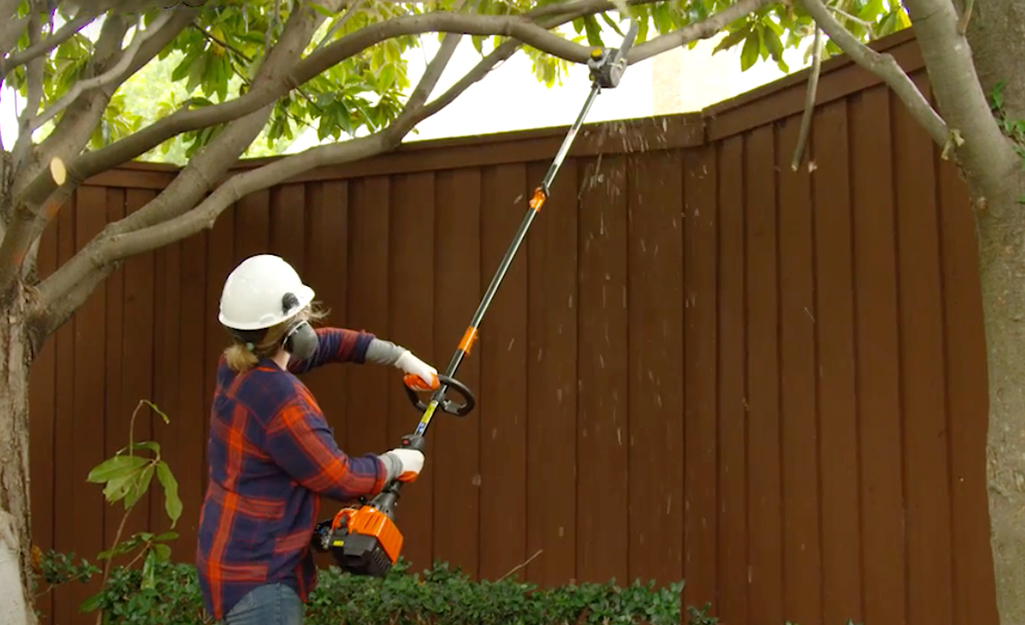 Most powerful of all power options and often used by professionals.
Powered by two cycle engines, which makes them durable but loud.
Available in a variety of sizes.
Use a mixture of gas and oil and require more maintenance than other options.
Ideal for larger yards with bigger trees, gas pole saws can operate for hours.
Heavier than other options, between 14 and 30 pounds, but can cut through larger branches and limbs.